How to Make a Floor Plan in Word
Do You Want to Make Your Floor Plan?
EdrawMax specializes in diagramming and visualizing. Learn from this article to know everything about how to make a floor plan in word. Just try it free now!
A floor plan or a building plan is the detailed documentation of the construction project about the layout of the internal walls, bedroom area, living room, study room, and kitchen. A clear floor plan also depicts the location of the bathroom, garage, entertainment room, and more, depending upon the client's requirements. There are several tools that let you create a floor plan -- one of those tools is Microsoft Word. Most architect students make a floor plan in Word format to easily share it with classmates or future clients.
A floor plan is the primary depiction of your constructed house, which is why it is a primary requisite that you design it in such a way that it includes all the elements of a building plan. Here, we will show you how to make a floor plan in Word and how easily you can create a similar design using EdrawMax. The fantastic feature of EdrawMax is that it easily lets you export the floor plan in Word format, which makes offline collaboration incredibly easier.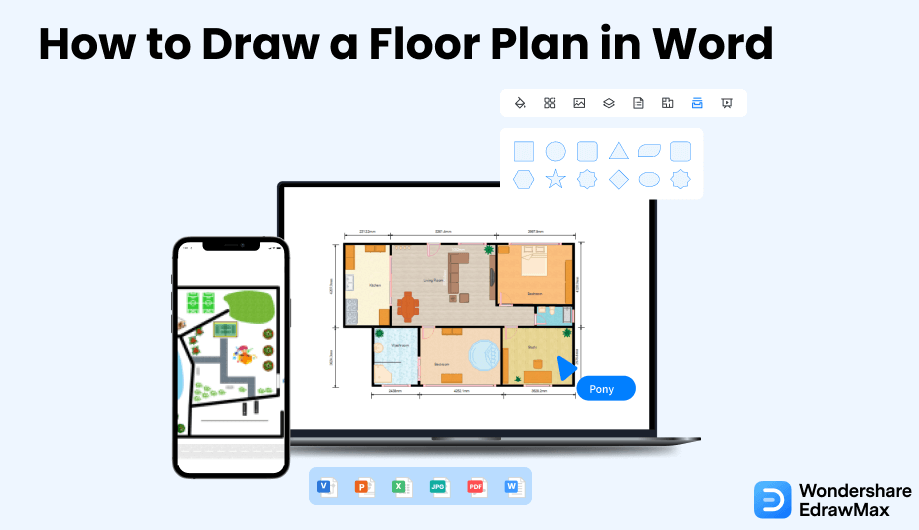 1. How to Create a Floor Plan in Word
Microsoft Word is a part of Microsoft Suite. So, before creating a floor plan in Word, you will need to download, install, and pay the yearly license fees to avail of the editing option in Word.
Identify the requirements:

First, identify the requirements. Know the features you want to include in the space, like the placement of the walls, doors, windows, passages, or anything required to draw a floor plan.

Start the application and open a blank page:

Once you have the requirements list, the next step to how to make a floor plan in Word is to launch the application of Microsoft Word. If you have the shortcut icon of this application on the desktop or the taskbar, click on it to start it. Or else, go to the start menu where you will find the option of Word, and click on it. You will get a blank page.

Page setup:

The next step includes setting up the page to make it appropriate for a drawing sheet. First, go to the Layout tab, Page setup group. Here you will have the options of Size, Orientation, and Margin. Set the page size in the Size option, choose the orientation you want in the Orientation option, and define the margins in the Margins option. Now, go to the View tab, Show group, and click on the checkboxes of Ruler and Gridlines. Once done, go to the Insert tab and select the text box. The text box will help you to set the vertical and horizontal scales. Your grid sheet is ready, and now you can draw your floor plan.

Select the shapes to draw:

As the page is ready, the crucial step to making a floor plan in Word includes drawing the floor plan. Go to the Insert tab, Illustrations group, and select the shape required for the purpose from the Shapes option. For example, if you want to draw boxes, you may choose the rectangle shapes, continuous lines for the walls, or dotted lines for the doors and windows.

File saving:

Once you have drawn the floor plan, save the file by clicking the Save As option from the File tab of the application. Next, enter the file name and targeted location on the designated fields and click the 'Save' button.
Now, we will walk you through the easiest way of creating a floor plan in Word and other Microsoft formats.
How to Create a Building Plan in Word:
Identify the requirements;
Start the application and open a blank page;
Page setup;
Select the shapes to draw;
File saving.
2. How to Create a Floor Plan Easily
Creating a floor plan in Word might look like something anyone can do, but the tool lacks design capabilities. Especially when you want to make a floor plan like the one shown below, it is too complicated to do all the work in Word. Here we will teach you a simpler method, of course you need to use a great tool - EdrawMax.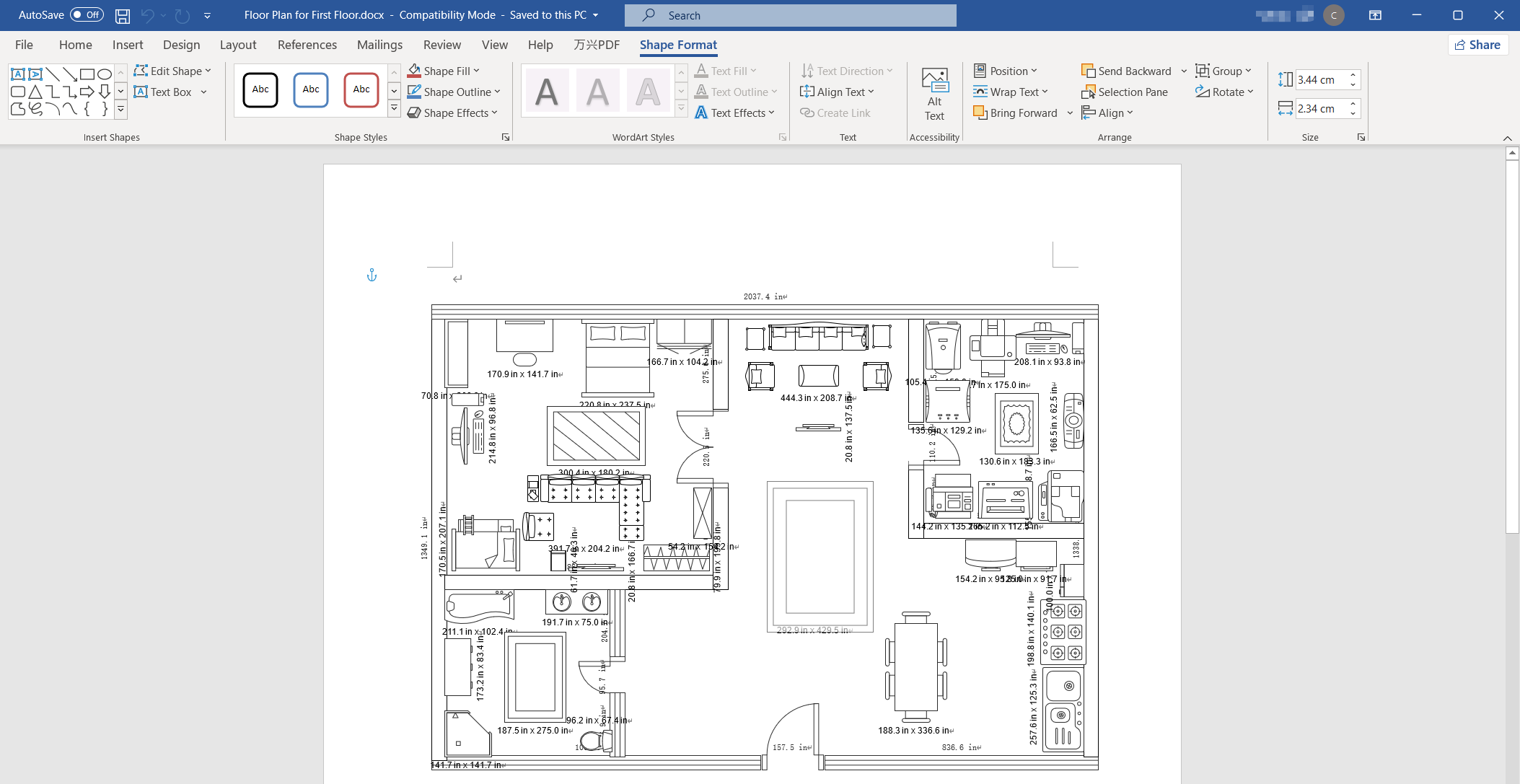 Step1
Open EdrawMax & Login
The first step in creating a floor plan is downloading and installing this 2D floor plan maker in your system. Head to https://www.edrawsoft.com/edraw-max/ to download the EdrawMax installer file as per your OS. Register to the EdrawMax dashboard if you are using it for the first time; else, log in using your email address.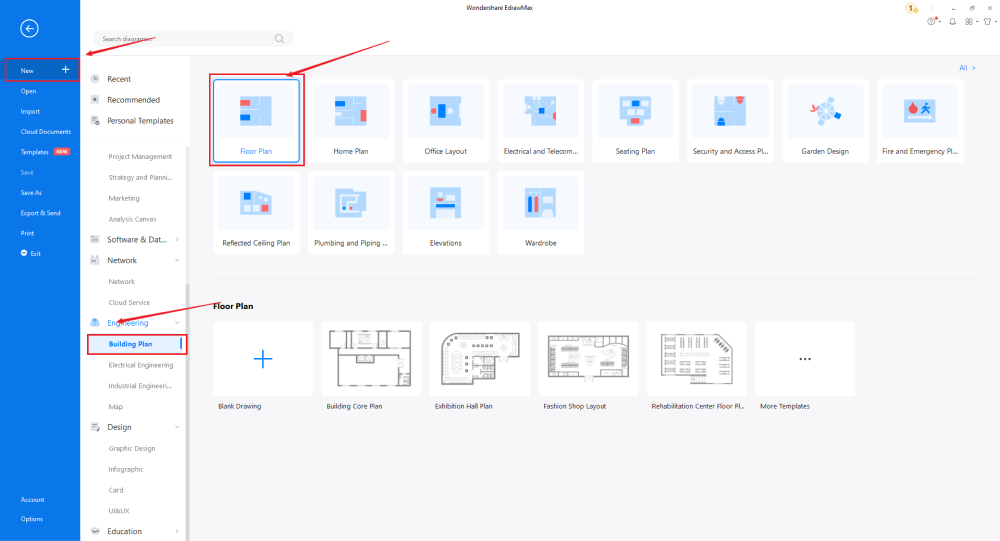 Step2
Template Selection
EdrawMax comes with over 3,000 free templates for different drawings. Go to the 'Template' section on the left side of this floor plan software and look for 'Floor Plan.' Here, you will find hundreds of user-generated templates. Check out the templates and click on 'Use Immediately' to import all the floor plan components to your drawing.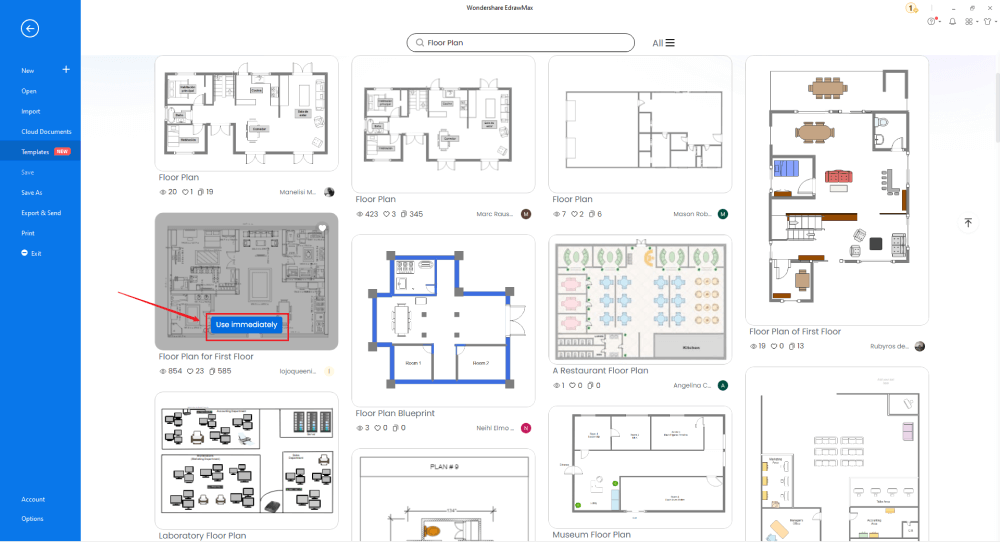 Step3
Create From Scratch
If you wish to explore EdrawMax features, head to the Building Plan section and click on the '+' sign. It will open up the EdrawMax canvas board with easy-to-use symbols related to Floor Plans and other Building Plans. Start working on the floor plan outline, then add bedroom walls and windows. You can even add different components as per your preference.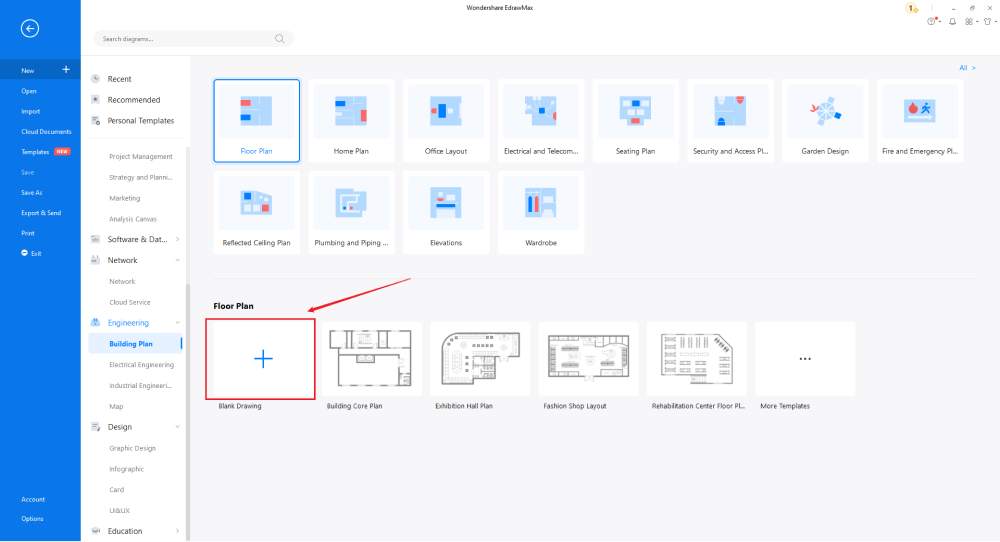 Step4
Select Symbols
On the toolbar, you will see 'Predefined Symbols.' Click on 'Floor Plan' to import all the relevant symbols of the floor plan design. Once they are imported, you can start placing them in the floor plan outline you have just created in Step #3.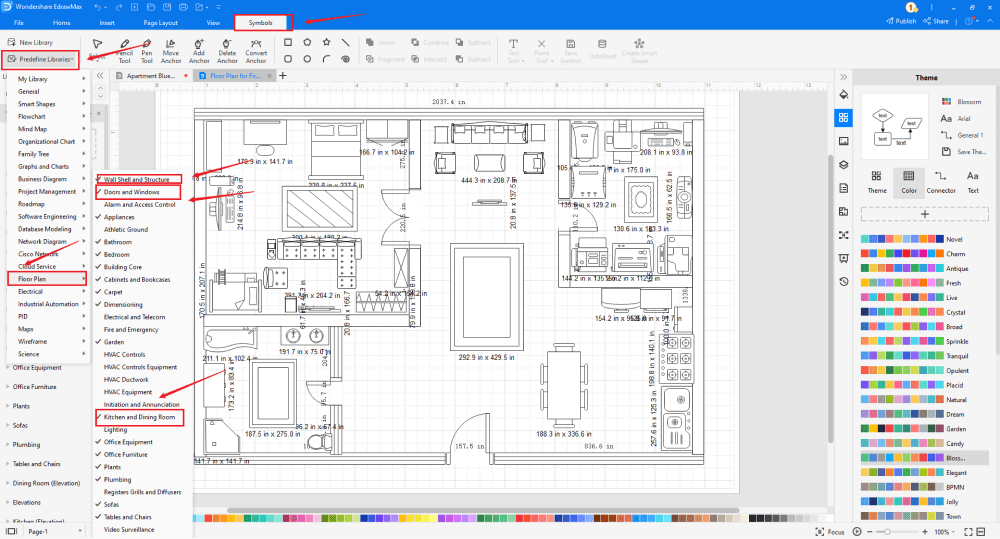 Step5
Add Components
After creating the outline and adding bedroom walls and windows, you can start adding the basic components of the floor plan, like a Closet, a Square Dining Table with a Rounded Corner, a Rectangular Dining Table, and a Sink, Square Table.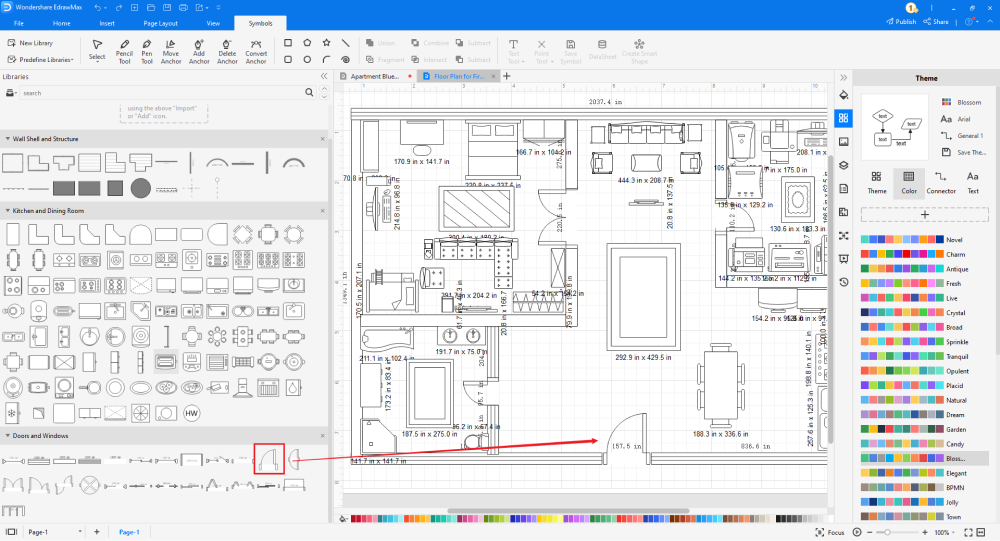 Step6
Export & Share
After creating the floor plan, you can export it into Word formats and other important formats, like JPG, PNG, PDF, and more. This 2D floor plan also lets you share your floor plan design on different social media platforms, like Twitter, Facebook, LinkedIn, and Line.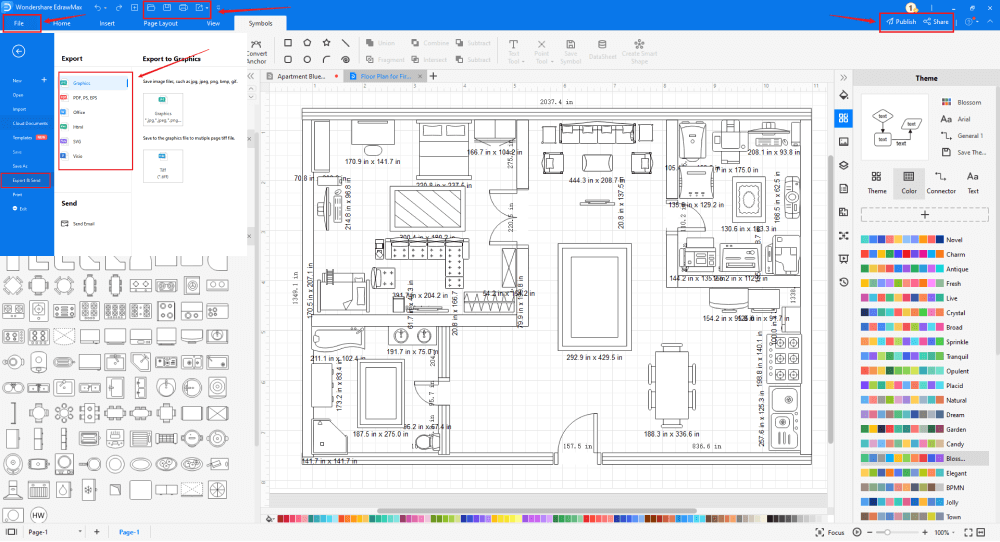 Then open the file you export from EdrawMax, you can edit every factor as you like in Word. Now, you have a wonderful floor plan in Word format and you save your time on creating it at the same time!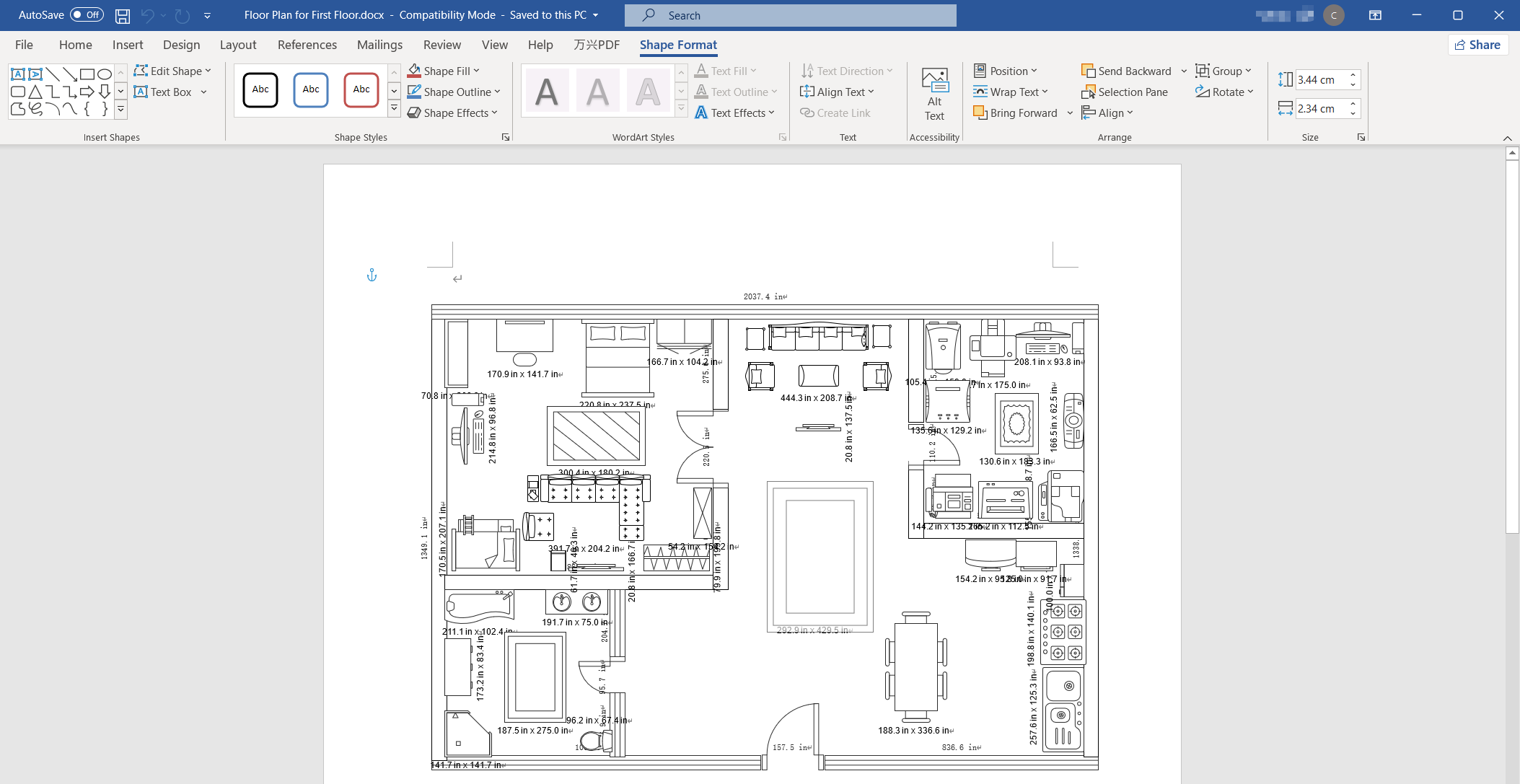 3. EdrawMax vs. Microsoft Word
Some of the most common differences between EdrawMax and Microsoft Word are:
MS Word is an offline tool that is great for creating heavy word documents. This word processing tool lacks some design features, and if you are creating professional floor plans, you will have difficulty finding the measurement and dimension aspects. EdrawMax comes with a dashboard that lets you easily change the dimension and scale it down to the real-world property.
MS Word has limitations when it comes to sharing files in other formats. It is seen that the formatting does not remain the same if someone is accessing an older version of MS Office. However, all the EDDX files exported from EdrawMax work the same in all the versions.
MS Word takes up a lot of your computer's space, and if you run on the older versions of Intel, you might have to downgrade the MS Suite for better accessibility. EdrawMax takes little to no storage size and works amazingly on all hardware.
EdrawMax hosts over 50,000 symbols that are user-generated. As a registered user, you can create personalized symbols and save them for later usage. Some of the most common floor plan symbols that you can use to create your professional floor plan are:
Bathroom: Sink, Double Sink, Pedestal Sink, Toilet, Bathtub, Bidet, Shower Lamp.
Bedroom: Single Bed, Double Bed, Adjustable Bed, Single Trundle Bed, Bassinet, Vanity Table.
Building Core: Arrow, Air Conditioning Location, step, Ornamental Stairs, Z-Shaped Stairs.
Cabinets & Bookcases: Corner Surface, Corner Counter, Base, Base End-Shelf, Cabinet.
Carpet: Round Carpet, Rectangular Carpet, Square Carpet.
The template community is one of the amazing features of EdrawMax. At present, we have over 25 million registered users worldwide. These professional users constantly update the template community for all beginners to inspire. Some of the most common floor plan templates for personal or professional use are Double Floor Restaurant Floor Plans, Flat Floor Plans for First Floor, 2-Floor Hotel Floor plans, and Fantastic Floor Plans, etc.
Draw a Floor Plan in Word:
MS Word has a very limited diagramming feature and will lack in several areas when it comes to creating different types of floor plans.

Word does not have a collection of floor plan templates and professional symbols.

Word is a tool dependent upon third-party applications to draw the floor plan designs.
Draw a Floor Plan in EdrawMax:
With built-in templates, you can create the floor plans in just a couple of minutes.

You do not have to worry about finding the relative symbols, there are over 26,000 symbols for every field and more resoucres to empower your design.

EdrawMax supports to export file into multiple formats, you can create floor plans in EdrawMax, and export as Word, PPT, Excel, and more to meet your needs.

EdrawMax has the same function as Word to show your floor plan design in front of others.
4.Free Floor Plan Software
There is a reason why over 25 million people trust EdrawMax for their diagramming needs. From creating network diagrams to sharing scientific diagrams, this free floor plan software lets you create over 280 types of different diagrams. Some of the most common features of this free floor plan software are:
EdrawMax comes with free templates that are 100 percent customizable.
In this free floor plan software, you can even upload or import media files right from your desktop space.
Every account of EdrawMax comes with free personal cloud storage that makes it easy for you to access your design files.
With this free floor plan software, you can import hundreds of components into one single dashboard without worrying about dimension and scale.
EdrawMax has a user-friendly dashboard that comes in handy for those who are just starting out.
EdrawMax Desktop
Create over 280 types of diagrams
Windows, Mac, Linux (runs in all environments)
Professional inbuilt resources and templates
On-premises software for business
Enterprise-level data security
EdrawMax Online
Create over 280 types of diagrams online
Access diagrams anywhere, anytime
Team management and collaboration
Personal Cloud and Dropbox Integration
5. Final Thoughts
Most architects tend to make floor plans way before pitching the property to the client. The outlines, furniture placement, building designs, and external factors play a huge role in impressing the client in the first meeting itself. So, when you work on any floor plan design, ensure that you use the best floor plan software in the market and not work on tools that lack symbols and diagramming elements.
EdrawMax is one tool that offers a wide range of features that make your design journey smoother. From importing pre-built templates to fully customizing them as and when required, you can create several floor plans based on your preference and requirements. The tool also offers an architect's scale that lets you have real-world scaling in your drawing. You will learn more about floor plans when you download EdrawMax for free!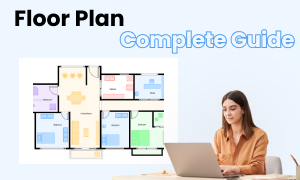 Floor Plan Complete Guide
Check this complete guide to know everything about floor plan, like floor plan types, floor plan symbols, and how to make a floor plan.