How to Draw an AWS Diagram in Visio
Do You Want to Make Your AWS Diagram?
EdrawMax specializes in diagramming and visualizing. Learn from this article to know everything about how to make an AWS diagram in Visio and an easier way. Just try it free now!
Amazon Web Services (AWS) is a cloud storage service by Amazon, offering on-demand solutions to fill, store and move data. This cloud network also allows you to design apps and software. Developers use AWS architecture diagrams to design and describe the topology and deployment of apps built on AWS.
An AWS diagram helps conceptualize the structure of an app. So, they are used for presentations, whitepapers, research, dash sheets, and other technical material. People can create an AWS diagram in MS Visio. Visio has different shapes and components required to draw an AWS architecture drawing. This article will tell you how to create a Visio AWS quickly and easily. We will also introduce EdrawMax for AWS diagrams and why it's better than Visio.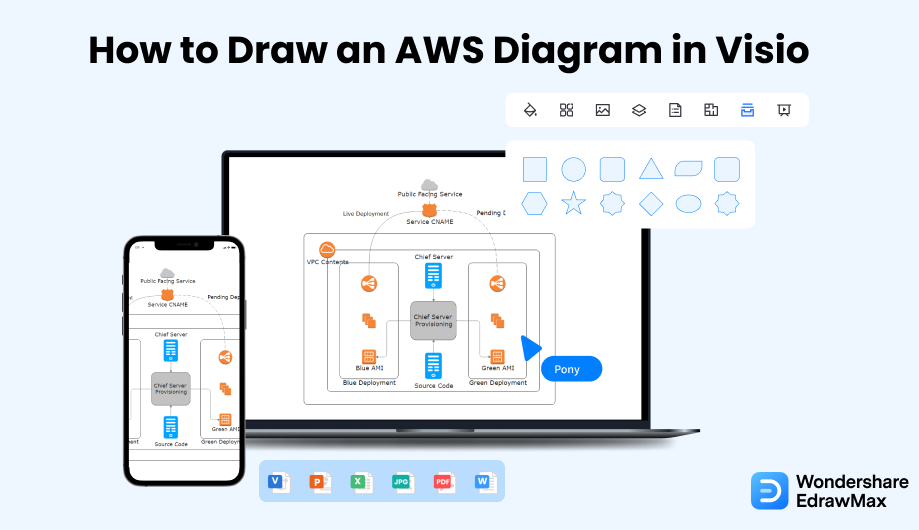 1. How to Draw an AWS Diagram in Visio
Visio is a diagrammatic tool by Microsoft Windows with templates and symbols to create different graphical drawings like organizational charts, floor plans, network diagrams, flowcharts, technical diagrams, etc. Follow this step-by-step guide on how to create Visio AWS:
Open MS Visio:

To create an AWS architecture diagram in Visio, launch MS Visio on your desktop and select a blank page.

Get Stencils:

To create AWS diagrams in Visio, you first need AWS Visio stencils or templates that you can get directly from the Microsoft Office website.

Create and Edit Your AWS Diagram:

Use the built-in network diagram shapes and stencils to build an AWS diagram visit. Place and arrange the icons on the canvas and add connectors. The shapes and icons are placed in different categories like analytics, service, networks, database, etc. Keep adding different icons on your diagram until you get a basic layout of your AWS architecture drawing.

Save the File:

Once your AWS Visio diagram is complete, click on the File tab and "Save" to store your file. Visio is best suited for network architects and industry professionals. If you want a more straightforward tool, check out EdrawMax below!
How to Draw an AWS Diagram in Visio:
Open Visio;
Get Stencils;
Create and Edit Your AWS Diagram;
Save the File;
2. How to Draw an AWS Diagram in EdrawMax
Now that you have seen the method to draw an AWS Diagram in Visio, let us show you the easiest way of creating a similar AWS diagram in EdrawMax.
Step1
Open EdrawMax & Login
The very first step that you need to follow is to install EdrawMax in your system. Go to EdrawMax Download and download the AWS diagram software depending upon your operating system. If you need remote collaboration with your office team, head to EdrawMax Online and log in using your registered email address.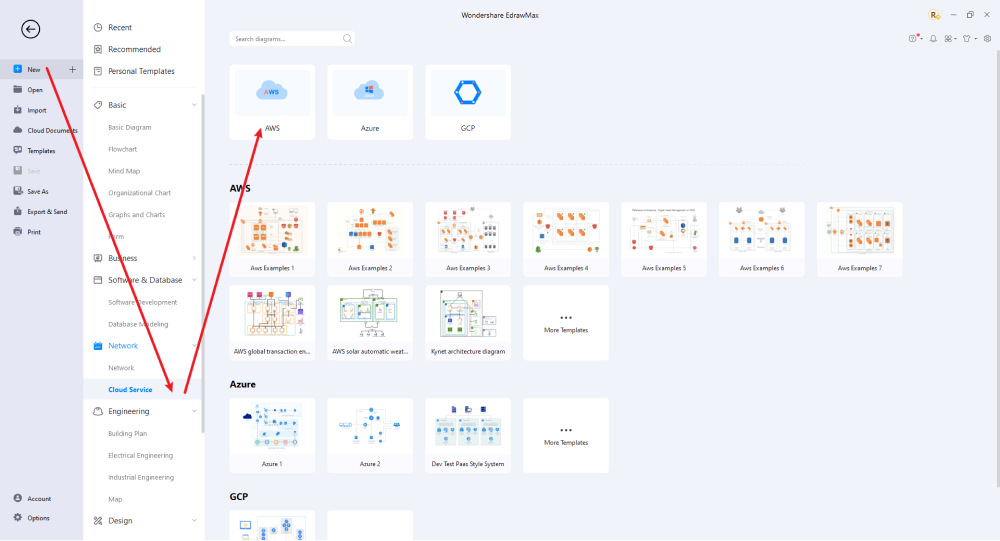 Step2
Select a Template
In the navigation pane on the left side of the screen, scroll down and click on "Network," and select Cloud Service. Then, click on the "AWS" option. You will get some predesigned AWS architecture diagram examples to choose from. Click on the one you prefer or select a blank template to create an AWS architecture diagram yourself.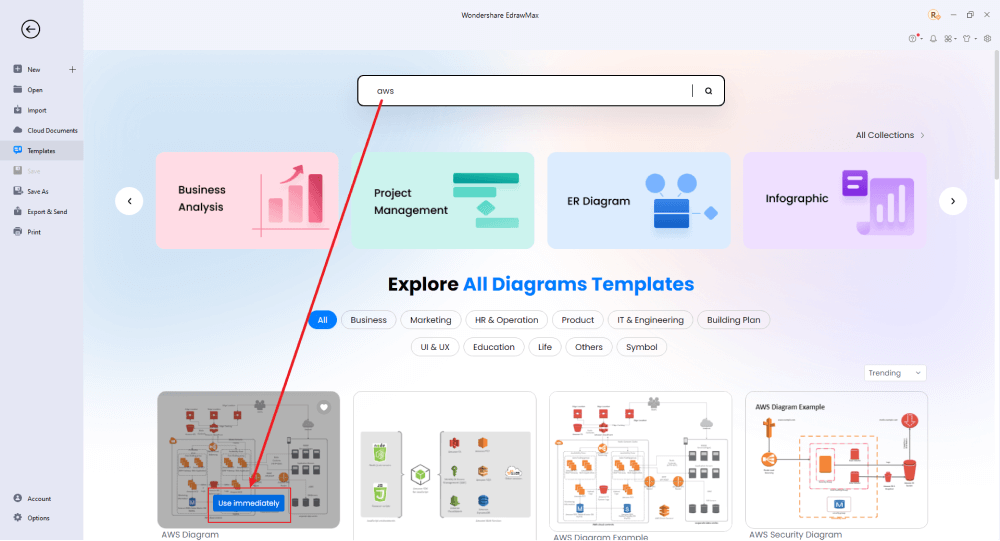 Step3
Create From Scratch
From the EdrawMax homepage, you will find the '+' sign that takes you right to the canvas board, from where you can start designing the AWS diagram from scratch. Use your technical expertise and the tools offered by EdrawMax to create the AWS diagram.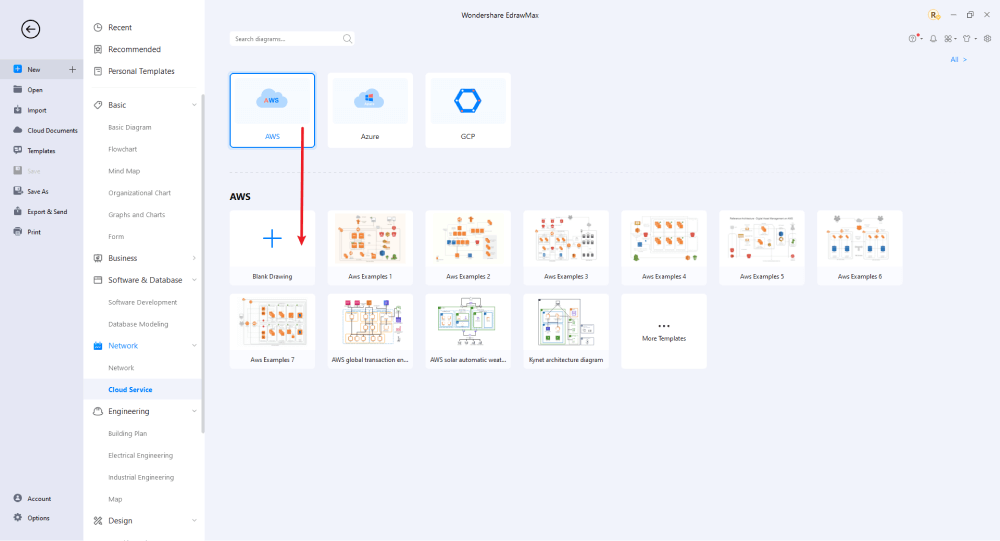 Step4
Customize AWS Architecture Diagram
The new tab will launch with the symbol library on the left side of the screen. Use the AWS symbols present here to create an architecture diagram from scratch. To add more AWS icons, Go to Home Tab and select Symbols Tab>Predefined Libraries>Cloud Service. Now, select Amazon Web Services to add more symbols. The drop-down arrow will give you different types of AWS symbols. Edraw offers AWS blockchain symbols, AWS media symbols, AWS robotics, and many more. Customize and edit the AWS architecture diagram with the help of different formatting tools available in EdrawMax. Use the formatting tab on the top to adjust the shape, size, color, and other details. You can also add text.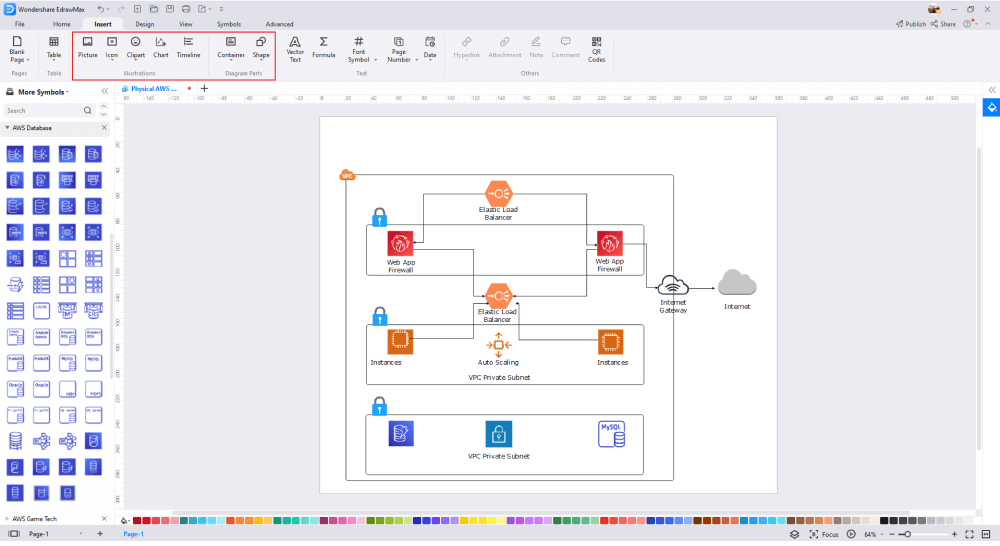 Step5
Export & Share
Once you are satisfied with your AWS diagram, you can export it into multiple formats, like JPEG, JPG, PNG, PDF, and other Microsoft formats, like MS Word, MS Excel, PPTX, etc. Just back to the main menu, and find "Export" button, You can also share the AWS diagram on different social media platforms, like Facebook, Twitter, LinkedIn, etc. Moreover, you can print your AWS diagram for showing with others.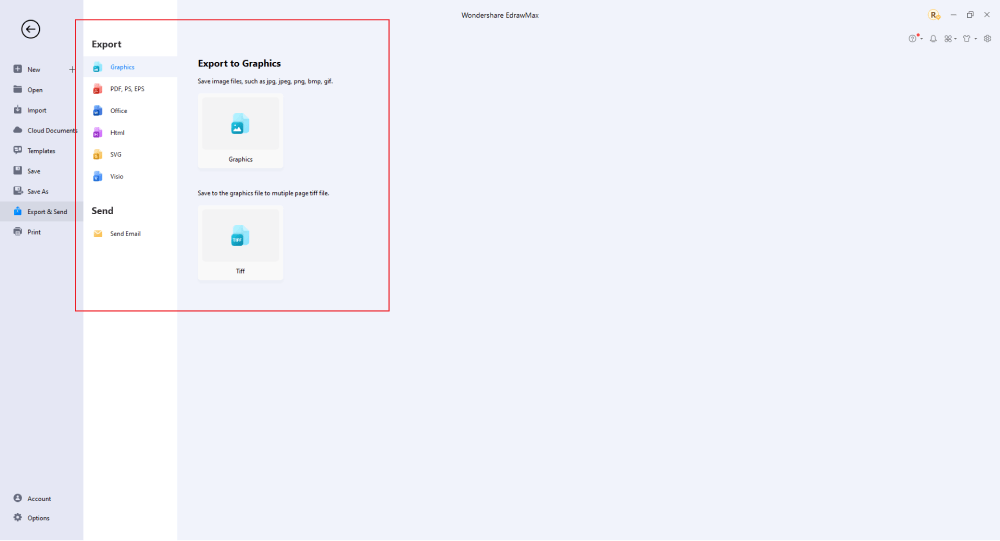 Basically, it is simple to draw an AWS diagram in EdrawMax, just grab a template and keep customizing, drag and drop professional AWS diagram symbols to make your diagrams better. If you are still confused about how to draw an AWS diagram in EdrawMax, just check the video below.
3. EdrawMax vs. Visio
Now that you know how to use both Edraw and Visio for AWS diagrams, let's discuss which one you should choose. Here is a detailed comparison of the two software tools:
Visio has been the industry leader when it comes to graphs and diagrams. Even though this Microsoft software has been in the market for decades, it lacks the features offered by the latest apps like EdrawMax. EdrawMax offers all the latest and advanced features you need, making it the best digital drawing solution.
EdrawMax is compatible with all operating systems, including Mac OS, Windows, and Linux. You can use the same software across different platforms with ease. On the other hand, Visio is only available for Windows PCs, being a Microsoft software.
EdrawMax is the one-stop-shop for all drawing needs. Whether you want to create personal drawings, professional charts, fun illustrations, or technical graphics and diagrams. Visio is more suitable for professional diagrams and charts only as it offers limited creativity to individual users who might want to use it for personal illustrations.
EdrawMax offers multifunctionality as it can help you create flowcharts, organizational charts, technical drawings, network diagrams, digital presentations, floor plans, design models, and more. It's also suitable for making visuals. On the other hand, Visio can help with organizational and technical drawings used professionally.
EdrawMax offers unlimited templates and symbols. With thousands of templates and 26000+ symbols, you will be able to create any visual content you want. In comparison, Visio offers limited symbols and templates.
EdrawMax includes a large number of symbol libraries. You may quickly build any type of diagram with over 26,000 vector-enabled symbols. If you can't locate the symbols you need, you can easily import some images/icons or build your own shape and save it as a symbol for later use. Simply go to the 'Symbols' part of EdrawMax and select the 'Predefined Symbol' section from the top toolbar. Hundreds of symbol categories are accessible for you to utilize and incorporate into your AWS diagram.
Moreover, EdrawMax features a large library of templates. We have more than 25 million registered users who have produced thorough Templates Community for each design. Simply go to the left panel's template section and type any template you're looking for into the search bar. It will bring up hundreds of pre-built templates that you may utilize right away to meet your needs.
Draw an AWS Diagram in Visio:
Visio Lacks the Latest Features

Best Suited for Professional and Technical Diagrams

Limited File Formats, Templates and Symbol Library

Works on Windows Desktop
Draw an AWS Diagram in EdrawMax:
EdrawMax Serves Modern-day Needs with Advanced Features

Extensive Free Templates and Symbols Library

One Solution for All Personal, Professional, and Business Needs

Compatible with Different Operating Systems
4. Free AWS Architecture Diagram Tool
EdrawMax is quickly becoming a popular diagram software. It makes it simple for users to create professional-looking content. This AWS architecture diagram tool is not limited to technical drawings only. This powerful, flexible and comprehensive AWS diagram maker is an easy-to-use software application offering many unique features like:
Using its extensive template and symbol libraries, you can build more than 280 kinds of drawings and diagrams on EdrawMax.
Its user-friendly interface allows users to bring their ideas to life with ease and unexpected results. Professionals in a variety of fields like business, education, strategic analysis, and management can use EdrawMax to create content quickly.
EdrawMax allows users to import and export their designs in multiple file formats, including PDF, VISIO, Microsoft Word, Excel, PowerPoint, JPG, SVG, PNG, HTML, etc.
Individuals, freelancers, small businesses, mid-size businesses, and anyone else can use EdrawMax to create whatever they want. It is not limited to a specific class of users. It is software that serves all kinds of drawing needs.
EdrawMax has a communication potential that many other drawing apps lack. EdrawMax is a program that enables teams to collaborate and elevate their project's communication to a whole new level.
Being a cloud service, EdrawMax offers a cloud storage space of 1 GB for users to store their designs online. The SSL encryption ensures that all your data remains private, safe, and inaccessible to other parties.
EdrawMax Desktop
Create over 280 types of diagrams
Windows, Mac, Linux (runs in all environments)
Professional inbuilt resources and templates
On-premises software for business
Enterprise-level data security
EdrawMax Online
Create over 280 types of diagrams online
Access diagrams anywhere, anytime
Team management and collaboration
Personal Cloud and Dropbox Integration
5. Final Thoughts
To conclude, Microsoft Visio is a powerful diagram tool for creating and editing digital drawings. However, it can be challenging to use it. It is best suited for bigger businesses with the expertise and resources to handle complicated software.
Unlike Visio, where you have to pay for every user in your organization, EdrawMax provides affordable options for all the businesses and organizations that create diagrams regularly. Head to the download option and treat yourself to the best AWS diagram today.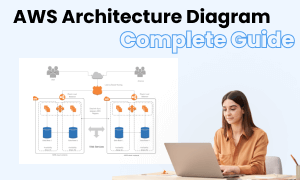 AWS Diagram Complete Guide
Check this complete guide to know everything about AWS diagram, like AWS diagram types, AWS diagram symbols, and how to make an AWS diagram.