How to Draw an AWS Architecture Diagram
Do You Want to Draw Your AWS Diagram?
EdrawMax specializes in diagramming and visualizing. Learn from this article to know everything about how to draw your AWS diagram with ease. Just try it free now!
AWS is an abbreviation for Amazon Web Services. It provides cloud services to handle high web traffic and the huge amounts of data generated daily on various applications or websites around the globe. The AWS architecture is a better way to ensure that customers follow the best possible practices, proper guidance, and recommendations from professionals to develop and maintain cloud solutions.
AWS architecture diagram is a great way of putting forth your idea of selling any product or service through Amazon. It helps to improve the layout of your business platform with careful design and consideration. It also helps to better understand the market by studying the opinion and experiences of professionals in that field. It basically is a diagram that explains the outflow and inflow of your information and data through various servers. It better explains how to navigate the market of Amazon web services and find the best platforms possible for selling or buying the services or products as per your requirement. Having a better understanding of the market platform you're using will help you optimize your profits and manage or invest your time and resources in the best possible directions.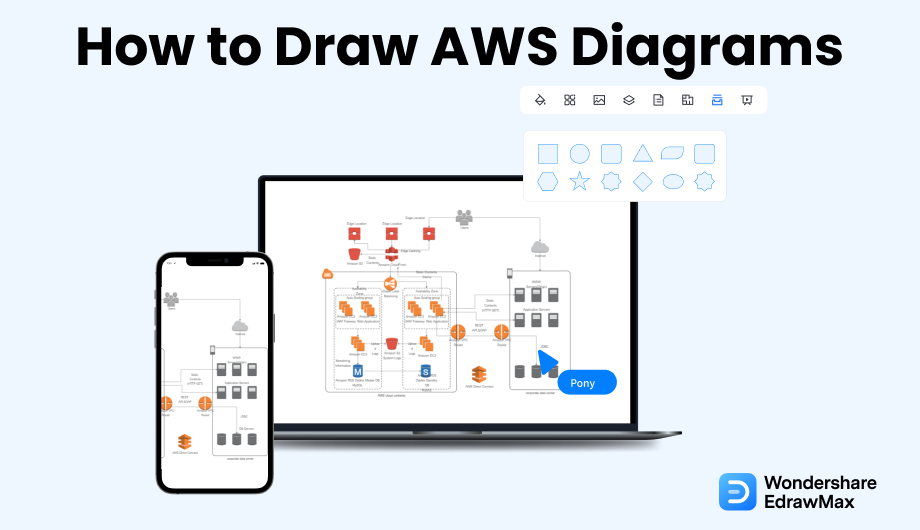 1. What Includes in an AWS Diagram
Like any other design diagram, the AWS architecture diagram also denotes the design of your selling platform. It basically denotes the layout of the channels and streams of your data going in or out of the AWS system. Though, unlike other traditional architectural drawings, AWS architecture diagrams focus on the flow of data, too, rather than just the platform. AWS architecture diagrams are a great way to communicate your design, deployment, and topology.
2. Key Points to Make an AWS Architecture Diagram
Like any other field, first you have to browse AWS reference architecture diagrams and learn how to design more efficiently and effectively on AWS with our expert guidance and best possible practices in the AWS Architecture Center.
Customers and partners are permitted by AWS to use the resources in any AWS to create architecture diagrams. The icons are designed to be simple so that you can easily incorporate them into your diagrams and put them in your whitepapers, presentations, datasheets, posters, or any technical material.
3. How to Draw an AWS Diagram in General
There are two ways of drawing an AWS diagram. One is the traditional way, while another way is where we use EdrawMax and the free templates provided by this popular software. Before we help you understand how easy it is to create an AWS diagram using free templates and symbols, let us walk you through the traditional methods first.
First, you have to devise a list of the platforms and data gateways as well as endpoints for your data to flow through. Carefully, think and consider the pros and cons of every app, website, or physical data junction which your data flows through. Find and denote the icons for all the digital and physical resources that you're going to use in your AWS architecture diagram.
How to Draw an AWS Diagram in General:
Overview of the standard method of drawing AWS diagrams:
Devise a list;
Think and consider the pros and cons;
Find and denote the icons;
4. How to Draw an AWS Diagram in EdrawMax
Now that you have seen the complicated steps, let us show you two easy approaches to creating an AWS diagram in EdrawMax.
4.1 Draw an AWS Network Diagram from Scratch
Step1
Open EdrawMax & Login
If you are using the offline version of EdrawMax, then open the tool in your system. If you wish to have remote collaboration, head to EdrawMax Download and log in using your registered email address. If this is your first time using the tool, you can register yourself using your personal or professional email address. Open the 'File' section and type 'AWS' in the search bar at the top left and click the search button.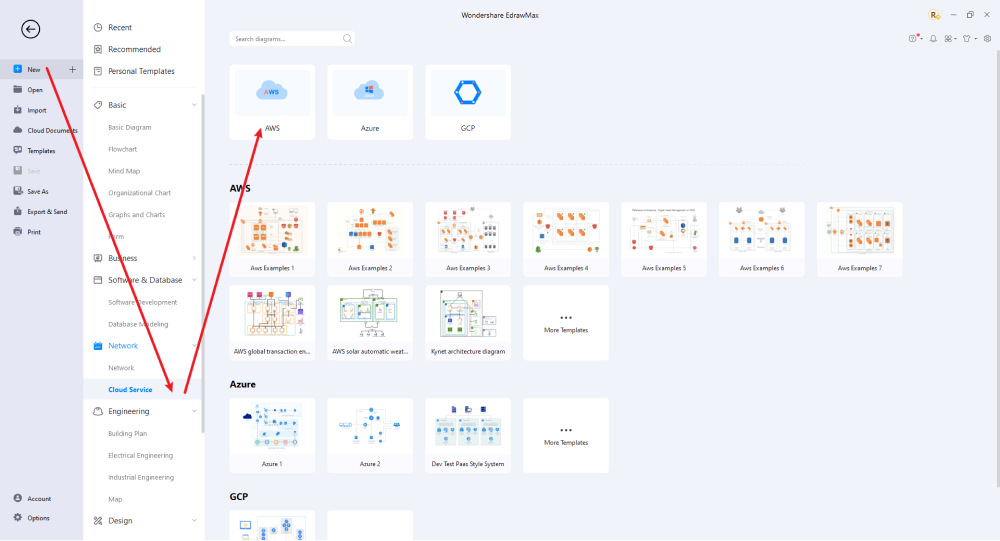 Step2
Open a New Canvas
If you are drawing the AWS architecture drawing starting with nothing, you can click '+.' It will open up the user-friendly EdrawMax canvas that comes with a ton of design features for AWS architecture diagrams like themes, editable logos for your platforms, gateways and websites and a lot else.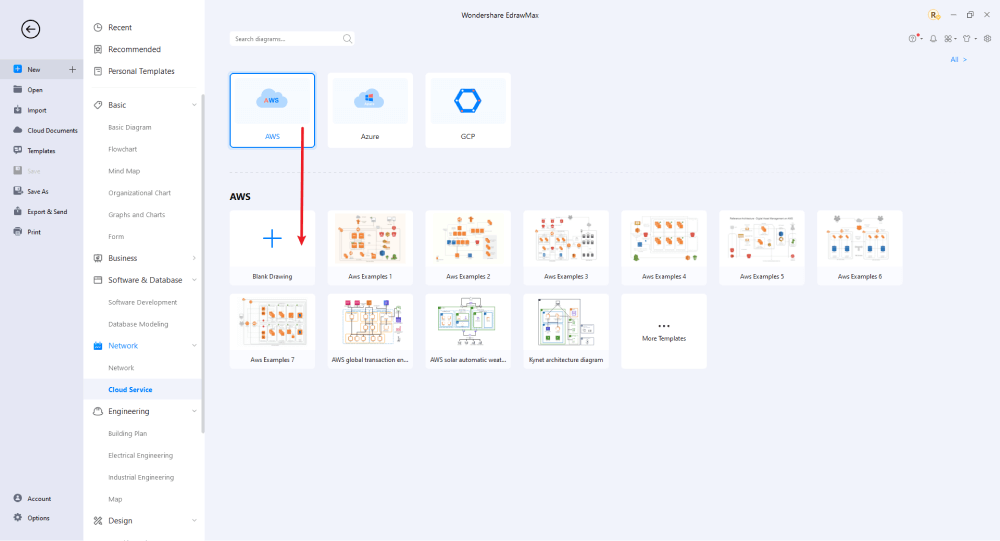 Step3
Select Symbols
To enhance your AWS diagram, you'll need to include symbols. Check out the 'Symbols' section, and find 'Predefined Symbol. 'Open the 'Network Diagram' button. Then, several important pre-made AWS diagram shapes appear. Click 'Active Directory Objects' to import them to your library.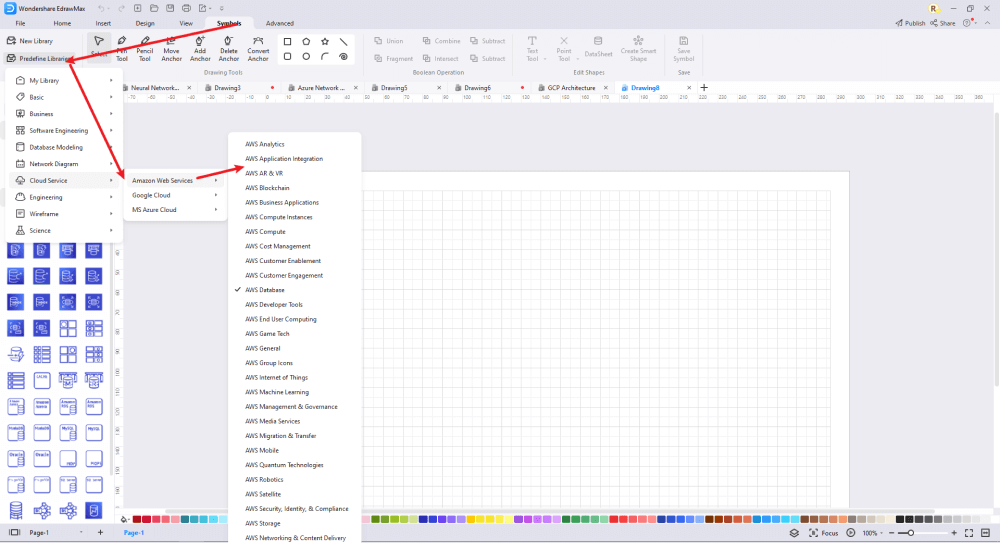 Step4
Add Elements
Be an artist and use the tools at your disposal to create the most suitable diagram for your need. EdrawMax contains a vast array of tools to cater to all your design needs for an AWS architecture diagram. Use the pointers, logos, and themes that you need to create a good layout of your data, and use various colors and connection options to add further detailing to your drawing.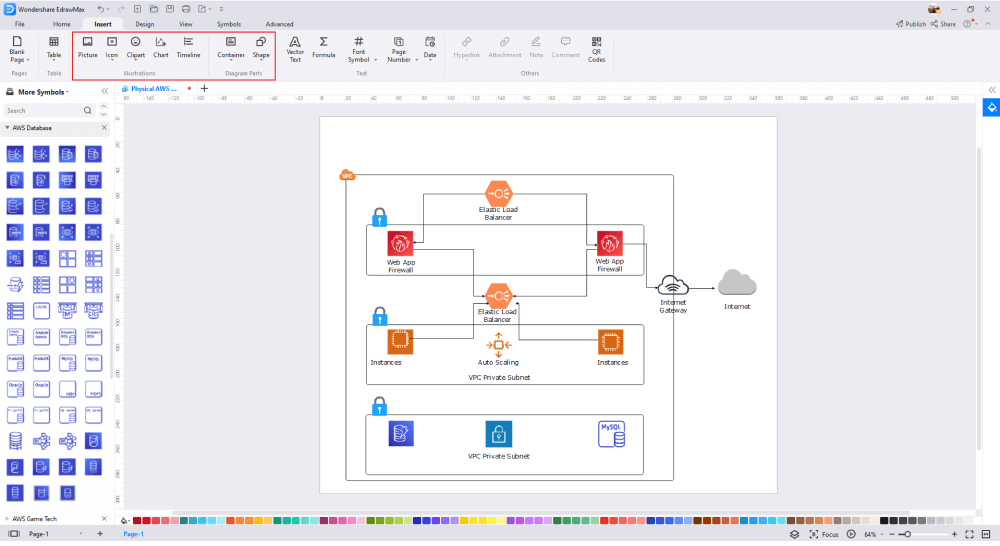 Step5
Save & Export
After designing your AWS diagram, you can export it into several formats, like JPG, PDF, PNG, and many more formats that come with Microsoft Office. You can also share the network layout design on social media platforms, like Twitter, Facebook, LinkedIn, etc.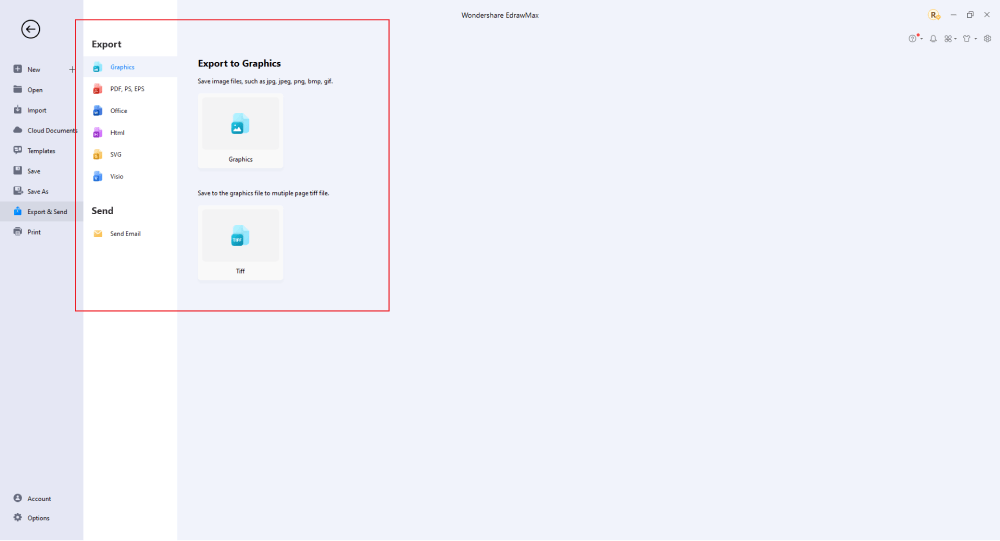 4.2 Draw an AWS Diagram from Built-in Templates
Step1
Login to EdrawMax
If you are using the offline version of EdrawMax, then open the tool in your system. If you wish to have remote collaboration, head to EdrawMax Download and log in using your registered email address. If this is your first time using the tool, you can register yourself using your personal or professional email address. Go to the 'Templates' section on the left and type 'AWS.'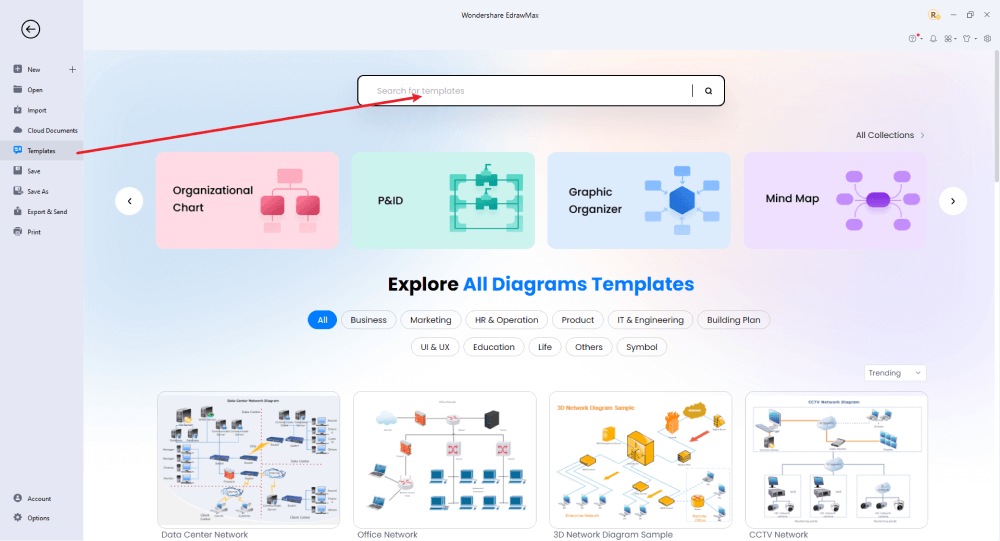 Step2
Choose a Template
In the template community, you will find hundreds of built-in templates readily available to use. Choose any templates that closely resemble your ideal, AWS diagram and duplicate it to 'Use Immediately.'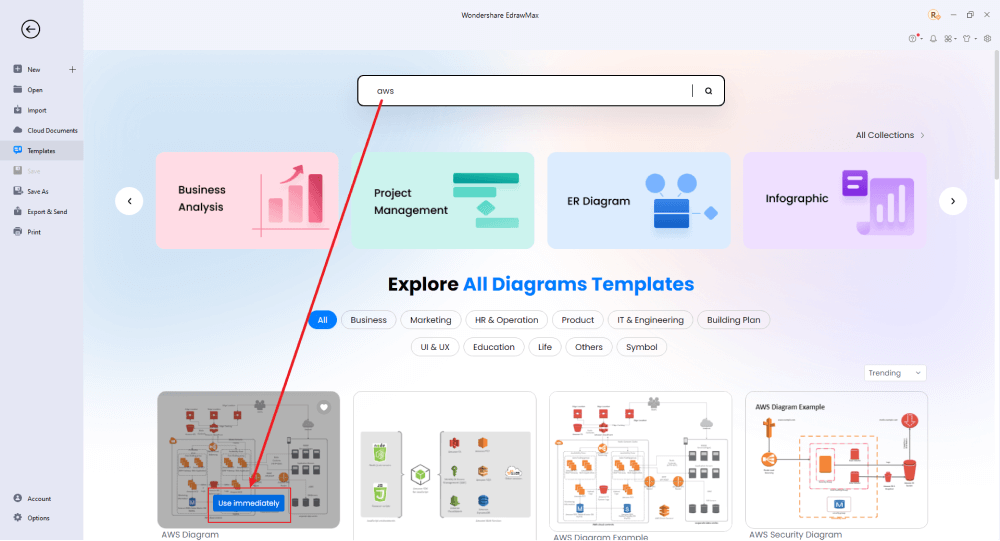 Step3
Change Details
First, make sure that you've imported the free built-in template to the EdrawMax canvas, and then you can change basic details. You can modify the background color, text, and layout. You can draw different types of AWS diagrams based on your vision. Just choose the toolbars on the top or right side of canvas, and find the functions you want.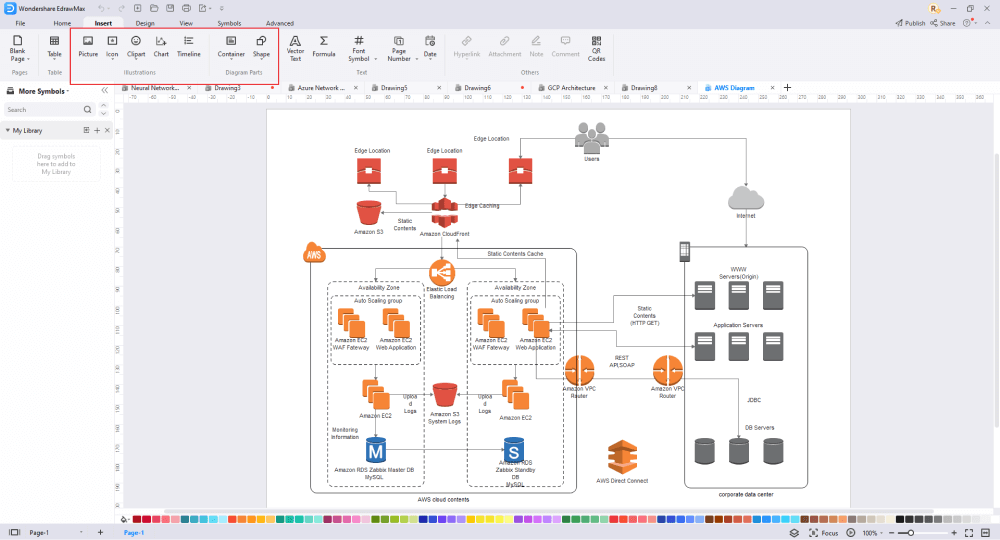 Step4
Export or Publish
Once your AWS diagram is complete, you can save it to multiple file formats as described in the instructions or post it to the template community for the other 25 million registered users to see and get inspired by your AWS drawing. Click the "Publish" button on the top right area of the canvas, and fill in your template details, like template title, description, and tag to share your drawing with others.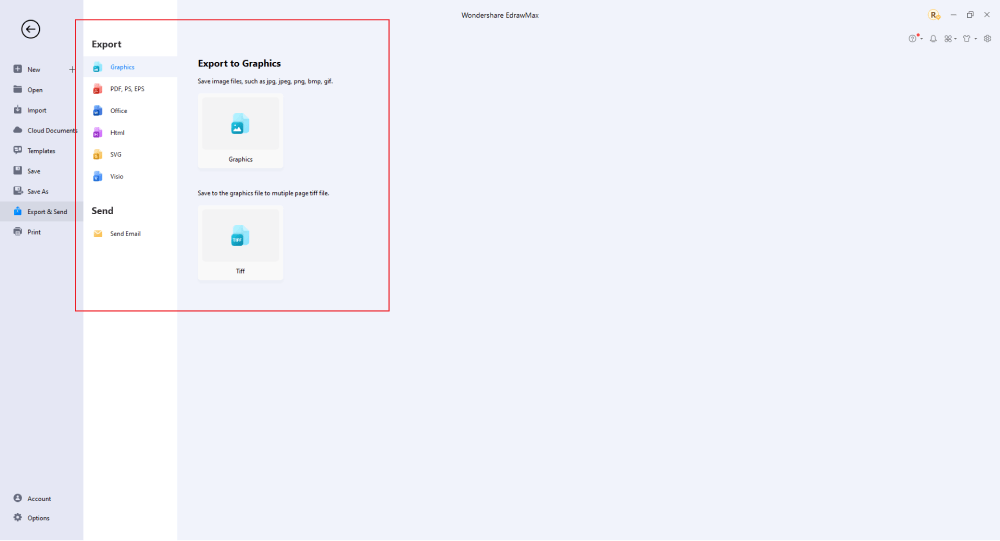 Basically, it is simple to draw an AWS diagram in EdrawMax, just grab a template and keep customizing, drag and drop professinal AWS symbols to make your diagrams better. If you are still confusing about how to draw an AWS diagram in EdrawMax, just check the video below, or learn more from our Youtube channel.
5. Tips & Consideration
A well-drawn AWS diagram allows you to design your visual ideas easily. As you can see, you can put the area most prominently with an AWS Diagram. Depending upon your expertise and the time in hand, you can either go with the general method to create the entire AWS diagram from scratch or use the free templates provided by EdrawMax to draw the AWS diagram easily.
Please keep the following points in mind while drawing any AWS architecture diagram:
Any drawing should portray its elements in a clear and understandable manner for others to later study and use them for their use.
An AWS architecture diagram shows the flow of data through various channels, servers, and data points then storage or delivery at the designated data point.
Various symbols are used to denote the vast number of websites, applications, and data flow points.
Pointers are used to interconnect these elements, altering the size of your symbols can be used to portray the significance of any element in your drawing.
Be sure to carefully plan your flows and data check or destination points for your AWS architecture drawing to be beneficial.
Use pre-existing examples in the EdrawMax tool to gain a better understanding of the work you're about to do and the end result of it.
5.1 Symbol Libraries
A symbol library is like a toolbox for designers: a place to store all the symbols and templates necessary to do certain kinds of tasks. Several important AWS icons fall under AWS diagrams. EdrawMax has built an enormous symbol library with hundreds of thousands of symbols for designers to use and share, which plays a vital role when planning to create AWS diagrams. Also, the symbol library consists of useful features like the ability to embed your graphics, rotate, resize, and color them as per your canvas board.
At EdrawMax, you will find all these detailed symbols that will help you create the AWS diagram. If in certain cases, you do not find the symbols, you can easily create your own house symbol just by importing the icons or shapes and saving them to your personalized symbol library.
5.2 Template Community
EdrawMax has a rich template community that expands to 25 million registered users. From Flowcharts to network diagrams, you can find thousands of free templates in the template community section. In the template community, you will find hundreds and thousands of templates of different diagram types, ranging from network diagrams to flowcharts to science diagrams to architecture diagrams. When you create your diagram, this free AWS diagram software also lets you publish your design to the template community, where it can inspire other designers just like yourself.
6. Free AWS Diagram Software
The EdrawMax tool is a really helpful AWS architecture diagram tool since it's so easy to use and is totally free. Simply go to our website and download it for free. It will install without any hassle. You will be able to start with your AWS architecture diagram within just five brief minutes of turning on your computer. It's also easy to find on Google and available on all major internet search engines for the use of customers around the globe.
EdrawMax Desktop
Create over 280 types of diagrams
Windows, Mac, Linux (runs in all environments)
Professional inbuilt resources and templates
On-premises software for business
Enterprise-level data security
EdrawMax Online
Create over 280 types of diagrams online
Access diagrams anywhere, anytime
Team management and collaboration
Personal Cloud and Dropbox Integration
7. Final Thoughts
It's the first tool of its kind that contains such a comprehensive design base. You can almost design any kind of AWS architecture diagram diagram in EdrawMax with pre-set templates or blank formats. Examples are already available in the form of templates that you can edit per your desire to achieve the best outcome from this software.
EdrawMax is quite powerful and includes many features that make it possible to create very sophisticated models. No other free software offers such a wide array of customizable designs and drawings with the availability of detailed symbols and elements for all types of drawings. You can also import or export various formats to further adjust your diagrams for your need.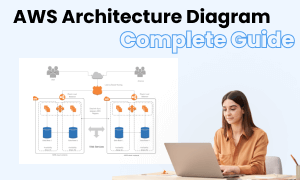 AWS Diagram Complete Guide
Check this complete guide to know everything about AWS diagram, like AWS diagram types, AWS diagram symbols, and how to make an AWS diagram.