How to Create A Rack Diagram

Want to make a rack diagram that you can print and share? Here shares some guidelines for creating professional rack diagrams. Creating rack diagrams with pre-made symbols and templates is rather easy.
Part 1: What is The Rack Diagram?
A Rack diagram helps build a graphic framework of components housed in a computer rack, in order to organize the components virtually and document the computer equipment configuration. The components may include servers, switch equipment, Router, Raid, UPS, hard disk drives, modems and other electronic equipment. Learn ultimate rack diagram tutorial to get more details.
Racks are crucial in IT as they house and organize important IT equipment. It is important that IT professionals use rack diagrams to accurately plan out the dimensions of their rack, so that it can house everything that is needed.
To make the most out of rack diagrams, determine what pieces of equipment will be placed in the rack and how they should be organised. Keep in mind their dimensions at all times. It is not advisable to go ahead and buy a rack without doing prior planning, as you may run out of space for equipment and cables. By planning the space beforehand, you can ensure that you have the most optimal, space-efficient setup.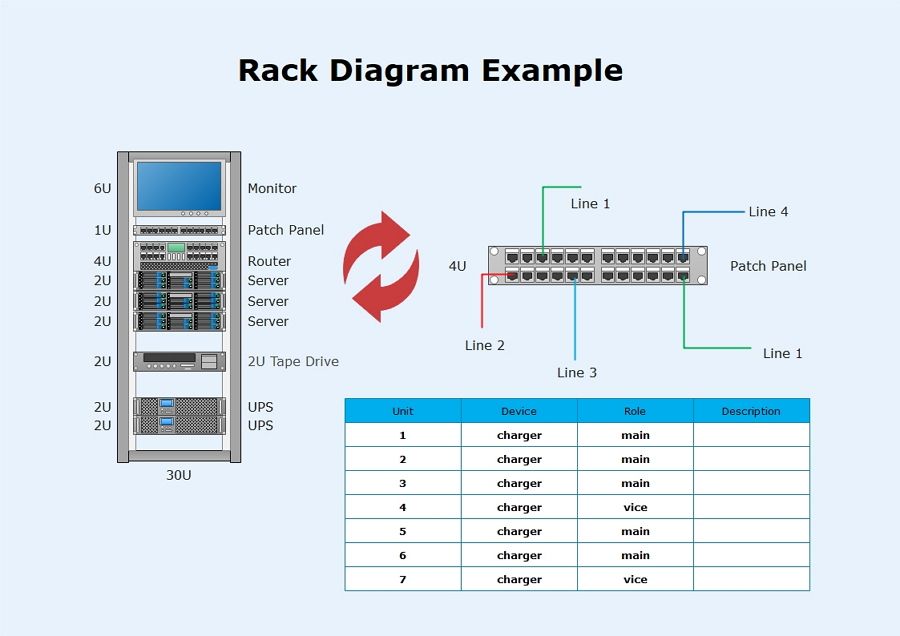 Source:EdrawMax
Part 2: How to Create A Rack Diagram?
How to make a rack diagram easily? Using EdrawMax to create your own rack diagram in minutes. If you have had Edraw installed, you can create a more detailed rack diagram by using the rack diagram templates.
Step 1: Open EdrawMax desktop software or EdrawMax web-based application.
Step 2: Navigate to [New] > [Network] > [Rack Diagram] in EdrawMax.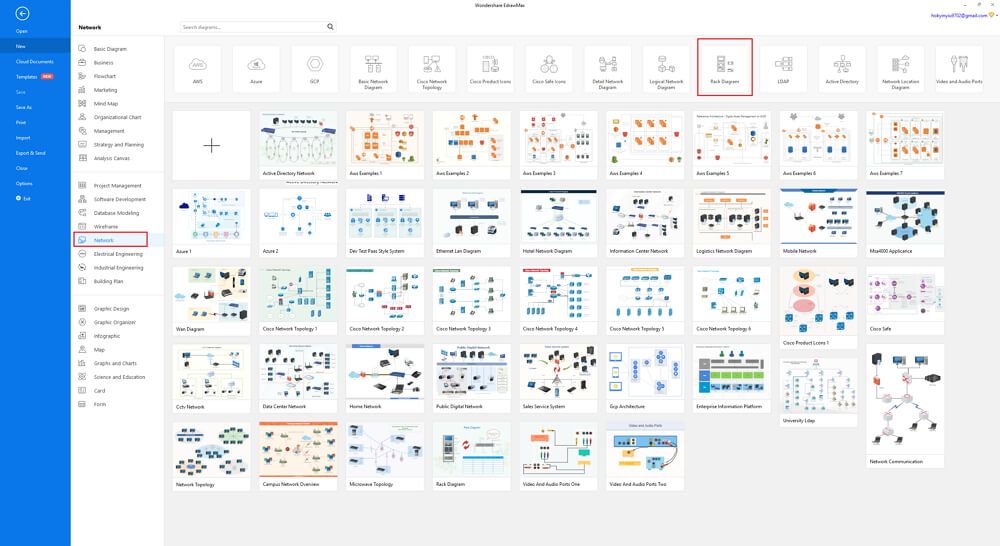 Step 3: Select one rack diagram template to edit on it or click the [+] sign to start from scratch. Also, you can use massive rack diagram symbols and elements from libraries in left menu to customize your rack diagram.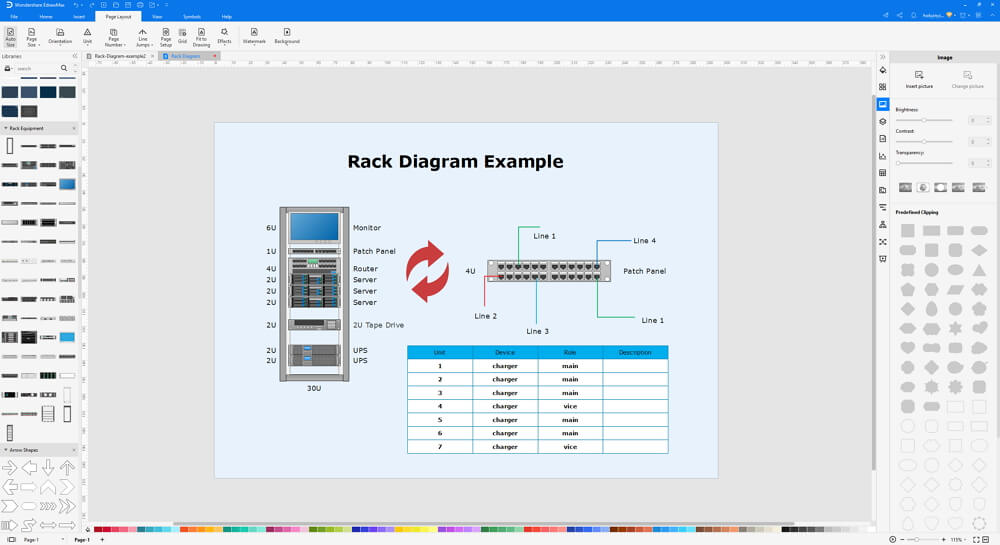 Step 4: Once finished your creation, you can export the file in multiple formats, including Graphics, PDF, editable MS Office file, SVG and Visio vsdx file.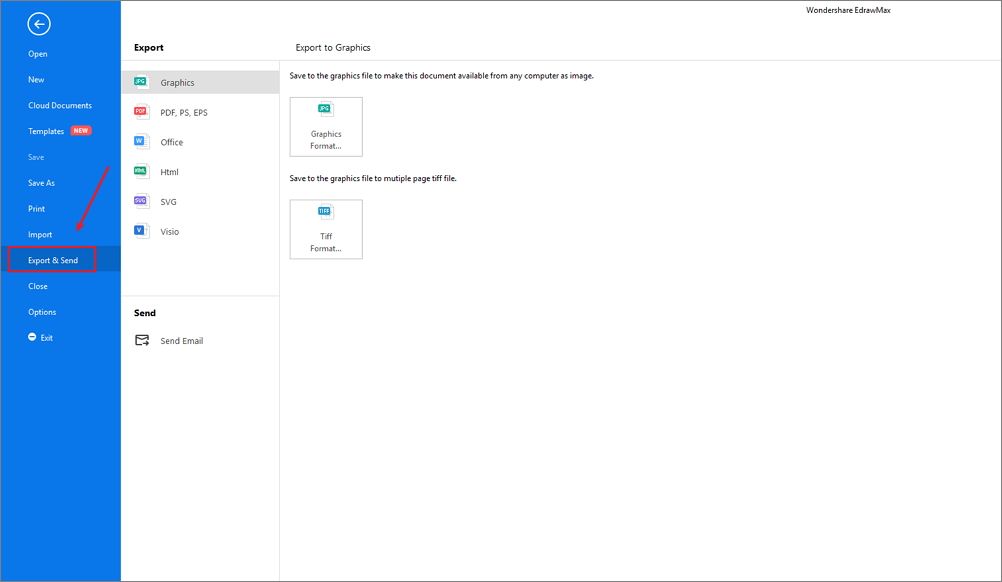 Step 5: Besides, you can share your rack diagram with others via social media and web page. Or publish your rack diagram in EdrawMax template gallery to show your work with others.
Part 3: Rack Diagram Maker - EdrawMax
One of the most powerful programs that can compete with Microsoft Visio, EdrawMax is yet another diagramming software available for Windows, macOS, and Linux. The tool has several categories for almost all types of industries, and each category further has numerous templates to choose from, thus saving you a lot of time that you would otherwise waste in structuring a diagram, rack diagram for this example, from scratch.
Price: free to use, lifetime plan for individuals, license for team and business.
EdrawMax
All-in-One Diagram Software
Create more than 280 types of diagrams effortlessly
Start diagramming with various templates and symbols easily
Superior file compatibility: Import and export drawings to various file formats, such as Visio
Cross-platform supported (Windows, Mac, Linux, Web)
Security Verified |
Switch to Mac >>
Security Verified |
Switch to Linux >>
Security Verified |
Switch to Windows >>
Part 4: Rack Diagram Examples
Following are a few rack diagram examples that would help you understand the diagram versatility.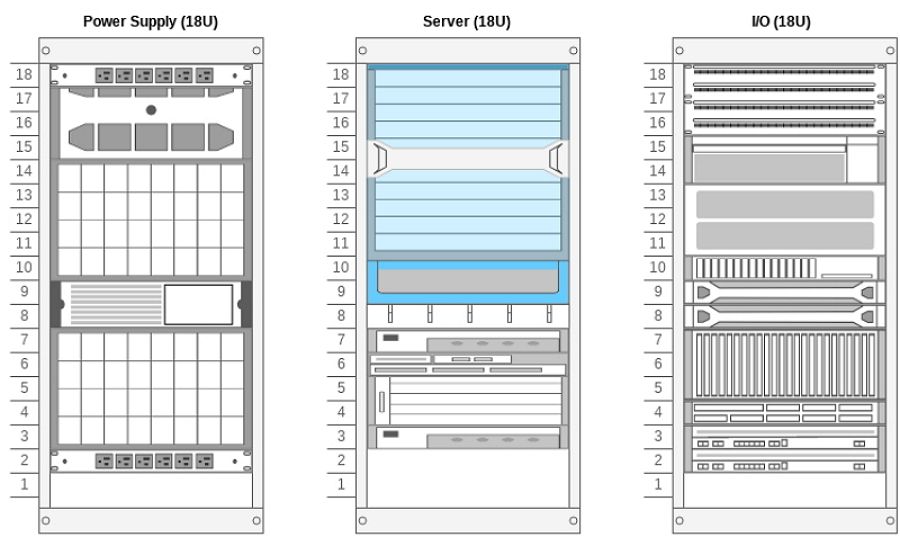 Source:EdrawMax
Here are three examples of how an 18U rack setup might look like. Each rack has sections of different sizes; devices can fit into each of these rack sections. By accurately illustrating the rack setup, IT professionals can use this diagram to identify potential network issues quickly.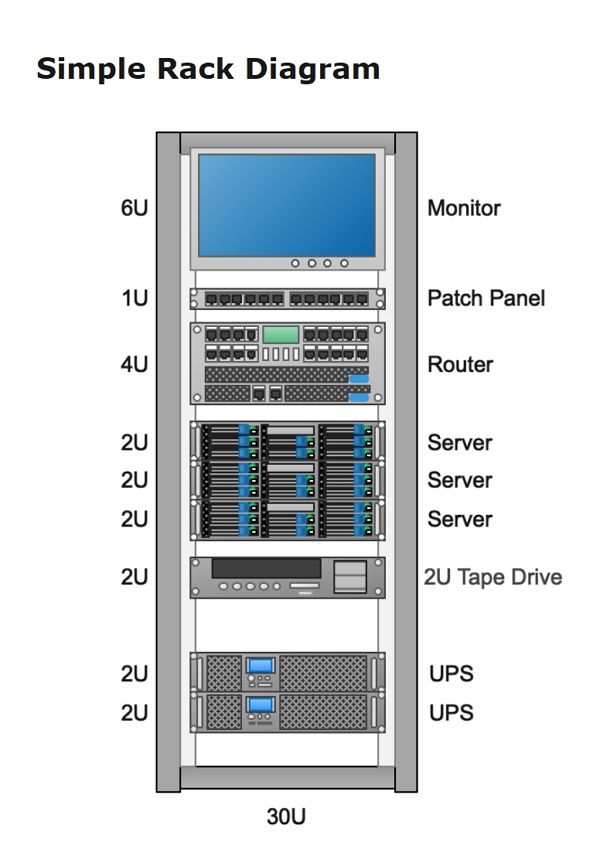 Source:EdrawMax
Here is a simple rack diagram example, which includes rack sections for equipment such as a monitor and servers. A rack diagram is used by IT professionals to accurately plan out the dimensions of their rack, so that it can house everything that is needed.
Part 5: Conclusion
According to this article, there are mainly four parts to illustrate what is the rack diagram, to tell you how to create a rack Architecture diagram in EdrawMax, and to show you how easy and helpful EdrawMax tool is, then shows some rack diagram examples. Creating a detailed rack diagram with Edraw is an effective way to design and document a computer network, like the following illustration.
EdrawMax is an easiest all-in-one diagramming tool, you can create rack diagrams and any other type diagrams with ease! With substantial rack diagram symbols and cliparts, making rack diagrams could be as simple as possible. Also, it supports to export your work in multiple formats and share your work with others. Get started to create your rack diagram now!
Related articles