How to Draw a HVAC Plan in Visio
Do You Want to Make Your HVAC Plan?
EdrawMax specializes in diagramming and visualizing. Learn from this article to know everything about how to make an office layout in Visio and easier way. Just try it free now!
Several decisions are made during building a new or when a commercial complex goes under renovation -- what kind of roofing will there be? How many rooms and windows will there be in each room? Moreover, what kind of HVAC system are you planning to have in the building complex? HVAC plans, or Heating, Ventilation, and Air Conditioning systems are used for heating and cooling the building.
By including the HVAC diagram in your architectural setup, you are ensuring that you have properly marked all the systems. Most of the time, designers create HVAC plans in Visio, thinking that it might be easier for them to work on in the future. In this elaborated article, we will help you understand how you can draw a HVAC plan in Visio and how the free templates and symbols offered by EdrawMax are the key to creating HVAC plan diagrams easily.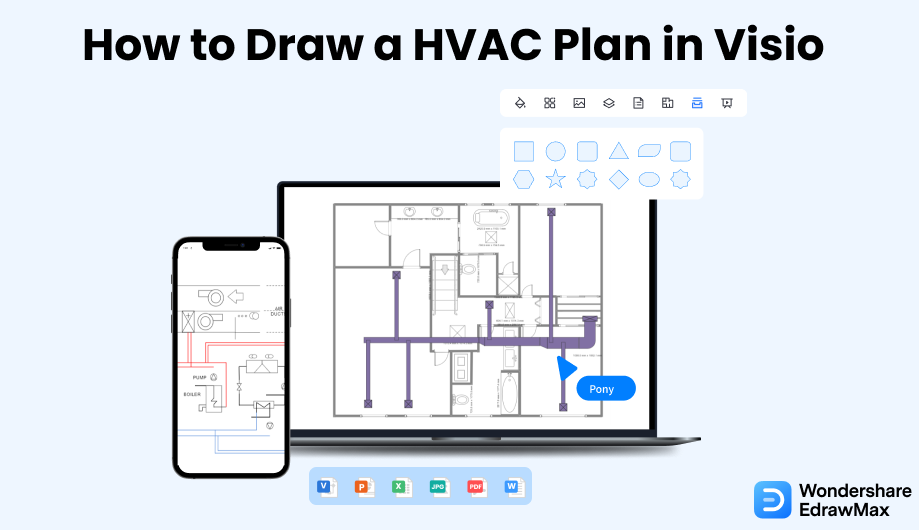 1. How to Draw a HVAC Plan in Word
Microsoft Visio is a great tool for creating diagrams. However, the tool has a bit of a learning curve, and there are many limitations regarding templates and symbols. Still, the following is how to create an HVAC plan in Visio.
Make a plan:

The first step toward creating an HVAC plan for Visio includes creating the sketch. It will enable you to have an idea about the whole space. Once you are satisfied with the plan, you can start the diagramming process.

Open Visio:

Launch the Visio on your device to start with the process. If you want to create the HVAC plan as a new drawing, you can use templates from the 'Maps and Floor plans' category. Go to the HVAC plan option, and click on 'Create' to start your drawing. You will get a scaled page with a default landscape orientation. Change it as per your choice.

Add Layer in CAD Floor Plan:

If you are doing the HVAC plan as a layer in a CAF floor plan, insert the AutoCAD drawing dialog box and click on the 'CAD' file. Accept the scale and size of the CAD drawing. After inserting the drawing, resize it. You can also work on HVAC by having it as a layer in an existing floor plan.

Use symbols:

You can use multiple symbols and shapes to create an HVAC plan for Visio. Drag and resize the ductwork symbols as per your choice from the Shapes pane of HVAC Ductwork. Resize them by stretching the length and width using the selecting handle. You can also resize them by clicking on the properties after selecting the ductwork.

Connect the Ductworks:

To connect the ductworks, you need to position them and drag them to the connecting points. After appropriately placing the ducts, label their length on the map by double-clicking on them. You can right-click on duct shape and select show duct size.

Label the map:

Drag shapes on top of ductworks and connects them using Flex duct. Finally, label other equipment, including registers and diffusers.
Now that you have seen the method for creating the HVAC plan in Visio let us show the alternative to this method, which is the quickest way to create an HVAC plan. With the help of EdrawMax, you not only can create HVAC plans for your building but can also import and export the HVAC plan in Visio formats.
How to Create an HVAC Plan in Visio:
Create the sketch;
Launch the Visio;
Add layer in CAD floor plan;
Use multiple symbols and shapes to create an HVAC plan for Visio;
Connect the ductworks;
Label the map.
2. How to Draw a HVAC Plan in EdrawMax
Now that you have seen the overcomplicated process of creating the HVAC plan in Word let us show you how quickly and effectively you can draw the same chart in EdrawMax.
Step1
Open EdrawMax & Login
The very first step that you need to follow is to install EdrawMax in your system. Go to EdrawMax Download and download the HVAC plan software depending upon your operating system. If you need remote collaboration with your office team, head to EdrawMax Online and log in using your registered email address.
Step2
Template Selection
After logging in, go to the Template section on the left of EdrawMax to access all the HVAC plan templates. You will see hundreds of user-generated HVAC plan templates in the template community panel. As of this writing, we have Factory HVAC, Building Zone HVAC, and Centrifugal Fan HVAC Plan templates. Click on any of these templates and start customizing them as per your requirements.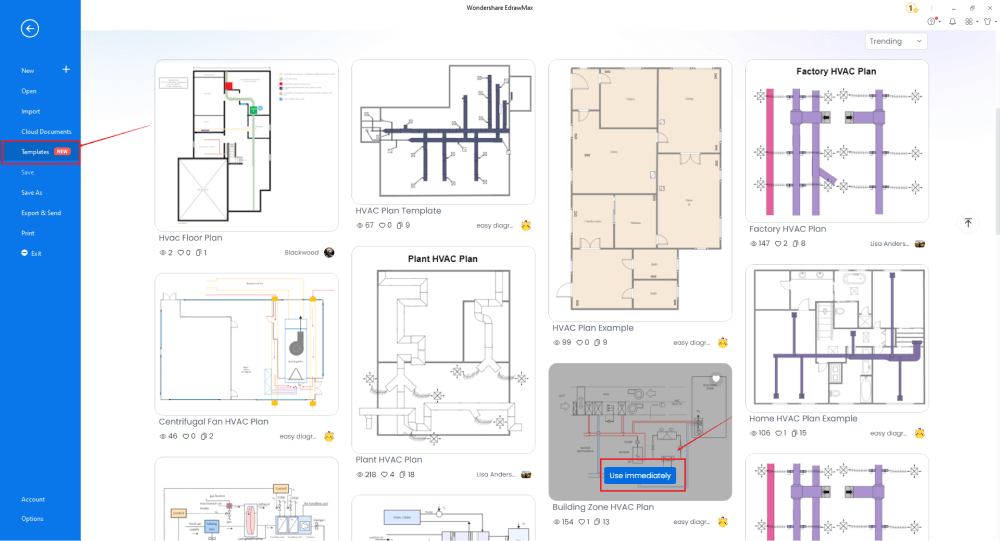 Step3
Create From Scratch
From the EdrawMax homepage, you will find the '+' sign that takes you right to the canvas board, from where you can start designing the HVAC plan from scratch. Use your technical expertise and the tools offered by EdrawMax to create the office layout in Visio. It should be noted here that the first step in creating any HVAC plan is to understand the requirement beforehand and have the measurements ready. Once you have acquired these details, you can start creating the HVAC plan by first adding the correct outline of the structure.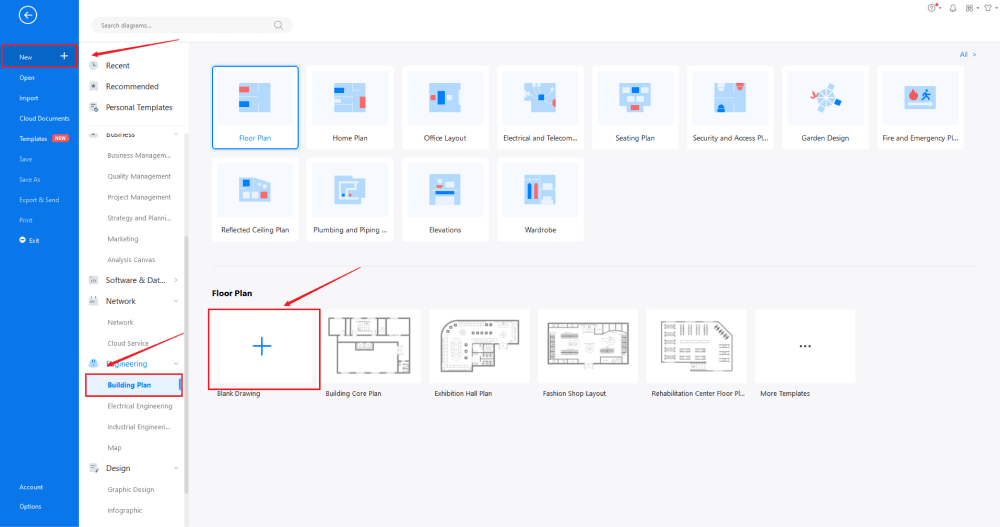 Step4
Select HVAC Symbols
In order to use the HVAC symbols, you need to select the 'Symbols' tab from the toolbar. Click on 'Predefined Libraries'> 'Floor Plan,' and then select the HVAC symbols you need. You will now easily access and insert these vector-enabled HVAC symbols from the left side of the drawing screen. If you do not find the HVAC plan symbols in rare changes, you can create your personalized HVAC plan symbols using the Pen and Pencil tool. Learn more HVAC symbols and find symbols you want here.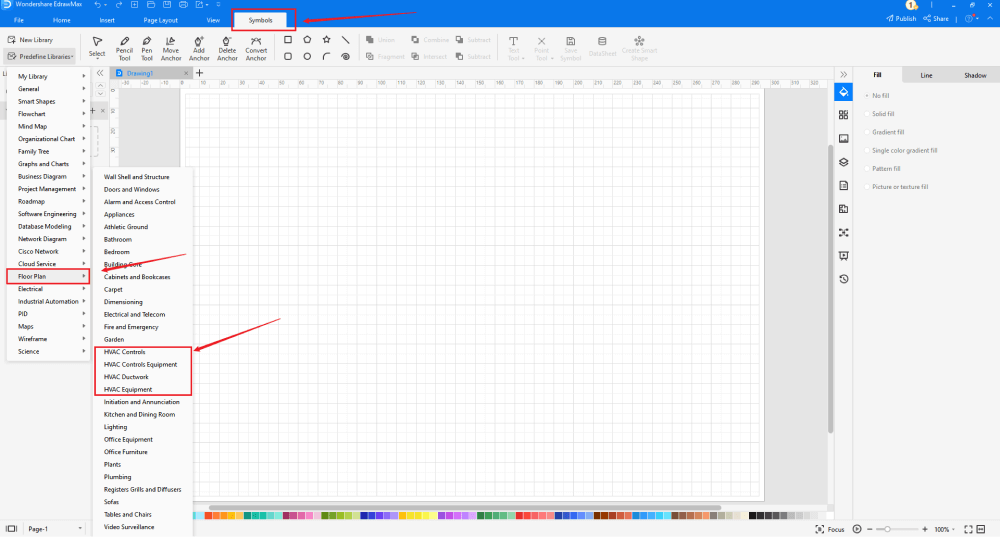 Step5
Add More Components
After creating the outline, you can start adding the basic components of the HVAC layout, like the Pump, VAC Box, Vane Axial Fan, Filter, Reciprocating Pump, and more. Depending upon your need and theme, you can modify these symbols without worrying about losing the formatting of the drawing. Then, use toolbars on the top or right side of canvas to change the color, font, size, theme, and more with one click.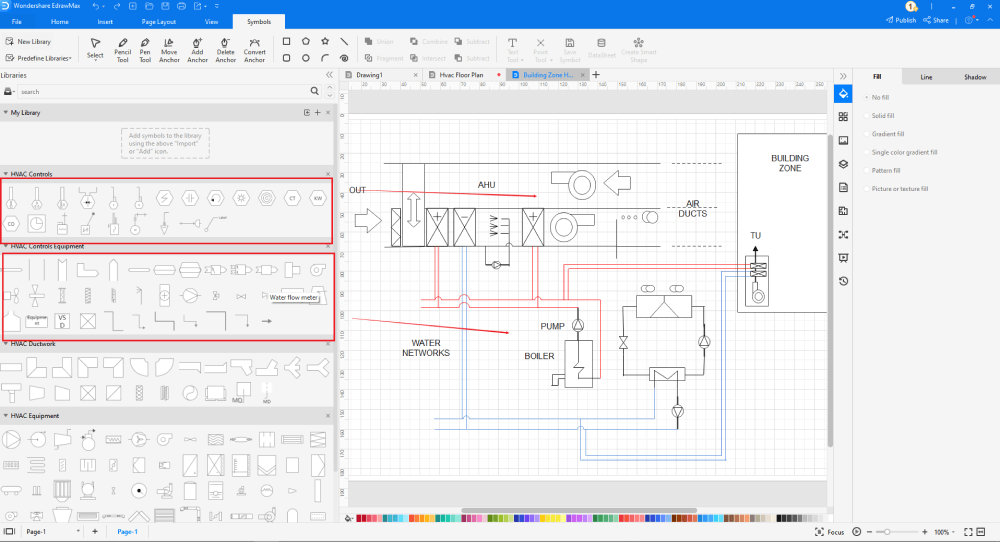 Step6
Export as Visio File
Once you are satisfied with your HVAC plan, you can export it into multiple formats, like JPEG, JPG, PNG, PDF, and other Microsoft formats, like MS Word, MS Excel, PPTX, etc. Just back to the main menu, and find "Export" button, You can also share the HVAC plan diagram on different social media platforms, like Facebook, Twitter, LinkedIn, etc. Moreover, you can print your HVAC diagrams for showing with others.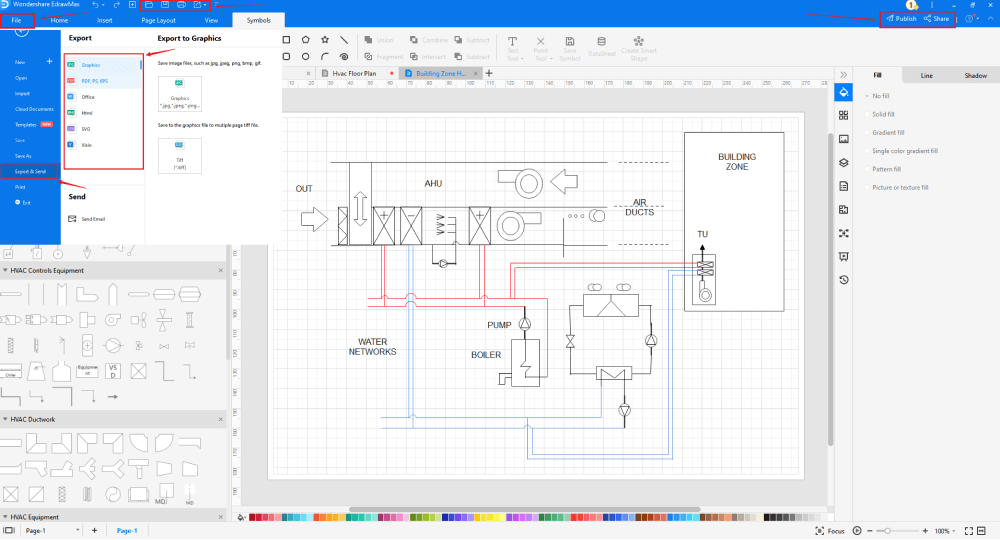 Basically, it is simple to draw a HVAC plan in EdrawMax, just grab a template and keep customizing, drag and drop professinal office HVAC symbols to make your plan better. If you are still confusing about how to draw a HVAC plan in EdrawMax, just check this HVAC plan guide, or check the video below.
3. EdrawMax vs. Visio
There was a time when MS Visio was the only choice to make the building plan diagrams. However, now we have amazing tools like EdrawMax that offer way more features than Visio. Some of the most common comparison factors between EdrawMax and MS Visio are:
With Visio, formatting is the biggest challenge, especially when you have large projects. It is not easy to view all, and you lose track. The same is not the case with EdrawMax. The entire system is vector-enabled, which assures that the formatting is seamless.
Visio is quite expensive compared to EdrawMax.
Since Visio is not a part of Microsoft Suite, you must purchase it separately. EdrawMax is a powerhouse of features and diagramming elements.
EdrawMax includes a large number of symbol libraries. You may quickly build any type of diagram with over 26,000 vector-enabled symbols. If you can't locate the symbols you need, you can easily import some images/icons or build your own shape and save it as a symbol for later use. EdrawMax's vector-enabled seating chart symbols can be readily enlarged, reshaped, recolored, and reformatted to meet your needs. Simply go to the 'Symbols' part of EdrawMax and select the 'Predefined Symbol' section from the top toolbar. Hundreds of symbol categories are accessible for you to utilize and incorporate into your HVAC plan.
Moreover, EdrawMax features a large library of templates. We have more than 25 million registered users who have produced thorough Templates Community for each design. Simply go to the left panel's template section and type any template you're looking for into the search bar. It will bring up hundreds of pre-built templates that you may utilize right away to meet your needs.
Draw a HVAC Plan in Visio:
With Visio, formatting is the biggest challenge, especially when you have large projects.

Visio is quite expensive compared to EdrawMax.

Since Visio is not a part of Microsoft Suite, you must purchase it separately.
Draw a HVAC Plan in EdrawMax:
With built-in templates, you can create the HVAC plans in just a couple of minutes.

You do not have to worry about finding the relative symbols, there are over 26,000 symbols for every field and more resoucres to empower your design.

EdrawMax supports to export file into multiple formats, you can create HVAC plan in EdrawMax, and export as Word, PPT, Excel, and more to meet your needs.
4. Free HVAC Plan Software
EdrawMax is the best free HVAC plan software in 2022 because of the amazing features and tools. Some of the great features of EdrawMax are:
EdrawMax comes with 50,000 vector-enabled symbols, allowing you to have a great experience when creating HVAC plans.
Unlike Visio, this HVAC plan comes with in-built templates for diagrams. From creating a business card to working on a network diagram, EdrawMax has free HVAC examples & templates for all.
With the help of EdrawMax, you can make over 280 different types of diagrams -- way more than MS Visio.
EdrawMax comes with a free online version that allows you to have remote team collaboration.
EdrawMax Desktop
Create over 280 types of diagrams
Windows, Mac, Linux (runs in all environments)
Professional inbuilt resources and templates
On-premises software for business
Enterprise-level data security
EdrawMax Online
Create over 280 types of diagrams online
Access diagrams anywhere, anytime
Team management and collaboration
Personal Cloud and Dropbox Integration
5. Final Thoughts
A building HVAC plan has many core areas, like Installation Qualification (IQ), Operational Qualification (OQ), and Performance Qualification (PQ). Creating and sharing HVAC plans are mandatory requirements when your building undergoes any renovation. Ensure that when you create an HVAC plan, you should add important components, like water networks, boiler, pump, air ducts, and more.
Instead of using complex and costly tools to create an HVAC plan, you should go ahead with EdrawMax and create HVAC plans in Visio and other formats. With the rich template and vector-enabled symbols, EdrawMax is the go-to tool for all the diagramming needs.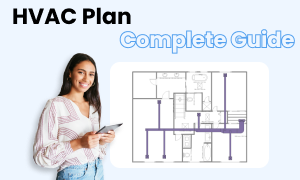 HVAC Plan Complete Guide
Check this complete guide to know everything about HVAC plan, like HVAC plan types, HVAC plan symbols, and how to make a HVAC plan.