How to Create a Timeline in Visio
Do You Want to Make Your Timeline?
Wondering how to create a timeline in Visio? Check out the EdrawMax guide to know how you can create a timeline in MS Visio and how you can take the help of Visio timeline templates provided by EdrawMax.
Creating timeline diagrams consists of creating horizontal or merely a line that represents a progression from one point to another. In addition to this, we create Visio Timeline diagrams in order to create a timeline of different events that happened in history. One of the most simple examples of a timeline diagram is listing important details regarding an important time in history, be it an invention or a political scenario. A Visio timeline diagram includes the series of events and activities that one needs to display along with their dates to mark their occurrence over a pre-mentioned phase.
In this article, we will help you understand how you can create a timeline in MS Visio and how you can take the help of Visio timeline templates provided by EdrawMax to easily create similar timeline diagrams.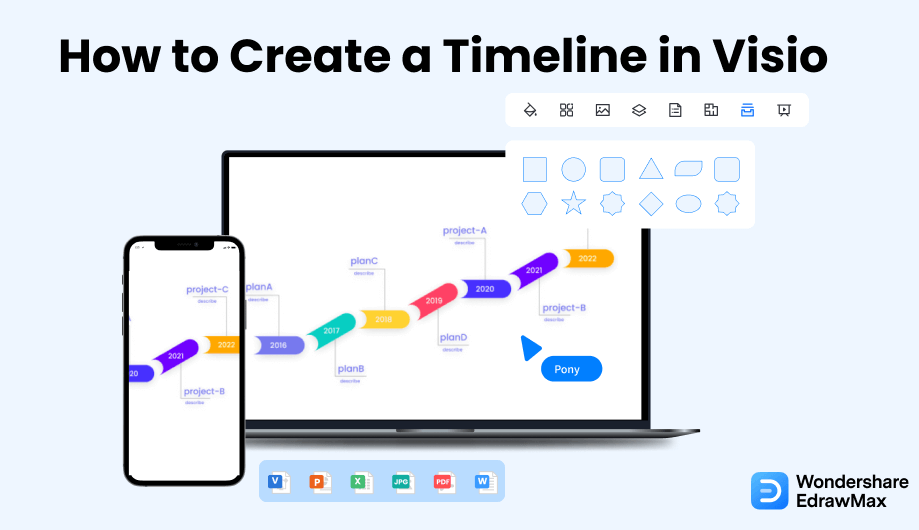 1. How to Create a Timeline in Visio
Start the Visio Tool:

If you are planning a project, then a Timeline can be highly effective for the schedule and its multiple phases. If you are willing to make a Timeline in Visio, you need to know how to create a timeline. To start your Timeline on Visio, you need to launch the Visio tool on your system and take a Timeline template. Select Create. After that, choose the shape (cylindrical, line, or block) to represent the span.

Set the Timeline and Mark Milestones:

Add the starting and ending date, which you can do by clicking on the Start box and Finish box of the "Time Period" Tab to configure it. You can set the timescale from the Scale button. Once you have set your timeline, you need to mark the milestones and highlight events. Drag the Milestone Shapes from the Timeline Shapes, and the Configure Milestone dialog box allows you to set the milestone time and date. You can add a description of the milestone in the Description box.

Indicate Time:

To indicate the timespan, drag interval shapes from the Timeline Shapes and mark the start and end date on the Start and Finish date boxes. You can also indicate elapsed time by dragging the Elapsed time Shapes from the Timeline Shapes, taking the Today marker shape, and placing it at the current date. The 'elapsed time' and 'Today marker shapes' move with the present time. You can synchronize and revise timelines as per your choice.

Save and Export the File:

After adding the events, milestones, and intervals, you can synchronize them. Once you are satisfied with your timeline, you can save the timeline and export it in multiple formats to use elsewhere. As you can see in these Visio timeline diagram steps, you can create a timeline diagram, but due to the lack of templates and themes, all of your timeline diagrams will look almost the same. If you plan to have different timeline diagrams, head to the next segment, where we discuss creating timeline diagrams in general and how easily you can import Visio timeline templates in EdrawMax.
How to Create a Timeline in Visio:
Start the Visio Tool;
Set the Timeline and Mark Milestones;
Indicate Time;
Save and Export the File;
2. How to Create a Timeline in EdrawMax
EdrawMax is a diagramming tool, well equipped with all the required features to create a unique timeline diagram. Follow the steps below and start creating the timeline diagram that you can later export in multiple formats.
Step1
Open EdrawMax & Login
The very first step that you need to follow is to install EdrawMax in your system. Go to EdrawMax Download and download the timeline maker software depending upon your operating system. If you need remote collaboration with your office team, head to EdrawMax Online and log in using your registered email address.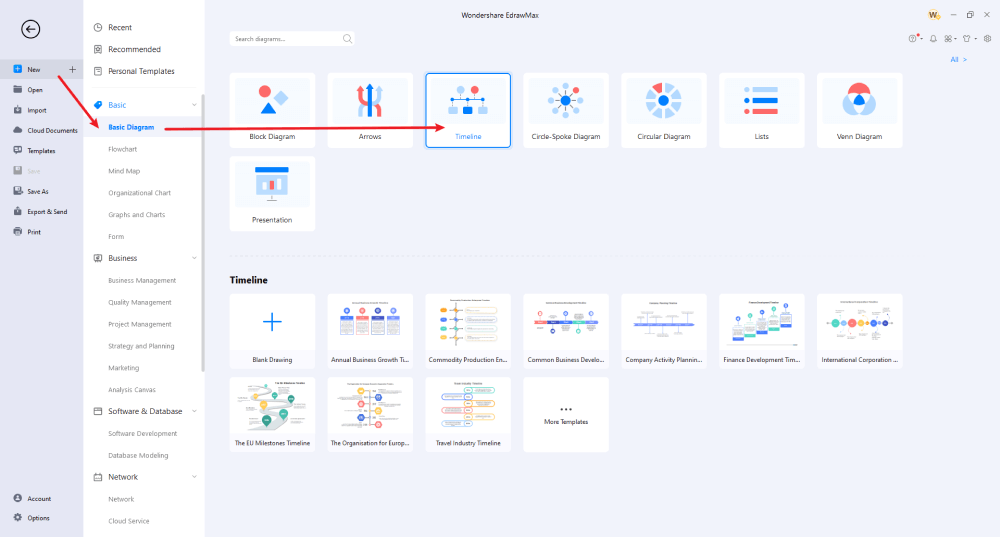 Step2
Select a Template
If you already have a Visio timeline template available in your system, you can import it using the Import option. If this is your first time creating a timeline diagram, head to the 'Templates' section and search for 'timeline.' The system will produce several user-generated templates that you can duplicate as per your preference. You can duplicate more than one timeline diagram template to avail of its components.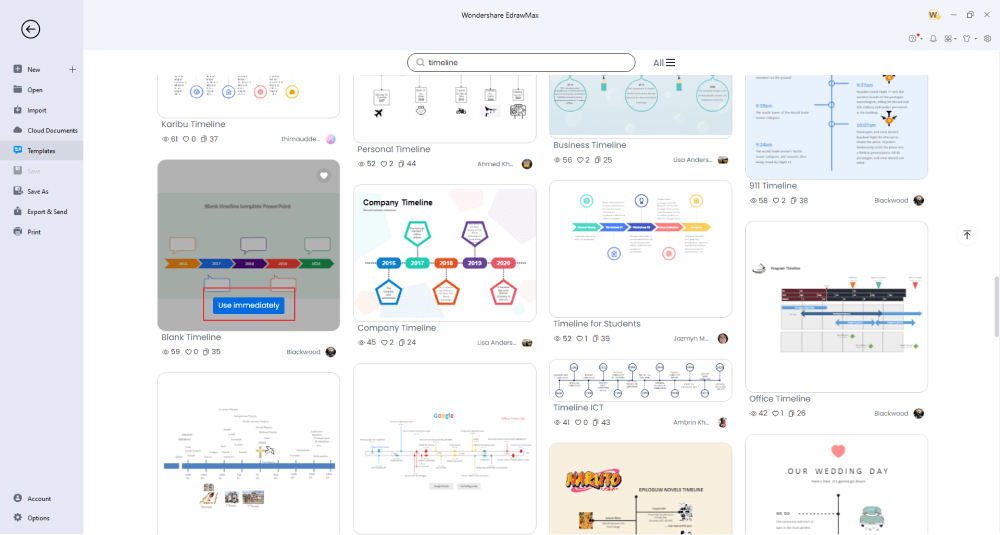 Step3
Create From Scratch
If you are planning to create the timeline diagram from scratch, go to the 'Basic Diagram' that you will find under the 'Basic' category and click on 'Timeline' and click on the '+' sign. You will now see a blank drawing space with timeline symbols on the left. Start placing the most appropriate symbol and start adding the details to it.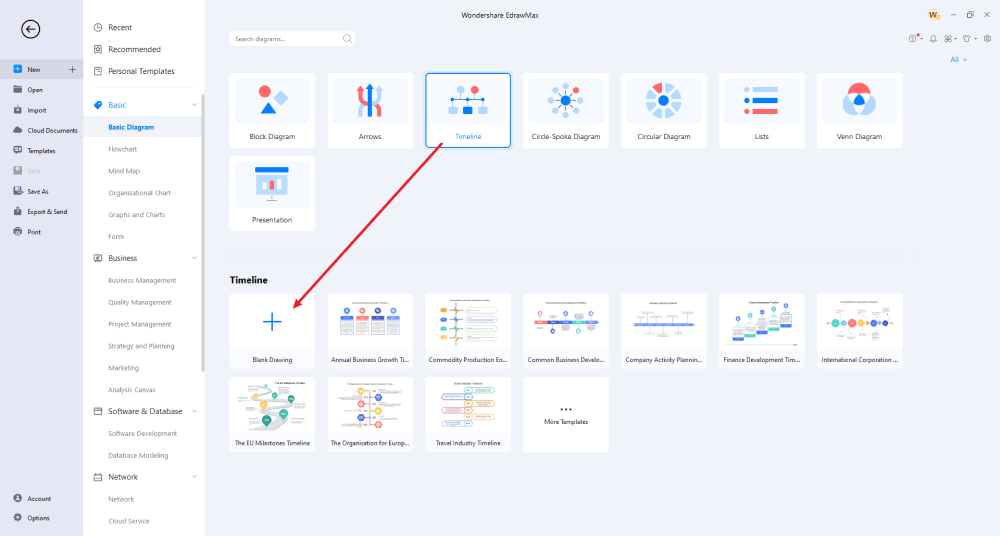 Step4
Add Symbols & Components
EdrawMax has a vast collection of symbols that are readily available. If you cannot find the timeline symbol that you intend to use, head to the 'Symbols' option on the top toolbar and select the Pen/Pencil tool to create a personalized vector-enabled symbol that you can use at the later stages. If you imported a Visio timeline template or are using a user-generated timeline template, you can start modifying it as per your requirement. You can add the event details or even remove certain pieces without worrying about losing the styling or formatting.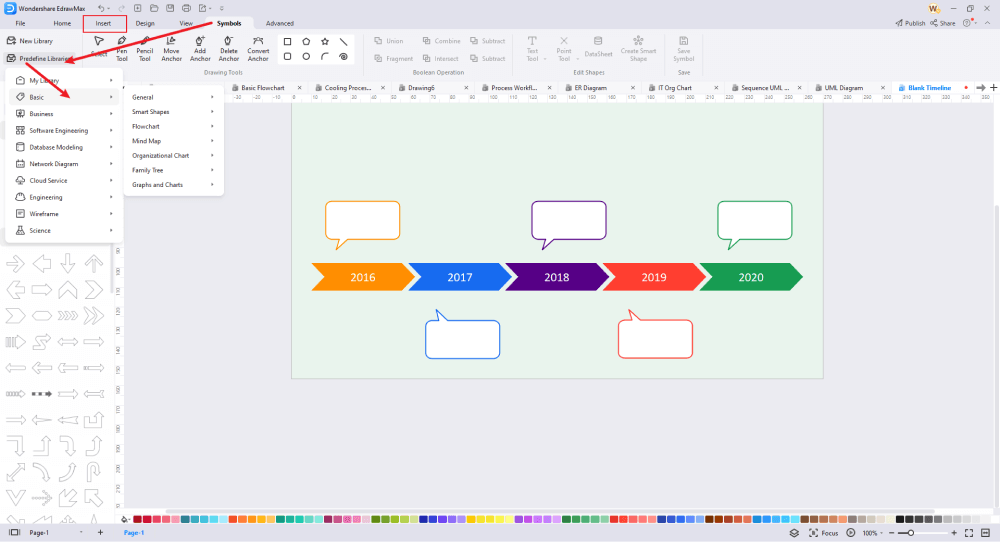 Step5
Export & Share
Once you are satisfied with the timeline diagram, you can export it into Visio file format, VSDX, or multiple Microsoft formats, like DOCS, PPTX, and more. This Visio alternative diagramming tool also offers you to share your timeline diagram on multiple social media platforms, like Facebook, Twitter, LinkedIn, and more.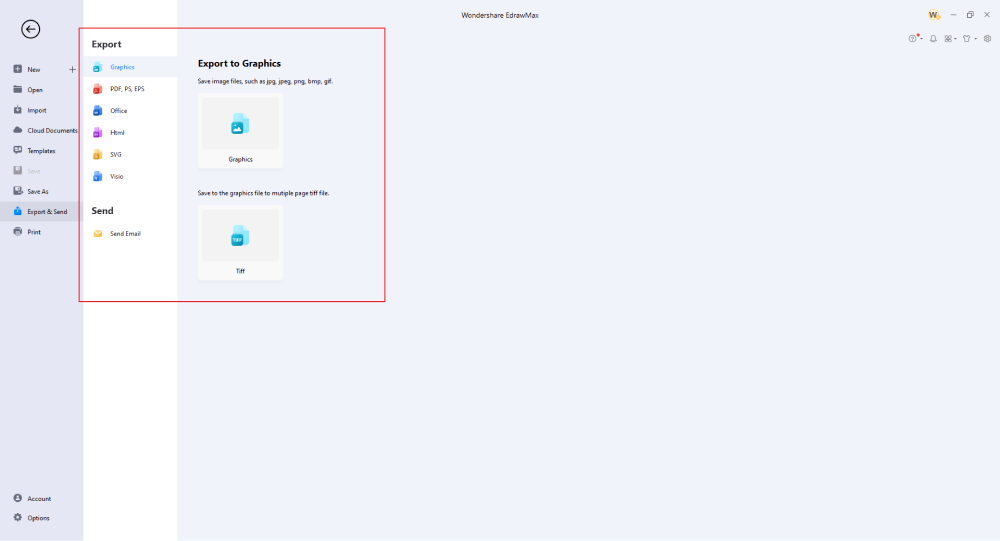 Basically, it is simple to create a timeline in EdrawMax. Just grab a template, keep customizing, drag and drop professional timeline symbols to make your drawings better. If you are still confused about how to draw a timeline in EdrawMax, just check the video below.
3. EdrawMax vs. Visio
EdrawMax has several amazing features that make it the best alternative to Visio, currently leading the diagramming world. Some of the most common comparison differences between the two are:
Visio has a limitation in providing high-quality timeline templates. Even after multiple updates from Microsoft, users still have to go and depend on third-party add-ons just to get timeline templates. EdrawMax houses more than 1,500 templates that you can use as per the diagram.
Visio is incompatible with different operating systems. EdrawMax is compatible with Windows, MacOS and Linux. Even the web version of EdrawMax is compatible with all the offline versions.
If you are a student or an owner of a new business, you will find the Visio yearly license to be extremely costly. Microsoft has stopped releasing it along with its usual license, and you will have to pay a lot of money for the annual renewal. EdrawMax is created for students, beginners, and professionals alike. The one-time license will give you a lifetime of free upgrades and more personalized cloud space.
EdrawMax has over 26,000 vector-enabled symbols that let you work on over 280 types of different diagrams. In the symbol library, you will find symbols to create not only timeline diagrams but also flowcharts, org charts, science diagrams, architecture diagrams, network diagrams, and more. This Visio timeline maker also helps create vector-enabled symbols that you can save in your library for future use.
Every registered account of EdrawMax comes with access to the Templates Community, where you will find thousands of user-generated templates that you can instantly duplicate. Head to the 'Templates' section and search for a timeline diagram. You will see some timeline templates, like Product Timeline Diagram, Project Timeline Diagram, Tenet Timeline Diagram, Facebook Timeline Diagram, Coronavirus Timeline Diagram, Logistics Timeline Diagram, Release Reports Timeline Diagram, and more.
Comparison of Timeline Features
| Essentials | Visio | Edraw |
| --- | --- | --- |
| Free or not | 1-month trial | Freemium |
| Diagram Types | 42+ | 280+ |
| Symbols | 5,000+ | 26,000+ |
| Examples & Templates | 20+ | 1,500+ |
| Languages | 98 | 11 (English, French, German, Japanese, Spanish, Italian, Portuguese, Russian, Korean, Simplified Chinese, Traditional Chinese) |
| Pricing | $309.99 (one-time Standard); $579.99 (one-time Professional) | $245 (one-time); $312 (one-time, bundled with EdrawMind and EdrawInfo) |
| Runs On | Win and Web | Win, Mac, Linux, and Web |
| Diagrams, Templates, and Symbols | Visio | Edraw |
| timeline | | |
| Org Chart | | |
| Network Diagram | | |
| Process Flow Diagram | | |
| Gantt Chart and Timeline Diagram | | |
| Mind Map | | |
| Office Layout | | |
| Floor Plan | Only Professional Available | |
| HVAC Plan | Only Professional Available | |
| Piping and Instrumentation Diagram (P&ID) | Only Professional Available | |
| Rack Diagram | Only Professional Available | |
| Azure and AWS Diagram | Only Professional Available | |
| Business Process Model and Notation (BPMN) | Only Professional Available | |
| Entity Relationship Diagram (ERD) and UML Diagram | Only Professional Available | |
| Concept Map | | |
| Infographic | | |
| Emergency Exit Plan | | |
| Presentation | | |
| Template Community (A user-generated platform for creating & discovering templates) | | |
| Symbol Library (Create your own symbols and import symbols from external sources) | | |
| Features | Visio | Edraw |
| Infinite canvas and Multipage documents | | |
| Shape drawing & text tools | | |
| Position, alignment, and formatting tools | | |
| Custom diagram theme | | |
| Insert pictures, hyperlinks, notes, comments, and attachments | | |
| Custom diagram watermark | | |
| Insert QR codes | | |
| Area auto-calculation (floor plan) | | |
| Cloud Storage | | |
| Formula editor | | |
| Encrypt files | | |
| Auto formatting | | |
| Focus mode | | |
| Custom Shortcut keys | | |
| Version History | | |
| File Recovery | | |
| Import & Export | Visio | Edraw |
| Import from Visio and Visio Stencils | | |
| Import from SVG | | |
| Export to Visio | | |
| Export to PDF, SVG, HTML, and Graphic Files | | |
| Export to Microsoft Word, Excel, and PowerPoint | | |
| Export to EPS | | |
4. Free Timeline Maker
With over 25 million registered users, EdrawMax is a powerful tool loved by several global brands. Some of the amazing features of this visio timeline software are:
EdrawMax lets you create over 280 different diagrams -- 3x to what MS Visio has to offer.
All the timeline diagram files exported from this free timeline maker are fully encrypted. You can easily share them across social media platforms without worrying about losing the files.
You can increase your creativity and productivity by availing of the lifetime membership of EdrawMax, which comes with unlimited access to all the template resources, offers 20 GB of cloud space to store your timeline and other diagrams, lifetime free upgrades and priority support, and more.
This Visio timeline diagram maker lets you easily import VSDX files along with the Visio symbols, which helps in working on the Visio files without worrying about formatting and styling.
Unlike Visio, which requires you to have expertise in diagramming, this free timeline software has a user-friendly dashboard with hundreds of online libraries and resources. With free-to-use templates and symbols, one can create timeline diagrams in just a few steps.
EdrawMax Desktop
Create over 280 types of diagrams
Windows, Mac, Linux (runs in all environments)
Professional inbuilt resources and templates
On-premises software for business
Enterprise-level data security
EdrawMax Online
Create over 280 types of diagrams online
Access diagrams anywhere, anytime
Team management and collaboration
Personal Cloud and Dropbox Integration
5. Final Thoughts
Timeline diagrams are helpful for students, educators, professionals, scholars, and more! By creating professional and creative timelines, one can easily understand the chronological sequence to better understand the project, concepts, change, recurring events, cause and effect, key events of history, and more. It won't be wrong to say that timeline diagrams are a universal learning tool, helpful in the verticals. So, to master the craft of making timeline diagrams, you need a tool equipped with all the right diagramming resources.
EdrawMax is one such tool that is considered the best alternative to Visio, as it imports Visio timeline diagram files and later exports them into multiple formats for better collaboration. You can create visio timeline diagrams in EdrawMax by checking out amazing timeline templates and later exporting them in VSDX formats. Download this timeline maker Today and start creating some amazing timeline diagrams.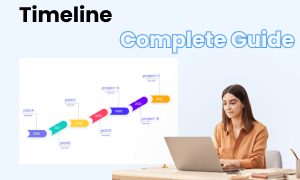 Timeline Complete Guide
Check this complete guide to know everything about the timeline, like timeline types, timeline symbols, and how to make a timeline.