How to Create an ER Diagram in Visio
Do You Want to Make Your ER Diagram?
Most system development engineers often wonder how they can access Visio ER diagram or how they can easily create an ER diagram. Check out the this elaborate guide to understanding how to create an ER diagram in Visio and an easier way.
As a system development engineer, you often come across a term called Entity Relationship Diagram and how to easily make an Entity Relationship diagram. What is an ER diagram? An Entity Relationship Diagram, commonly known as ERD or entity-relationship model, is a graphical illustration that helps identify the relationships among people, places, concepts, objects, and more within an information technology-related system. Such Visio ER Diagrams are important for modeling the data stored in any system's database. In general words, by creating an entity-relationship diagram in Visio and other formats, a system engineer ensures that their real-time database will have no potential errors. Such ER Diagrams illustrate what data an engineer will store, including different entities and their attributes.
In this guide to creating ER Diagram in Visio and other formats, we will walk you through the steps you need to take to create an entity-relationship diagram in Visio and how EdrawMax and its templates are considered the best alternative to create and edit Visio ER Diagrams.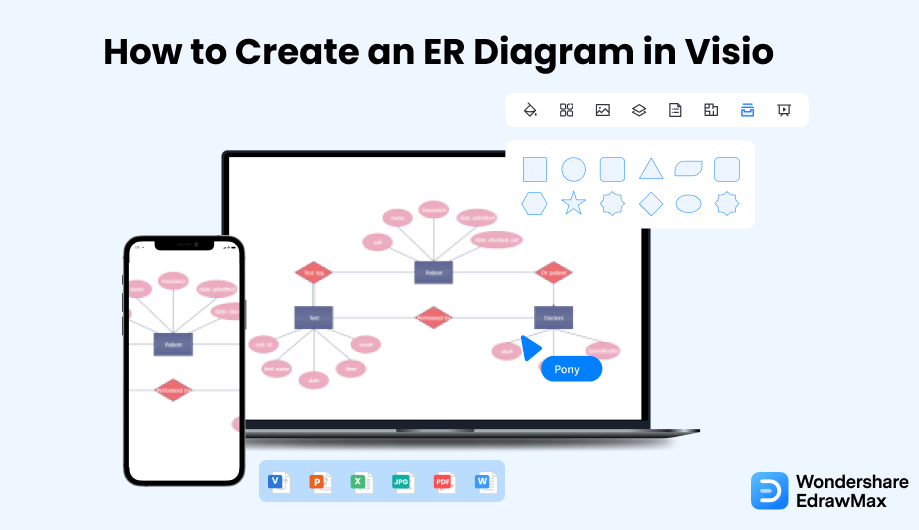 1. How to Create an ER Diagram in Visio
Follow these simple steps to create an ER diagram in Visio.
Open Visio:

As a diagramming tool, Visio has the option to create Entity-relationship diagrams using its library. A clear idea should be there about how to create an ER diagram and the functions of Visio to create a perfect ER diagram without any mistakes. To draw your ER diagram, you need to open the Visio on your system and go to the Visio dashboard, where you can create a new image. You may select a matric system or database modeling, or ER diagram from here, depending on your project.

Create and Customize Entities:

You can create entities on a new canvas using the drag and drop feature of the tool. To select the cardinality type and relationships, you should go to the Database Document options and choose the one you want to use. You can drag an entity on the main canvas with a click on the Entity option. You can carry out entity customization and add multiple entities on the ER diagram similarly.

Making Relationships and Attributes:

Once you have added the entities in your ER diagram, you should add the relationships and attributes. Connect the entities to add a relationship. Select from the relationship options present in the sidebar. Go to its properties for choosing a cardinality type after connecting the entities. In this way, you can add the attributes of the entities, primary keys, and foreign keys to your ER diagram.

Save the ER Diagram:

After you have finished adding the relationships of the entities and other vital parameters, you can save your ER diagram. You need to go to the Save option of Visio and click on "Save As" for that. You can save the file and export it to the file format of your choice. As you saw here, creating an ER Diagram in Visio requires effort. Instead of using MS Visio, you can start creating ER diagrams in Visio format using EdrawMax or EdrawMax Online. These tools offer so much more than what Visio has to offer, and these are compatible with all the different operating systems.
How to Create an ER Diagram in Visio:
Open Visio;
Create and Customize Entities;
Making Relationships and Attributes;
Save the ER Diagram;
2. How to Create an ER Diagram in EdrawMax
As you saw from the above-mentioned steps, you can create an ER diagram in Visio, but it will take an enormous amount of time and effort. Instead of going through the complicated steps of understanding how to create an ER diagram, you can check out EdrawMax steps, where we help you create a similar-looking ER diagram in five steps.
Step1
Open EdrawMax & Login
The very first step that you need to follow is to install EdrawMax in your system. Go to EdrawMax Download and download the ER diagram maker software depending upon your operating system. If you need remote collaboration with your office team, head to EdrawMax Online and log in using your registered email address.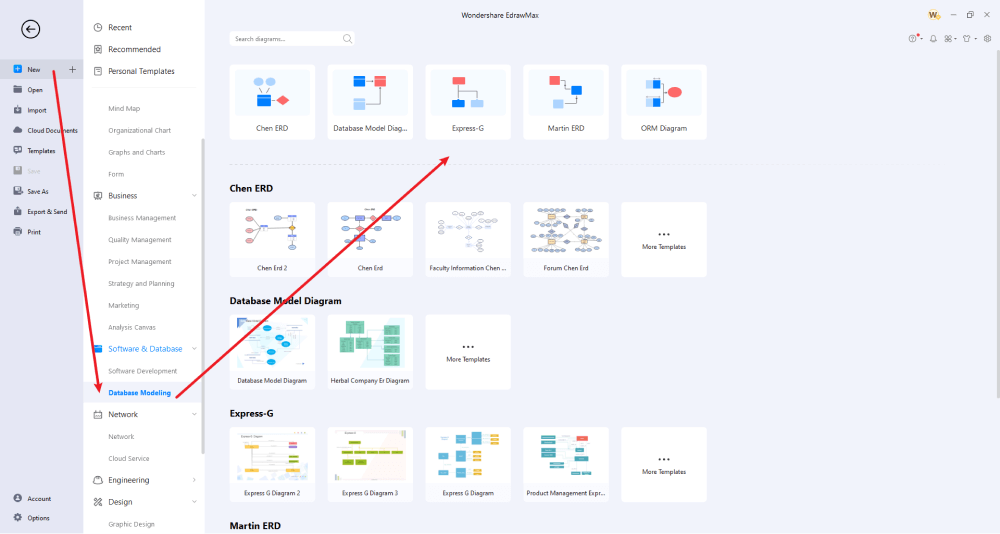 Step2
Select a Template
If you already have a Visio ER Diagram file, you can go to the 'Import' section of EdrawMax and upload the VSDX format file to customize. Alternatively, you can head to the 'Templates' section and search for ER Diagram or Entity Relationship Diagram. The system will produce user-generated templates that you can duplicate instantly. Upon duplicating, you can start changing the entities or attributes as per your requirements.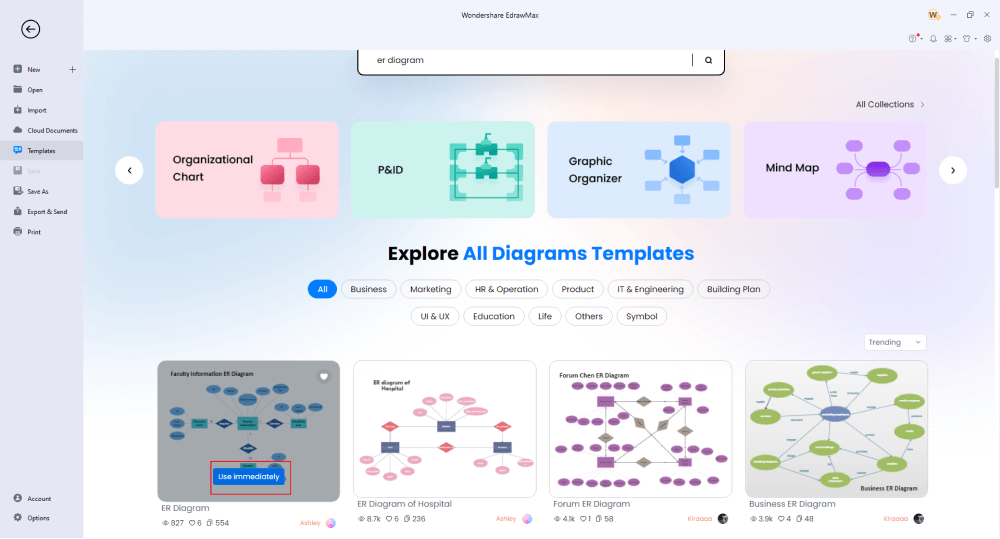 Step3
Create From Scratch
If you do not have any Visio ER Diagram file and need to create one from scratch, click on the '+' sign that you will find under 'Database Modeling.' Once you are in the system, you can start adding different entities and their attributes according to the business model.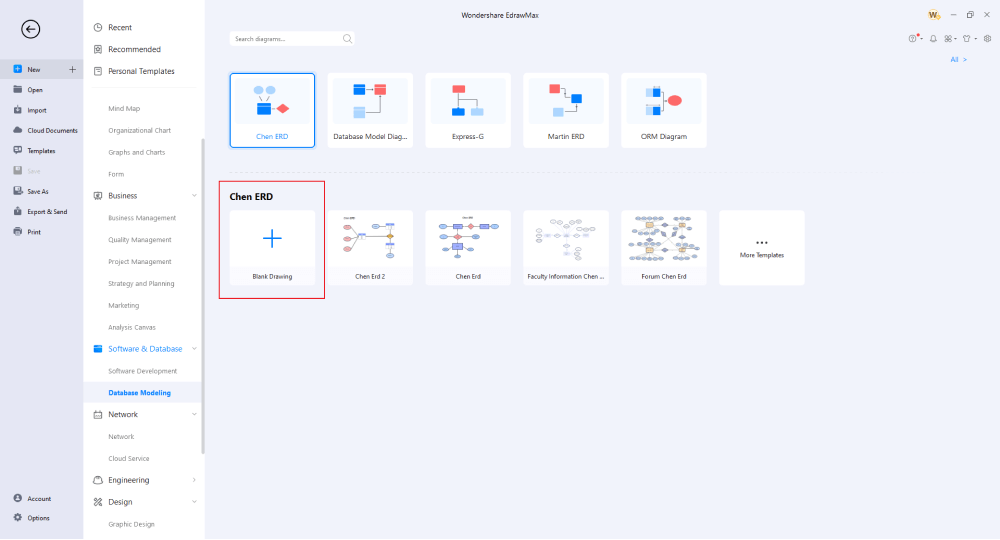 Step4
Add Symbols & Components
ER diagrams mainly consist of three basic symbols, rectangle, oval, and diamonds, representing different relationships between elements, entities, and attributes. In ER Diagrams, connecting lines depict the interconnectedness of these entities, relationships, and different attributes. You can start placing these symbols and connecting lines as per your project's requirements. If you have imported a Visio ER Diagram template or have duplicated one template from the template community, you can start customizing it. From changing the entities' names to adding different attributes, you can easily modify the contents of any template without losing the formatting and styling.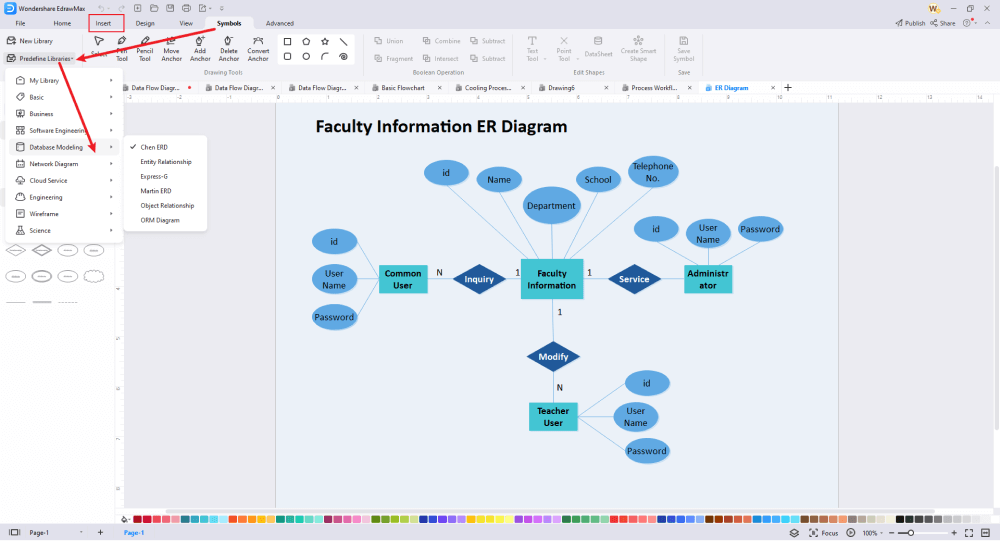 Step5
Export & Share
After you are done creating the ER Diagram, you can easily share it with your peers in different formats. EdrawMax lets you export the entity-relationship diagram in Visio format, VSDX, and other Microsoft formats, like DOCS, PPTX, PDF, HTML, and more. You can also share this Visio ER Diagram file on multiple social media platforms, like Facebook, Twitter, Pinterest, and Line.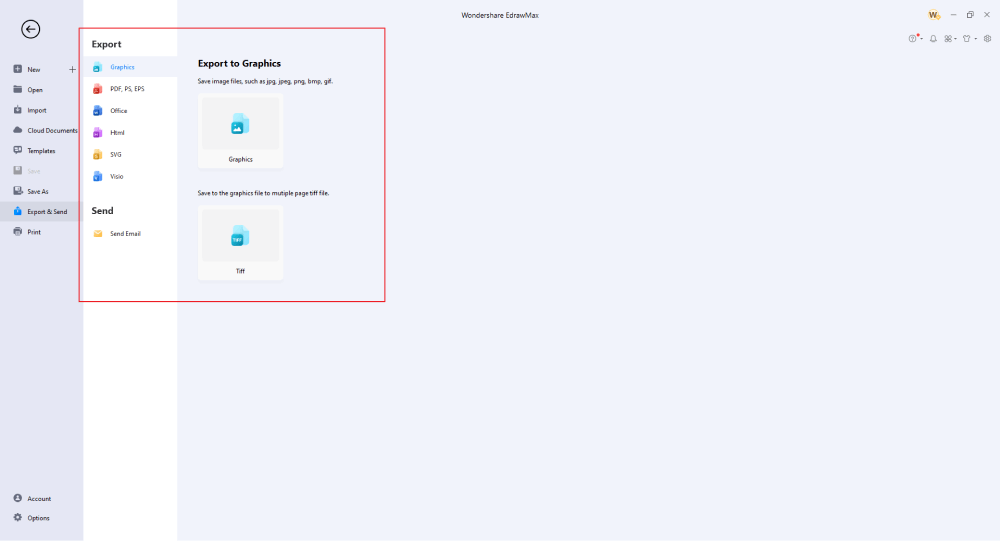 Basically, it is simple to create an ER diagram in EdrawMax. Just grab a template, keep customizing, drag and drop professional ER diagram symbols to make your drawings better. If you are still confused about how to draw an ER diagram in EdrawMax, just check the video below.
3. EdrawMax vs. Visio
Visio and EdrawMax are both considered tools for creating complex Entity-Relationship Diagrams. However, due to the lack of features, over 25 million users have started using EdrawMax. Some of the most common comparison factors between Visio and EdrawMax are:
Visio is not pocket-friendly. Microsoft has stopped releasing it with its Office 365 suite, and the user has to pay separate license fees in order to use Visio. EdrawMax is not only pocket friendly but comes with a free version that allows students and small business owners to get things started.
Visio offers a very limited number of templates, making it hard for new users to create something from scratch. EdrawMax comes with over 1,500 templates that let you make over 280 different types of diagrams.
Visio is only compatible with Windows computers, making it hard for MacBook and Linux users to avail of the services. EdrawMax is available for all the operating systems presently available in the market, including Windows, MacOS and Linux.
ER Diagram requires a user to easily replace the shape. Visio does not let the users change the shape, and when someone tries to replace the shape, they will have to reformat the entire diagram. EdrawMax easily lets you change the shape without worrying about formatting or styling.
EdrawMax has over 26,000 vector-enabled symbols that help in making diagrams. Some of the most common entity-relationship diagrams that are available in EdrawMax are an entity, relationship, parent to a category, category to a child, dynamic connector, line connector, partial, and more. You can use these symbols to make your Visio ER Diagram easily.
EdrawMax also has a rich Templates Community that is created for those users who wish to inspire others by publishing their work. Head to the 'templates' section and look for the 'entity-relationship diagram.' Here, you will find several user-generated ER diagram templates, like standard entity relationship diagrams, online entity-relationship diagrams, restaurant entity-relationship diagrams, entity-relationship diagrams for a hospital management system, Ice-Cream Store entity-relationship diagrams, and more.
Comparison of ER Diagram Features
| Essentials | Visio | Edraw |
| --- | --- | --- |
| Free or not | 1-month trial | Freemium |
| Diagram Types | 42+ | 280+ |
| Symbols | 5,000+ | 26,000+ |
| Examples & Templates | 20+ | 1,500+ |
| Languages | 98 | 11 (English, French, German, Japanese, Spanish, Italian, Portuguese, Russian, Korean, Simplified Chinese, Traditional Chinese) |
| Pricing | $309.99 (one-time Standard); $579.99 (one-time Professional) | $245 (one-time); $312 (one-time, bundled with EdrawMind and EdrawInfo) |
| Runs On | Win and Web | Win, Mac, Linux, and Web |
| Diagrams, Templates, and Symbols | Visio | Edraw |
| Flowchart | | |
| Org Chart | | |
| Network Diagram | | |
| Process Flow Diagram | | |
| Gantt Chart and Timeline Diagram | | |
| Mind Map | | |
| Office Layout | | |
| Floor Plan | Only Professional Available | |
| HVAC Plan | Only Professional Available | |
| Piping and Instrumentation Diagram (P&ID) | Only Professional Available | |
| Rack Diagram | Only Professional Available | |
| Azure and AWS Diagram | Only Professional Available | |
| Business Process Model and Notation (BPMN) | Only Professional Available | |
| Entity Relationship Diagram (ERD) and UML Diagram | Only Professional Available | |
| Concept Map | | |
| Infographic | | |
| Emergency Exit Plan | | |
| Presentation | | |
| Template Community (A user-generated platform for creating & discovering templates) | | |
| Symbol Library (Create your own symbols and import symbols from external sources) | | |
| Features | Visio | Edraw |
| Infinite canvas and Multipage documents | | |
| Shape drawing & text tools | | |
| Position, alignment, and formatting tools | | |
| Custom diagram theme | | |
| Insert pictures, hyperlinks, notes, comments, and attachments | | |
| Custom diagram watermark | | |
| Insert QR codes | | |
| Area auto-calculation (floor plan) | | |
| Cloud Storage | | |
| Formula editor | | |
| Encrypt files | | |
| Auto formatting | | |
| Focus mode | | |
| Custom Shortcut keys | | |
| Version History | | |
| File Recovery | | |
| Import & Export | Visio | Edraw |
| Import from Visio and Visio Stencils | | |
| Import from SVG | | |
| Export to Visio | | |
| Export to PDF, SVG, HTML, and Graphic Files | | |
| Export to Microsoft Word, Excel, and PowerPoint | | |
| Export to EPS | | |
4. Free ER Diagram Tool
EdawMax is compatible with all the operating systems, and even the online version is easily responsive on all the important internet browsers. Some of the more features of this free ER diagram tool are:
EdrawMax allows you to add attachments, notes and comments to your ER Diagrams, which makes note-sharing extremely easier for several business analysts.
With the help of this free ER Diagram software, you can go ahead and export your files in high-quality PDF formats, which you can later use to print for offline sharing.
By using this free ER Diagram tool, you can also export the files into editable PowerPoint, Word, and Excel formats. So, if you need to share your entity relationship diagrams with your team, they can easily access them in their Microsoft Suite.
Entity Relationship diagrams required different types of connectors. This free ER diagram maker provides several connector styles that enhance your diagrams.
With EdrawMax, you can now have seemingly easy cloud collaboration with your teammates.
EdrawMax Desktop
Create over 280 types of diagrams
Windows, Mac, Linux (runs in all environments)
Professional inbuilt resources and templates
On-premises software for business
Enterprise-level data security
EdrawMax Online
Create over 280 types of diagrams online
Access diagrams anywhere, anytime
Team management and collaboration
Personal Cloud and Dropbox Integration
5. Final Thoughts
Entity Relationship diagrams are important for all types of businesses where one needs to identify the relationships between people, places, concepts, and other different objects. If you are using Visio to work on your ER diagrams, you will find the lack of templates and online support troubling. Moreover, if you are using Apple devices, you will not be able to access the VSDX files. Instead of going ahead with complicated tools, you can start designing the Visio ER Diagram in EdrawMax or EdrawMax Online.
From importing VSDX files to exporting the diagram in the same format, EdrawMax is an all-in-one tool that helps create 280+ diagrams. With the user-generated template community, you can create an ER Diagram in less than five minutes! Using EdrawMax is an experience that you can only understand once you start using it for all of your diagramming needs. Head to the download option today and start creating different ER Diagrams for your company.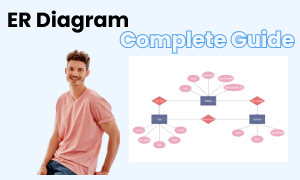 ER Diagram Complete Guide
Check this complete guide to know everything about the ER diagram, like ER diagram types, ER diagram symbols, and how to make an ER diagram.