How-Tos
How to Create a Process Flow Diagram in Visio?
Know it All about Process Flow Diagram
The process flow diagram is a graphical representation of an industrial process used to illustrate major components of the plants in an Industry or manufacturer. A process flow diagram assists in identifying what is important and eliminating unnecessary information.
It is widely used in Chemical/petroleum or process engineering. The PDF helps to understand the process, model a process, ensure quality control and standards plus increase efficiency. The process flow diagram gives a way of defining the steps and phases included in a process. It helps get agreements on what the process steps are to be accomplished to reach the end goal. It is also easy to see where a process can be monitored or enhanced when looking at a process flown.
How to Create a Process Flow Diagram in Visio?
Microsoft Visio is a flexible diagramming software stocked with all the broad office suites, flowcharts, diagram templates, shapes, connectors for engineers, chemists, architects, project managers or stakeholders to create various types of process diagrams or flow charts.
The basic process flow diagram template in Visio comes with shapes that a user can use to show many kinds of steps or processes, and it is especially useful for showing basic business processes, manufacturing or industrial processes.
To make a process flow diagram in Visio, follow the simple steps:
First start the Visio.

Click the Process Flow Diagram category and open a blank template.
For each step in the process that you are making, drag a shape onto your drawing.
Now connect the pfd shapes by holding the mouse cursor over the first shape, and then click the small arrow that appears that points to the shape you want to join to. If the second shape is not directly across from the first shape.
To add text to a shape or connector, first select it, and then type on it.

To change the direction of a connector's arrow, select the connector, and then go on the Shape tab present in the Shape Styles group. Click Line, point to Arrows, and select the arrow direction and style that you desire.
Shapes for Making Process Flow Diagram in Visio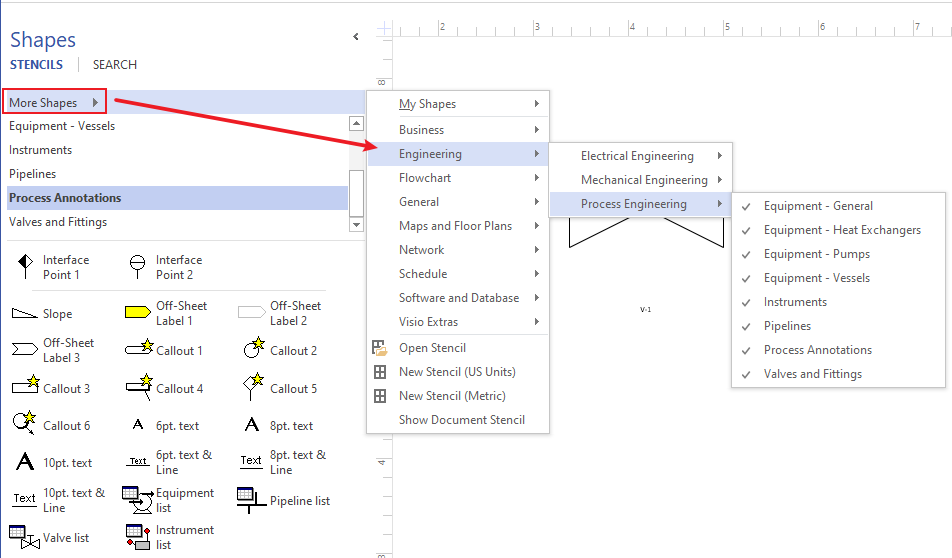 While making a process flow diagram or chart, add shapes to your diagrams to communicate information, sequencing steps and telling relationships among components.
To add the shapes in your process flow diagram, follow the simple steps:
First select the stencil that contains the shape you want to add in your diagram.
Then select a shape that you want to add, and drag it onto the drawing page.
Point to the shape, and point to the arrow that indicates the direction of the next shape you want to add.
Select the shape you want to add.
How to Create a Process Flow Diagram in EdrawMax?
Step 1: Open an Process Flow Diagram Template
Install EdrawMax on your computer or visit EdrawMax Online. Then navigate to [File] > [Industrial Engineering] > [Process Flow Diagram].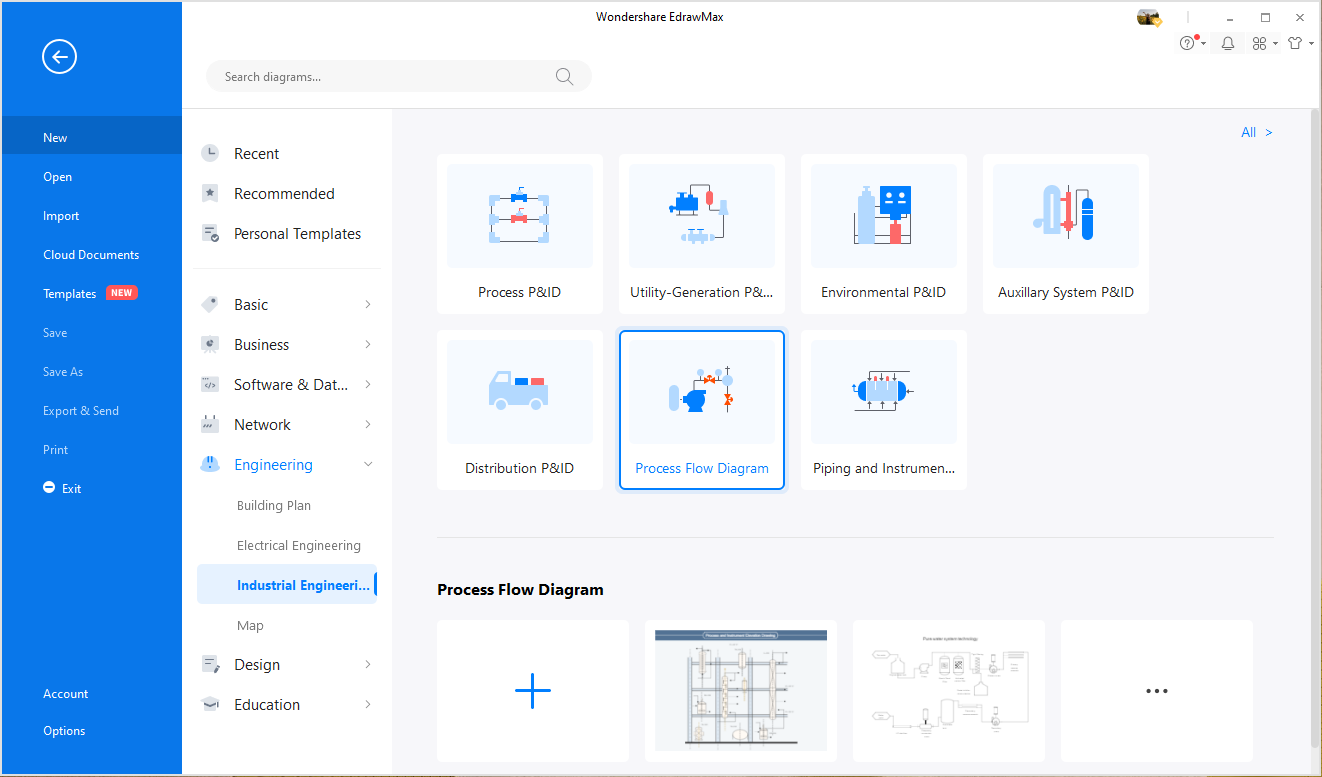 Double-click the icon of Process Flow Diagram to open a blank drawing page. You can choose and open one of the pre-made Process Flow Diagram templates to save your time of building the PFD from scratch.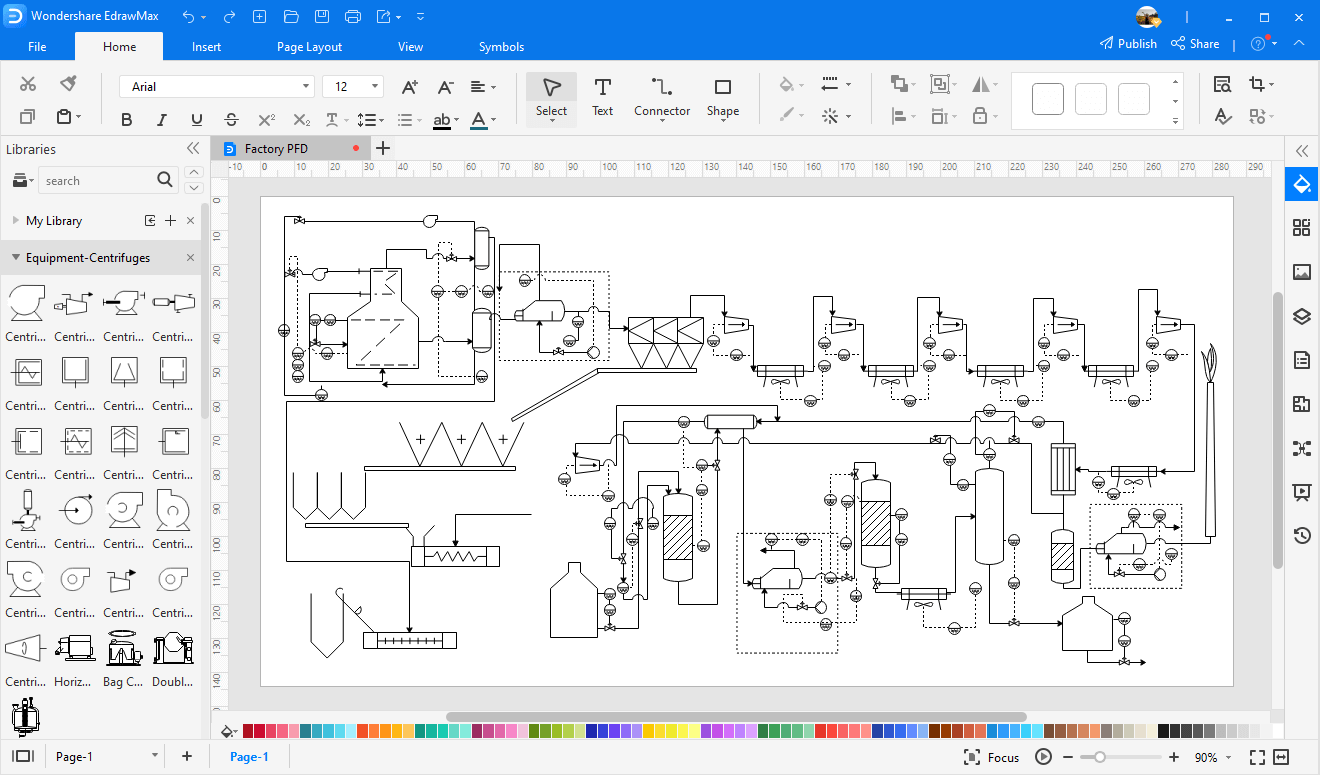 Step 2: Open Process Flow Diagram Symbol Libraries
Click on the "Library" button found in the left menu, and then you can enable all the symbol libraries of Process Flow Diagrams that are pre-defined in EdrawMax. You can add pfd symbols to the canvas by clicking on the desired symbol and dropping it wherever you want it.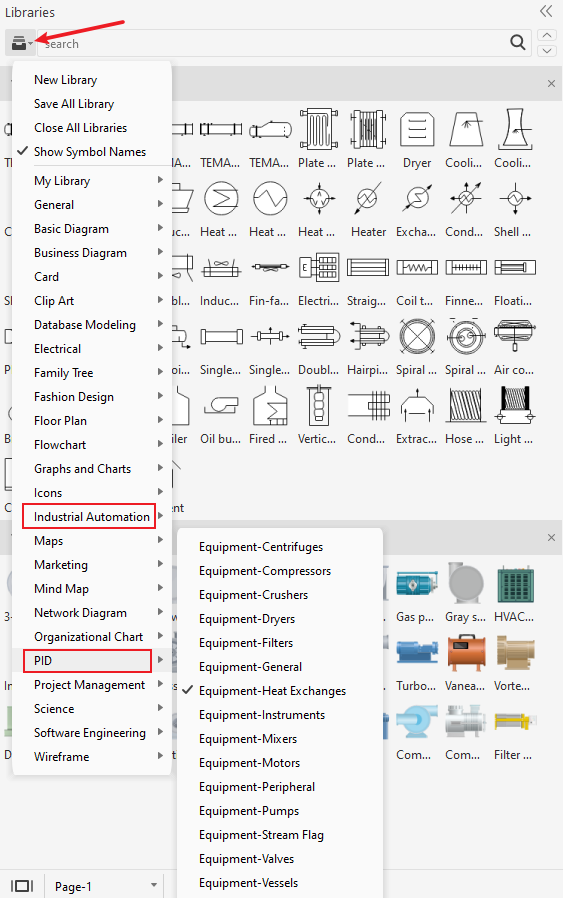 Step 3: Change the Style of the Process Flow Diagram
Click on the [Theme] button on the right sidebar and open the [Theme] pane. Then you can change the theme color, connector style and font types as your like.
In the meanwhile, you can try our newest feature of styling - "Auto Formatting." With the visual reasoning engine, EdrawMax can auto-change the style of your diagrams based on professional color schemes from our top designer. Creating beautiful diagrams is easier than ever!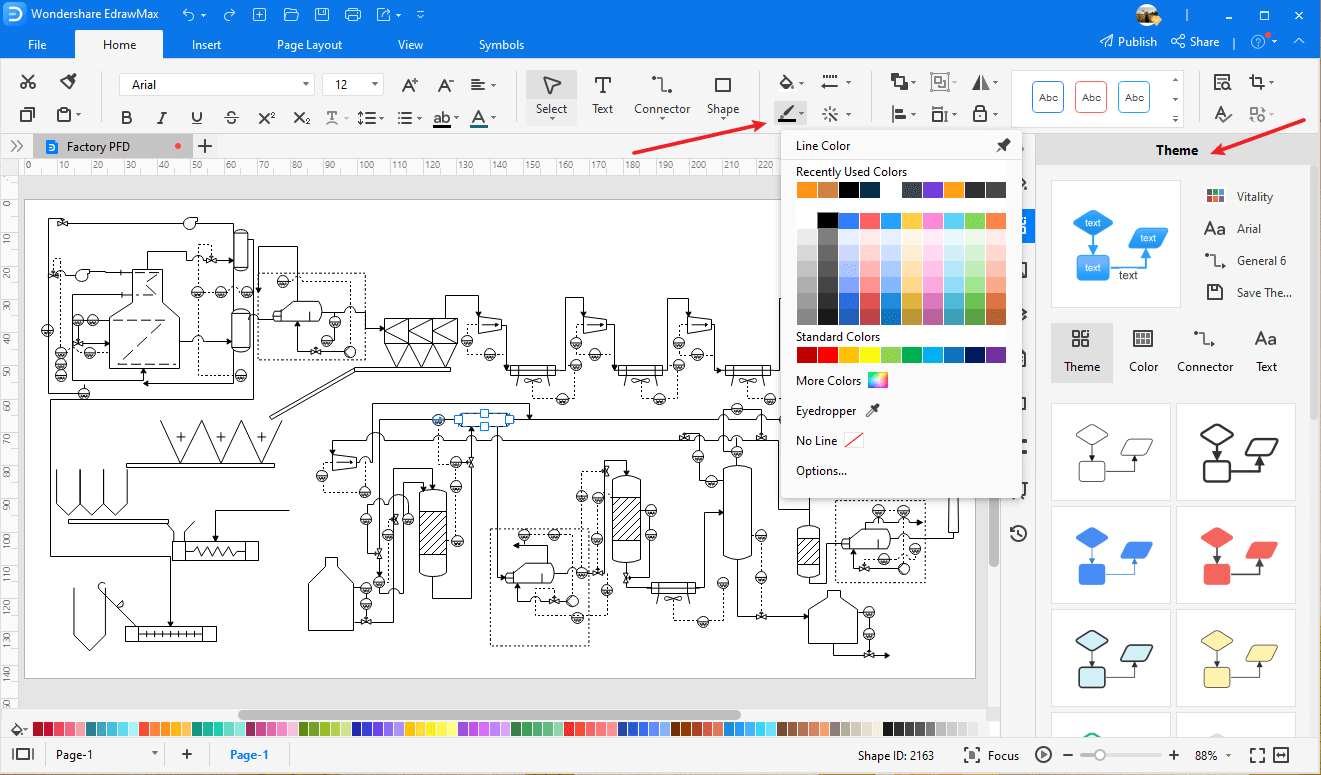 Step 4: Save and Export the Process Flow Diagram
After creating the Process Flow Diagram, you can save and export the Process Flow Diagram in a number of file types, including PDF, PNG, JPEG, PDF, DOCX, XLSX, PPTX, and VSDX for Visio. Thus, even non-Edraw users can read and edit your Process Flow Diagrams.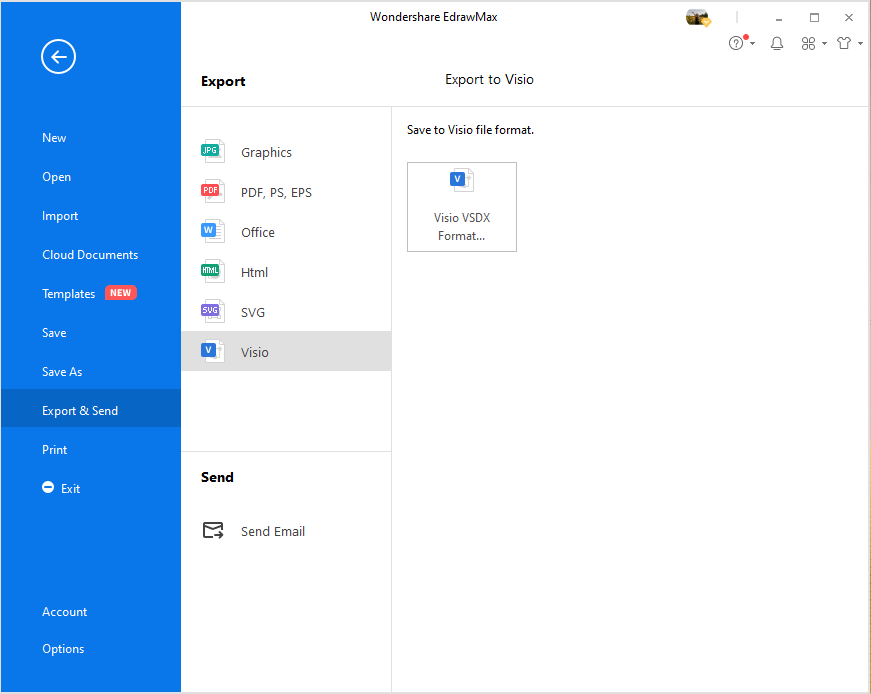 In fact, EdrawMax also supports our users to import the Visio files and convert your ERDs in seconds.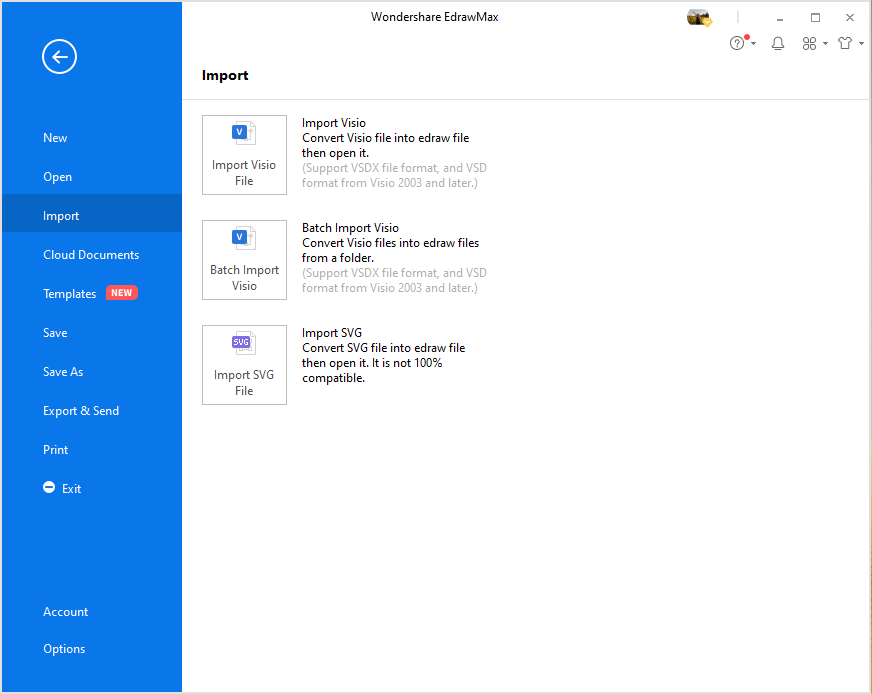 Choose the Best Process Flow Diagram Software
A Process flow diagram consists of a set of basic symbols to represent various functions, steps or phases and shows the sequence and interconnection of functions with lines and arrows between steps. Flow charts are a must for the improvement of processes by visualizing it and mapping out a graphical representation, it helps project stakeholders and members to identify the different phases of a process and understand the connections among them.
EdrawMax is Pro industrial, chemical, production or business process documentation software. For making process flow diagrams, workflow diagrams, general flowcharts and technical charts by providing thousands of worthy templates, from which a user can easily model a process.
The flowchart or the diagram created in EdrawMax consists of graphical keys. Everything a team manager does require designing process flow diagrams online. Get started with EdrawMax worthy templates library to create impressive, eye-catching, easy-to-follow, and understand process flow diagrams in no time. With a menu-driven and graphical user interface and drag and place capability, it's easy for a user to make a process diagram in EdrawMax.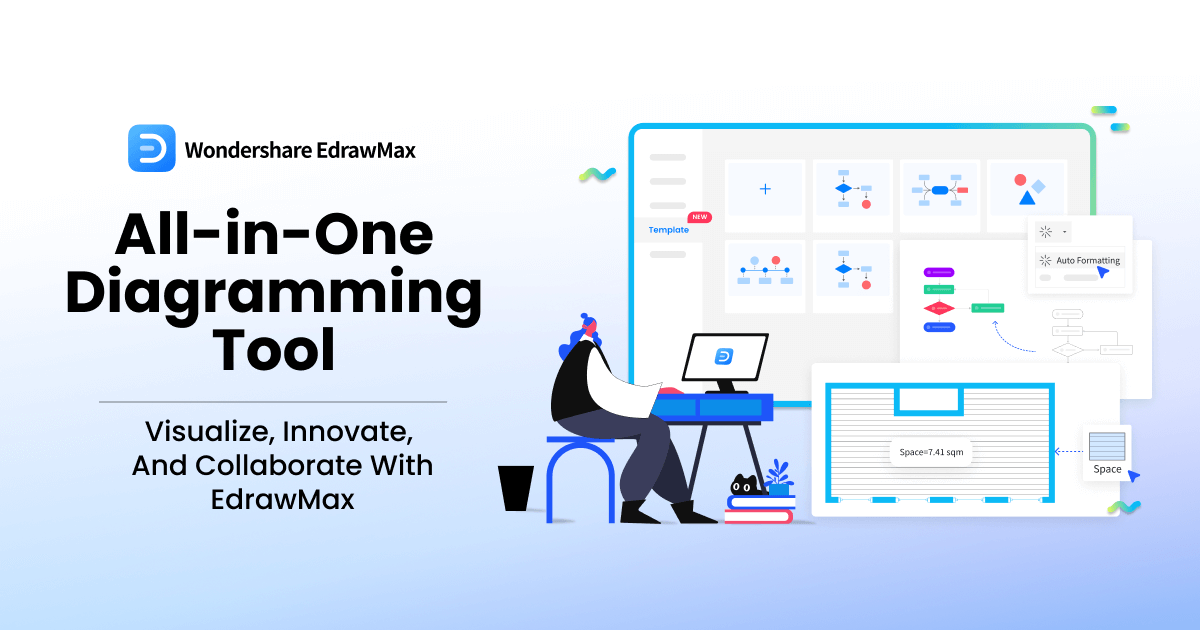 Related Articles
Create a Diagram with EdrawMax.