Home Plan Office Layout Seating Plan Building Plan Fire and Emergency Layout HVAC Plan Garden Design Elevation Diagram Security Plan Reflected Ceiling Plan Plumbing Piping Plan Wall paper
Creating reflected ceiling plans with free reflected ceiling symbols, templates and examples, which is much easier for both beginners and professionals.
The reflected ceiling plan is a kind of drawing, and it shows the items like lighting, sprinklers, smoke detectors, and switches that are located in or on the ceiling. The reflected ceiling plan (RCP) is named because it is a mirror image (reflected) view of the floor plan. When you are looking up at the ceiling, you will see the lights and various ceiling components in the view.
With our quick-start reflected ceiling plan templates in our software, you can quickly and easily draw the reflected ceiling plan. You will never expect that drawing reflected ceiling plan could be so easy since it requires no previous experience or specialized training.
Reflected Ceiling Plan Software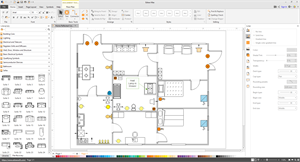 Edraw provides you abundant standard built-in symbols and templates, which will significantly facilitate your drawing of reflected ceiling plans. Just drag and drop the reflected ceiling plan shapes you need on the drawing page and rearrange their location as you like, then a reflected ceiling plan is finished with just and a few clicks. Believe it or not, the whole process will give you so much sense of success.
Edraw Reflected Ceiling Plan Software runs on multiple platforms, including Windows, Mac and Linux. It has more advanced features for making floor plans, office layouts, electrical and telecom plans, HVAC plans, etc. You can download one and try it fro free!
EdrawMax
All-in-One Diagram Software
Create more than 280 types of diagrams effortlessly
Start diagramming with various templates and symbols easily
Superior file compatibility: Import and export drawings to various file formats, such as Visio
Cross-platform supported (Windows, Mac, Linux, Web)
Security Verified |
Switch to Mac >>
Security Verified |
Switch to Linux >>
Security Verified |
Switch to Windows >>
Reflected Ceiling Plan Symbols
Edraw Max offers you many standard reflected ceiling plan symbols, which will surely be of great help when you design reflected ceiling plans. Edraw home plan templates. Commonly used symbols like lighting symbols, electrical and telecom symbols, grills, diffusers, basic electrical symbols, qualifying symbols, and semiconductor devices are available in Edraw Max.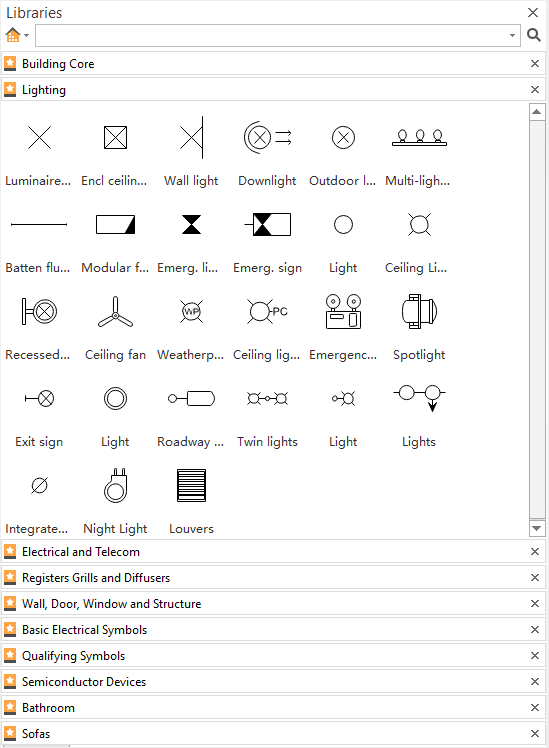 Simple Reflected Ceiling Plan Examples
There is a simple home reflected ceiling plan example and it is ready to be used in vector format for your own designs. Learn this guide about how to create a reflected ceiling plan here. Once you have finished you own in Edraw Max, you can save and export the drawing to different common formats like JPG, PNG, SVG, Word, PPT, HTML, Visio.