Wiring Diagram Symbol Legend

Part 1: Wiring Diagram Symbols
Wiring diagrams use simplified symbols to represent switches, lights, outlets, etc. Here is the wiring symbol legend, which is a detailed documentation of common symbols that are used in wiring diagrams, home wiring plans, and electrical wiring blueprints.
Electrical switchbox
Single pole switch
Three-way switch
1P switch
2P switch
4P switch
1DP switch
2DP switch
Water tap
Lum. ceiling mount
Encl ceiling lum
Wall light
Circuit breaker
Multi-light bar
Light bar
Downlight
Outdoor lighting
Singleplex receptacle
Duplex receptacle
Double Duplex Receptacle Outlet(Quad)
Triplex Receptacle Outlet
Fourplex receptacle
Range Outlet
Dryer Outlet
Waterproof Receptacle Outlet
Switch and Convenience Outlet
Split Wired Duplex Outlet
Split Wired Triplex Outlet
Duplex Special Purpose Outlet
Dishwasher Outlet
Drop Cord
Fan Outlet
Junction Box
Lamp Holder
Lamp Holder with Pull Switch
Pull Switch
Vapor Discharge Lamp Switch
Exit Light Outlet
Clock Outlet
Blanked Outlet
Television Outlet
Exhaust Fan
Water Heater
Telephone Jack
Electrical Panel
Battery
Batten fluores
Distribution box
Modular fluores
Office fluores
Pull-cord switch
Emerg. light
Emerg. sign
Switches
Dimmer switch
Socket outlet
Socket outlet 2
Telephone outlet
Stereo outlet
Ceiling fan
Ceiling fan 2
Combination fan
Service panels
Thermostat
Air conditioning
Hold open unit
Detector
Fire alarm
Monitor
Alarm
Doorbell
Smoke detector
Call
Tel
Main control
Ground
Line
Wire
Cut line
Cut line 2
EdrawMax
All-in-One Diagram Software
Create more than 280 types of diagrams effortlessly
Start diagramming with various templates and symbols easily
Superior file compatibility: Import and export drawings to various file formats, such as Visio
Cross-platform supported (Windows, Mac, Linux, Web)
Security Verified |
Switch to Mac >>
Security Verified |
Switch to Linux >>
Security Verified |
Switch to Windows >>
Part 2: How to Use Wiring Diagram Symbols
Step 1: Launch EdrawMax on your computer. Navigate to Building Plan > Eletrical and Telecom Plan. Open an wiring diagram example or a blank drawing page.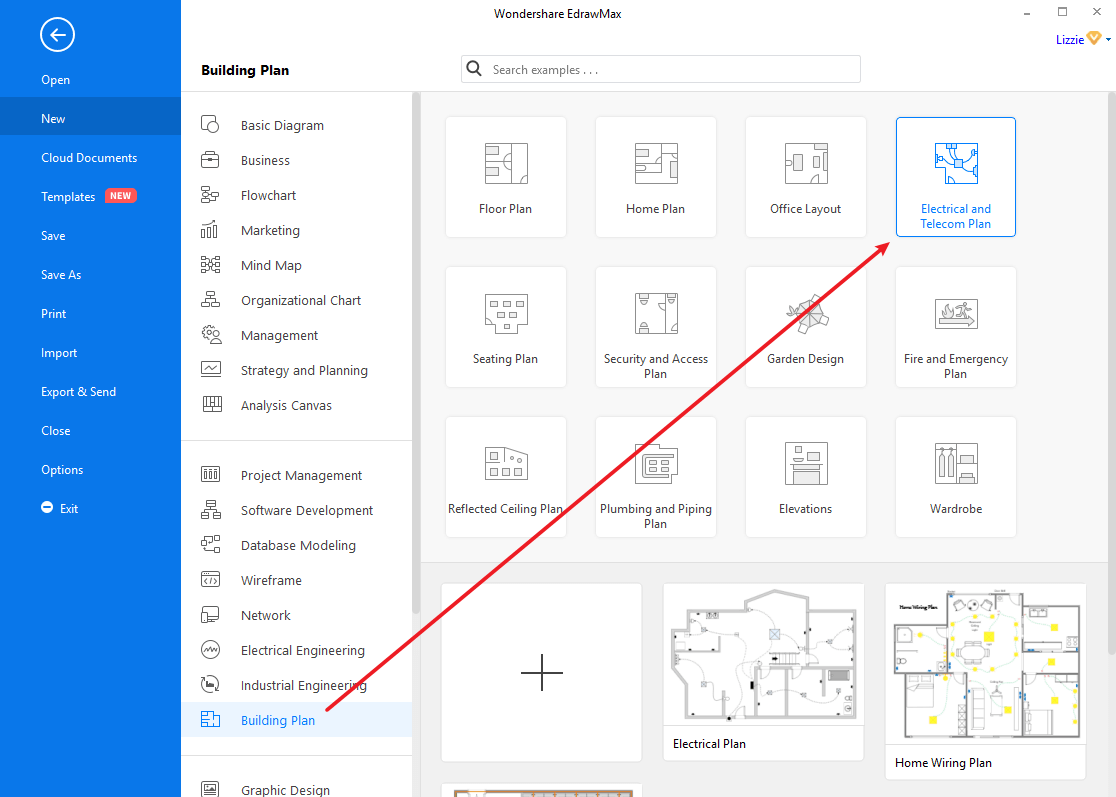 Step 2: As you enter into the workspace of EdrawMax, you can drag and drop the symbols that you need onto the canvas. If you need additional symbols, search them on the left symbol library.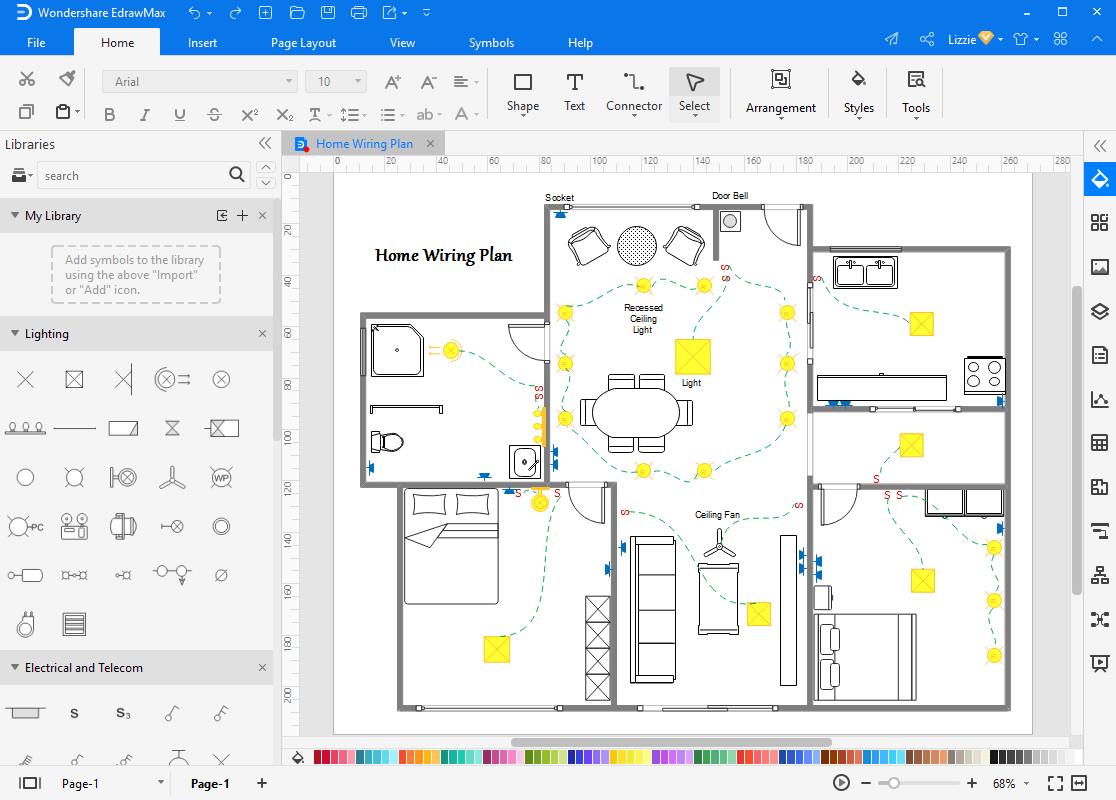 Step 3: When your wiring diagram is complete, you can export it to JPG, PNG, SVG, PDF, Microsoft Word, Excel, PowerPoint, Visio, HTML with just a single click. So you can share your drawings with people who don't use EdrawMax with no need to looking for ways of converting file formats.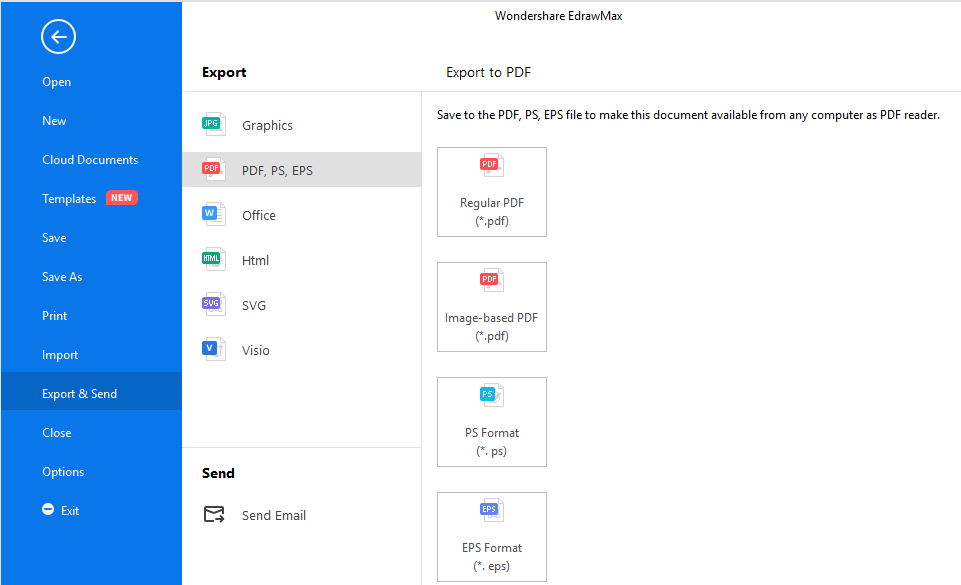 Alternatively, you can watch the video below and know how to create a wiring diagram with EdrawMax in detail.