Free Event Timeline Template You'll Ever Need
Timelines for events can be mapped in different ways and with different visuals. In order to make it easy to represent an event timeline, there are different kinds of event timeline template that one can use. These are often available free of cost and one can use these user-friendly, intuitive software to create charts and illustrations that have a professional finish.
What is Event Timeline and When to Use it?
Event timelines can be defined as a schedule where different tasks are listed along with notes and requirements. Here deadlines and staff assignments are shown as well as other parameters that link to the completion of the event. For instance, an event of a large scale will span a time period of six months to a year. EdrawMax is a handy tool when you wish to draw up a chart using event timeline template with different parameters as seen below.
Event Timeline Examples
Example 1: Project Timeline
This is a common instance when event timeline illustrations are drawn up. In the project sheet given below one will find the weeks to be color coded. For instance, Steps 1 and 2 are scheduled to happen in the first week and this is indicated by the same color bars.
Example 2: Timeline of AI History
This event timeline template uses different colors to highlight different years. It is an educational or informative chart that shows a timeline of AI's evolution with important milestones described and indicated by different images.
Example 3: Timeline of Baby Growth
Being a new mom seems to be very exciting because nothing is more meaningful than witnessing the child's growth. Therefore, using an appealing event timeline to record your baby's every "First Time" really matters. From the date he/she was born to the first time to crawl, from the first time to call mama to the first time to walk without parents' help, every precious moment can be visualized in a timeline.
EdrawMax: Best Timeline Maker
After seeing the event timeline examples above, do you want to design your own event timeline? Here, I recommend one timeline maker - EdrawMax. EdrawMax is the best event planning timeline template software application for the versatile features it offers. It integrates the functionality of all kinds that are required for drawing up different milestone maps or charts. There is a comprehensive library allowing users to draw versatile diagrams as per their requirements and features and to make flowcharts look more professional.
Features
This software provides several tools or versatile functionalities such as:
It can be used to draw up timelines or charts of different kinds such as organizational or professional flow charts, business presentations, network diagrams, building plans, scientific illustrations, mind maps, workflows, web design diagrams, engineering diagrams, directional maps, database flowcharts and others.
The software includes different fonts, themes including colors and other effects.
Quick styles and layouts are present.
One can see real-time previews.
Graphics can be transferred into PowerPoint, Word, and Excel with single-click operations.
Text and shape preset help to put preset looks into texts and objects; text objects support bullet, line space, back color, indents, super and subscripts.
Contrasting shades and light options are present; PNG support is also provided.
Over 2000 images are available in the clip art collection.
Pros
There are several distinct advantages that this event planning timeline template software provides:
Powerful and light-weight application with diverse themes, enhanced effects, and forms.
Modern interface with a large, organized library along with several tutorials and examples.
Diagrams can be made dynamic by showcasing graphics in data and exporting the same in diverse formats.
Support provided for most and latest versions of Windows.
EdrawMax
All-in-One Diagram Software
Create more than 280 types of diagrams effortlessly
Start diagramming with various templates and symbols easily
Superior file compatibility: Import and export drawings to various file formats, such as Visio
Cross-platform supported (Windows, Mac, Linux, Web)
Security Verified |
Switch to Mac >>
Security Verified |
Switch to Linux >>
Security Verified |
Switch to Windows >>
How to Design an Event Timeline?
When we talk about event timelines this showcases events that are listed in chronological order. The structure could be linear or in other forms that help people understand how an object appears on a stage. Usually, such a chart is drawn to showcase history or a chronological series of events. Usage or representation of the same can be done in diverse ways. For instance, an infographic timeline can be about a company's history or showcase a life story of an individual.
Usually, a detailed event timeline helps indicate period along with individual events that are connected on a line. Dates are added to every event and descriptions are also added along with pictures.
For instance, in the timeline chart above, a baby's growth is charted across different milestones. There are periods given along with description and pictures.
Creating an event timeline with Edraw is not difficult at all. Just follow the steps below:
Step 1: Prepare Content
Before one starts to draw out a chart, the necessary information needs to be collected and finalized. It helps to guide a user as per the style or layout that one needs to use. Some points to consider are:
How many points or events will the chart include?
Details to be put in the infographic.
Pictures or illustrations to be included.
Step 2: Choose Template
No matter what types of material you have prepared, EdrawMax's splendid templates library can offer whatever you want. There are over 50 templates to choose from. Once the software is open and you have kept the page open to a new infographic building page, you will find buttons to the template library. You can simply drag and drop a template from this section.
Step 3: Add Content and Change Format
Once the event timeline format is chosen, this can be added to the editing section. Every aspect can be edited such as adding text blocks to showcase location, adding on font colors, size, and type. One can also recolor, relocate and replace different parts of the map. One can key in event numbers and add on other kinds of infographic elements and clip-arts from the built-in collection in the library section.
For instance, in the template chosen below, you can change the color of shapes and lines, replace images, add on titles and change the font. You can also choose a background from the library section called Texture Background. Look at the example below, it showcases the timeline of a baby's growth, one can find images of little babies from the clip art section.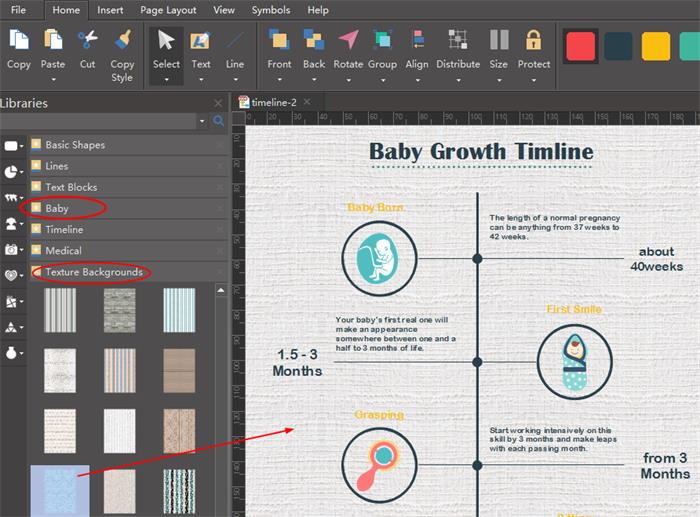 Step 4: Customize the Details
If you wish to change all elements of an event timeline template, that is also possible. You can design from the beginning with the use of basic shapes and elements that are provided in the library section. Meanwhile, you can even edit line colors and width or change them to straight, dash or arrow types as well as change line format and other features.
The Oval tool comes handy in drawing circles and changing their styles and formats. One can open a basic shape library section and choose among circle shapes that are readymade.
Adding text blocks is an important part of any event timeline. Feel free to use a Union tool that helps to unite two shapes to create new ones that suit the purpose of your chart.
You can also add embellishments to your event timeline in different ways. These include images, clip arts, icons and other features such as background colors and designs to help make visuals pleasing and vivid.
The above steps demonstrate how an event was created by using EdrawMax. One can begin with the kind of template they wish to use as per the nature of the information to be displayed. There are options to edit even the basic elements that are inbuilt in a template, allowing a user more versatility to customize the different elements and create something unique according to their needs.
Summary
Event timelines can be drawn up in diverse ways. With a versatile tool like Edraw, it is easy for a new user to figure out the different ways to create such a chart and even create a professional-looking presentation. There are different applications out there and one can choose the one that has enough templates and features to provide a diversity of choices and design elements.