Milestone Chart - Visualize Significant Events
What is a Milestone Chart?
A Milestone Chart, sometimes also referred to as a Timeline Chart, is a visual representation of all the significant events that take place over time in the course of completion. For instance:
If the first floor of a building is scheduled to be constructed on the 30th day, the second floor on the 60th, and the completion of the whole tower are expected on the 90th day. It is the milestone chart that can easily illustrate how much time the laborers took to complete each floor.
Likewise, if you are blessed with a newborn baby, and you expect the infant to develop the ability to speak and eat at a certain age, this can be represented with the help of a baby milestones chart.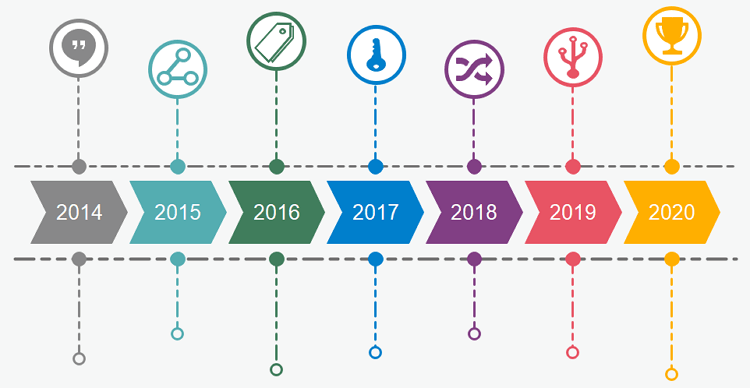 What are the Benefits of Using a Milestone Chart?
There are several advantages of creating and using a milestone chart, especially while tracking the development of a baby, working on a tightly scheduled project that needs to be completed within short turnaround time, etc. Some of the key benefits include:
A milestone chart makes it convenient to check the progress of a project and prepare your schedules accordingly.
All the planning can be viewed by merely taking a look at the chart, and no thorough and tedious reading is required to assess the advancements.
Entire information can be viewed at a single glance, right on the same screen.
Free Milestone Chart Templates
Below are some of the free milestone chart templates to save your valuable time:
Project Timeline Template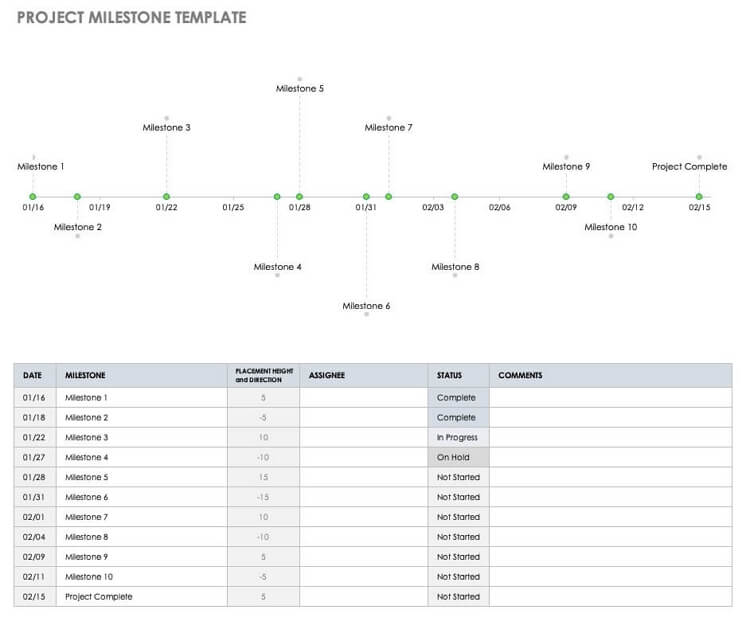 Image Source: smartsheet.com
This template has proper timelines such as hops for monthly, quarterly, and annual schedules that would help you plan your long-term projects and regularly track their progress.
Company Milestone Template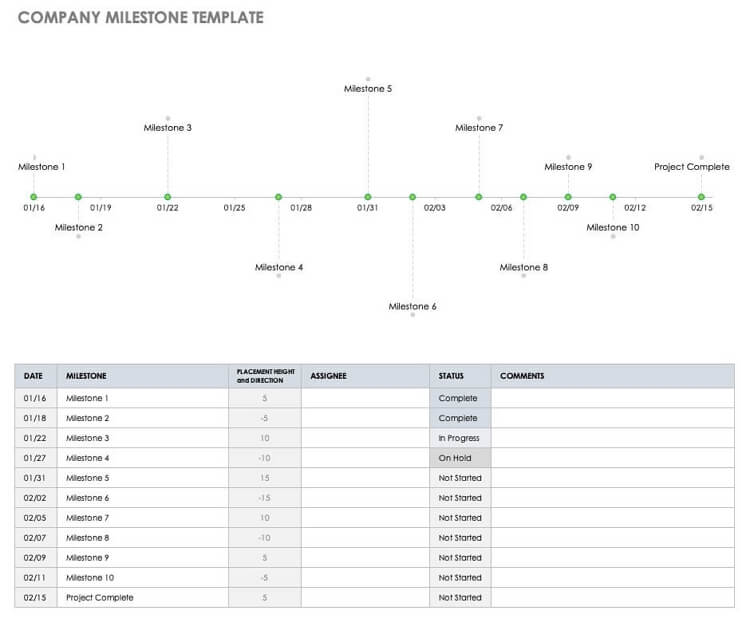 Image Source: smartsheet.com
This one keeps track of how your company and its employees are performing and/or growing over time by completing the assigned projects on time.
Multi-Stage Timeline Template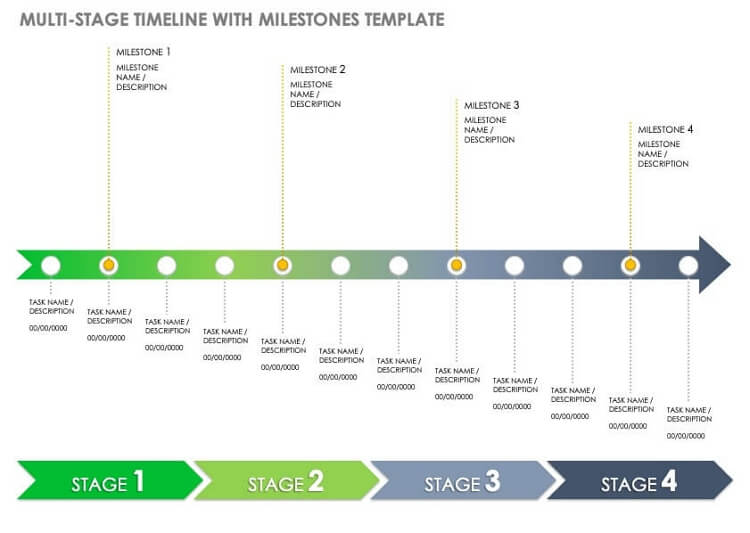 Image Source: smartsheet.com
This template would be useful while planning for a project that must be completed in multiple stages rather than in a single go.
Vertical Upward Timeline Template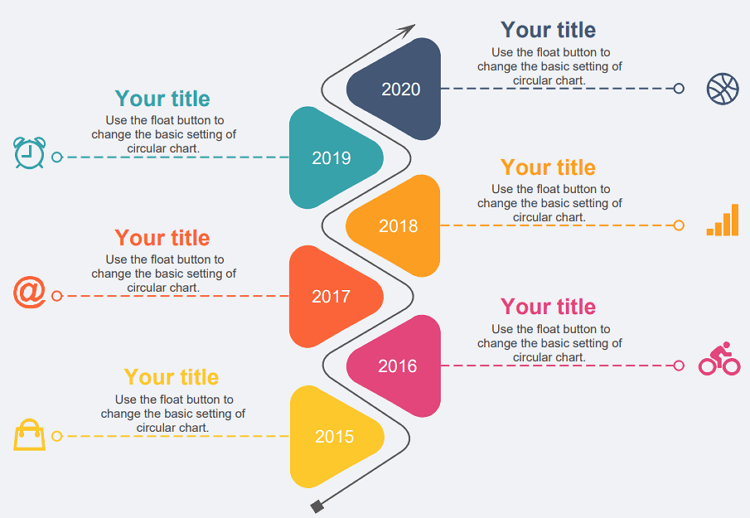 Use this template to present your life in the last six years and see what you have achieved.
Baby Development Timeline Template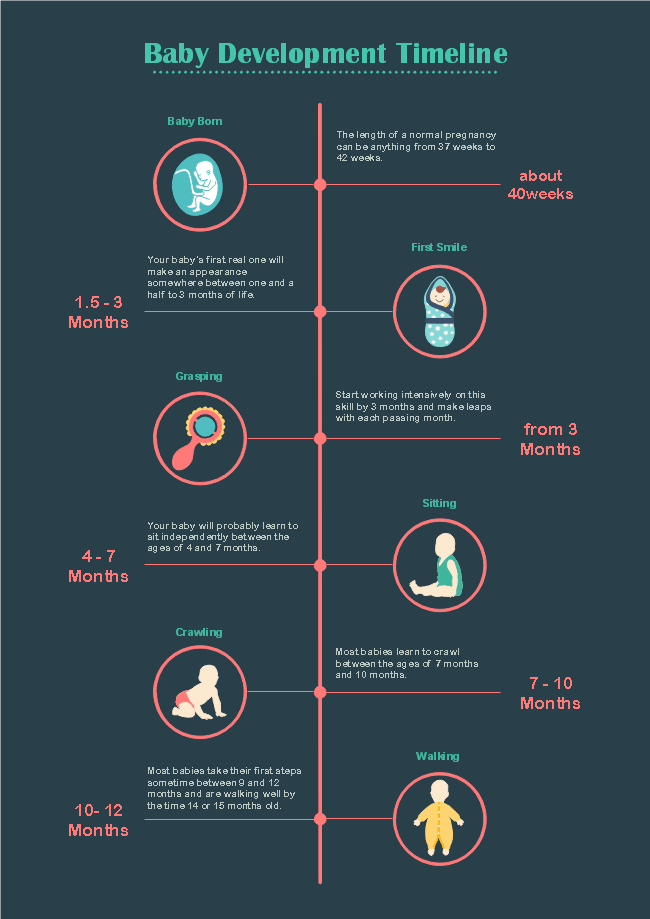 2-Months Old Baby Milestones Chart Template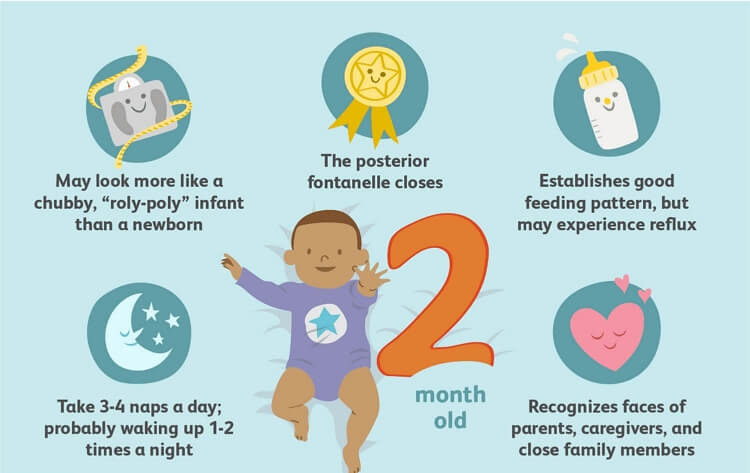 Image Source: verywellfamily.com
You will need this template when your baby is 2-months old in order to track their development and to monitor how they are responding to the surrounding environment.
5-Months Old Baby Milestones Chart Template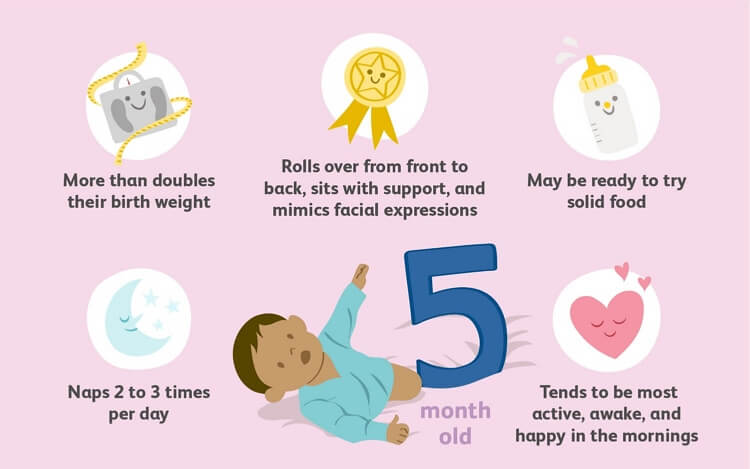 Image Source: verywellfamily.com
This baby milestones chart template is designed for up to 5-month old infants to keep proper track of their development and take necessary actions and precautions accordingly.
Love Story Timeline Template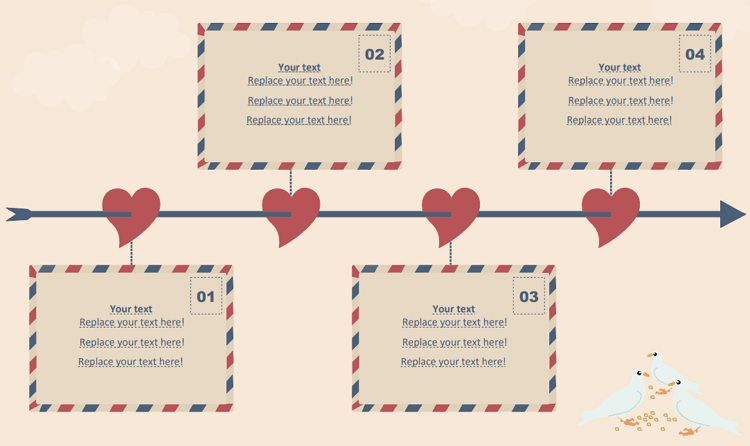 When the guests come to your wedding, chances are only a few of them really know your love story. Using the love story timeline to share your story with your guests is just one of the ways you can do.
How to Create a Milestone Chart?
A couple of steps that work as key ingredients are required to prepare an effective and accurate timeline chart. You can follow the guidelines given below to learn what kind of information you need, and the procedure you must follow to get a realistic milestone chart to track the progress of your project:
Step 1: Interact with the Participants
The first thing that you should do is to talk to anyone and everyone who is directly or indirectly involved in the project. These stakeholders could be your clients, end-users/consumers, etc. Meeting such people is crucial as they are the ones who will explain their requirements and the output they are expecting. It will help you analyze the situations correctly and come up with a reliable solution.
Step 2: Define Deliverable(s)
After understanding the requirements, it is now time to work with your internal staff to assess what deliverable(s) can be prepared to meet the client's needs best. Your target should be to come up with an output that is as close to the client's expectations as possible.
Step 3: Set Goals
After defining the deliverable(s), it is now time to set a realistic turnaround time as to when doing you all believe the said assignment could be completed.
Step 4: Prepare Schedules and Milestones
In this step, you break down the entire process of the project into several fragments, set a sequence for every piece, and schedule a completion time for each part. This step, in real means, is all about creating milestones for each significant event, i.e., the completion of each fragmented hop of your entire assignment. Simply put, this step would work as a backbone for the project.
Step 5: Risk Assessment and Elimination
Since everything cannot always work as expected and under ideal conditions, you must take some time to assess what could go wrong, and how much damage it could do. In this step, you must calculate the risks that may arise while working on the project, and the actions you must take to eliminate or overcome those unwanted hurdles at the earliest to get back on track. While working on this step, you may also have to make some amendments to your schedules and turnaround time.
Step 6: Presentation
By the time you are on this phase, it is likely that you have already prepared, reviewed, and revised your project plan and have come up with the output you are expecting to deliver to your client upon completion. In this step, you are required to share your plan along with the milestone chart with the stakeholders (clients/end-users), and explain how and within what time you are planning to deliver the completed assignment.
"How do I make a milestone chart after doing all the scheduling and planning as explained in the above steps?" you may ask. The answer is simple.
You can use MS Excel that you may already have installed on your PC, or use one of the most appreciated, recommended, and robust apps called EdrawMax that is designed and developed specifically for the purpose. The best part about EdrawMax is that it allows you to create timelines that play a significant role in preparing effective milestone charts.
EdrawMax
All-in-One Diagram Software
Create more than 280 types of diagrams effortlessly
Start diagramming with various templates and symbols easily
Superior file compatibility: Import and export drawings to various file formats, such as Visio
Cross-platform supported (Windows, Mac, Linux, Web)
Security Verified |
Switch to Mac >>
Security Verified |
Switch to Linux >>
Security Verified |
Switch to Windows >>