Do You Want to Make Your Landscape Plan?
EdrawMax specializes in diagramming and visualizing. Learn from this article to know everything about landscape symbols, and how to use landscape symbols. Just try it free now!
The landscape symbols help you create beautiful landscape plans for your house or building. We use these symbols to depict the plants and other materials in the design to create a healthy landscape that showcases natural beauty.
Here are the most commonly used landscape symbols and their benefits. Learn about their types, uses, and how to find these symbols and make the landscape for free using EdrawMax Online. Also, learn how to draw personalized landscape symbols.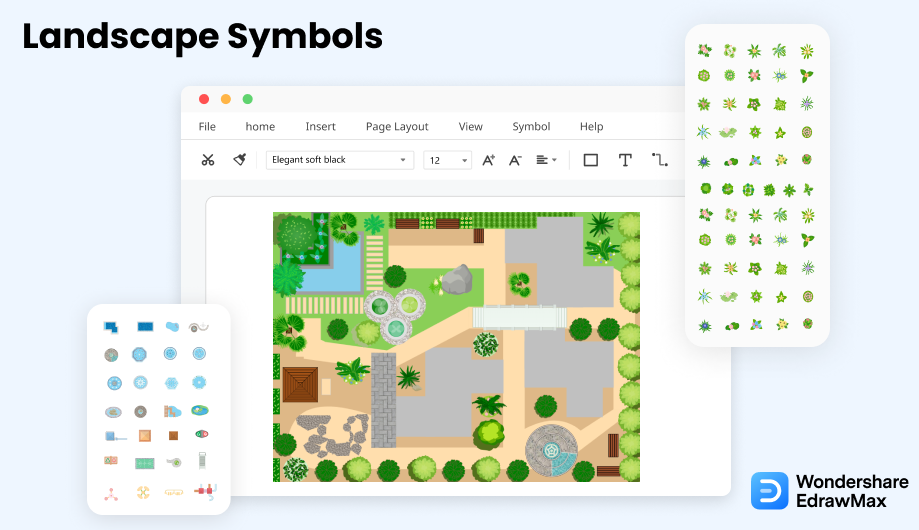 1. What Are the Garden Symbols
Before you create a Garden design or landscape plan for your house, it is better to create a design diagram depicting all the details and materials. With landscape symbols, you can create a landscape plan to decide the design and decorations you want to include in your landscape or property. You can see how your garden will look after you finish landscaping before starting the project.
Landscape symbols are the icons and illustrations that visually represent plants, trees, furniture, flowers, sheds, and other hardscape materials in your landscape plan. These symbols help you create a layout of the outdoor area and easily manage the resources and time required for the project. It also makes sure that everything is thought through before construction, and there is a lesser chance of you making any mistake in the process.
Landscape symbols are essential to creating a successful landscape plan. You can use these symbols to make a landscape with a good appearance and helps you preserve the environment. Use these symbols to illustrate your balanced, simple, proportioned, and united design. Represent various elements of your landscape and the modifications you want with ease.
Landscape Symbols:
Landscape symbols are the icons and illustrations that visually represent plants, trees, furniture, flowers, sheds, and other hardscape materials in your landscape plan.
2. The Types of Landscape Symbols
There are various types of materials and components in a landscape plan that you can illustrate using different types of landscape symbols. You can represent brick, concrete, and wood using dreck and drive symbols. There are no symbols for annuals in a landscape. You can use an arrow to place the word "note" where you want to position the annuals. You can use symbols with the bird's eye view for other facilities and water features. Here are the three types of landscape symbols.
Landscape Plant Symbols
Landscape Infrastructure Symbols
Landscape Recreational Facility Symbols
2.1 Garden Plant Symbols
Plants define a beautiful garden. Landscape plants symbols are most commonly used to create garden plans and design your landscape. Even without lots of plants and trees, you can increase the beauty of your landscape by placing a few attractive plants that will give you nice air and keep the environment gentle. Including plants in your landscape comes with lots of benefits. Plants provide a diversity of texture and smell. They also cleanse your water and air, and you can use trees to block the sunlight and provide shading for open areas with heat due to sunlight.
When you create a landscape plan, you illustrate the design of plants, small galleries, and trees in a particular pattern. You can get specific icons to illustrate trees based on their types, size, and numbers with landscape symbols. You can also use these symbols to represent bushes and other popular plant types such as clematis, hardy ferns, roses, hibiscus, etc. Below are some landscape plant symbols, like evergreen tree symbols, deciduous tree symbols, shrub symbols, flower symbols, and ornamental grass symbols.
• Evergreen Trees Symbols
An evergreen plant is one that has foliage that remains green and functional for more than one growing season, according to botany. This also applies to plants that only keep their foliage in warm climates, as opposed to deciduous plants, which shed all of their leaves during the winter or dry season.
Evergreen Tree 1

Evergreen Tree 2

Evergreen Tree 3

Evergreen Tree 4

Evergreen Tree 5

Evergreen Tree 6

Evergreen Tree 7

Evergreen Tree 8

Evergreen Tree 9

Evergreen Tree 10

Source: EdrawMax
• Deciduous Trees Symbols
Deciduous plants, which include trees, shrubs, and herbaceous perennials, are those that shed all of their leaves for portion of the year in botany and horticulture. Evergreen plants, on the other hand, drop their leaves on a different schedule than deciduous plants, giving them the appearance of being green all year because not all of their leaves are shed at the same time.
Deciduous Tree 1

Deciduous Tree 2

Deciduous Tree 3

Deciduous Tree 4

Deciduous Tree 5

Deciduous Tree 6

Deciduous Tree 7

Deciduous Tree 8

Deciduous Tree 9

Deciduous Tree 10

Source: EdrawMax
• Shrub Symbols
A shrub is a perennial woody plant that grows in a modest to medium size. Shrubs, unlike herbaceous plants, have woody stems that survive above the ground. Their many stems and shorter height (less than 6 - 10 m) distinguish them from trees. The shrub symbols are one of basic type of landscape symbols that need in landscape plan.
Shrub 1

Shrub 2

Shrub 3

Shrub 4

Shrub 5

Shrub 6

Shrub 7

Shrub 8

Source: EdrawMax
• Garden Flower Symbols
Learn how to communicate with flowers! Which flowers are associated with love, hope, healing, grief, and good fortune? The whole list of Flower Meanings can be found in the Almanac. Refer to the language of flowers while choosing flowers for a wedding, a holiday, or even a garden. Each flower has value and hidden meanings.
Flower 1

Flower 2

Flower 3

Flower 4

Flower 5

Flower 6

Flower 7

Flower 8

Flower 9

Flower 10

Flower 11
Flower 12

Flower 13

Flower 14

Flower 15

Flower 16

Flower 17

Flower 18

Flower 19

Flower 20

Flower 21

Flower 22

Flower 23

Flower 24

Source: EdrawMax
• Ornamental Grass Symbols
Natural grasses and plants with a grass-like appearance, such as sedges, are both utilized for similar purposes in gardens as ornamental grasses. Perennial grasses, or those that live for two or more years, make up the majority of ornamental grasses. Because of their inherent growth habit or because they are not hardy in our area, annual grasses only live for one growing season.
Ornamental Grass 1

Ornamental Grass 2

Ornamental Grass 3

Ornamental Grass 4

Ornamental Grass 5

Ornamental Grass 6

Ornamental Grass 7

Ornamental Grass 8

Ornamental Grass 9

Ornamental Grass 10

Source: EdrawMax
2.2 Landscape Infrastructure Symbols
The landscape infrastructure symbols visually represent the components and structure in the landscape design. These symbols provide a simple representation of how the garden will look after the landscaping that helps you determine the position, size, and design of the materials you want to include. Landscape symbols for infrastructure come in various sizes based on what you want to represent. Symbols for benches and bridges are wide, while symbols for roads and buildings are long.
Infrastructure symbols are components of every landscape plan because they provide a clean and proper representation of your landscape design. They also help you decide on the type of furniture, stones crafts, and other hardscape materials you want in your garden plan. Here are some landscape infrastructure symbols. As for the landscape infrastructure symbols, there are landscape fence symbols, wall symbols, table & chair symbols, bench symbols, bridge symbols, lamp symbols, and stone symbols.
• Landscape Fence Symbols
A fence is a strip representing a partition that prevents outsiders from entering house premises. Fence in a garden is designed according to the house's and garden's theme. But usually, the maximum height of the fence should not exceed 2 meters.
There are various fence symbols available for landscape planning. The following types of fences can be considered while decorating a garden:
Wood Fence
Stone Fence
Chain Link Fence
Basic Fence
Fence 1

Fence 2

Fence 3

Fence 4

Source: EdrawMax
• Landscape Wall Symbols
Wall is the most common element of a house. Thick lines in a map represent exterior walls, and thin lines represent interior walls. A wall may be different colors, shapes (straight or curved), and sizes. So a landscape symbol denotes all the features of a wall in a plan. A wall may be attached to a fountain. You can choose to add tiles and chips on a wall to add to your aesthetic theme. Mostly for landscape decoration retaining walls are considered by the designers. The landscape walls are categorized as follows:
Wall

Vertical Wall

Curved Wall

Curtain Wall

Source: EdrawMax
• Landscape Table & Chair Symbols
Certain landscape plan needs to use chair and table symbols. EdrawMax offers various table and chair symbols to apply for different purposes. You can find single chair, office chair, recliner, sling chair, armchair, lounge chair, desk, square table, circular table, dining table, oblong table, and more.
Stone Table & Chair 1

Stone Table & Chair 2

Stone Table & Chair 3

Wood Table & Chair

Source: EdrawMax
• Landscape Bench Symbols
You can put some benches in your landscape plan, or use bench to make your landscape more stunning. Here are offered some bench symbols to use in EdrawMax. The bench could give a bunch of people the seats to seat around in the landscape and embrace the landscaping atmopshere.
Swing Bench

Recliner Bench 1

Recliner Bench 2

Wood Bench 1

Long Bench

Wood Bench 2

Wood Bench 3

Seven Glyph Bench 1

Seven Glyph Bench 2

U-Shaped Bench
Source: EdrawMax
• Landscape Bridge Symbols
The bridge, whether it connects heaven and earth or two worlds, is essentially symbolic of communication and unification. As a result, it might be viewed as a link between God and Man. It could be a portal to reality or simply a metaphor for travel and crossing. In the landscape planning, you may use bridge to connect your pool and the grass.
Stone Bridge 1
Stone Bridge 2

Timber Bridge 1

Timber Bridge 2

Timber Bridge 3

Wooden Bridge

Bridge

River Bridge

Source: EdrawMax
• Landscape Lamp Symbols
Here are the light and lamp symbols utilized in the landscape planning, including symbols of electrical lighting, light blub, lamp. The lamp's symbolic nature manifests itself in life, divinity's LIGHT, wisdom, intellect, and good actions.
Landscape Lamp 1

Landscape Lamp 2

Landscape Lamp 3

Landscape Lamp 4

Source: EdrawMax
• Landscape Stone Symbols
Obtain driveway gravel for that bracing crunch underfoot, or brighten up the tops of your pot plants with the assortment of ornamental gravel and stones to ensure your property has all the perfect finishing touches.
Stone Road

Cobbled Roadway

Rock Garden

Road Path 1

Road Path 2

Road Path 3
Garden Stone 1

Garden Stone 2

Garden Stone 3

Round Stone

Square Stone

Flagstone

Hexagon Stone

Stone Driveway

Brick Pathway

Patio Pathway

Source: EdrawMax
2.3 Landscape Recreational Facility Symbols
Landscape recreational facility symbols are mainly used in creating landscape plans for residential buildings and similar areas. These symbols illustrate the design of areas where nearby residents can come for recreation, relax, and communicate with each other. Recreational facilities are large, but their symbols are small, similar to other landscape symbols.
There are many benefits of using these symbols in the landscape plan before starting the project. These symbols visualize what your project will look like and which facilities make your landscape more attractive. Here are a few landscapes recreational facility symbols.
• Landscape Pool Symbols
Certain landscape planning needs to use pool, pond, water symbols. EdrawMax offers various pool symbols to apply for different purposes. You can find swimming pool symbols, fountain symbols, pond symbols, and more water-related symbols.
Swimming Pool 1

Swimming Pool 2

Swimming Pool 3

Fountain Pool 1

Fountain Pool 2

Fountain Pool 3

Fountain Pool 4

Fountain Pool 5

Fountain Pool 6

Fountain Pool 7

Fountain Pool 8

Pond 1

Pond 2

Pond 3

Pond 4

Pond 5

Swimming Ring 1

Swimming Ring 2

Umbrella 1

Umbrella 2

Source: EdrawMax
• Landscape Fittness Symbols
There is no doubt that certain family garden or community landscape, or public park needs fittness equipment to get more fun. Here in EdrawMax, there are substantial fitness symbols to make your landscape planning more concrete, like fitness facilities, play ground, and more.
Duty Room
Wood Post

Pavilion

Garbage Can 1
Garbage Can 2

Play Ground

Flower Bed

Fitness Equipment 1
Fitness Equipment 2

Fitness Equipment 3

Fitness Equipment 4

Children Play Area

Source: EdrawMax
3. Where to Find Landscape Symbols
As you know, you can't make a proper landscape plan without using correct landscape symbols. Sometimes, it is hard to draw the symbols you want in your diagram, and all you need is an excellent diagramming tool with a comprehensive symbol library with all types of symbols and icons.
EdrawMax is the easiest all-in-one diagram tool, which contains thousands of symbols and resources. Just launch the EdrawMax, and find landscape symbols in the product. EdrawMax is a diagramming software that gives you more than 26000 symbols that you can use to create landscape plans and for hundreds of other diagrams. You need to go to EdrawMax, click on landscape plan, and drag and drop any symbol you want from its library.
EdrawMax Landscape Symbols:
EdrawMax is the best resources for landscape symbols, you can find hundreds of landscape symbols here. Just drag and drop, you can create landscape plan easily.
4. How to Use Landscape Symbols
Follow these instructions to learn how to use landscape symbols and easily create more landscape symbols with EdrawMax.
4.1 How to Use Landscape Symbols in EdrawMax
Instead of wasting time drawing the landscape plan or landscape symbols on paper, you should look for a way to design a landscape plan easily. EdrawMax is well equipped to design a landscape plan.
Step1
Login EdrawMax
If you are new here, you should use your Email to register EdrawMax, but if you're already the EdrawMax's user, you just need to login EdrawMax for free. Open EdrawMax select "Engineering", and find "Building Plan", then open a new canvas or just open a built-in template.
Step2
Select Landscape Symbols
Unlike physical drawing, EdrawMax helps to create a landscape plan easily. In the symbol section of EdrawMax, you will find over 260,000 vector-based symbols that you can use in your designs. In EdrawMax, you can find landscape symbols in Symbol Libraries on the left toolbar. You can click on the "+" option to open a new canvas to make your landscape plan. On the left side of the canvas, you will see a symbol library with many landscape symbols. You can search for specific symbols in the search bar.
Step3
Drag and Drop
Once you find the proper landscape symbols you want, just drag and drop the symbols to the canvas easily. Keep customizing by choosing the right symbols, proper scale or dimensions, and adding more details, like color, font, and etc. When completed your landscape plam, you can export your file or share your design effortlessly. Learn more landscape design guide here if necessary.
4.2 How to Create More Landscape Symbols in EdrawMax
EdrawMax provides you with thousands of symbols to create your diagram. Sometimes you want to use unique or personalized symbols in your diagram that are not in the library. EdrawMax gives you a simple solution to this problem. Follow these steps when you don't find the landscape symbols you want or you wish to create your symbols to make your diagram.
Step1
Find Symbol Tool
If you can't find any symbol similar to the one you want, you can use the pencil tool, pen tool, and anchor tool to draw your personalized landscape diagram symbol. It is much easier to draw the symbol you want on EdrawMax Online instead of searching for the one that suits your requirements. You can also save your symbol in the library for later use.
Select "Symbols" on the upper Toolbar;
Use "Pencil Tool", "Pen Tool", "Anchor Tool" to create landscape symbol from very beginning;
Choose "Union", "Combine", "Subtract", "Fragment", "Intersect", "Smart Shape" to make your symbols.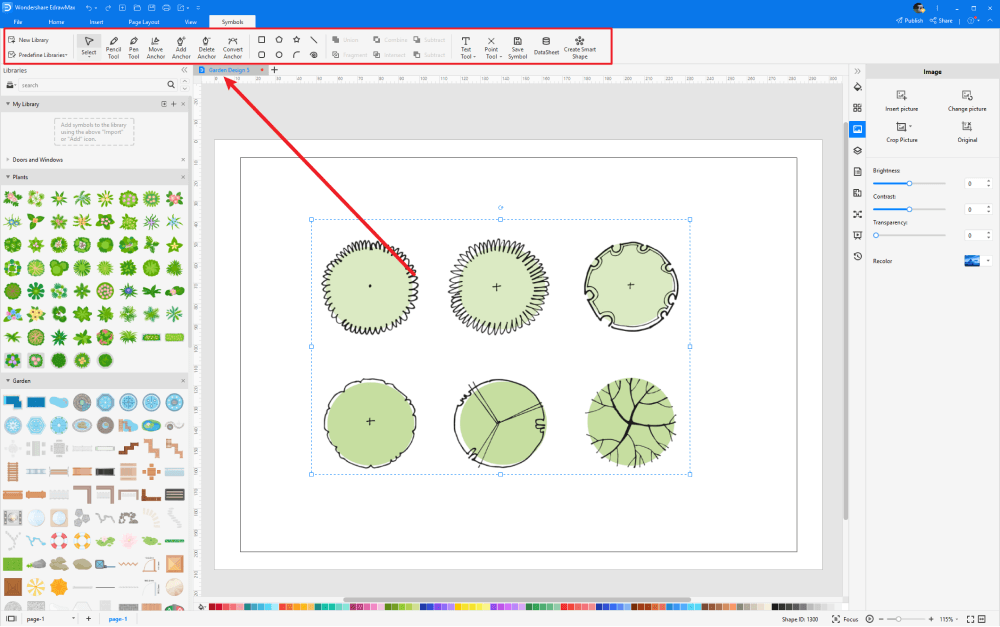 Step2
Create Landscape Symbols
When you create landscape symbols, make sure that the size, design, and other attributes of your symbol go along with other landscape diagram symbols. Follow these steps to draw perfect symbols.
Make your symbol using a circle template, and when you are creating symbols for multiple plants, don't worry about overlapping the circles.
You can use various pen styles to make different parts of your symbol.
Add ground shades on the same side of your symbol.
When making a symbol to represent a group of plants, make sure that the plants are all the same species.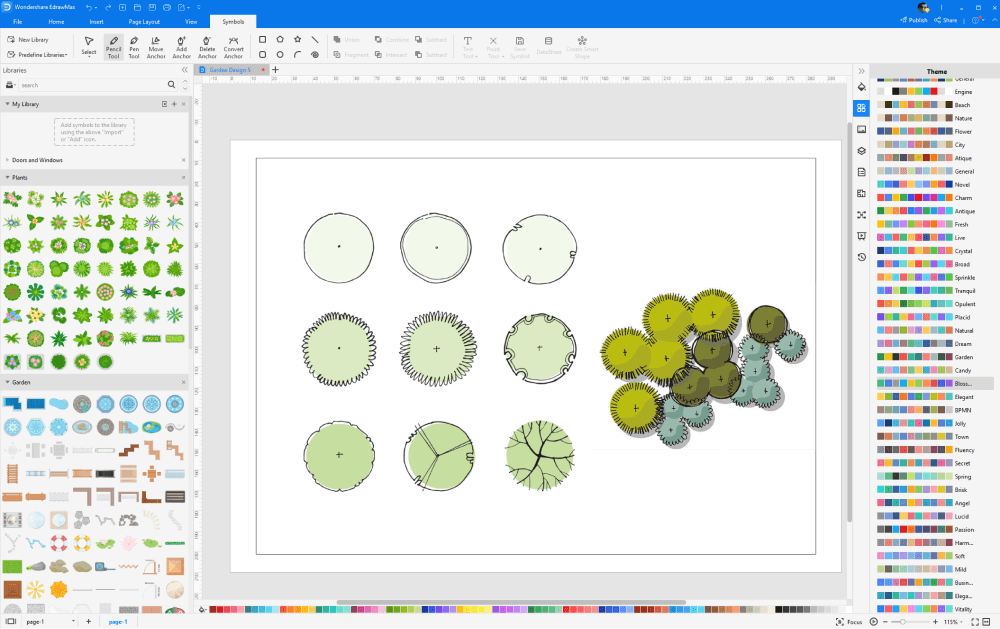 Step3
Import Landscape Symbols
Except for creating new landscape symbols in EdrawMax, you can import landscape symbols from your end. Find "Insert" on the top navigate toolbar, and import images to turn into symbols. Or click the thrid option of the right toolbar to insert images faster.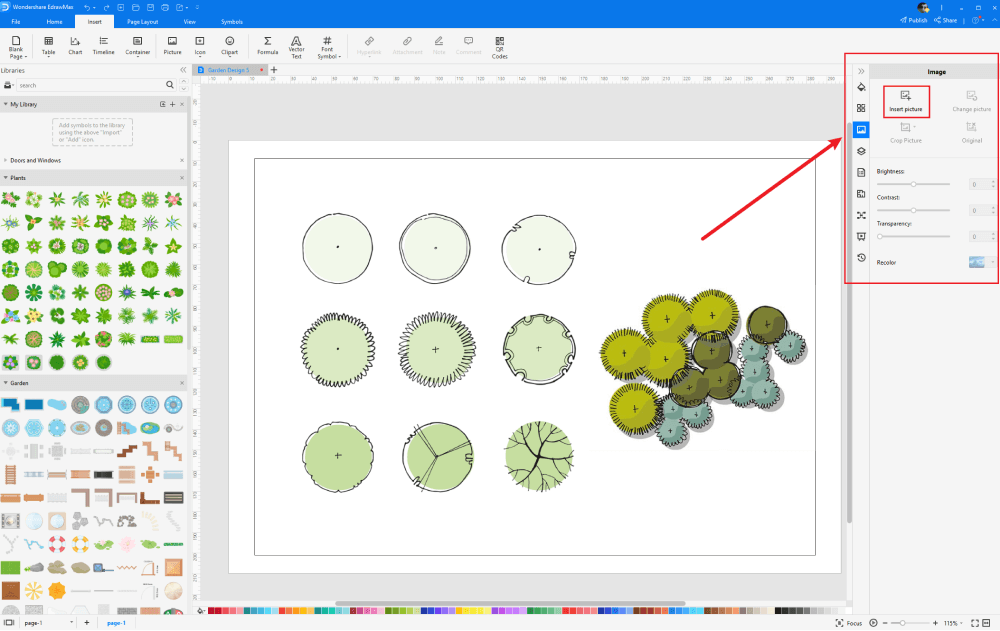 Step4
Save to Your Symbol Libraries
Once you completed your landscape symbol design or import your symbol images, you should still click "Symbols" on top, and choose "Save Symbol" to your symbol Libraries. Or you can click "+" in My Library on the left toolbar. Learn more about how to draw a landscape plan or landscape design from this landscape design guide here.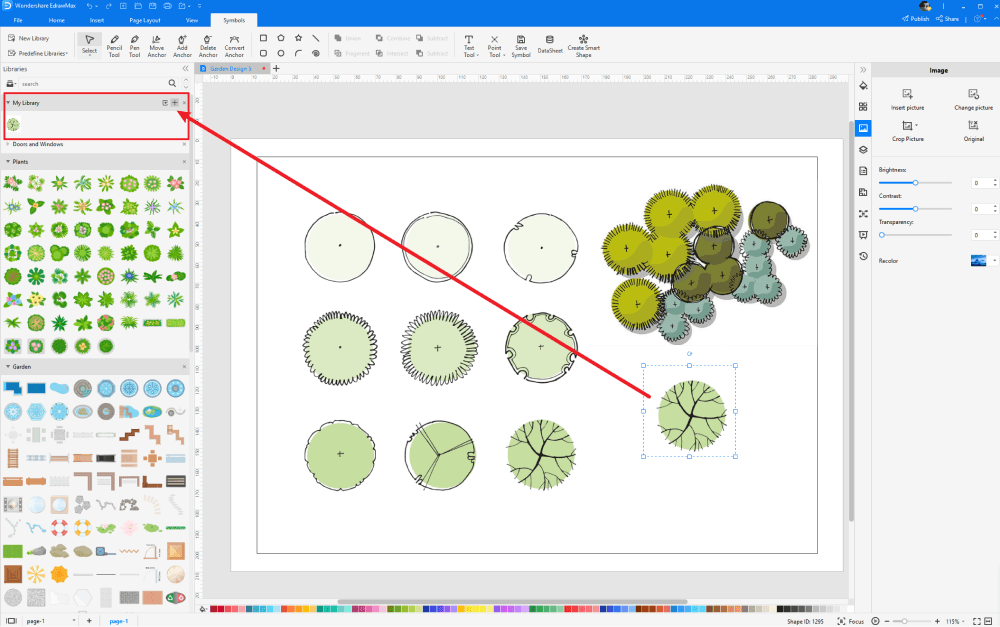 5. Free Landscape Plan Software
You can easily create a landscape plan using EdrawMax. It is the best free landscape plan software that gives you thousands of symbols and many professional templates to help you make your diagram while saving your time and effort. Creating a landscape plan is a hard task without a proper diagramming tool. EdrawMax comes with many amazing features such as free editable templates, easy to use interface, and tools for collaboration.
key Features of EdrawMax:
EdrawMax comes with free landscape plan examples & templates that are 100 percent customizable;
The built-in vector symbols let you easily add landscape components to your design;
You can easily share the landscape plan design with your team and see the live revisions made by your team;
EdrawMax lets you export the file in multiple formats, including MS Docs, PPTX, JPEG, PNG, PDF, and more;
EdrawMax has a strong community of 25 million users who update the template community with their creative projects;
EdrawMax is considered the best tool for beginners and professionals because of the user-friendly dashboard and easy drag-and-drop feature.
EdrawMax Desktop
Create over 280 types of diagrams
Windows, Mac, Linux (runs in all environments)
Professional inbuilt resources and templates
On-premises software for business
Enterprise-level data security
EdrawMax Online
Create over 280 types of diagrams online
Access diagrams anywhere, anytime
Team management and collaboration
Personal Cloud and Dropbox Integration
6. Final Thoughts
Landscape symbols are the icons and illustrations used to represent a landscape plan's materials, components, and details. With proper symbols, you can easily create a landscape plan. Start with an outline of the landscape and add its existing features, such as rocks and sidewalks. Add the changes you want to make and the new design elements to complete your landscape plan.
EdrawMax is the best Landscape plan software that gives you many free templates and a comprehensive symbol library. Its simple interface and faster drawing features make it the first choice for amateurs and professionals.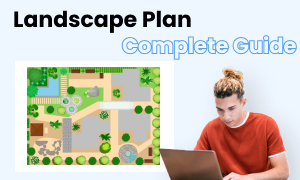 Landscape Plan Complete Guide
Check this complete guide to know everything about landscape plan, like landscape plan types, landscape symbols, and how to make a landscape plan.