Knowledge
Flyer Size
Know it All about Flyer Size
Part 1: Flyers of Different Sizes
When designing a flyer, you should decide the size of the pilot first and foremost. This is important so that you adjust your content accordingly. Now, choosing the size depends upon where you are. There are two standards of dimensions. One is the Canadian/USA standard, and the other is the international standard.
1. Canada and USA Standard (ANSI)
In Canada and the USA, the standard sizes for flyers are as follows.
Half Sheet Flyers
These flyers are of dimensions 5.5 x 8.5 inches (139.5 x 216 mm) and are the cheapest option for printing. As the name suggests, these flyers are printed on half of the standard sheet, and thus you get two pilots out of one paper. This is why these flyers are more affordable than the others.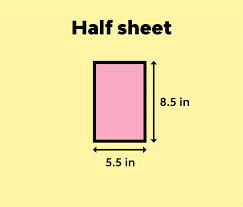 These flyers are commonly used for business and event marketing, such as inviting people to a conference, a fundraiser, a music show, or back-to-school activities. These flyers are great for handing out to people due to their reasonable size. Moreover, all the necessary information fits easily on them.
Standard Flyers
The standard flyers are 8.5 x 11.5 inches and 216 x 279.5 mm. They are commonly known as the Letter-sized flyers and are the industry standard in the US and Canada. These flyers can be used front and back, depending on how you plan to use them.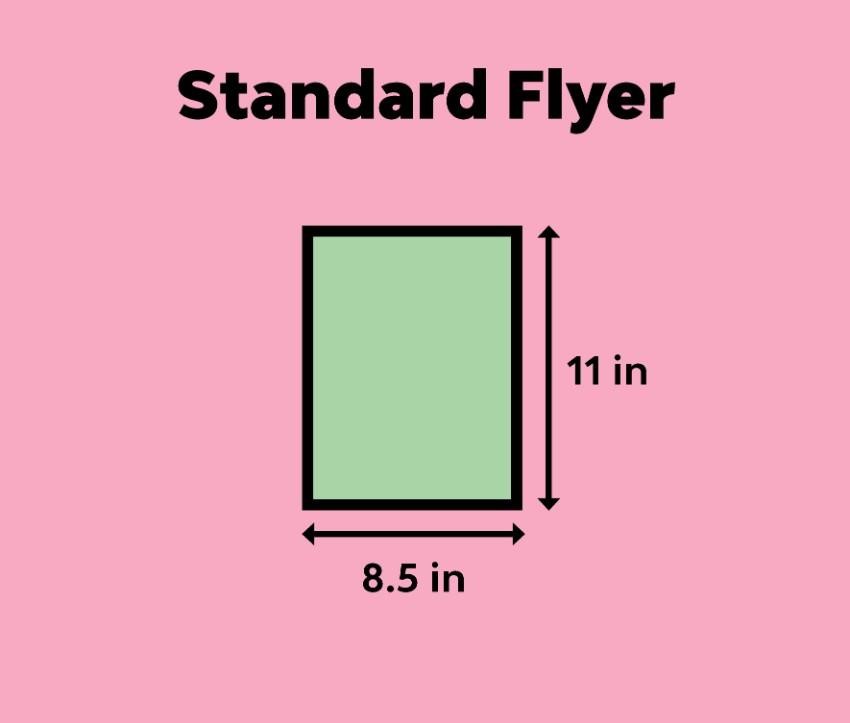 The advantage of these types of flyers is that you get plenty of space to use. You can use larger text and images to highlight the purpose of your booklet while still having room to write down the essential details. These flyers are often used for promoting services and products or sharing details.
Tabloid Flyers
These may be known to you as Large Format flyers with the dimensions 11 x 17 inches (279.5 x 432 mm). They are commonly used as small-format newspapers and sometimes are folded to create a large format flyer.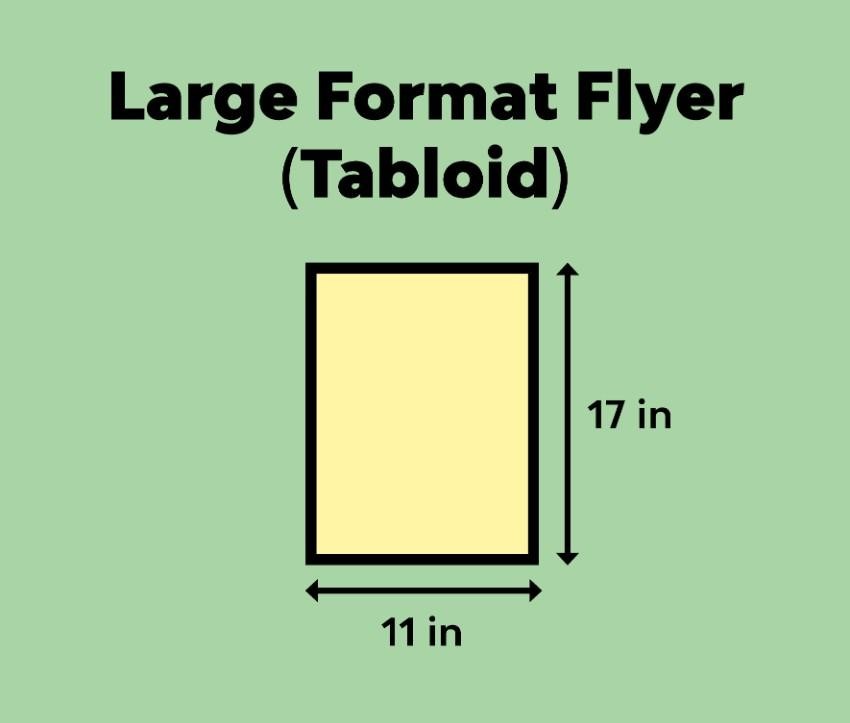 These flyers are great for using as restaurant menus, broadsheet inserts, and oversized leaflets.
2. International Standard (ISO 216)
The other standardized flyers dimensions are known as the International Standard (ISO 216). These are used everywhere except Canada, the US, Dominican Republic, Mexico, and Colombia. There are three different flyers of the international standard. These are as follows.
Dimension Lengthwise (DL) Flyer
The DL size flyer has measurements of 8.3 x 3.9 inches and 99 x 210 mm. This flyer is one-third of the A4 sheet and is very compact and sleek. It is tall and slim and designed to fit inside a DL envelope (110 x120 mm).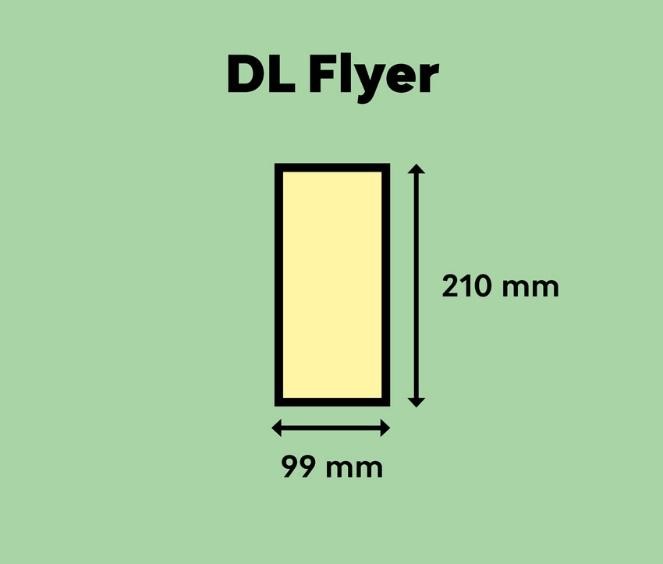 These flyers are great for mailing advertisements as well as handing out in person. Their size makes them very efficient as people don't mind carrying them in hand or bags. However, their smaller size also requires you to be more particular about the design. Restaurants take out menus, travel packages, and guides, and marketing handouts at events are some common ways of utilizing these flyers.
A5 Size Flyers
These flyers have the same length as DL flyers but are slightly wider at 8.3 x 5.8 inches (148 x 210 mm).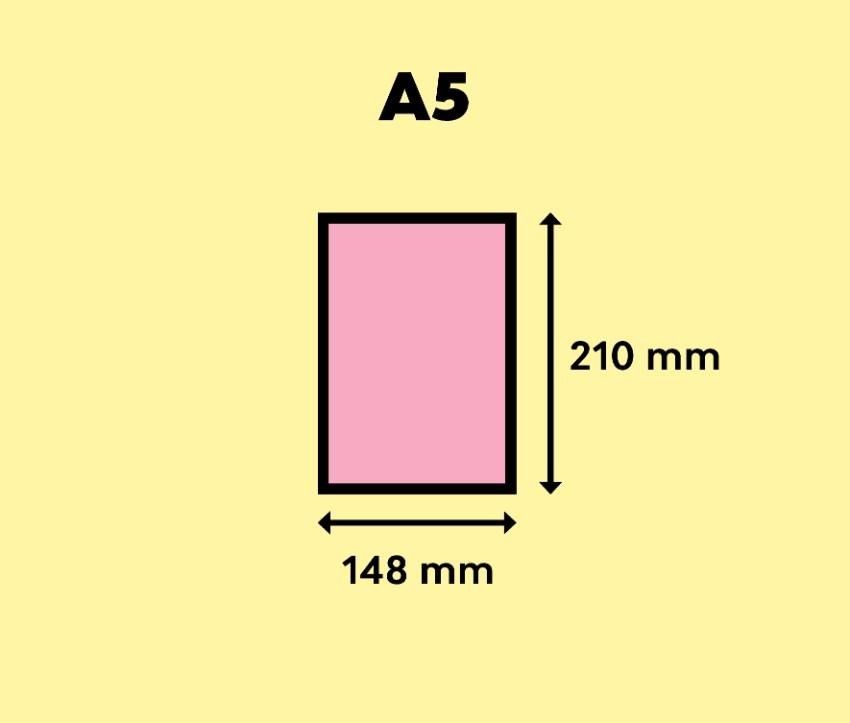 These flyers are great for corporate work, businesses, and publicizing an event.
A4 Size Flyers
A4-sized flyers are the international version of the American/Canadian Letter size flyers. It has dimensions of 8.3 x 11.7 inches and 210 x 297 mm. This size is the most readily available and can easily be printed from home or office printers.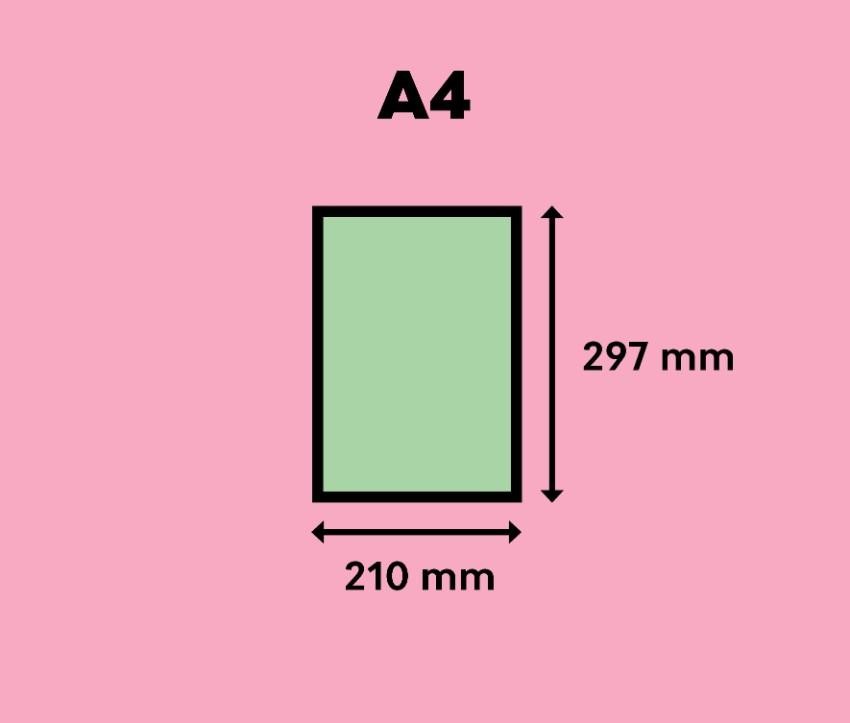 Like the Letter size flyers, these flyers are often used to promote services and products and spread information.
Part 2: What size is right for me?
Now that you are familiar with all the different standards, it is time for you to decide which one is the best for you.
When choosing the flyer size, you need to know what your end goal is. If you wish to impart knowledge or information, it is better to go for the bigger sizes but if you just want to advertise and grab some attention, go for the smaller ones.
The right size also varies from industry to industry. If you are a restaurant owner and looking for the right flyer size to advertise your food and service, DL flyers are the right ones. You can also use A4 size and convert it into a brochure.
Moreover, if you are a part of a campaign, then Letter size or A4 size is ideal to use to spread information.
However, along with your design, needs, and purpose of your flyer, you also need to keep your budget in mind while choosing the flyer size. This is because different sizes have different prices.
But the most important thing to remember is that only you can choose the right size for yourself. So, stay calm and choose wisely.
Part 3: Design Tips for Making Flyers
The design of your flyer can make or break your brochure. A well-designed booklet can do wonders, whereas a poorly designed flyer could be your doom. So, here are a few tips for creating a good pilot.
Tip #1: Catchy Headline
Your flyer must have a catchy headline. Something that compels a passerby to stop and read. Simply using the product or business name may sound a bit dull. The preferable option is to use words that captivate the audience. For example, "buy one, get one FREE!"
Tip #2: Clear and Visible
Make sure that the text and images do not form a cluster on your flyer. They should be designed so that the pilot is clear and visible from at least 12 feet away. If your design is messy and incomprehensible, people probably won't pay much attention to it.
Tip #3: Color and Contrast
Colors are the first thing that anyone notices when looking at something. That is why it is essential to use the right colors. Whether you use vibrant colors or not is up to you, but the colors should complement your content. Furthermore, use good contrasts that go with your brand identity.
Tip #4: Contact Information
Adding contact information is an important part. Your phone number, email address, and website should be written down so that people can contact you in any way they want. You can also design a tear-off flyer where the contact information can be torn off from the bottom of the pilot.
EdrawMax
All-in-One Diagram Software
Create more than 280 types of diagrams effortlessly
Start diagramming with various templates and symbols easily
Superior file compatibility: Import and export drawings to various file formats, such as Visio
Cross-platform supported (Windows, Mac, Linux, Web)
Security Verified |
Switch to Mac >>
Security Verified |
Switch to Linux >>
Security Verified |
Switch to Windows >>
Part 4: Different Flyer Materials
You may think that all flyers are made of the same material, but that's not true. There are different types of materials available for your filer designs. Here, we will list a few and how they help your flyer design.
Cardboard Material: flyers are made from bleached chemical pulp with a coated finish. They are ideal for designing thick and durable flyers. These flyers also prove to be more proficient and plusher.
Kraft Paper: If you want a stylish and vintage look for your flyers, this is the material to go for. This paper has a natural brown color and is also biodegradable. Along with being environmentally friendly, they are also tear-resistant.
Metallic Paper: flyers are made from bleached chemical pulp with a coated finish. They are ideal for designing thick and durable flyers. These flyers also prove to be more proficient and plusher.
Synthetic Paper: Flyers made from synthetic paper are resistant to chemicals, UV light, stains, and water. Thus, these flyers are ideal for using outdoor purposes. It is also durable and tear-resistant. It also gives a smooth feel to your brochures and makes them more attractive.
Part 5: Conclusion
Now that you have learned about all the different sizes as well as materials of flyers, it is up to you to choose the right one. Remember, there are no wrong choices. The right size is the one that works best for you, depending upon your design, budget, and end goal.
So, take a deep breath and go with what feels right!
Related Articles
Know More about Flyer Size with EdrawMax. Try it Free!
LEARN MORE