What's a Program Flowchart? - Definition & Examples

A program flowchart is the simplest way to figure out the bugs in a program before carrying out, saving a lot of time, labor, and money. This article will introduce the program flowchart definition from many aspects and hope it will help programmers in future program flowchart drawing.
Program Flowchart Definition
The program flowchart is a diagram that uses a set of standard graphic symbols to represent the sequence of coded instructions fed into a computer, enabling it to perform specified logical and arithmetical operations. It is a great tool to improve work efficiency. There are four basic symbols in the program flowchart, start, process, decision, and end. Each symbol represents a piece of the code written for the program.
The Oval or Pill Shape - represents the start/end.

The Rectangle Shape - represents a process.

The Parallelogram Shape - represents the input/output of the information.

The Diamond Shape - represents a decision.

The Arrow Shape - represents the flow of the sequence.

Steps to Create Program Flowcharts
With an easy-to-use program flowchart maker, you can create program flowcharts in minutes.
Drag relevant symbols of the program flowchart and drop them on the page.

The purpose of theprogram chart is to make a complex program easy and readable, which means you should confirm your core topic and state it merely with several steps.

Drag relevant vector symbols and drop them on the page.

Each symbol has its own function within the program, and the flowchart will not work if there is a wrong symbol.

Text information into the right symbols.

Single keywords or short phrases will make a flowchart much clear and concise.

Connect the steps with arrow according to their correct order.

You can connect the shapes one by one or click the floating button, which saves a lot of time.

Complete and check the programming flowchart.

After completing the program flowchart, check it before carrying it out to find any bug.
Below is a program flowchart example for you.
Benefits of Program Flowchart
The advantages of program flowchart are as follows:
Program flowchart can help programmers to find the bug in the process before carrying out.
It works as a blueprint when analyzing the systems and developing programs, which makes coding more efficient.
It improves programmers' efficiency in maintaining the operating program.
With the help of program flowchart, communicating the logic of a system to all concerned gets much easier.
Software for Program Flowchart Drawing
Edraw Flowchart Maker is the ideal software to create program flowchart.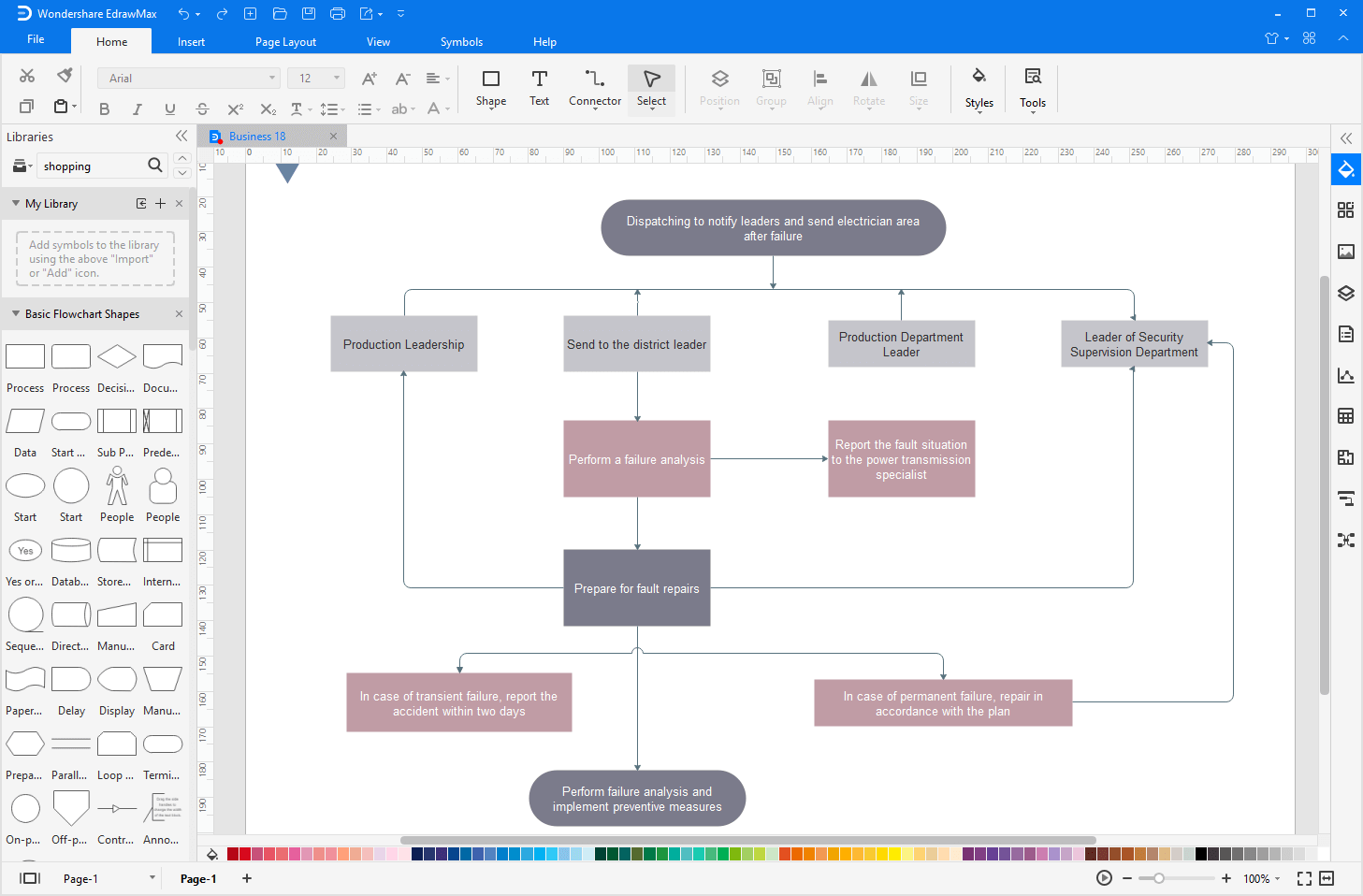 EdrawMax: a swiss knife for all your diagramming need
Effortlessly create over 280 types of diagrams.
Provide various templates & symbols to match your needs.
Drag and drop interface and easy to use.
Customize every detail by using smart and dynamic toolkits.
Compatible with a variety of file formats, such as MS Office, Visio, PDF, etc.
Feel free to export, print, and share your diagrams.
It offer users an all-purpose toolkit to design various program flowcharts, which meets the demand of different programmers.
It provides users with abundant editable flowchart examples and templates, they can use those built-in examples and templates, or make changes to create new ones.
Smart drawing of it enables users to connect, align and space shapes automatically. Once starting a shape, users can click the floating buttons to finish the rest, which improves the work efficiency dramatically.
Program Flowchart Examples
The following are some program flowchart examples taken from daily life for your reference, which is interesting and can be understood effortlessly. Click program flowchart examples to view more examples if any interested.
Job Hiring Flowchart Template
Eommerce Flowchart Template
Book Selling Process Template
Related Articles
Get Started! You Will Love This Easy-To-Use Diagram Software
EdrawMax is an advanced all-in-one diagramming tool for creating professional flowcharts, org charts, mind maps, network diagrams, UML diagrams, floor plans, electrical diagrams, science illustrations, and more. Just try it, you will love it!