Hamburger Graphic Organizer Complete Guide
Do You Want to Make Your Hamburger Graphic Ogranizer?
EdrawMax specializes in diagramming and visualizing. Learn from this hamburger graphic organizer complete guide to know everything about hamburger graphic organizer. Just try it free now!
Students and experts often write reports and paragraphs for educational purposes. The most important part of writing paragraphs is their original writing. Your writing abilities will indicate your subject knowledge even if you use reference materials and websites. The Hamburger paragraph is the professional graphic organizer for essays, paragraphs, and reports.
The Hamburger Graphic Organizer is the most exquisite of digital mind maps for both students and instructors. These hamburger paragraph samples will assist you in teaching your children the elements of a strong paragraph. Begin with the top bun, which represents the topic sentence, and explains the concept of the paragraph. And then comes the tasty supporting sentences/details: Onions, Tomatoes, ketchup, bacon, mustard, and a beef patty (100% vegetarian). Now, finish the paragraph with a bottom bun, also known as a concluding sentence that relates to the topic phrase. A Hamburger Graphic Organizer is an essential part of modern learning.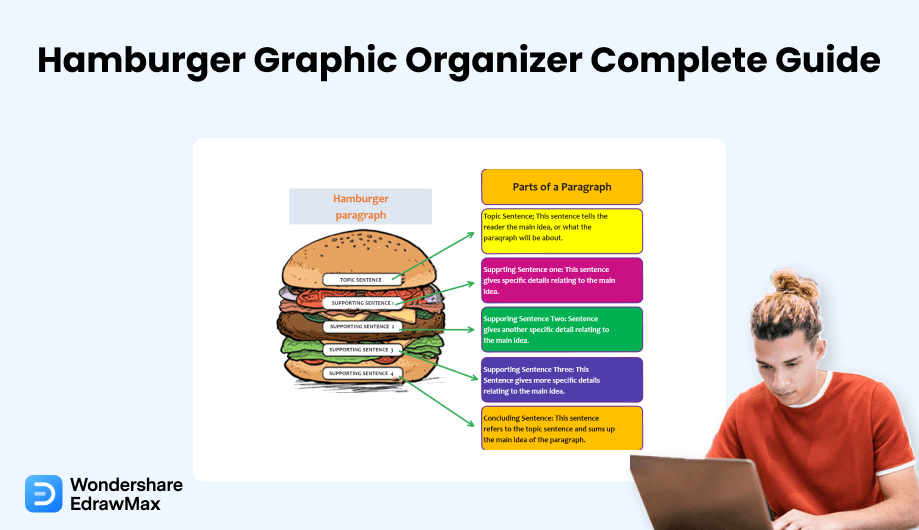 1. What is Hamburger Graphic Organizer
The "paragraph hamburger" is a writing organizer that visually highlights the critical parts of a paragraph. A topic sentence, descriptive sentences, and a concluding sentence are the core elements of solid writing. Each of these elements forms a distinct piece of a hamburger. It defines the major components of various types of writing, such as reports and essays, to assure that the writer sticks to the proper structure and information pyramid. Educators utilize hamburger visual organizers to help pupils comprehend how to organize their thoughts into writing. Many pupils learn to convey their ideas with integrated paragraphs and better understand paragraph writing structure with its aid. Hamburger Graphic Organizer assists in illustrating the organization or structure of ideas and displays how information is connected realistically.
What is Hamburger Graphic Ogranizer:
The hamburger graphic organizer is a writing organizer that visually highlights the critical parts of a paragraph.
2. Benefits of Using Hamburger Graphic Organizer
Graphic organizers are commonly used these days for learning and professional purposes. Hamburger Graphic Organizer is a very common type of graphic organizers. Students and teachers usually use it for learning and building concepts. Some of its benefits are given below:
Hamburger Graphic Organizers are simple but effective tools that can assist children with dyspraxia, executive functioning disorders, and other challenges that might cause writing issues.
A visual organizer does more than just divide a task into more manageable steps. It may also help children organize their thoughts visually. They can learn best by using a such strategic techniques.
Academic skills can be improved using Hamburger Graphic Organizer.
This Organizer assists learners in clarifying their thoughts before commencing formal writing in detail.
3. How to Use a Hamburger Graphic Organizer
Hamburger Graphic Organizer is based on the hamburger method. While giving a constructive compliment on anything the individual performs well, you should start with a constructive remark (Otherwise known as the fluffy bun part). Then you come to the heart of the affair, which is, of course, constructive criticism. Writing an essay is very much like making a hamburger. Consider the prologue and epilogue as the bread pieces, with the "meat" of your argument sandwiched between these. The introduction contains your thesis statement, whereas the conclusion summarises your argument. Both should be limited to a few phrases. As an instructor, if you want to teach your students to create a hamburger paragraph, you need to give them a set of instructions that will help them complete the task. There are students with varying learning skills, kids with reading difficulties, younger learners, and second language learners, and they all need these instructions to proceed with educational writing.
Give them several samples of some well-written paragraphs and ask them to identify the components. Encourage students to go through them on their own by offering several paragraphs with labelled sections.
Give participants some of the already completed pieces. For example, you may give them all of the "filler" sentences and ask them to produce an excellent introduction or closing statement.
Provide them with already filled-in examples. Suggest that they cut out each section and then reassemble the pieces.
Instruct them to locate a passage in their textbook. See if the students can identify the different parts of the text. Make them rewrite the textbook passage if required!
Encourage them to verbalize the paragraph before writing it. Make use of scaffolding. For instance, "What is one thing you'd want to tell me about Fido (child's dog's name)?" "How much fun is Fido to cuddle with?" (Inquire for further information.) "So, what did you say about Fido?" (conclusion).
4. How to Make a Hamburger Graphic Organizer in General
Writing a solid paragraph is the core of composition writing. In addition, the concepts that teach our primary students about paragraph writing will help them for the rest of their lives. The hamburger model is an effective way to get students to practice writing. The hamburger model, also known as a sandwich model, is a composing strategy that assists students in constructing a paragraph or an essay. This model uses a paragraph structure of "introduction - supporting details - conclusion". It may help produce an organized and coherent paragraph.
1. Describe three main points of a paragraph:
The Top Bun: It describes the topic sentence of a paragraph. This sentence represents the basic concept. The top bun is another name for the topic sentence.
The middle or supporting sentence: The middle section provides reasoning, facts, and explanations, among other things, to justify the main topic statement.
The Bottom Bun: This is an ending sentence of a paragraph.
2. Encourage students to construct a topic sentence that shows what the rest of the paragraph will contain.
3. Students should write multiple supporting statements that provide more details on the topic.
4. Teach to develop an ending sentence that reiterates the topic sentence.
5. How to Make a Hamburger Graphic Organizer in EdrawMax
Creating a Hamburger Graphic Organizer in EdrawMax is an easy process. The free visual organizer creator has multiple features, such as importing data straight from a .csv file or building one from scratch using free templates. In this article, a complete guide is provided to help you make a great hamburger writing graphic organizer.
Step1
Open EdrawMax and Login
Log in to EdrawMax with your registered email account. If you have never used EdrawMax before, you just need to create your new account by registering into EdrawMax with your personal or professional email ID.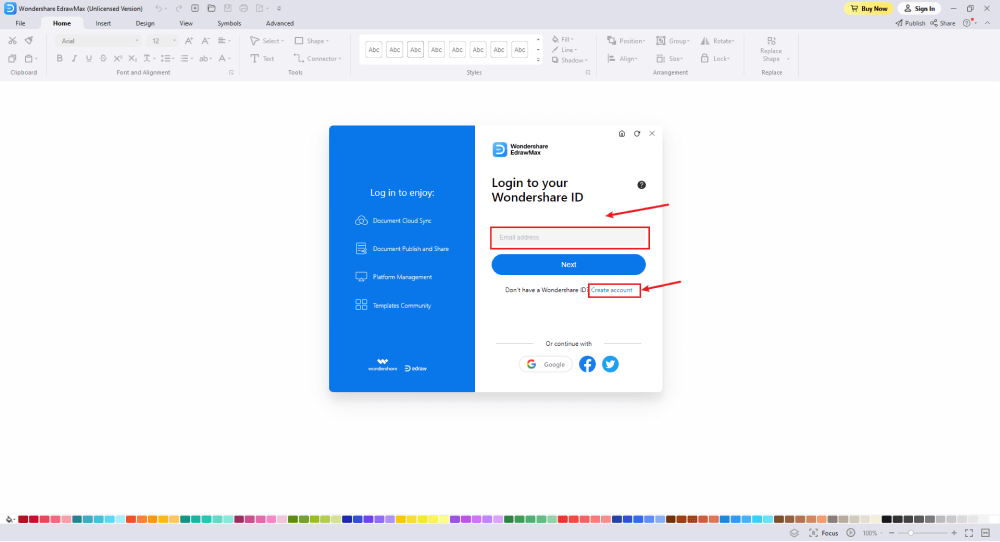 Step2
Choose a Built-In Template
EdrawMax is one of the best free graphics organize templates. By clicking "Education" from the left navigation panel, you may choose a pre-designed theme from the product or service based on your desire or necessity. It will show a wide range of graphic organizer styles. Additionally, on the EdrawMax Online canvas, hit "+" to start from scratch and design a graphic organizer.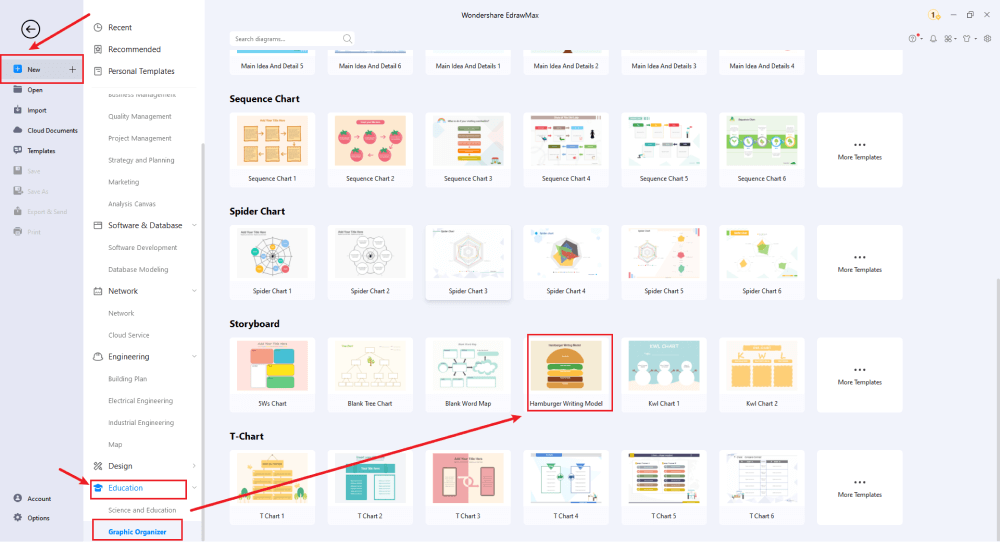 Step3
Select the Symbol
You can use a symbol bank to add your favourite symbols to ready-made templates or use these symbols to create a customized hamburger writing graphic organizer. It is located on the left of the screen and comprises basic drawings and arrow shapes. Diagrams, Graphs, Charts, Clip Art, Icons, festivals, Education, Design elements, and other figures are featured in the symbols library. With suitable icons and content, you may create an effective graphic organizer. You can add any logo to the sketching page by dragging and dropping it.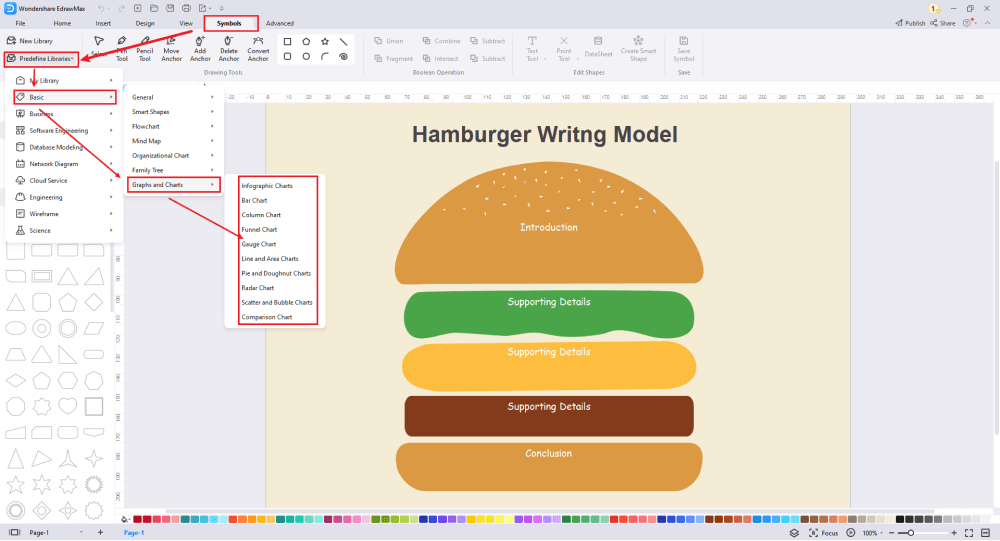 Step4
Add Components and Text
In this step, you will insert text in your Hamburger Graphic Organizer template. Double click on the sample text boxes, and write your required information in those boxes. Using different text tools will help you create a great graphic organizer template.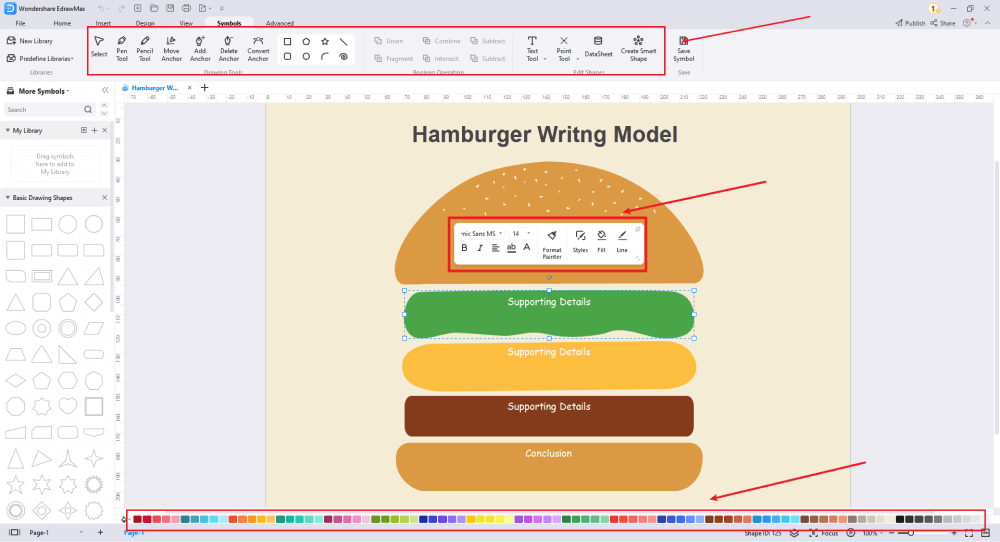 Step5
Customize the Details
Several tools in the EdrawMax will help you modify the graphic organizer design according to your needs. You can use various options that include a pen tool, pencil tool, text tool, connectors, formatting of shapes option, the movement of point tools, drawing of geometrical forms, the motion of anchor points, etc.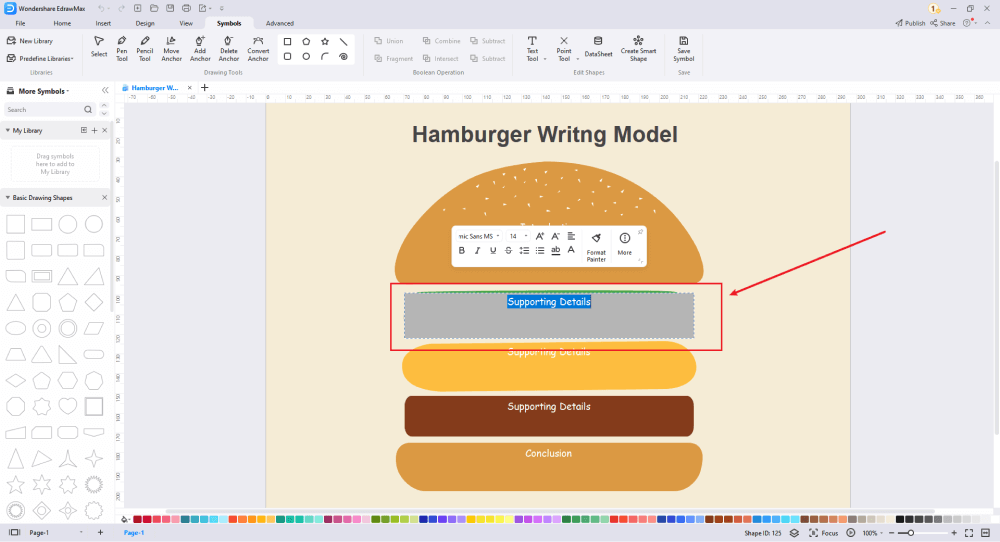 Step6
Export & Share
Once your graphic organizer is finished, you can easily export and share it with your colleagues or customers. A graphic organizer can be exported in various forms, including Graphics, JPEG, PDF, and HTML. You can also publish the designs on other social networking sites such as Facebook, Twitter, LinkedIn, and Line.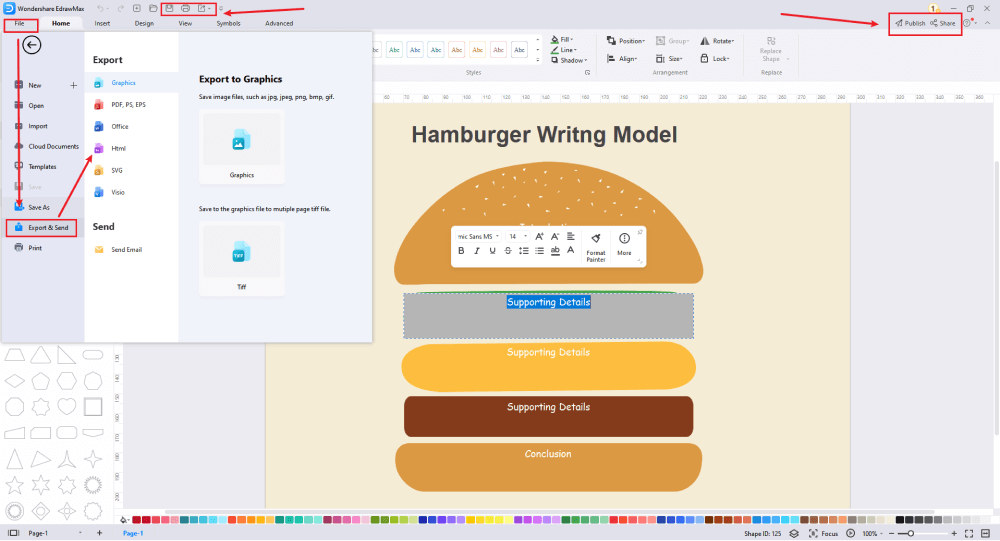 Basically, it is simple to create a hamburger graphic organizer in EdrawMax, just grab a template and keep customizing, drag and drop professinal symbols to make your plan better. If you are still confusing about how to create a hamburger graphic organizer in EdrawMax, just check this graphic organizer guide, or check the video below. Or you can find more tutorial videos from our Youtube.
6. Free Hamburger Graphic Organizer Examples & Templates
There are 6 examples of hamburger graphic organizer that you can refer or use immediately. Just click the image to download EdrawMax , and download the templates accordingly. Then double click to open the templates and customize as your prefer. Or open the templates from EdrawMax Online, and duplicate the templates. Click this graphic organizer examples to get more inspirations.
Example 1: Hamburger Paragraph
This template is for the Hamburger paragraph. A paragraph hamburger is made up of three pieces. The first component is the top bun, which contains your topic statement. This section is where you describe your paragraph and key concept. You place the burger filler beneath the theme sentence, which offers supportive evidence about your topic statement. The third component is the hamburger's bottom bread. In this area, you end your paragraph by adding a few phrases regarding your primary concept and referencing your topic sentence.
Example 2: Hamburger Graphic Organizer
This template is for Hamburger Graphic Organizer. Students use these templates to create projects, enhance their writing abilities, and organize their ideas. This Hamburger template has five sections. The uppermost bun is where students put their theme phrase and explain their key points. The second section includes supporting statements that give further details about the problem. The third section links to the second and provides additional information about the topic. You can keep adding these supporting details and statements until you prove your claim and reach a conclusion.
Example 3: Hamburger Writing
Hamburger writing contours are available in a variety of formats, but the basic structure of each hamburger graphic organizer is the same. In this case, from the inside out template resembles a hamburger. This hamburger template includes a theme, supporting evidence, and a conclusion. This hamburger writing template will assist you in understanding the best way to portray the correlation between pieces of data. You must present the thesis statement and the theme first in any paragraph. In the stuffing section, you add up to three supporting passages before wrapping up your writing in the final segment.
Example 4: Hamburger Paragraph Writing Template
A hamburger paragraph writing template is primarily used in the classroom to make the students understand different writing frameworks and graphic organizers. This template has a hamburger on the left and a writing portion on the right. The uppermost area of the hamburger has a top bun that corresponds to the topic statement of the paragraph, the filling represents the supporting pieces of evidence, and at the bottom, the lower bun represents the concluding phrase. Students must learn to write the topic phrase, details, and the final sentence in a logical order.
Example 5: Blank Hamburger Graphic Organizer
This example is one of the most common kinds of Hamburger Graphic Organizer templates. This sandwich-shaped template is divided into three distinct sections. Students explain the concept of the target passage in the topic sentence to give information about their text. The second element which is also called the sandwich's body has two or three segments. All of these segments include information and supporting phrases about the topic sentence. The body contains a high proportion of reasoning and relevant information. Students conclude their writing and share their closing remarks in the final section.
Example 6: Hamburger Graphic Organizer for Writing
The hamburger graphic organizer for writing explain the writing format of any passage or report using a hamburger as an analogy. The first section of a paragraph is its topic or thesis statement which defines the direction and the main idea of the paragraph, and it closely resembles the top bread bun of a hamburger. The supporting phrases in the middle portion resemble the fillings of the hamburger. At last, the third segment of the paragraph is the conclusion that reflects the bottom bun of a hamburger.
7. Free Hamburger Graphic Organizer Software
EdrawMax is a free and widely used hamburger graphic organizer software in this category. It is popular among beginners because it provides simple, minimalistic features and easy-to-follow guidelines. It is being used in multiple businesses, educational, and social projects. This software has numerous features. Some prime features include:
EdrawMax comes with a free version where you get to access some of the amazing design features. You can use this free hamburger graphic organizer creator to create over 280 types of different diagrams -- all in one single canvas.
EdrawMax offers over 50,000 vector-enabled symbols. In our 'Predefined Library' section, you will find all the hamburger graphic organizer-related symbols.
EdrawMax lets you create great hamburger graphic organizers and provides you with additional features where you can share your file to different social media platforms or directly share the URL in your email to your client or architect.
In addition to having over 25 million registered users, this free hamburger graphic organizer creator comes with extensive online resources. From video tutorials to elaborated guides just like this one, you will always find the right symbols, tips, and ways to create awesome hamburger graphic organizers for your projects.
EdrawMax Desktop
Create over 280 types of diagrams
Windows, Mac, Linux (runs in all environments)
Professional inbuilt resources and templates
On-premises software for business
Enterprise-level data security
EdrawMax Online
Create over 280 types of diagrams online
Access diagrams anywhere, anytime
Team management and collaboration
Personal Cloud and Dropbox Integration
8. Final Thoughts
The hamburger paragraph assists students in organizing their thoughts and sharing their opinions. It is a unique way to demonstrate the ideal narrative writing layout. The Hamburger Graphic Organizer contains the main components of a paragraph and organizes information using a hamburger as a metaphor. It encourages students' creative thinking while teaching them how to connect details in paragraphs. It only takes a few clicks to select a template and create a Hamburger Graphic Organizer.
It encourages students' creative thinking while teaching them how to connect details in paragraphs. Because it only takes a few clicks to select a template and create a hamburger graphic organizer, EdrawMax is the professional graphic organizer creator. Its symbol library also contains a large number of shapes and visuals. You can find many Hamburger Graphic Organizer templates in the template community.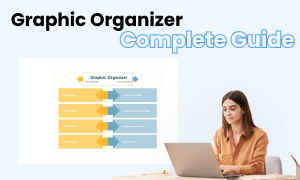 Graphic Organizer Complete Guide
Check this complete guide to know everything about graphic organizer, like graphic organizer types, and how to make a graphic organizer.