Story Mind Map Complete Guide
Do You Want to Make Your Mind Map?
EdrawMind specializes in mind mapping and concept map. Learn from this Use Mind Mapping to Master your Storytelling guide to know everything about story mind map. Just try it free now!
You might have heard the phrase "it is just a pipe dream," which refers to an unrealistic hope or fantasy. It is something you would love to see happen – but it won't ever happen.
Understandably, many of you would love to write and publish your work – but for most of you – it is just a pipe dream, and it will always be.
Why?
There are two root causes:
Self-doubt – you don't believe you are good enough.
Lack of knowledge – you don't know what to do with your "idea," and the entire storytelling process can seem like a massive cloud of blackness and overwhelm.
Nonetheless, you still need to bring your story out of the closet – story mind map can help you do that.
1. What is a Story Mind Map?
Mind mapping is an important piece of the storytelling puzzle. A mind map allows you to take a big, complex, and daunting task, such as writing a novel or a report, and break it down into manageable parts, so that you can tackle it step by step.
A mind map will help you go step by step in developing the whole theme and outline of your story.
Mind maps work for storytelling in a way that they enable you to get the big-picture of your story – these can cure writer's block as you will be mapping anything that pops into your mind.
You might want to think of mind mapping in the following way:
A mind map is an uncomplicated way of brainstorming without worrying about order and structure.
A mind map is a visual structure that allows you to recall and analyze your ideas.
You might think of a mind map as a diagram that you create to represent tasks, words, ideas, and items arranged to a central concept and linked to one another in a non-linear layout.
With the help of a mind map, you can turn an extensive list of information into a colorful and memorable graphical layout that aligns with your brain's natural way of doing this.
With a mind map, you will have a visual map that is also easy to read, and you will be able to connect your ideas – making it easier to spot natural points where your story could start and finish.
The free structure of a mind map will enable you to ensure that your story flows nicely from the beginning to the end.
2. How to Create a Mind Map for Storytelling?
Here are a few simple steps that will help you create a mind map for storytelling:
Step 1: Start with the main idea and expand it
Ideally, every mind map for storytelling starts with the main idea. You might want to write down the main idea in the middle of the map and then let your thoughts spread on the canvas.
From the central topic/ main idea, you will want to add sub-topics with multiple variants and branch out your thoughts.
For instance, one subtopic would be the characters, which you will want to branch further to illustrate each character's features and personality characteristics.
Step 2: Make your mind map interesting
You will want to use different features, such as colors, to keep your mind map interesting. For instance, you might use brighter colors for positive characters and darker highlights for negative characters. You can use anything that might help with your stream of thoughts.
Step 3: Make extra notes
You can choose between writing a few words for each topic/ plot or jotting down entire descriptions. However, a standard mind map should comprise a minimum number of words – the main ideas you want to develop later on.
Step 4: Include resources
You can include any resources that you consider helpful in your mind map. For instance, you can include those resources as links, documents, and images.
Make this a habit, and you can get through your days with not much stress. In addition, you can complete tasks in an organized manner, increasing your productivity.
Step 5: Connect the ideas
With a mind map, you can easily connect the concepts. For instance, you can insert connections between the ideas/ topics and label them accordingly.
For instance, if two or more characters in the novel share similar traits, you can emphasize their relationship with an arrow. You will remember it later when you further develop their personalities.
3. How to Mind-map a Story with EdrawMind?
When it comes to mind mapping for story writing, you can create a story mind map using EdrawMind. This free story mind map template is perfect for brainstorming ideas and process mapping. Using this tool, you can easily create a mind map for story writing.
This free mind-mapping tool covers all of your brainstorming and mind-mapping needs.
You can create a mind map with the free version of EdrawMind with the following steps:
1. Download the free version

EdrawMind is available for all operating systems and modern web browsers. After downloading the free version, you can select your desired map structure format.
2. Start to work on your main theme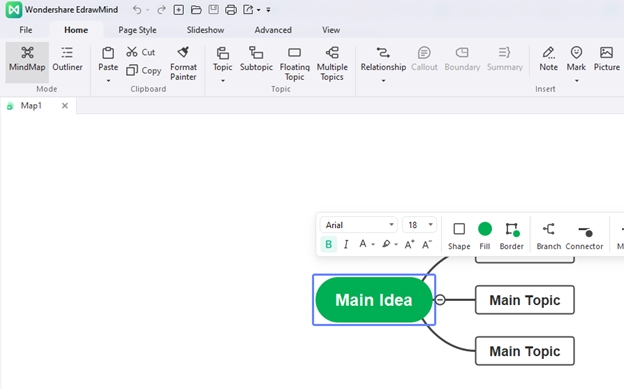 3. Personalize your mind map with different features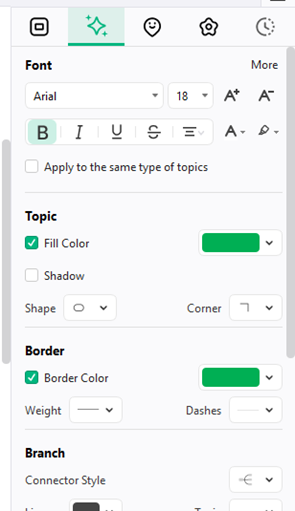 EdrawMind Apps
12 structures & 33 themes & 700+ cliparts
Support Win, Mac, Linux, Android, iOS
Advanced import & export options
On-premises software for business
Enterprise-level data security
EdrawMind Online
12 structures & 33 themes & 700+ cliparts
Access diagrams anywhere, anytime
Team management & Project management
You can enjoy the following benefits of using EdrawMind for story writing:
It makes a complicated writing process more manageable.
It can help you write realistic characters by exploring your character's defects, strengths, relationships, appearance, etc.
It aids with adding layers and context to a linear plot.
With the EdrawMind storytelling mind map, you can easily spot the plot holes and dangling threads in the storyline.
The mind map can boost your confidence in your storytelling abilities.
4. Free EdrawMind Story Mind mapping Examples & Templates
You can put tags on projects to find priority tasks much more accessible. Also, a function reminds you of recurring tasks. Get It Done also syncs with your calendar automatically and supports Google Calendar, Apple iCal, and more.
How to Do Character Interview
Basic information: name, birthday, place of birth, specialty, family members, interpersonal relationship, educational background, job, salary
Appearance: body shape, manners, facial features, clothing, voice, health status?
Personality: Personality type? Weaknesses? What are you afraid of? Self- discipline? Talent?
Hobbies: Favorites-food? Politics? Collections? Music? Movies? Books? Entertainment? Mantra? Previous daydreams/now daydreams?
Outlook on life: What is most important to him? Personality? Demon? Most admired person? Dislike person? Belief? Are you satisfied with yourself? Moral level?
Mind mapping allows you to get a better look at the bigger picture and how the different characters stand concerning each other and the setting.
Look at the following examples of using a mind map for character development for the famous novels.
Emma Mind Map
The Count of Monte Cristo Mind Map
An example of character mind web by "The Count of Monte Cristo" by Alexandre Dumas:
Alice's Adventures in Wonderland Mind Map
Before you proceed to character development, you might want to craft a mind map for the general overview of the plot and theme of the novel.
Look at the following mind map template from the novel "Alice's Adventures in Wonderland."
5. Conclusion
Using a story mind map for storytelling is practical and takes away much of the stress and overwhelming feeling. To develop a practical mind map, you will want to try out the free version of EdrawMind. Their free templates and the amazing feature will allow you to focus on the finer points while looking at the bigger picture.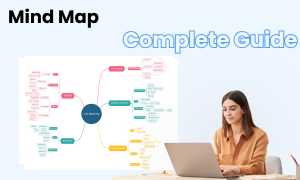 Mind Map Complete Guide
Check this complete guide to know everything about mind map, like mind map types, mind map symbols, and how to make a mind map.