Qatar World Cup 2022: Qualifier, Match Schedule, Kick-Off Times
Do You Want to Make Your World Cup Graphic?
EdrawMax specializes in diagramming and visualizing. Learn from this Qatar World Cup 2022 guide to know everything about Qatar World Cup. You can try to create your own graphic now!
There are many reasons the FIFA World Cup Qatar 2022 stands out from previous installments, one of which is the location. This is the first World Cup to hold in a Muslim-majority state. As football fans eagerly follow the match, we've created the Qatar World Cup 2022 match schedule to help you keep tabs on when your nation will be playing and how the match is progressing. EdrawMax can help you create the Championship schedule with an easy-to-edit template ready for you. With this free Qatar World Cup 2022 Match Schedule maker, you can easily follow the twists and turns of the FIFA World Cup.
Now, let's explore all the key details of this tournament!
Let's get started, then!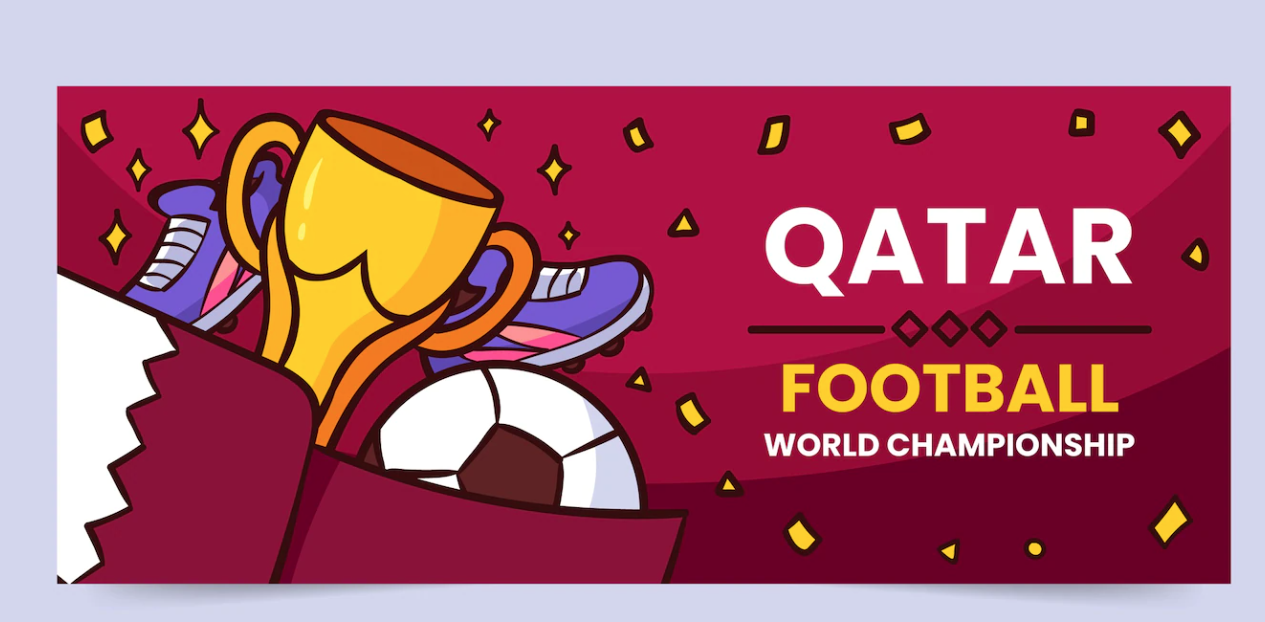 1. About the FIFA World Cup 2022 Location - Qatar
In case you missed this or simply can't believe it's happening already, the FIFA World Cup 2022 will be taking place in the Middle East nation of Qatar. FIFA announced this unusual host in 2010, the same day they announced that Russia would be the host country for the 2018 World Cup.
Qatar isn't known for its football history, as this would be its first appearance in the FIFA World Cup Championship game. The country's warm climate also makes it a surprising choice. However, the game was moved to winter for this purpose for the first time in history. The Opening Match took place on November 20th, 2022, at Lusail Stadium.
You can free download and share all about this on the EdrawMax World Cup 2022 schedule template. You can also customize your Qatar World Cup match schedule to include the stadium each game would take place. Our templates also include the Qatar World Cup game times to ensure you don't miss a single game till December 18th, when teams will play the final game.
EdrawMax Desktop
Create over 280 types of diagrams
Windows, Mac, Linux (runs in all environments)
Professional inbuilt resources and templates
On-premises software for business
Enterprise-level data security
EdrawMax Online
Create over 280 types of diagrams online
Access diagrams anywhere, anytime
Team management and collaboration
Personal Cloud and Dropbox Integration
2. Countries Qualified for the World Cup Qatar 2022
What qualified for the World Cup 2022? As the World Cup fever takes over several nations, the excitement reaches its height in 32 countries that qualified to battle it out in the Championship game. Our FIFA World Cup 2022 wall chart clearly shows the 32 participating countries so you can record the progress game and cheer for football teams according to the right schedule.
Former Winners Brazil qualified for the World Cup once again, making this the 21st time the country has made it into the championship game. As the host, Qatar automatically qualifies for the tournament, and this would be their first World Cup appearance.
3. World Cup Qatar 2022 Matches
The top two sides from each group would qualify for the next round, known as the knockout round. Different teams would play games daily, so you can start planning your nation's run to the final with Edrawmax.
4. World Cup Qatar 2022 Bracket
There are many reasons why a chart is the best option for you during this championship game. However, the main reason is that it is the best way to keep track of who's playing who and when the games will be played. The Championship game chart also helps you stay updated on the final score lines. A Qatar 2022 match schedule from EdrawMax helps you build excitement while staying ahead of the hectic bracket and fixture schedule.
Beyond a schedule, you can create a championship banner to show your team's spirit and enthusiasm for the tournament.
A template football field is also available on EdrawMax, which you can continually customize to fit the placement of every player on the field.
Points accumulated by each team can also be difficult to calculate when determining which team will advance to the knockouts without a championship group table.
The time for this tournament is also set to Central European Time (CET) timezone. However, you can customize the template to fit your timezone to ensure you don't miss a single game. Customizing one of the many templates to your preference gives you special memorabilia of the FIFA World Cup 2022 to treasure. You can also make your Qatar World Cup 2022 match schedule engaging and attractive with thousands of symbols and templates.
5. How To Create Your Own World Cup Qatar 2022 Match Schedule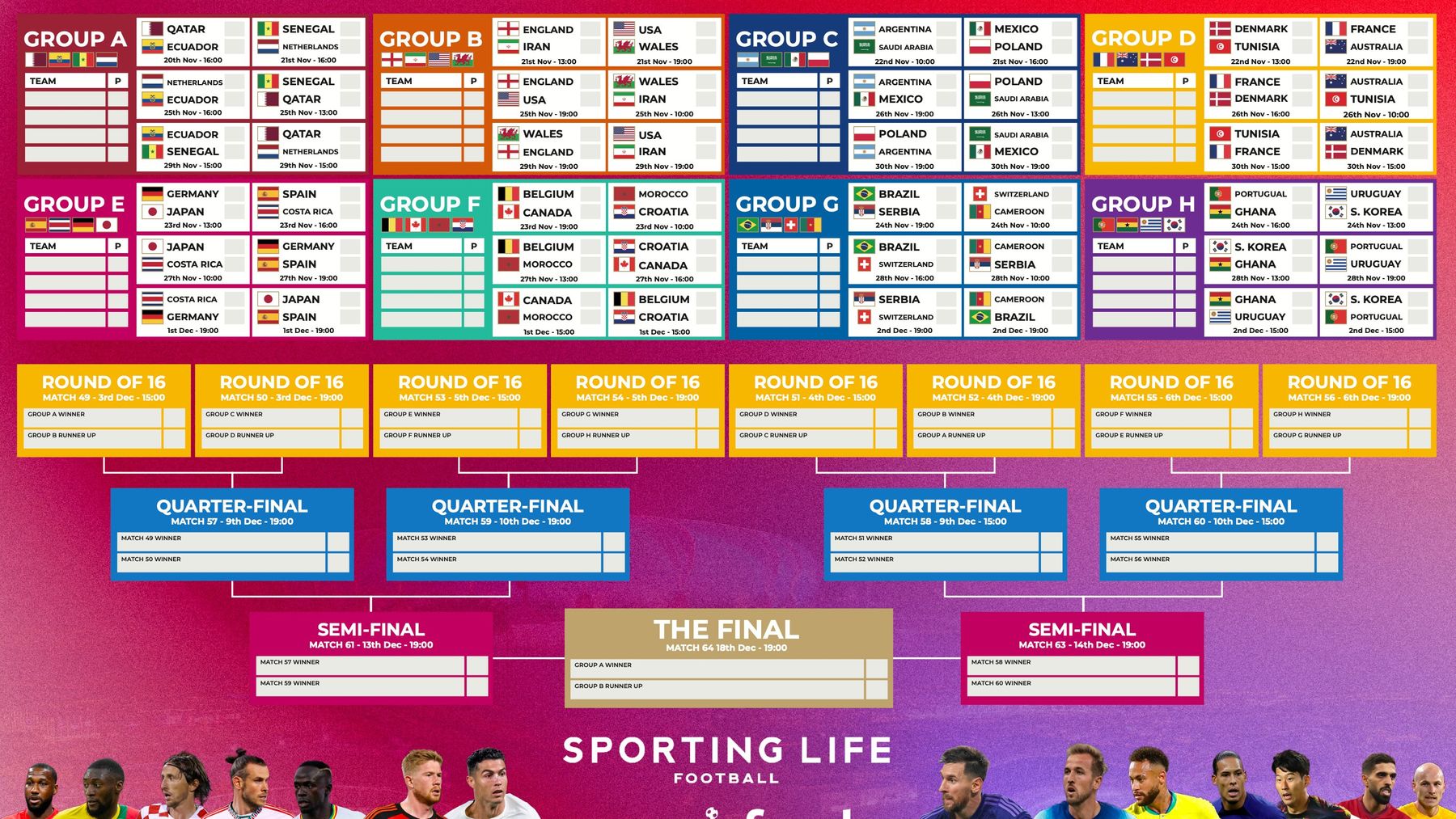 Visit and download the EdrawMax World Cup 2022 templates and you'll find all the information you need for this year's championship game in one place. Everything is included in the chart from the first game to the final on December 18th. You can also customize the timing to include the time and location of each game. In addition, the championship game schedule consists of each country's flag to help you keep up to date on which teams belong in each group.
There are various color themes available to customize templates to your preference. There are many matches to enjoy regardless of the theme chosen, as there are 16 knockout rounds. Apart from a complete game schedule, there are available spaces for you to complete the results through to the final on December 18th.
Most templates provide adequate space to fill in the number of games each team played, won, lost, and the games that ended in a draw. You can personalize your template to feature your brand and stand out during this championship season. With a template chart to keep up with all the exciting details of this tournament, you don't have to ever miss any match.
In addition, you can save and export these Qatar World Cup match schedules to PDF, HTML, SVG, PNG, and many more formats. Apart from sharing these templates with the online EdrawMax community, you could also share them with friends, family, and other football enthusiasts.
Below, you'll find an EdrawMax video tutorial to learn how to create, edit, or adjust the schedules and banners to your preference.
6. Who Are the Favorites to Win the World Cup?
Brazil will surely be a leading favorite in this FIFA World Cup 2022 to lift the historic trophy. As one of the most victorious teams in the competition history, Brazil has lifted the trophy five times. They're also the only country to have played in all 22 World Cup championship tournaments since the competition started in 1930.
Another favorite for the 2022 World Cup Championship is France. This nation is blessed with a star-studded team and a great deal of strength. This team aims to become the second nation to win back-to-back FIFA World Cups. A third favorite for the Qatar World Cup 2022 is Argentina, which has one of the best players in football history, Lionel Messi. This is likely his final ever World Cup, so we expect him to give his best.
England would be entering the tournament as the fourth favorite because they were the losing finalists in the Euro 2020. Therefore, this team aims to go further to win the coveted championship cup in this year's tournament.
7. What Next?
The Qatar World Cup has begun, and we cannot wait to see where it takes us. With many templates available on EdrawMax, you can keep tabs on the game and watch your nation's progress to the finals. The World Cup qualifiers table clearly shows the teams that qualify for the tournament and provides ample space to record which teams progress to the semi-finals, finals, the players with the most goals, and the tournament winner. Excited to create your own Qatar World Cup championship group table? Try it out online today.