How to Draw a House Plan in Excel
Do You Want to Make Your House Plan?
EdrawMax specializes in diagramming and visualizing. Learn from this article to know everything about how to draw a house plan in MS Excel and try an easier way. Just try it free now!
When we talk about constructing or renovating a home, we first discuss after understanding the resources and location is the house plan. A home plan is a set of drawings of different building plans that gives you an orthographic projection of the entire house or the building. There are several tools that let you create home plans, and in this article, we will discuss two such tools.
The first one is Microsoft Excel, and another one is EdrawMax. After going through this detailed explanation of home plans, you will learn that EdrawMax lets you create home plans in Excel format and offers free templates and symbols necessary to create different house plans.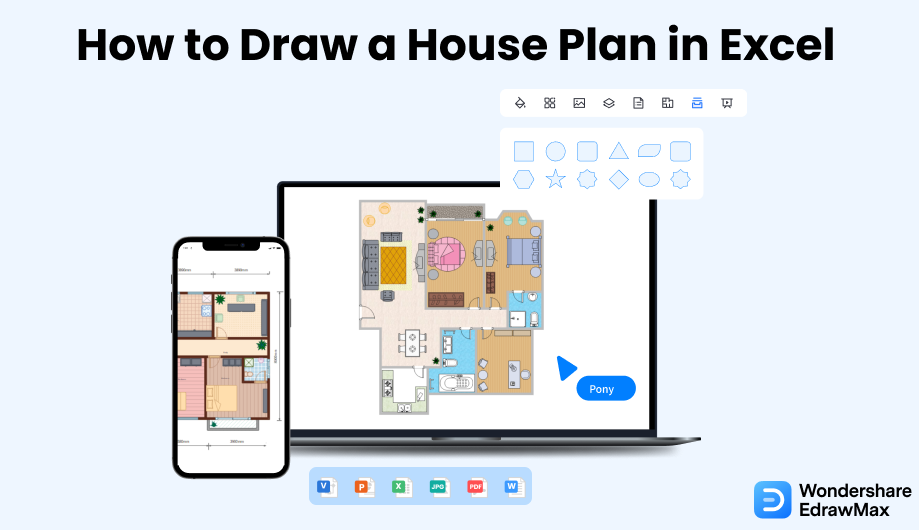 1. How to Draw a House Plan in Excel
Creating a home plan in Excel serves one benefit -- you might already have Microsoft Suite installed in your system. However, to create technically correct home plans, you depend on third-party add-ons. After getting the registered license for Microsoft Suite, which starts at $69.99 for one year, you will need to have a basic idea of the home plan that you need to design. After getting the basic outline ready, you can launch MS Excel and start working on the home plan design.
Launch the MS Excel application:

First, open the application to draw a home plan in Excel. Go to the Start Menu and make your way to the Excel option or click the icon if you have the shortcut on your desktop. The window of MS Excel will open on your screen.

Open a blank worksheet:

Go to the Home tab and click on the 'Blank Workbook' to open a fresh new worksheet. Several templates are available in Excel, but it is better to choose a blank sheet to draw a home plan in Excel.

Turn the worksheet into a grid sheet:

An Excel sheet consists of rows and columns. We need to adjust the cells to get our required grid sheet fit for drawing. Select the entire sheet or all the cells by clicking a tiny button on the top left corner between the first row and column.

Now, target a particular cell, and click between the row and column border to adjust the size of the cell. Once you have done that, the rest will fall in the same size category, and you will get your required grid sheet.

Outline the drawing area:

At this stage, you need to define the area on the worksheet where you will draw the plan. Go to the point where the cursor will turn into a row or column selection cursor and select the rows and columns. Now, go to the Borders option in the Font group of the Home tab. Select the Outside borders option to define the area for drawing the home plan in Excel.

Resizing technique to draw the plan:

Use the resizing technique to draw a detailed plan while drawing the entrance or the porch. Go to the Borders option and use Bottom Border, Left Border, Right Border, and others to create it. You can construct the entire plan this way.

Save the file:

The final step is to save the drawing. Visit the File tab. After that, click on Save As option. Now feed it with the details of filename and location and click the 'Save' button.
How to Create a Home Plan in Excel:
Launch the MS Excel application;
Open a blank worksheet;
Turn the worksheet into a grid sheet;
Outline the drawing area;
Resizing technique to draw the plan;
Save the file.
2. How to Draw a House Plan in EdrawMax
As clearly stated here in the house plan in Excel section, you might not get access to free templates and symbols. At the same time, if you have never worked on any home plans in the past, then creating a house plan in Excel will require additional technical skills. Instead, students these days prefer fast tools that are well-equipped with all the designs that inspire you to work on your house plan. Check out how easy it is to create a house plan in Excel format using EdrawMax.
Step1
Open EdrawMax & Login
The very first step that you need to follow is to install EdrawMax in your system. Go to EdrawMax Download and download the home plan software, depending upon your system's technical specifications. The tool also offers a free online version if you need to have an online collaboration with your team. We also have respective mobile applications for Android and iOS if you need to draw the home plan on your mobile device. head to EdrawMax Online and log in using your registered email address.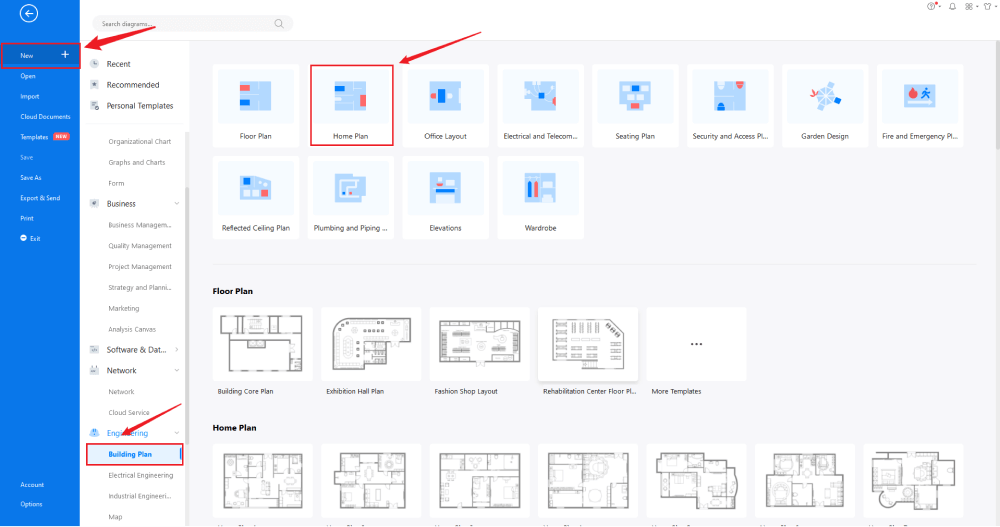 Step2
Template Selection
After logging in, go to the Template section on the left of EdrawMax to access all the free home plan templates. You will see hundreds of user-generated home plan templates in the template community panel. Click on any available templates and start customizing them as per your requirements. You can change the dimensions, update the fonts, modify the home plan components, change the background, and perform other important customizations.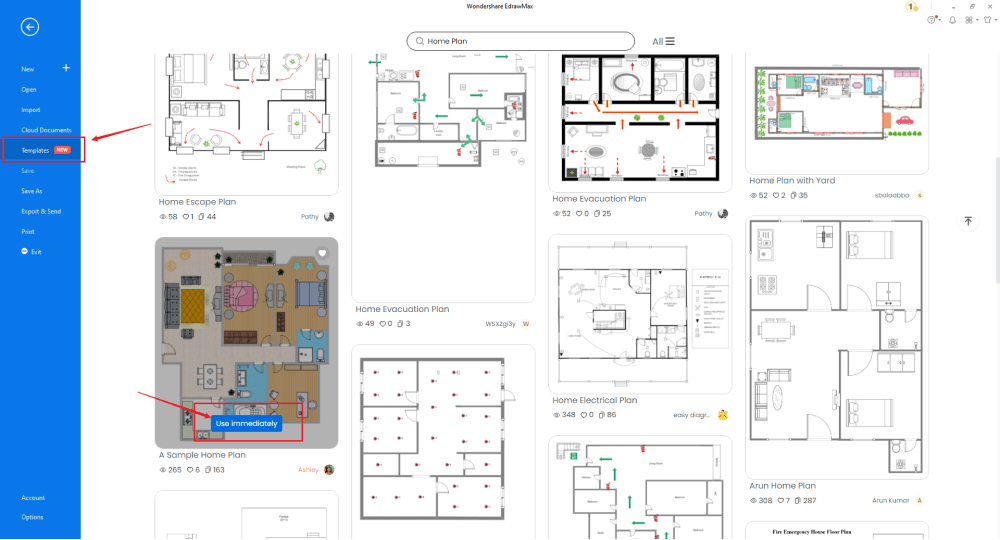 Step3
Create From Scratch
From the EdrawMax homepage, you will find the '+' sign that takes you right to the canvas board, from where you can start designing the home plan from scratch. Use your technical expertise and the tools offered by EdrawMax to create the home plan in Excel and other formats. It should be noted here that the first step in creating any house plan is to understand the requirement beforehand and have the measurements ready. Once you have acquired these details, you can start creating the house plan by first adding the correct outline of the structure.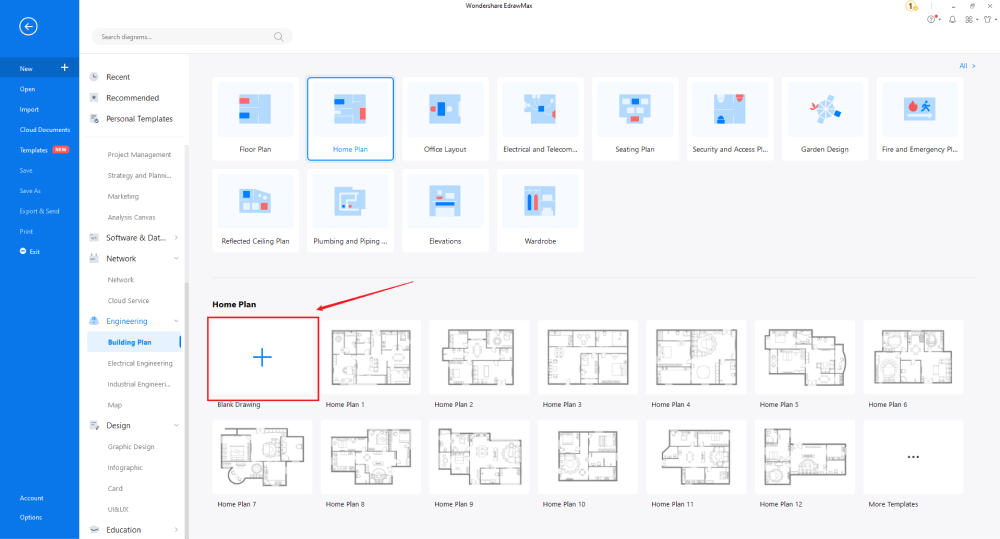 Step4
Select House Plan Symbols
In order to use the home plan symbols, you need to select the 'Symbols' tab from the toolbar. Click on 'Predefined Libraries'> 'Floor Plan,' and then select the home plan symbols you need. Learn more house plan symbols and find symbols you want here.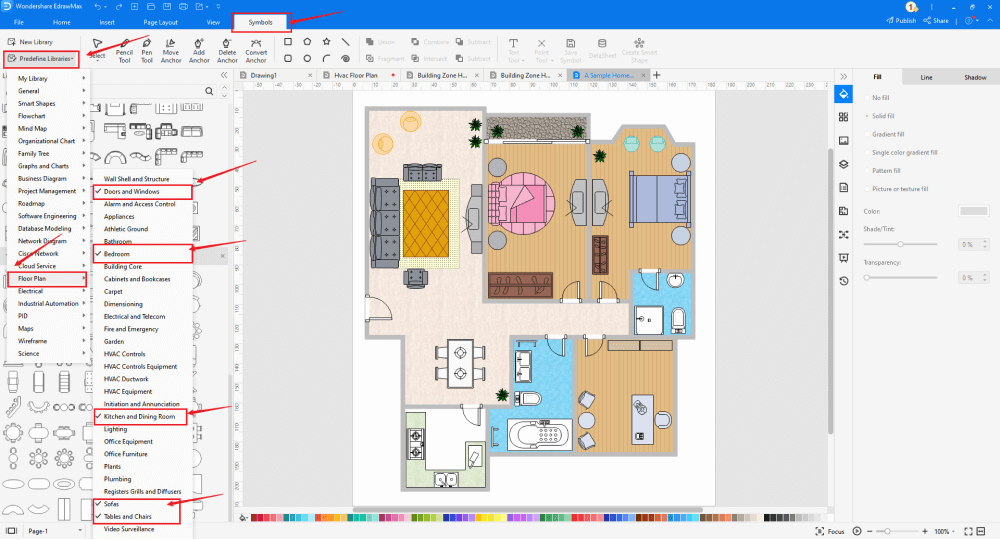 Step5
Add More Components
After creating the outline, you can start adding the basic components of the home plan, like dimensioning, carpet, kitchen & dining room, sofas, and tables & chairs. In addition to adding these home plan components, you can also add other building plans to ensure that your design is technically sufficient for the architects and the builders to start the customization work. Depending upon your need and theme, you can modify these symbols without worrying about losing the formatting of the drawing. Then, use toolbars on the top or right side of canvas to change the color, font, size, theme, and more with one click.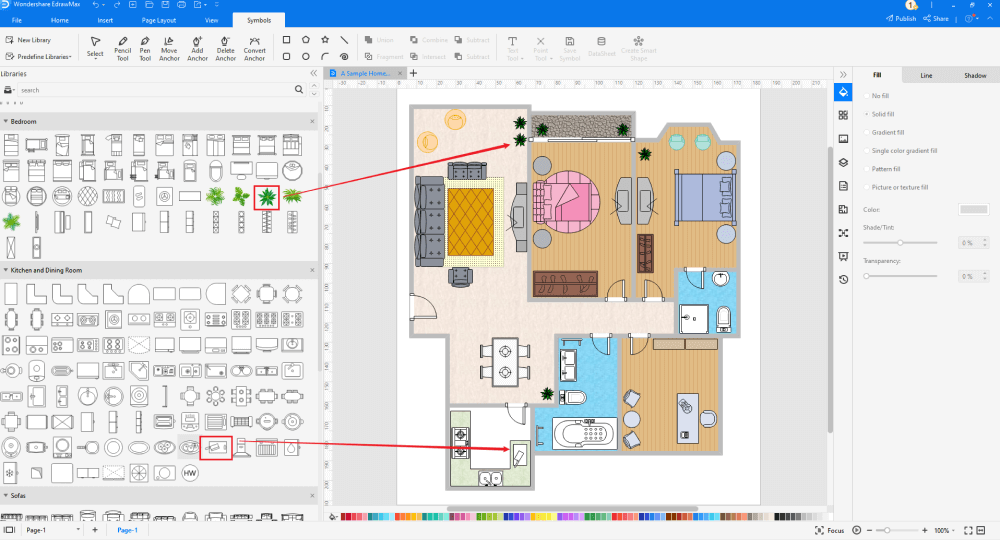 Step6
Export as Excel File
Once you are satisfied with your home plan, you can export it into multiple formats, like JPEG, JPG, PNG, PDF, and other Microsoft formats, like MS Word, MS Excel, PPTX, etc. Just back to the main menu, and find "Export" button, You can also share the house plan diagrams on different social media platforms, like Facebook, Twitter, LinkedIn, etc. Moreover, you can print your house plans for showing with others.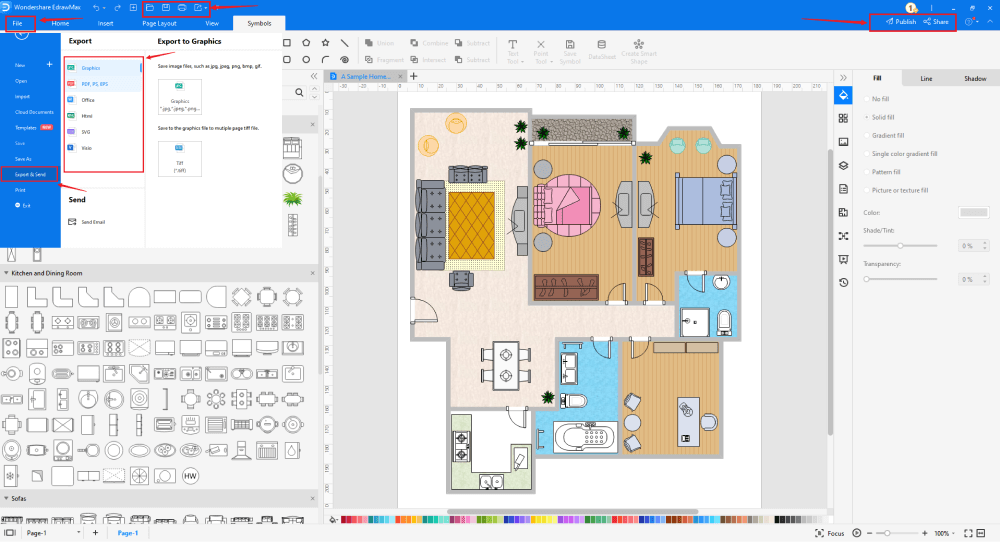 Basically, it is simple to draw a house plan in EdrawMax, just grab a template and keep customizing, drag and drop professinal office house plan symbols to make your plan better. If you are still confusing about how to draw a house plan in EdrawMax, just check this house plan guide, or check the video below.
3. EdrawMax vs. Excel
EdrawMax and MS Excel differ on several ground levels, like:
Once you have created the home plan in Excel, you cannot share it online right from the Excel tool. EdrawMax is easily integrated with Google Drive and DropBox. At the same time, you can share your home plan design on multiple social media platforms, like Facebook, Twitter, LinkedIn, and more.
Excel is a spreadsheet tool created by Microsoft to handle complex accounting problems. EdrawMax is a diagramming tool that lets you import and create charts, tables, and graphs in your home plan designs (if necessary).
EdrawMax includes a large number of symbol libraries. You may quickly build any type of diagram with over 26,000 vector-enabled symbols. If you can't locate the symbols you need, you can easily import some images/icons or build your own shape and save it as a symbol for later use. EdrawMax's vector-enabled seating chart symbols can be readily enlarged, reshaped, recolored, and reformatted to meet your needs. Simply go to the 'Symbols' part of EdrawMax and select the 'Predefined Symbol' section from the top toolbar. Hundreds of symbol categories are accessible for you to utilize and incorporate into your HVAC plan.
Moreover, EdrawMax features a large library of templates. We have more than 25 million registered users who have produced thorough Templates Community for each design. Simply go to the left panel's template section and type any template you're looking for into the search bar. It will bring up hundreds of pre-built templates that you may utilize right away to meet your needs.
Draw a House Plan in Excel:
Excel is a spreadsheet tool created by Microsoft to handle complex accounting problems.

MS Excel does not have a collection of home plan templates.

MS Excel is an offline tool dependent upon third-party applications to make more diagrams.
Draw a House Plan in EdrawMax:
With built-in templates, you can create the HVAC plans in just a couple of minutes.

You do not have to worry about finding the relative symbols, there are over 26,000 symbols for every field and more resoucres to empower your design.

EdrawMax supports to export file into multiple formats, you can create HVAC plan in EdrawMax, and export as Word, PPT, Excel, and more to meet your needs.
4.Free House Design Software
Millions of people are currently using EdrawMax for its robustness, platform independence, and ease of creating and sharing home plans in it. Some of the great features of using this free home plan software are:
Unlike Word, for that matter, this free house plan software gives you access to thousands of house plan examples & templates that ease your efforts in creating any complex house designs.
EdrawMax comes with 50,000 vector-enabled symbols that let you easily create over 280 types of different diagrams.
This free home plan software lets you create home plans and provides additional features to share your file to different social media platforms or directly share the URL in your email with your client or architect.
EdrawMax also offers real-world dimension and scaling features for your home plans.
This free home plan software easily imports and exports file created in MS Visio, making team collaboration extremely efficient.
The free trial version of EdrawMax offers so much that you will wonder why you have not used it before to create home plans.
EdrawMax Desktop
Create over 280 types of diagrams
Windows, Mac, Linux (runs in all environments)
Professional inbuilt resources and templates
On-premises software for business
Enterprise-level data security
EdrawMax Online
Create over 280 types of diagrams online
Access diagrams anywhere, anytime
Team management and collaboration
Personal Cloud and Dropbox Integration
5. Final Thoughts
Drawing a house plan in Excel serves a very limited purpose, and since the tool lacks templates and symbols, it is not recommended to use it for professional drawings. Instead, you should go ahead with EdrawMax to create and share your home plan designs in multiple formats.
Even if you are a beginner, who just started interior designing, or are someone drawing a house plan for the first time, EdrawMax will cater to all your technical needs. The user-friendly toolbar offers easy drag-and-drop features, and at the same time, with the architect's scale, you will ensure that your home plan designs are technically correct. Download this free home plan software today and start building your dream home plans.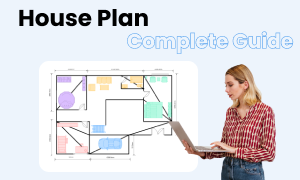 House Plan Complete Guide
Check this complete guide to know everything about house plan, like house plan types, house plan symbols, and how to draw a house plan.