How-Tos
Free Hotel Floor Plan Templates & How to Design
Ger Free Templates & Learn More about Hotel Floor Plan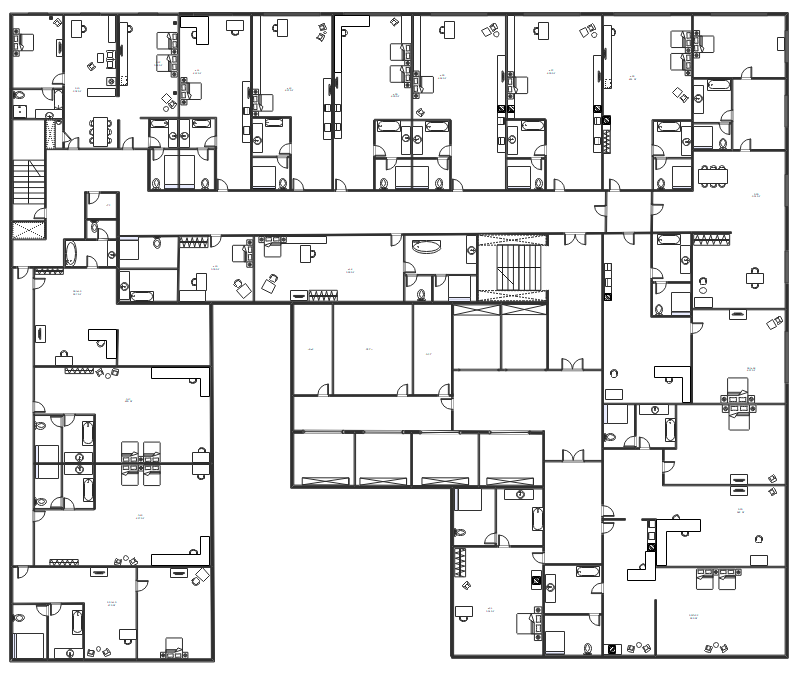 A hotel floor plan is a birds-eye view diagram drawn to the scale of hotel rooms and other facilities. It depicts the relationships between rooms, as well as objects and spaces within those rooms. Hotel floor plans often include labels of important elements, as well as measurements so that viewers can better understand the scale of and distances between objects.
If you already have a deep enough understanding of the floor plan and need hotel floor plan templates, you can go directly to the first part. But if you want to learn more on the floor plans and how to design, just click on the following parts.
Hotel Floor Plan Templates
If you have known how to make a hotel floor plan, and what makes a great one, here are 6 templates that you can use as inspiration to create your very own hotel floor plan. Each of these includes elements that are unique to their specific purpose or room type. As you can imagine, a hotel covers a wide variety of rooms and venues, including banquet halls, guest rooms and gardens. Our diagrams cover the lot!
Click on the Templates & Know Details
1. 2-Floor Hotel Floor Plan
This is an example of a 2-floor hotel floor plan. The first floor of the hotel usually consists of a lobby. In this example, there are several conference rooms, a ballroom and a kitchen. On the second floor, we have an assembly and activity room, food and beverage outlets, a kitchen, and several senate and executive rooms.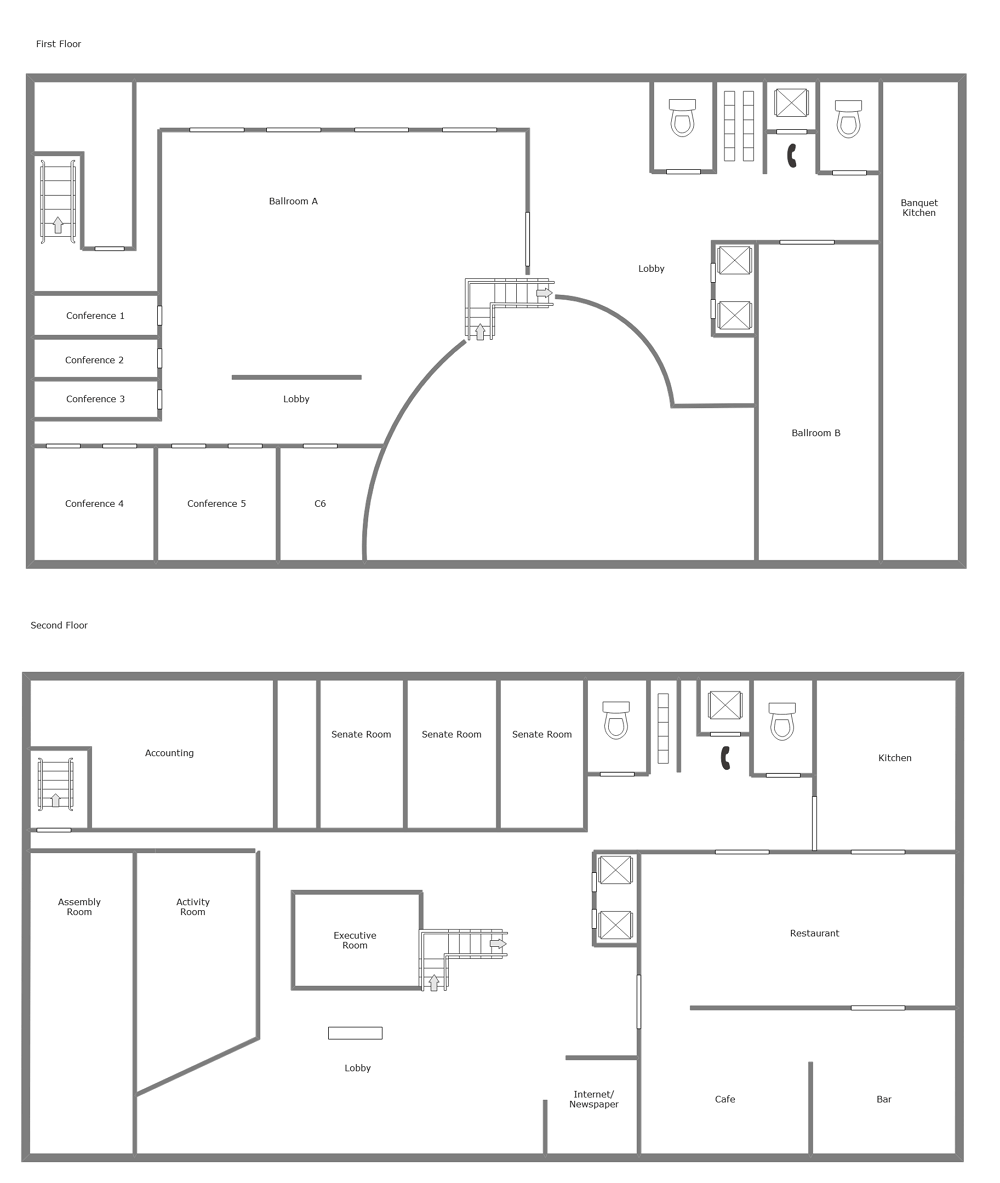 Download.eddx
Create Now
2. Hotel Emergency Evacuation Floor Plan
No matter what kind of hotel you're staying at, the one thing they all have in common is they must have emergency exits. This floor plan is labeled with green arrows showing all of the safe passageways throughout the floorplan, while red arrows show the safe exit points.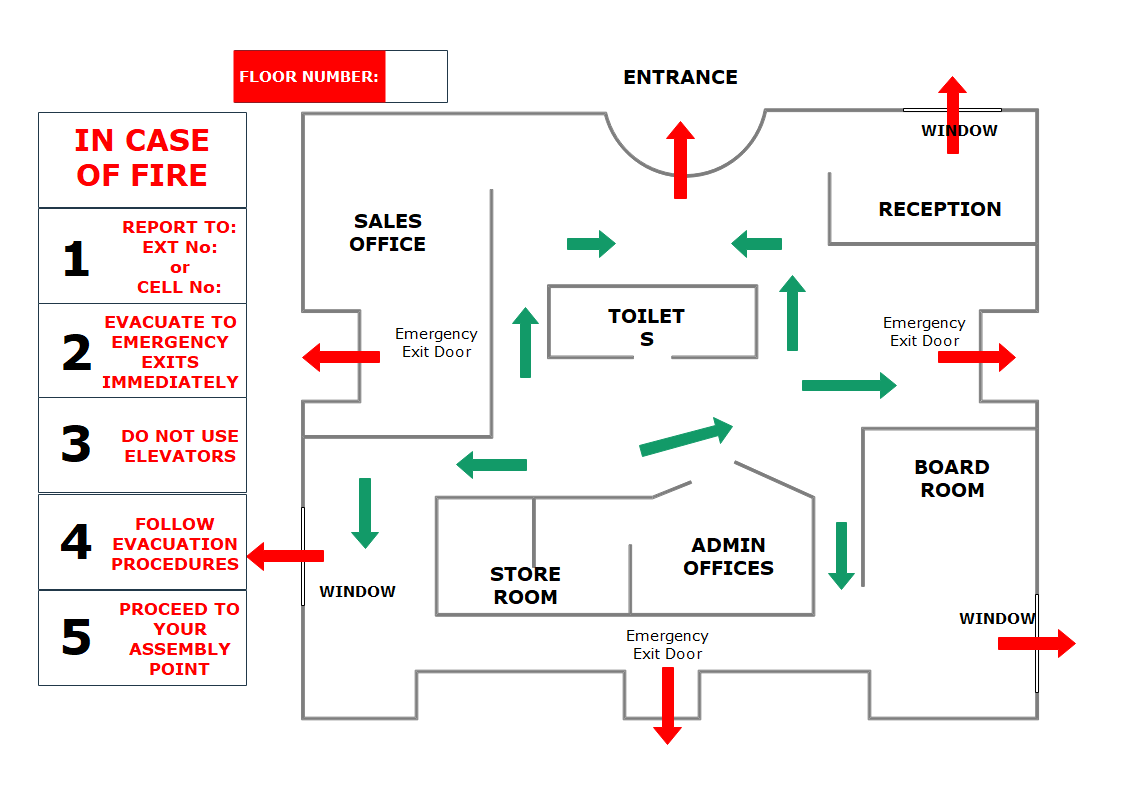 Download.eddx
CREATE NOW
3. Modern Hotel Floor Plan
Many modern hotels have facilities such as a courtyard, gym, and swimming pool. This hotel floor plan is an example of such a hotel.
Download.eddx
CREATE NOW
4. Large Hotel Suite Floor Plan
Hotel rooms come in all shapes and sizes. This is a floor plan of a large hotel suite, complete with three bedrooms, two bathrooms, a living room, a kitchen, a study, and two balconies. An example of what luxury might look like!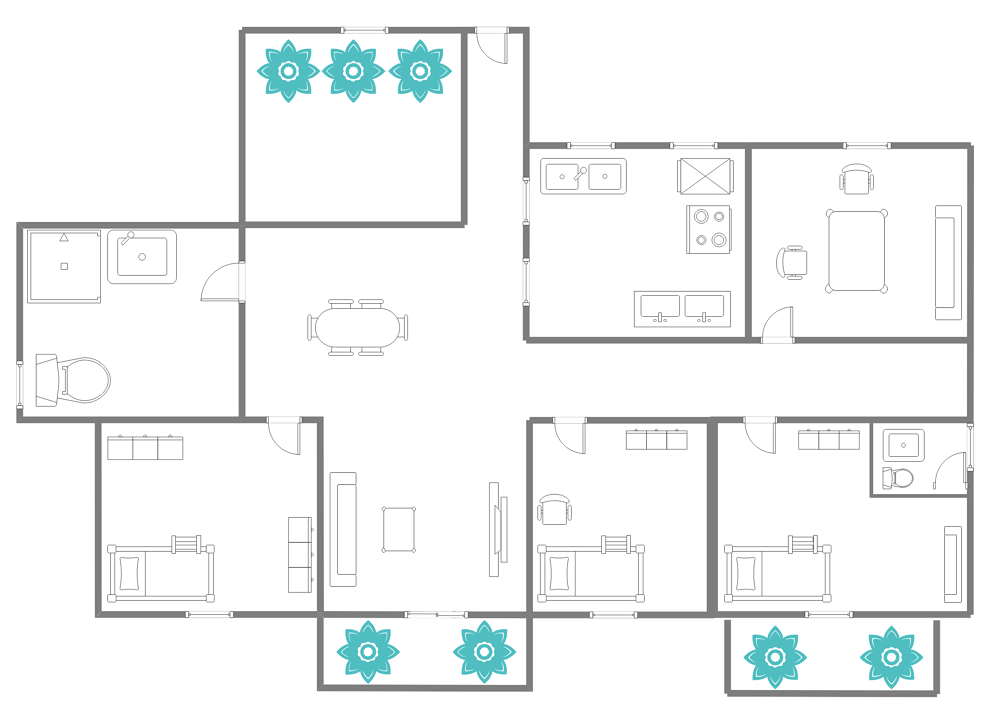 Download.eddx
Create Now
5. Hotel Garden Floor Plan
A hotel garden is one of the best places for guests to relax and take in some fresh air. Here is an example of a hotel garden floor plan, complete with ponds, trees, plants, park benches, and many other elements you'd expect to find in a garden.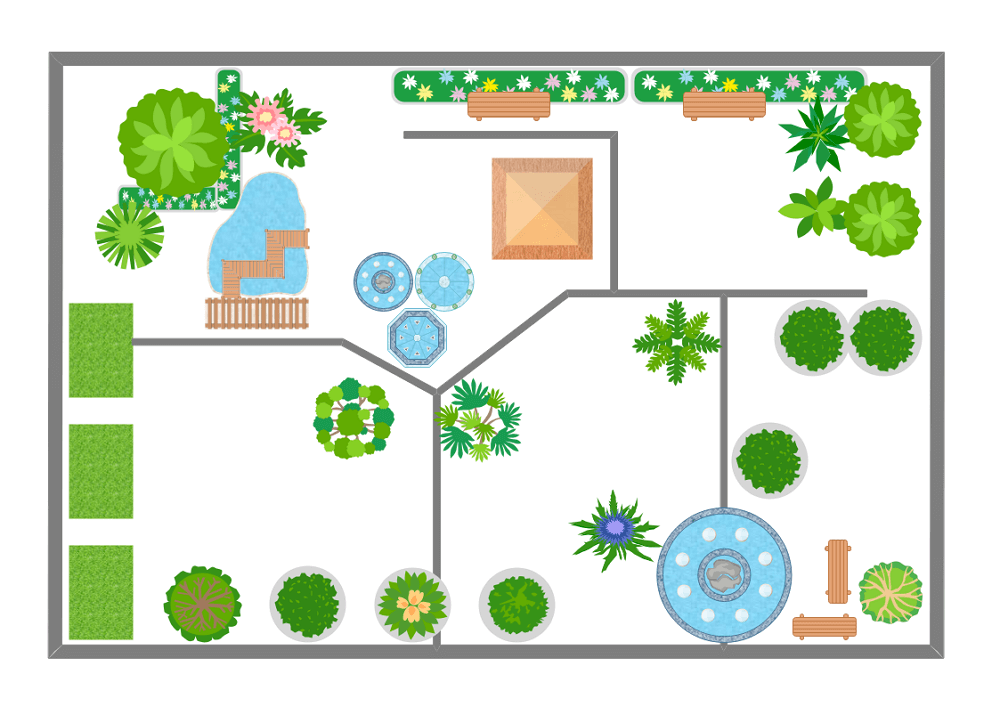 Download.eddx
CREATE NOW
6. Hotel Floor Plan Flyer
Printing the floor plan of the hotel suite on the hotel leaflet can intuitively let customers know what the room type is, and there are detailed icons showing what facilities are in the room, such as the number of bathrooms and whether there are multiple bedrooms.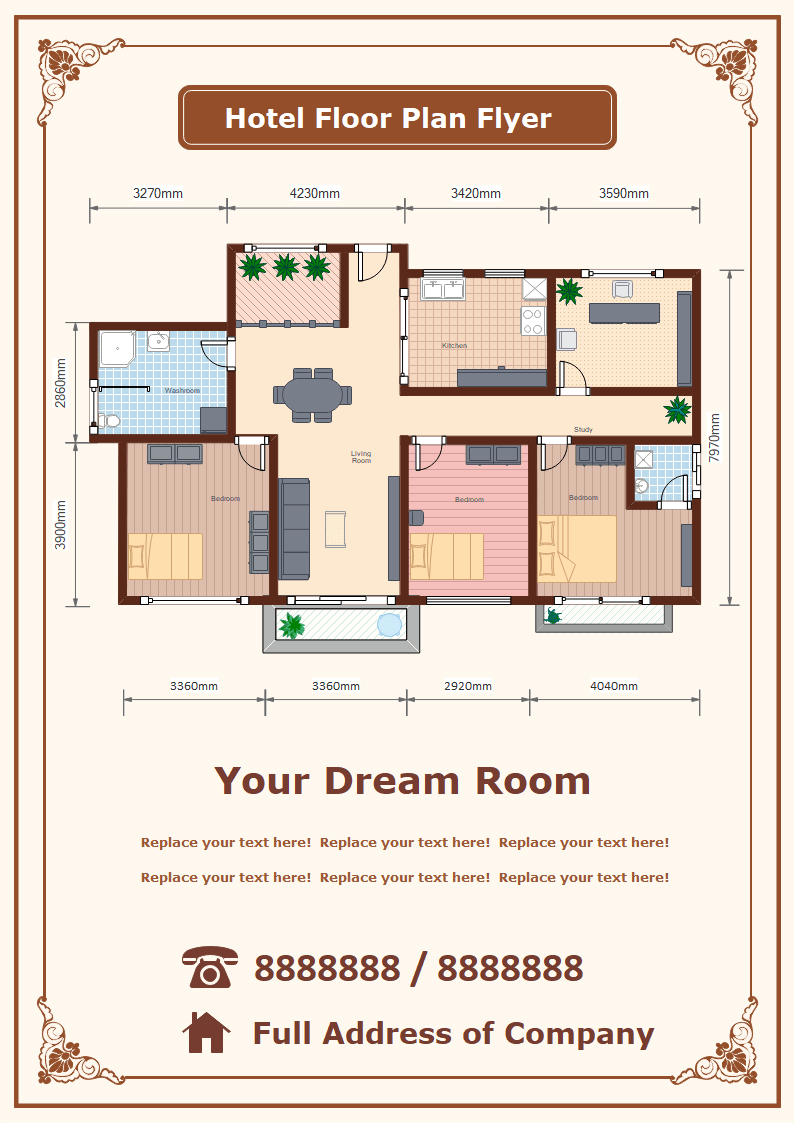 Download.eddx
CREATE NOW
What do a Floor Plan Show?
Floor plans show everything in a precise yet in effective manner. It shows the following features of a building in its blueprint:
Rooms layouts and purpose
Living and workspace
Walking corridors or spaces
Doors, windows, and staircase
Notional furniture
Wall interior and exterior
Wall dimensions
Why Is a Floor Plan Important?
A floor plan is important whether you are looking for your place or a commercial building. Following are the topmost reasons which shed light on the importance of a floor plan.
A better building plan: A floor plan ensures a better building structure, especially when the blueprints are designed and visualized through 3D software.
Floor plans allow faster business: With a building or hotel floor plan layouts, the legal issues regarding mortgage or leasing are done at a faster pace than usual.
Floor Plans Benefits Real Estate Agents: Customer satisfaction is achieved by Real Estate Agents. If the floor plan is shown when buying, selling, or renting a property.
Furnishing insights: It offers a better insight into furniture placement and measurements.
Build an emotional connection: Visualizing something always holds an emotional space in the back of the mind, floor plan template does the same to its viewers.
Guides for further progressions: Guides about the future work estimation for project completion, both in physical and financial comprehension.
Changes can be planned better: If things seem a little dull or suspected to not work as expected, blueprint changes can be easily made at any stage of the ongoing project. And rest of the project is taken care of accordingly.
Works as a referral: Floor plans are always referred to for every issue related to the building during and after its completion. Mainly during the hours of finishing and furnishing.
What Makes a Great Hotel Floor Plan?
There are some design considerations before drawing any building draft. Similarly, a hotel floor plan must have the following elements, being a commercial establishment designed as lodging for travelers.
Storyline design Formation

A great hotel is built on a story. And that story is reflected through a hotel floor plan template and ultimately through its architectural design. This works as the hotel's USP (unique selling point). Like if its architecture is a classical one, the floor plan must exhibit classical inspiration.

The Best-suited room layout

To make the guests feel all the warmth and coziness room layouts must be designed in a best-suited manner. Every space is designed keeping the whole floor plan in mind. So that no unpleasant construction is done.

Functional Spaces

The plan covers a huge space. But doesn't mean not using the space efficiently. In fact, every corner of the place must be made functional and utilized in the best way possible.

Consider Architectural Planning

It's the architectural design that measures the potential of a building. Therefore, the exterior of the building must go with the interior hotel floor plan. The place must be designed such that holds great attractions, uniqueness and at the same time should offer comfort as well.

A Flexible Space Design

A space that is flexible and versatile to adapt and accommodate a variety of functions at the same time. As of today's client's requirements and nature, both are changing with every passing second. This works just like flexible furniture that is designed for multiple purposes. Or even when a hotel is turned down the structure should allow it to be converted into some useful building.

Adequate Lobbies

Every busy corner must be surrounded by some lobby so that a rush of people can be accommodated. On contrary, the masses here and there, with no space to sit and wait for, is a turn-off for incoming guests.
How to Design a Hotel Floor Plan?
So, how can you make a hotel floor plan? EdrawMax is here to help you! Here are some important guidelines to remember when creating your own floor plan.
Create a design that has ample space for foot traffic.
Keep in mind the layout and placement of rooms. For example, don't place bathrooms in front of dining rooms.
Always have health and safety at the forefront of your planning. Don't disregard these for the sake of aesthetics.
EdrawMax
All-in-One Diagram Software
Create more than 280 types of diagrams effortlessly
Start diagramming with various templates and symbols easily
Superior file compatibility: Import and export drawings to various file formats, such as Visio
Cross-platform supported (Windows, Mac, Linux, Web)
Security Verified |
Switch to Mac >>
Security Verified |
Switch to Linux >>
Security Verified |
Switch to Windows >>
With these in mind, follow these simple five steps to create your very own hotel floor plan in EdrawMax.
First, start with the walls. Drag and drop the Wall symbol from the library. Use the walls to create an outline of the room that you are creating. Walls can also be used to create partitions between rooms, enabling you to create multiple rooms or spaces. Keep scale in mind when creating these spaces.

Use the Text function found in the top toolbar to input text into the diagrams. A good floor plan is one that is clearly labeled so that the reader knows where each room is, and what each space represents.

Adjust the thickness, scale, units, and precision of the walls. Outer walls should be thicker, while partition walls can be represented using a thinner wall symbol. EdrawMax comes equipped with both types of walls for your convenience.

Add windows, structure & kitchen, dining room symbols, and other important elements that need to be represented on your diagram.

Use the Space tool to determine the dimensions of each room. Doing this for each room in your floor plan will let you know how much space you are taking up. It is also a great tool to use to make sure that you don't go over the allotted amount of space that you are given.
Then, you get your own final hotel floor plan!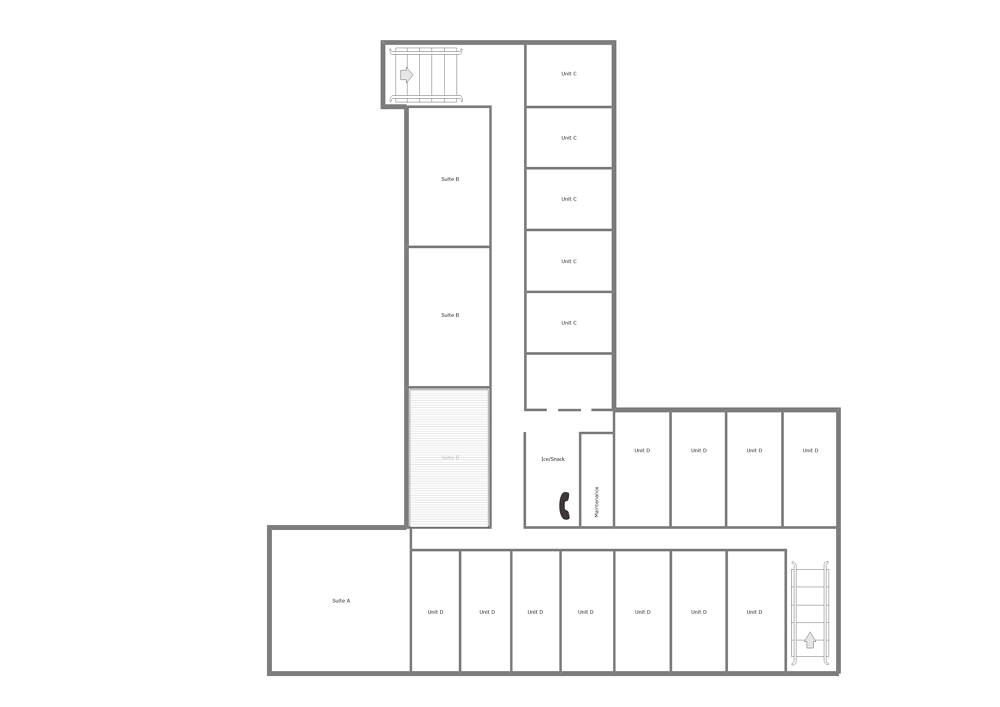 Conclusion
A great hotel takes many months and years of careful planning. Hotel floor plans are a great tool for designers to use when deciding on every fine detail that makes a great hotel experience. Follow this guide to create your own hotel floor plan with the help of our step-by-step guide and sample diagrams!
So why choose EdrawMax? As you can see from the diagrams above, EdrawMax comes equipped with a plethora of symbols and diagrams, including all of the templates that you see above. Give it a try, and find out just how easy creating hotel floor plans can be! Also, it contains substantial built-in templates that you can use for free, or share your hotel floor plan templates with others in our template community.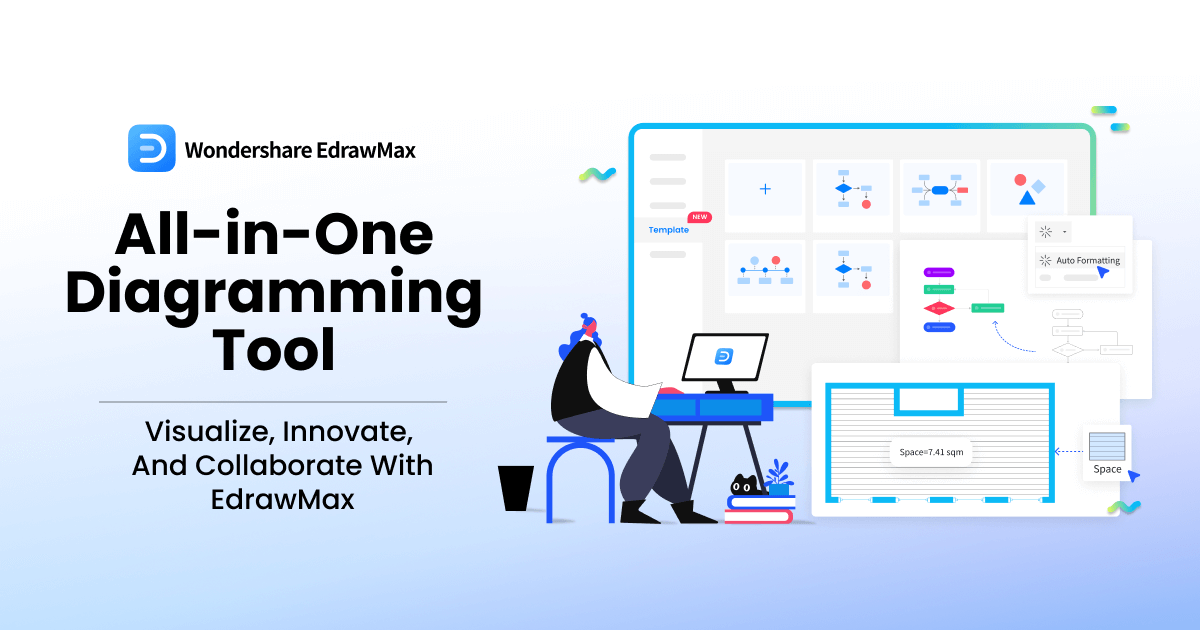 Related Articles
Create a Hotel Floor Plan with EdrawMax.