Diagram
100% Work – Get Wondershare EdrawMind Crack/ Free Version
Get Wondershare EdrawMind Free Right Now!
Do you want to use EdrawMind for free? Well, we have a solution better than the malware full EdrawMind crack. Plus, it is not from an illegal third party website. It is shocking to know that the official Wondershare will give you free access without a crack.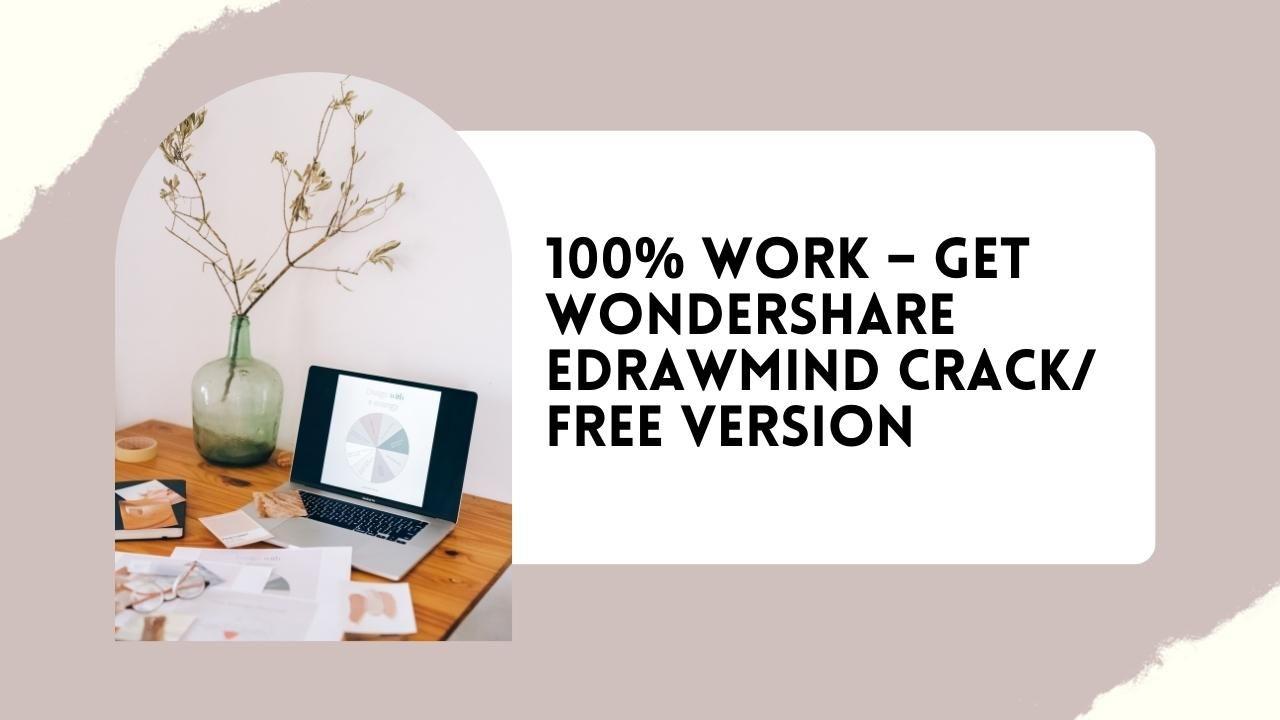 Yes, you heard it right. EdrawMind developers have given access to a basic free version of the program with more than enough features. How to get it? That's what this article is about. We will give you a step-by-step guide for getting the free version. Plus, we'll tell you why third-party cracks are a menace to your device. So, without any further ado, let's begin.
How To Use Edrawmind/Mindmaster For Free?
Using the free version of EdrawMind brings several benefits. For instance, it saves you from spending extra dollars on the premium version if you want the basic tasks done. However, there are a few things that this free version lacks. For instance, it has a limited number of sheet pages and layouts.
But don't lose your heart there! The free version is still better than nothing. You can create hundreds of templates with it. Moreover, it helps you create charts in no time and has almost all the features that the premium version packs.
That's not even the best part! You will get its free version, not from a third-party website, but from the official one that will help you stay safe from malware. So, here's the step-by-step guide to getting your own safe Wondershare EdrawMind crack.
Open your browser and head over to your search engine. Type "EdrawMind Free Download" and click the first result.

That will direct you to the official Wondershare site with a collaborative chart page in the front.

You'll find 4 separate packages there. Each one will have an optimized version for a specific version. Please choose the one compatible with your system and click on it. The most common case is for the Desktop Windows PC. So, let's see how to install one in it.
Click "For Windows" and download the setup file from any of the two buttons below.

Once downloaded, click the setup file, and a dialogue box will appear. Now click "Install" after browsing to the file location.

Once complete, open the program and make an account using your email address.
And Voila! There you have it! A completely free version of EdrawMind for you with all essential features.
EdrawMind Apps
12 structures & 33 themes & 700+ cliparts
Support Win, Mac, Linux, Android, iOS
Advanced import & export options
On-premises software for business
Enterprise-level data security
EdrawMind Online
12 structures & 33 themes & 700+ cliparts
Access diagrams anywhere, anytime
Team management & Project management
Can I Remove The Trial Limitations With the Cracked Version?
People have second thoughts about using the trial version when so many cracked program versions are already on the internet. But the experts and wise ones know installing a third-party crack isn't a good idea. The cracked versions bring a ton of malware with them. These can potentially harm your computer and the privacy of your employees if you consider using them in a business.
Here are a few limitations indicating why using a third-party EdrawMind crack isn't a good idea.
The most common risk is user safety. The cracked version comes from a third-party website. So, it risks your device and exposes it to breachers. All that happens because of the malware integrated inside MindMaster crack.
The risk doesn't just stop there. If you download a malware-inducing program, it gets direct access to your network. That way, it can affect the neighboring devices in your work span.
In addition to personal problems, the crack EdawMind brings several legal issues. For example, using cracked third-party software is illegal under several internet privacy acts. Therefore, you get into problems with using one.
Don't think you'll get this malware only if you download the program. Even the websites that have these listed aren't safe. It means these dodgy web pages have threat-induced adverts hanging on the page. These adverts tap into your system through an illegal cookie policy and track your information. Therefore, the best way to stay safe goes by staying away!
EdrawMind
Full-Featured Mind Mapping Software
33 predefined themes to make your mind map stand out
12 different structures to meet your need
Cross-platforms supported (Windows, Mac, Linux, Web)
Brainstorming mode and presentation mode
Group & real-time collaboration
Security Verified |
Switch to Mac >>
Security Verified |
Switch to Linux >>
Security Verified |
Switch to Windows >>
How Can I Remove The Trial Limitations At A Better Price?
The EdrawMind community knows you want to avoid paying extra dollars to get the premium software. But the software has so many premium features people get attracted to them. So, isn't there a way to get all that advantage at a lower price? There sure is! And that way goes from the following two sectors.
3.1 Edrawmind Official Promotions
EdarwMind developers care for their customers. So, they keep the extra sale and promotional discounts available after regular intervals. Today, you'll get a 25% discount if you purchase. However, these discounts are only for a limited time.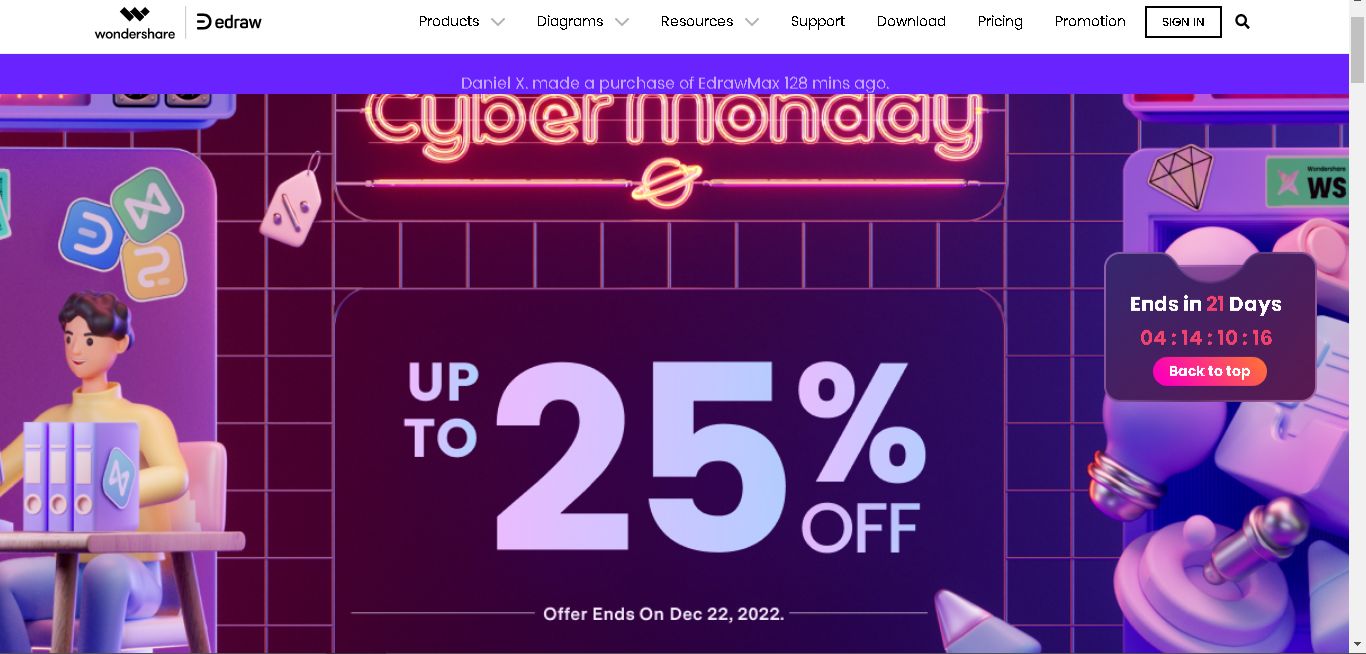 So, it's better to hurry and grab one as soon as you know. You can find these by visiting the EdrawMind official website and clicking "Promotions" in the menu bar.
Users can find the promotions at the official website menu bar.
3.2 Edrawmind Education Subscription
Get Education Subscription Now!
Another easy yet effective way to get a discounted EdrawMind subscription is to use the EDU program. These are the programs EdrawMind developers launched for students studying under certain organizations.
Thus, it makes exposure to programs a lot easy for students. If you are one of those, you won't have to pay the full price. The EdrawMind offers a flat discount of 30% at a 2-year plan only for students.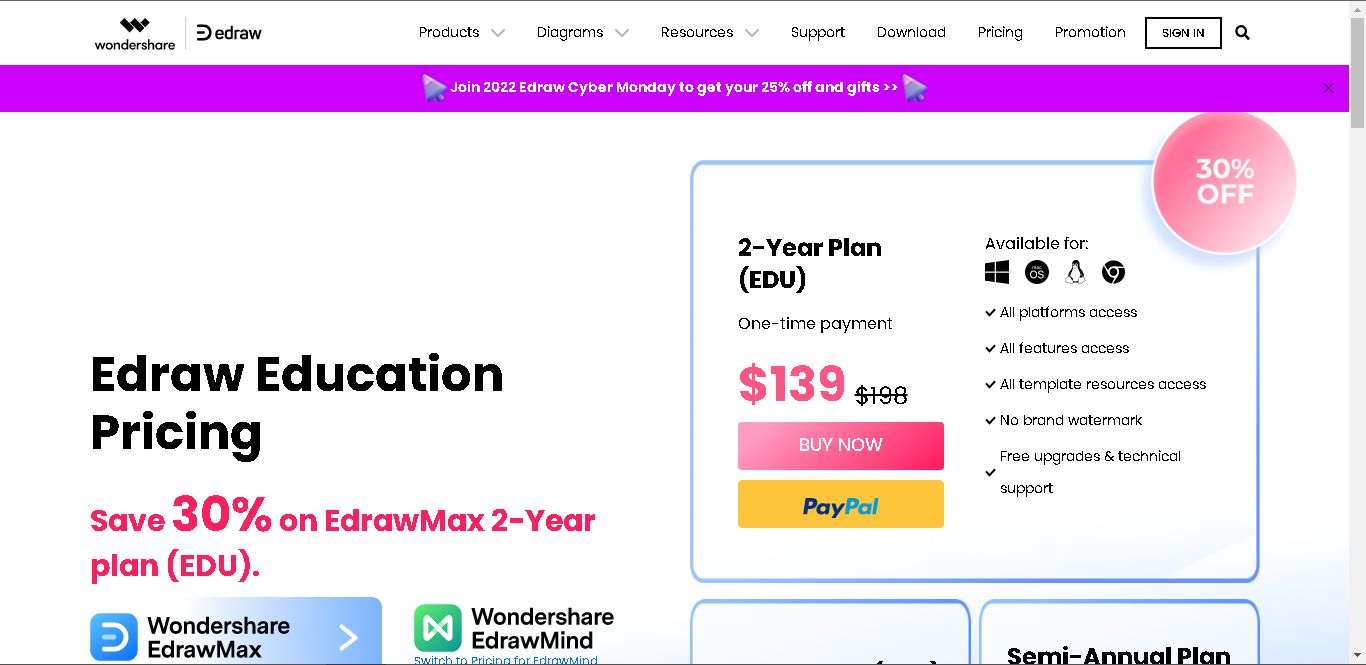 You need to land on the official EdrawMind webpage to access that discount and find the educational program from the price section. Or you can click this Edraw Education Pricing to head straight over there.
Final Thoughts
EdrawMind is a premium collaborative software everyone wants to get their hands on for free. For that purpose, the general public tends to go for EdrawMind crack to get an easy way out. But this write-up cleared up how dangerous these third party programs can be.
The Wondershare developing teams know what people want, so we give discounts on the prices. Also, we provided a free fundamental version of the program with more than enough features for the public. According to experts, this version eliminated the need for cracked programs. So, why should you risk your privacy with cracked versions full of viruses?
Related Articles