Diagram
5 Best Network Diagram Software & Guide
Know More about Network Diagram Software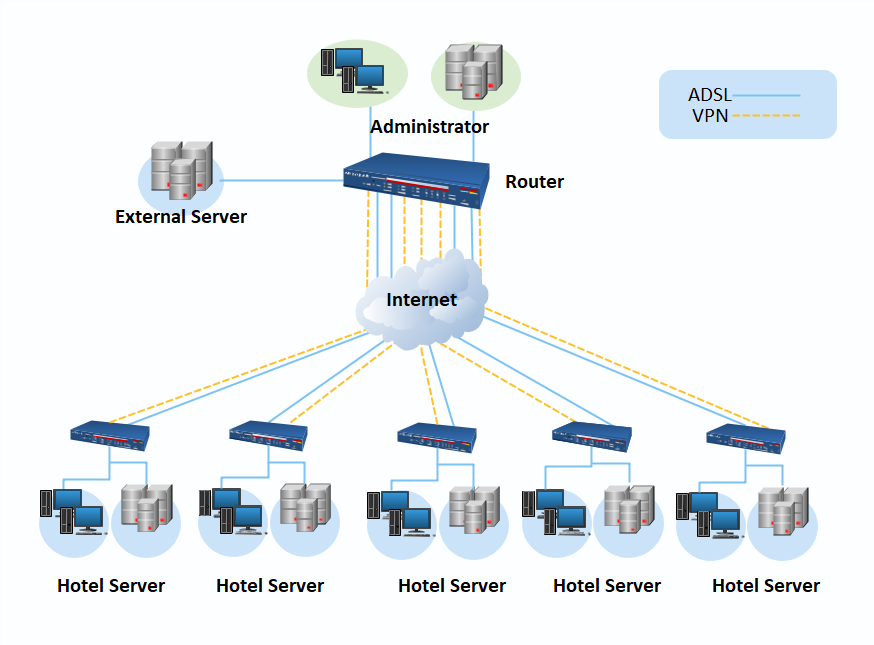 A Network Diagram is the logical representation of tasks or assignments that define the sequence of work on a project. There are several components that, when come together, define a proper visual representation of a computer network. These network components could be routers, hubs, firewalls, devices, and others. This article will walk you through the basic concepts of network diagrams, including the best software to make a network diagram and why every business should have its own network diagram software. You will also learn here how network diagrams can be useful to report and troubleshoot network problems.
If you already know enough about network diagram and want to save your time, you can click here to jump directly to the top list and choose the software that suits you.
Top List of Network Diagram Software
Creating a network diagram using network diagram software is what every business requires these days. There are several network diagram tools in the market that guarantees that a project manager can identify the overall progress of a project by understanding the positive and negative areas.
There are several network diagram tools in the market, and depending upon your needs and the company's budget, you can opt for any of them. However, while choosing the best network topology software, a project team should make sure that the software offers customization and includes free network diagram symbols within the dashboard itself.
1. EdrawMax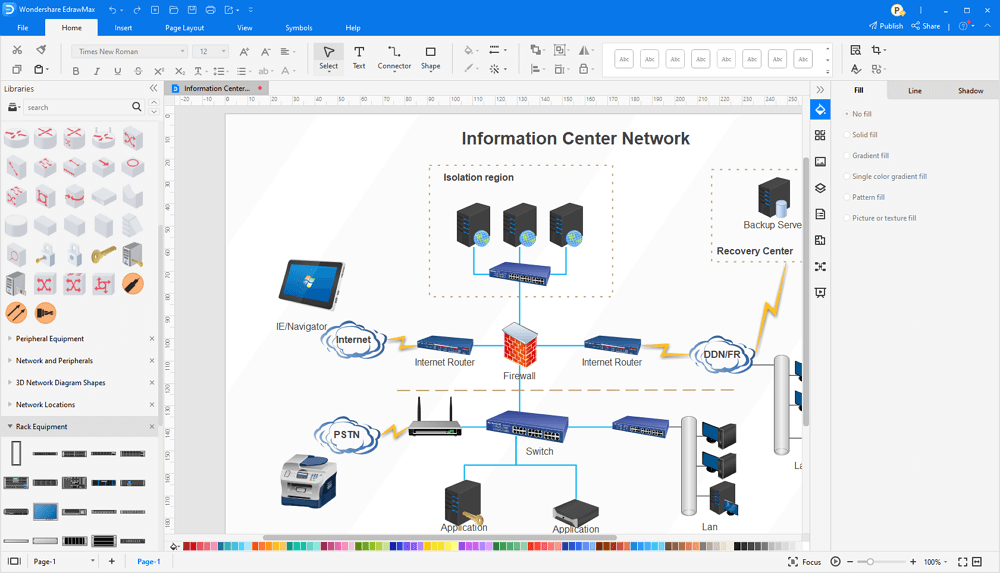 EdrawMax has one of the easiest dashboards in the market, making it extremely easy for the team to formulate the free network diagram for their continuous projects. EdrawMax is an efficacious all-in-one network diagramming tool that allows the project team to draw all sorts of project-related diagrams. From Fishbone Diagrams to UML Diagrams, a project team can create more than 300 types of diagrams just from a single software. This network topology software comes in offline and online versions, making it more reliable for team collaborations.
One of the most important features of EdrawMax is that it is a vector-based tool, which means one can zoom in as close as they want without distorting any of the objects and elements on the page. The models can later be scaled up in large formats easily, ensuring that the information depicted in the network diagram tool remains clear and not distorted.
It also has several in-built free templates that minimize the efforts that go into making a network diagram. Since it has an extensive library of symbols derived from Google Cloud Platform, Cisco, AWS, and Azure, a project management team can create types of maps.
Features:
Offers free readily made network diagram templates
Offers free network diagram symbols
Comes in both online and offline versions
Not limited to only network diagrams; users can also design flowcharts, UML Diagrams, Presentations, and others.
Extensive library of symbols derived from Google Cloud Platform, CISCO, Azure, and AWS
Price:
EdrawMax offers three major plans:
Free Version (Limited functionality)
Individual Plan

$99/year ($8.25 per month, billed annually)
Full access to the offline and online version
1GB free cloud storage
1-year free upgrade and priority support

Lifetime Plan

$245 for life (one-time payment)
Full access to the offline and online version
10GB free cloud storage
Lifetime free upgrade and priority support

Lifetime Bundle Plan

$312 (one-time payment)
The company is currently offering a deal where users can EdrawInfo lifetime license-free after purchasing EdrawMax and Edrawind Lifetime Bundle plan.
EdrawMax
All-in-One Diagram Software
Create more than 280 types of diagrams effortlessly
Start diagramming with various templates and symbols easily
Superior file compatibility: Import and export drawings to various file formats, such as Visio
Cross-platform supported (Windows, Mac, Linux, Web)
Security Verified |
Switch to Mac >>
Security Verified |
Switch to Linux >>
Security Verified |
Switch to Windows >>
2. SolarWinds Network Topology Mapper (NTM)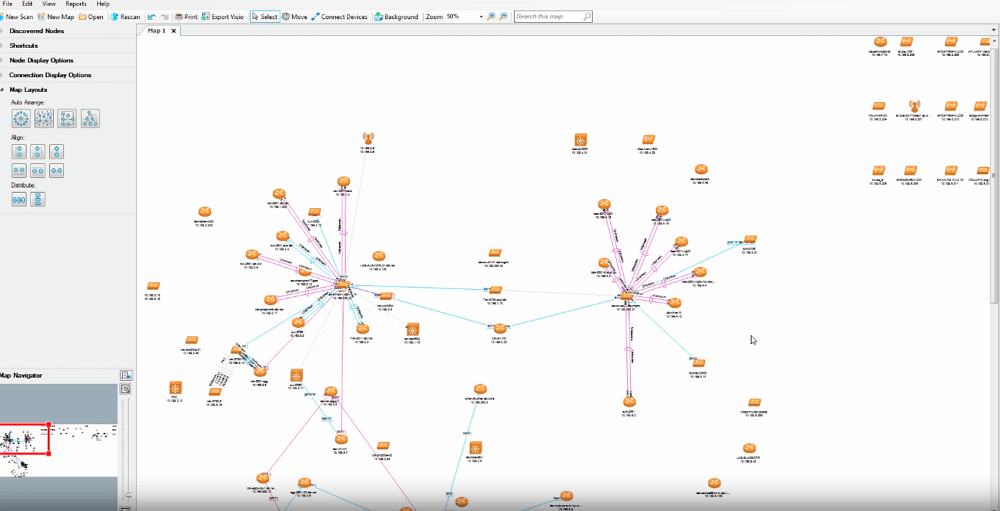 SolarWinds NTM is a highly recommended network diagram software for those businesses who wish to incorporate Cisco components. SolarWinds NTM illustrates nodes on any project network, indicates, and even updates status for the nodes and the network connections between them. It has several protocols to discover network nodes. Protocols like Simple Network Management Protocol, Windows Management Instrumentation, Cisco Discovery Protocol, and others help find the connectivity between these network nodes.
SolarWinds NTM automatically identifies the network topology by using WMI, VMware, Microsoft Hyper-V, and others. This network software can also help create comprehensive and detailed maps. SolarWinds NTM also has an automated feature that scans for new devices and identifies whenever there is any alteration within the network. This feature ensures that the network topology remains up to date.
Features:
Shows nodes on your network
Indicates and updates status both for the nodes and the network connections
Uses multiple protocols to discover network nodes
Automatically identifies the network topology
Automatically scans for new devices within your network
Price:
SolarWinds Network Topology Mapper comes at a stiff price range of $1,570. In this license, the company offers one year of free maintenance.
3. Microsoft Visio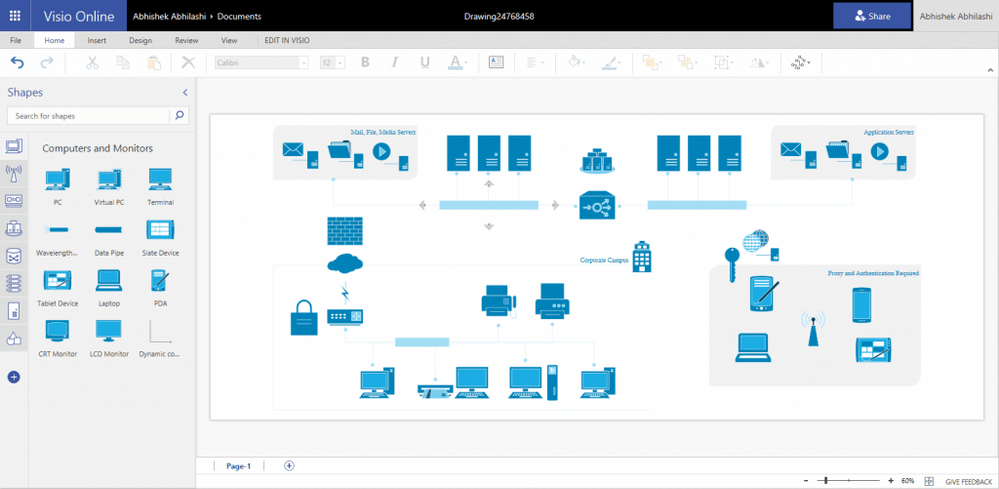 Source: techcommunity.microsoft.com
Microsoft Visio is a leading tool when it comes to network mapping and layout designs. Due to its compatibility nature, several other network diagram tools offer a feature to export their respective files in Visio. This network diagram topology tool helps speed up the mapping tasks by accessing several network design templates and icons. These network diagram templates are designed to follow industry norms so that a project team can create network topology diagrams accepted across all the business channels.
With Visio, a project manager can create an overview or detailed network diagram and describe every aspect at the device level. Visio also helps you display real-time data right within the shapes of your network diagrams, based on conditions you define, using meaningful graphics and symbols. In addition to this, Visio runs on Windows, which lets you connect your network diagrams to more data sources, including Microsoft Excel, Microsoft Access, Microsoft SQL Server, and SharePoint Services.
Features:
Compliance with industry regulations
Offers several network diagram templates
Easy collaboration with other Microsoft software
Provides the option of documenting at the device level
Allows the user to import network diagrams into Power BI
Price:
Microsoft Visio 2016, the latest version, comes in three editions:
Visio Standard: $280 (one-time purchase)
Visio Professional: $530 (one-time purchase)
Visio Subscription-based model

Visio Plan 1: $5.00 user/month (Annual or monthly commitment)
Visio Plan 2: $15.00 user/month (Annual or monthly commitment)
4. Lucidchart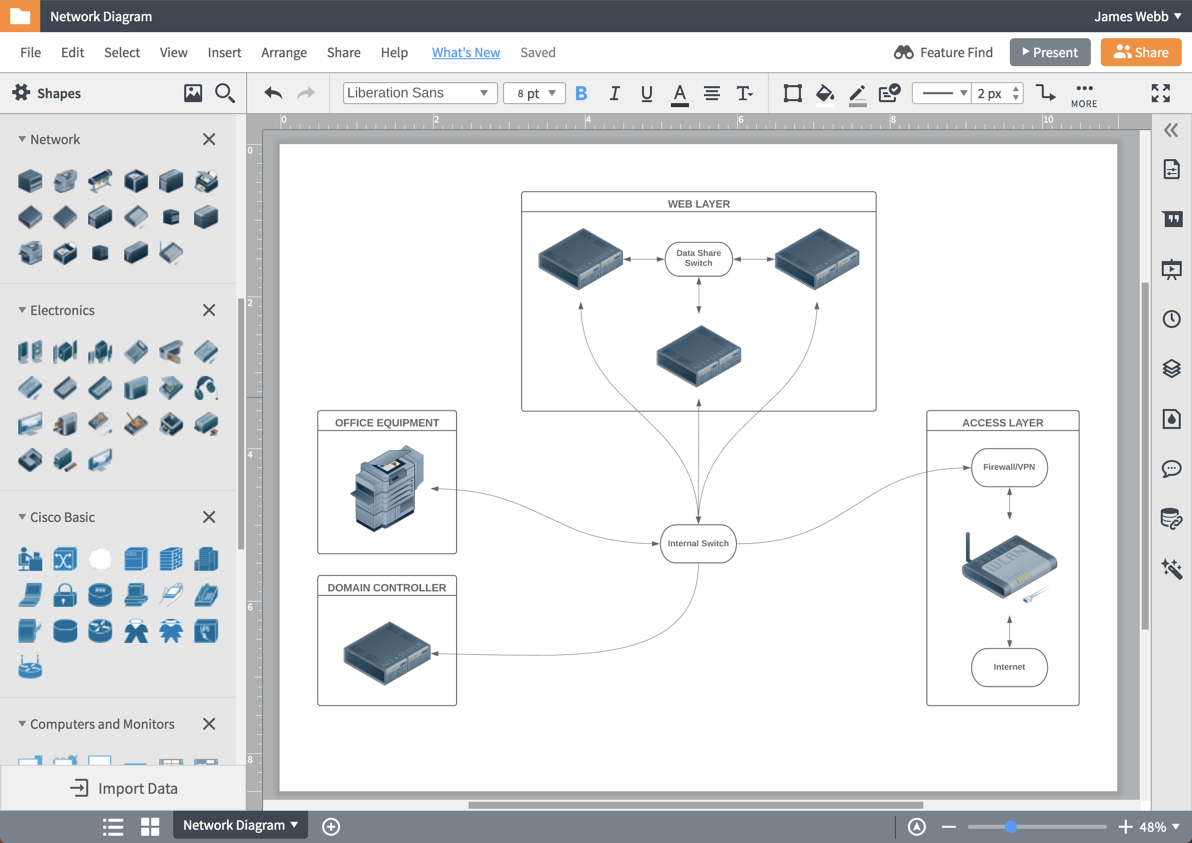 Lucidchart is a well-known flowchart software that offers specialized icon libraries to create network topology. With predefined templates, the project management team can easily create network diagrams or opt to create a network diagram from scratch. Like other leading network topology software in the market, even Lucidchart offers compatibility with Visio files. This feature comes in handy for those users who have previously been using Microsoft Visio for their professional endeavors and wish to opt for a different tool.
With Lucidchart, you can grab an existing network diagram template and configure it as per your requirement. Lucidchart also supports real-time collaboration that allows all the users in the team to work together even if they are not working from the same office area. Like Visio, even Lucidchart can easily integrate with different data sources, like Salesforce, G-Suite, Slack, and Atlassian.
Features:
Offers real-time collaboration
Compatibility with Microsoft Visio
Offers specialized icon libraries
Wide array of pre-built templates
Allows you to create a network topology diagram from scratch
Price:
Lucidchart offers flexible plans, and one can opt for any one of the below plans as per their requirements.
Free Plan at $0: Offers limited collaboration and integrations
Individual Plan starting at $7.95 monthly
Team Plan starting at $6.67 user/month (3 users minimum)
Enterprise Plan: Customers has to contact the support team for the exact quote
5. SmartDraw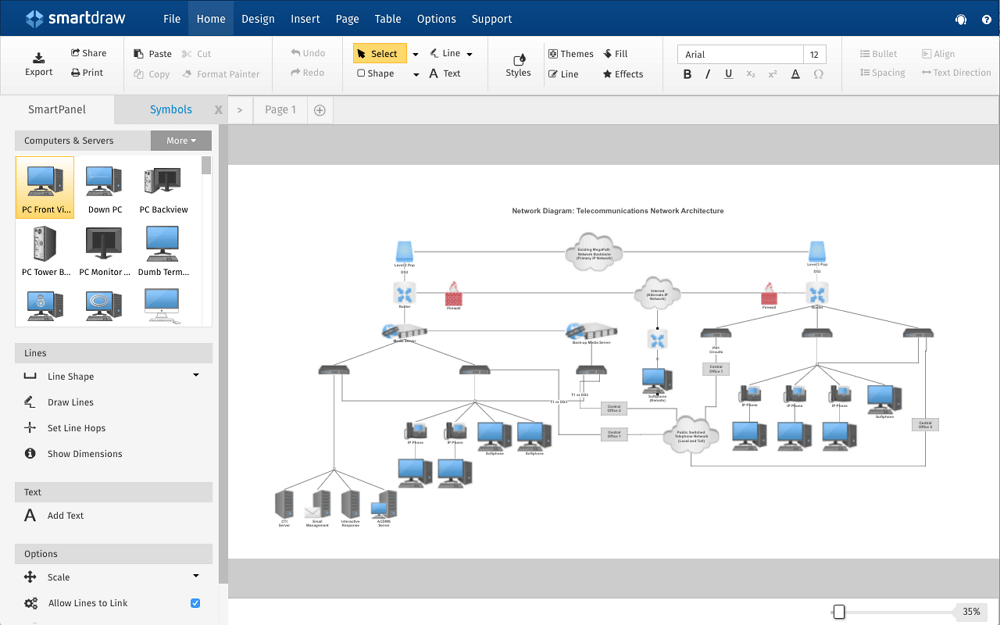 SmartDraw is a flowchart maker for processing documents and managing projects. Aside from symbols and shapes, SmartDraw has hundreds of built-in usable network diagram templates that can be utilized to create network topologies. Just like EdrawMax, SmartDraw also offers the automation feature that allows designing the diagrams with ease. With this network diagram software, the network diagrams can automatically adapt to the changes while properly maintaining the correct formatting.
A project management team can use SmartDraw to make flowcharts, organization charts, project charts, and network diagrams. This network topology software easily integrates with Microsoft Office products, including Word, PowerPoint, and Excel. Like Lucidchart, even SmartDraw offers compatibility with applications like Atlassian's Confluence, Jira, and Trello.
Features:
Easy collaboration
Automation feature to scan the network topology diagram
Offers free templates, symbols, and shapes
Multilingual
Vision import and export capability
Price:
Single user: $9.95 (per month, billed annually)
Multiple users: $5.95 (5+ users, per month, billed annually)
What is a Network Diagram?
Network Diagrams portray the activities and events of a given network or a project. They show how each activity is related to another activity within the same network. Network Diagrams often include network switch diagrams, computer network diagrams, network security diagrams, logical network diagrams, and physical network diagrams. Each of these network diagrams focuses on a single aspect of a network. A Project Network Diagram also provides an overview of a project by visually illustrating a series of connected arrows and boxes. These graphical notations describe the interrelationship between the activities involved in the project.
Logical Network Diagram
A Logical Network Diagram helps visualize the fundamentals of a network architecture by including a group of interconnected computers and other devices, like printers, modems, switches, routers, and even mobile phones connected to a proper network. These electronic devices constitute a physical network that provides local area network (LAN) and wide area network (WAN) access to all the users who have access to these network components. A logical network diagram helps understand how the network components relate and communicate with each other when connected in a network.
Physical Network Diagram
A Physical Network Diagram depicts the physical aspects of a network, including ports, cables, racks, servers, specific models, and others. Since a physical network diagram often shows the network topology, they are also referred to as a network's server diagram or a network's cabling diagram. Connections and Labels are two important aspects of a physical network diagram. Connections (or Connectors) illustrate the physical cabling that connects physical devices in a given network. Labels help users understand the names of each component of a physical network diagram.
Importance of Using Network Diagrams
Why are Network Diagrams useful?
For an effective network or an IT infrastructure management system, both logical and physical network diagrams play an important role. A proper network diagram helps the network admins troubleshoot and minimize the downtime and helps secure the network, which is of utmost importance. An organized network diagram outlines how the components work together, making it easier for the network admins to pinpoint the areas where errors occur.
In addition to helping pinpoint the troubleshooting areas, a network diagram can help Plan, Organize, and Control the flow of information within a specific project. Since these network diagrams show the workflow of any given project activities, the project team will better understand the sequence of activities.
Network Diagram for Businesses
Network Diagrams help in understanding the project time estimation. A network diagram shows how activities interrelate with each other from project start to completion. Once a project's critical path is established, a project manager can then estimate the total project duration. Project managers have started using network diagrams to better understand their ongoing projects. Several businesses have increased their efficiency using a network diagram tool and have subsequently decreased the room for errors.
For any business, creating a detailed network diagram can be time-consuming and often results in incorrect results. Businesses have started to use free network diagram software that comes with features that help the project managers to create and share the network diagrams with their team members. A free network software diagram tool can save your company time and resources. It further ensures that all the components and labels of a network diagram are in the right order.
Pick Up a Network Diagram Software Suitable for You
A project network diagram is one of the most important business tools as it helps the project teams visualize the activities that need to be completed in a given time frame. With this network diagram tool, a project team can create a network topology that they can share amongst the team members. Even though several network topology software are available in the market, project managers have recommended using EdrawMax over its robust features.
EdrawMax is one of the best alternatives to Microsoft Visio and other network diagram tools regarding cost, features, and compatibility with other tools. A project management team can avail of a free trial plan to get acquainted with tons of features, like free network diagram templates, network topology symbols, and others.
Related Articles
Create a Diagram with EdrawMax.