Diagram
Top 5 Websites to Find Business Process Flow Diagram Examples
Know More about Business Process Flowchart Makers
An idea can start a business. Yet, growing a successful business requires much more than an idea. Several factors impact the growth and success of a business, but planning and organization is the key. You might be wondering how to plan and effectively organize a business. Here is the answer – a simple business process flowchart. A business process flow chart or diagram is a graphical tool. It visually depicts various levels of process organization that help you achieve desired goals. Be it a hiring process or background check business process flowcharts get you covered.
Although a business flowchart improves business processes, designing it requires deliberation and skills. Some websites provide flowchart templates to create business process flowcharts faster. Want to know the best part? Here is your quick fix for efficient business flowchart templates.
Overview of Our Best Picks
EdrawMax is a complete package for business users, analysts, and architects. You get customizable templates for simple processes to massive ER diagrams. EdrawMax offers a variety of features:
It has essential BPMN flow items, connecting objects, and swimlanes for business processes.
It covers business process templates for hiring, manufacturing, customer care, etc.
It provides business flowchart templates for transportation, restaurant management, ATM withdrawals, grocery shops, and more.Also, EdrawMax saves you the downloading time. As an Online Version is available for creating and sharing templates in real time. Yet, it is also compatible with Windows, Mac, and Linux.
The cherry on top is EdrawMax Template Community. It generates and shares customizable templates. And here is the kicker you can also create your templates and share them with Template Community.
Not this, 12000+ free built-in editable templates are available in Template Community. Indeed, the largest collection of customizable templates. And guess what? It is still growing at a fast pace.
"It contains massive free templates which helped us save time from creation." – G2 Crowd, a valuable Edrawer.
It has several exporting options like MS Visio, MS Office, JPG, pdf, and social media sharing. Isn't creating and sharing fun?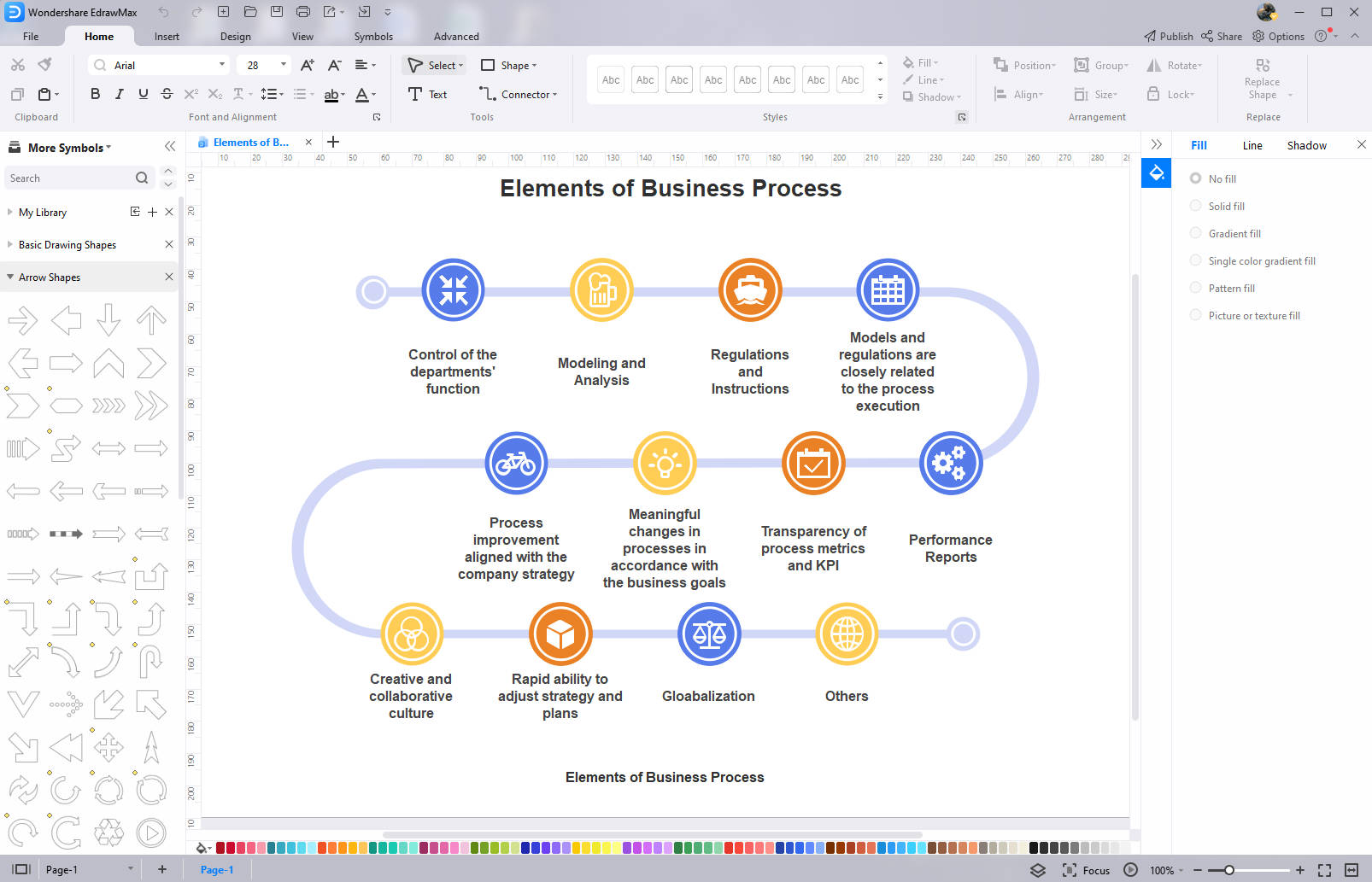 EdrawMax
All-in-One Diagram Software
Create more than 280 types of diagrams effortlessly
Start diagramming with various templates and symbols easily
Superior file compatibility: Import and export drawings to various file formats, such as Visio
Cross-platform supported (Windows, Mac, Linux, Web)
Security Verified |
Switch to Mac >>
Security Verified |
Switch to Linux >>
Security Verified |
Switch to Windows >>
#2 ConceptDraw
ConceptDraw clientele spans many Fortune 500 companies. It provides BPM solutions to business process practitioners, consultants, analysts, trainers, and architects.
ConceptDraw includes business process example templates for various management, operational, and supporting processes. The diagrams span BPMN, process maps, and workflows with 5 – 10 example templates each.
Also, it has support for BPMN 2.0 with 16 stencil libraries, 230 vectors, and a few built-in templates. The built-in customizable templates range from hiring processes to logistics and decision processes.
In contrast with EdrawMax, ConceptDraw does not have an Online Web version. Unfortunately, you do not get enjoyable community interaction and online collaboration options.
ConceptDraw installation is also a bit inconvenient. It requires separate installation of both ConceptDraw DIAGRAM and ConceptDraw STORE applications. You can then install BPMN solutions from ConceptDraw STORE. Afterward, you can draw over the RapidDraw interface. The good part is the availability of template export options from ConceptDraw STORE.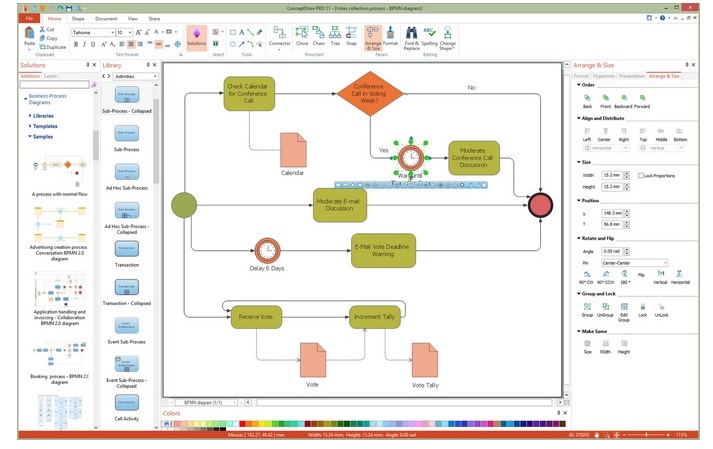 #3 SmartDraw
SmartDraw provides thousands of templates and symbols for effectively managing business process flowcharts with seamless integrations.
The business process flow templates include BPMN, workflows, and swimlanes with 10 – 14 sample templates each.
SmartDraw example templates span vital business flows. For instance, hiring/termination, probation, loan application, etc.
Also, it enables collaboration in the Atlassian stack. It enables full Confluence and Jira integration with an add-on for Trello. Isn't this crazy? But that's not all.
Here is the kicker. All this is available at about 10x less cost.
"SmartDraw is an affordable, easy-to-use alternative to Microsoft Visio. SmartDraw lowers our costs, increases productivity, and frees up IT resources." — Hollister Co., California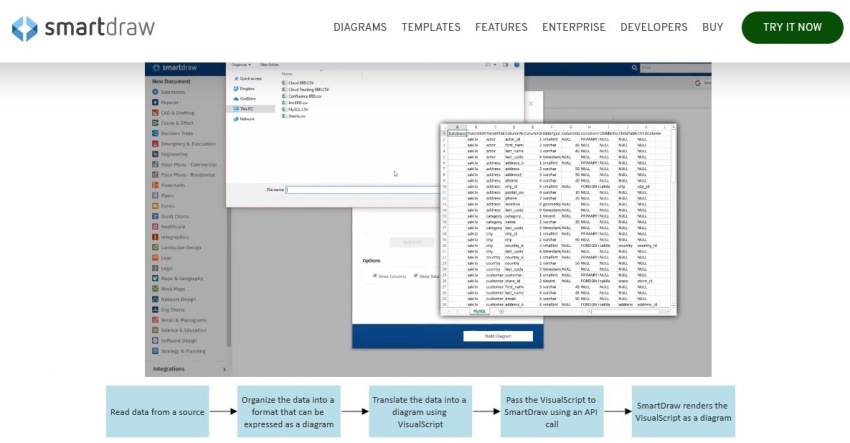 #4 Lucidchart
Lucidchart is a cloud-based platform. It provides templates and integrations for modern digital transformation.
It has over 10,000,000+ users and hundreds of available templates.
Lucidchart example templates allow value streams, swim lanes, and work breakdown structures.
It helps organizations visualize their cloud environments. Meanwhile, ensures intended implementation or migration while communicating the architecture to all stakeholders.
"Now that we can import our architecture, it saves us a good few days, if not a week, of time." — Amido, an Ensono Company
Lucidchart gets better with its Online Collaboration Platform – Launchpad. Like EdrawMax, it has an online community that creates and shares its templates. It allows real-time collaboration and co-creating. With hundreds of existing templates, the available examples are rapidly growing.
Lucidchart also provides insights through online resources such as blogs and webinars. Almost 99% of Fortune 500 companies partner with Lucidchart. The prominent being Atlassian, Intel, AWS, and more.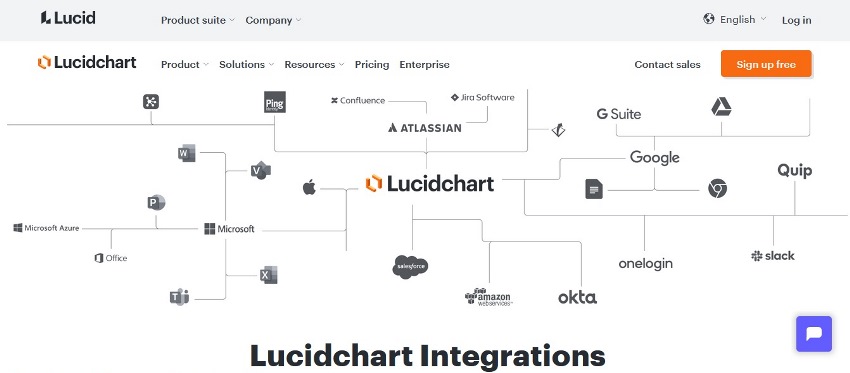 #5 Creately
Creately is more than drawing. It manages and groups your data, treating it like an item.
It has over 8 million users and thousands of customizable example templates.
The example templates do not contain mere objects but items connected to the data.
The objects or links available here are context-aware items linked with data. The data spans tasks, notes, workflows, etc. The visual items synchronize with changes in data. A change in any one would result in an automatic change in the other.
In contrast to other platforms, Creately exports are unique. Despite exporting whole files, Creately lets you export the desired items only. So you can add notes, meta-data, or any relevant information to the exported items. Creately also supports real-time collaborations with added features. For instance, real-time cursor tracking, in-context comments, and inbuilt video chat. It gets even better with its support to scale with the organization.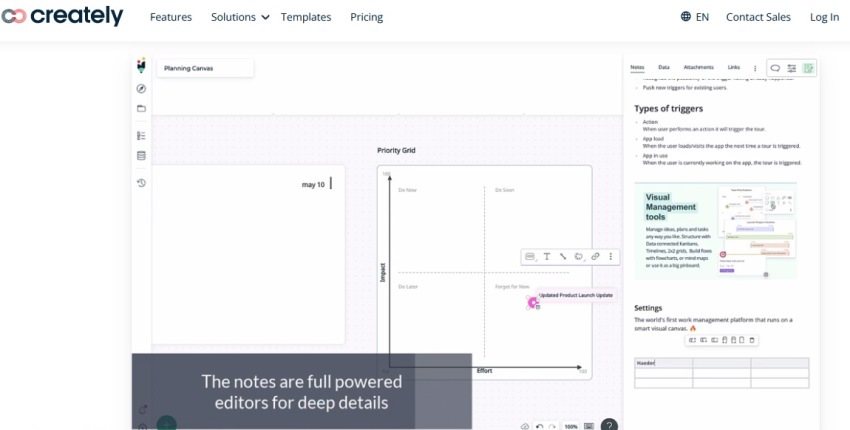 Benefits of Business Process Flowchart
Business process flowcharts have incredible benefits for businesses. They bring structure and uniformity to the otherwise cluttered data. If you map process flows, you will get better resource visualization. Thus efficient resource management ensures increased transparency and saves time.
The availability of well-managed data to various stakeholders helps remove communication barriers. Likewise, reducing error propagation. The visual clarity of data also leads to efficient analysis. Thus ensuring the identification of weak areas and enhancing problem detection and solving.
Also, structured process flows prevent data replication. It enables ease in policy-making and record-keeping. The most significant benefit is the improved ROI for various departments.
"Process workflows increase the ROI of various departments. Operations by 47%, IT by 52%, and Customer Service by 37%." — Salesforce Research
EdrawMax Desktop
Create over 280 types of diagrams
Windows, Mac, Linux (runs in all environments)
Professional inbuilt resources and templates
On-premises software for business
Enterprise-level data security
EdrawMax Online
Create over 280 types of diagrams online
Access diagrams anywhere, anytime
Team management and collaboration
Personal Cloud and Dropbox Integration
Creating an Effective Business Process Flowchart
A business process improves your organizational growth. The life cycle of any business process spans five elements — i.e., Model, Implement, Execute, Monitor, and Optimize. Meanwhile, considering a few tips would make the business process modeling effective. The following tips would help you design an effective business process flowchart:
First of all, identify and define the process. Make sure that the defined initiative aligns with your final/long-term goals.
Then dig for detailed information — i.e., who, when, what, where, and how. Gather important metrics and necessary details about the process.
Also, keep asking the questions until you get definitive answers.
Furthermore, add all the participants and stakeholders to the equation. It helps avoid any miscommunication at an initial stage and ensures long-term efficiency.
Finally, document all the gathered information for mapping and analysis. Once mapped, review and ratify.
Apart from this, enhance your business process flowcharts using simple tricks. For instance, consistent design elements, professional color palettes, single-page layouts, and hyperlinks.
Conclusion
Well-crafted business process flowcharts are crucial for any smooth-running business. Various websites are revolutionizing process workflows by providing prompt templates. Companies can choose the templates that work best for them. The article provides top template websites. EdrawMax has the most prominent template community. It has the highest number of online available customizable templates. With its easier-to-use drag-and-drop feature, it works with most operating systems. Above all, it ensures superior file compatibility and social media sharing.
Related Articles