Diagram
6 Best Online Whiteboards for Real-Time Collaboration
Know More about Online Whiteboards for Real-Time Collaboration
Luckily, this era is more technology-oriented as compared to what it was around a decade before. Technology has also played a vital role in imparting education globally without any geographic barriers, thanks to the high-speed Internet connection that is available in most countries these days.
When it comes to sharing ideas, the trainers and explainers no longer use the physical boards. They rather prefer working on an efficient online whiteboard, usually a web app that can be accessed via any web browser of your choice.
With that being said, the following sections discuss some of the characteristics that a good online whiteboard must have. Here you will also get to know the names of a couple of online whiteboards that are considered the best because of their robustness.
Online Whiteboard FAQs
What is a whiteboard?
A whiteboard is a wooden board with a smooth and shiny surface on one of its sides. A whiteboard is used by the trainers, professors, managers, strategy designers, etc. to share their ideas. Usually, a dark-colored marker with temporary and erasable ink is used to draw or write something on such physical boards.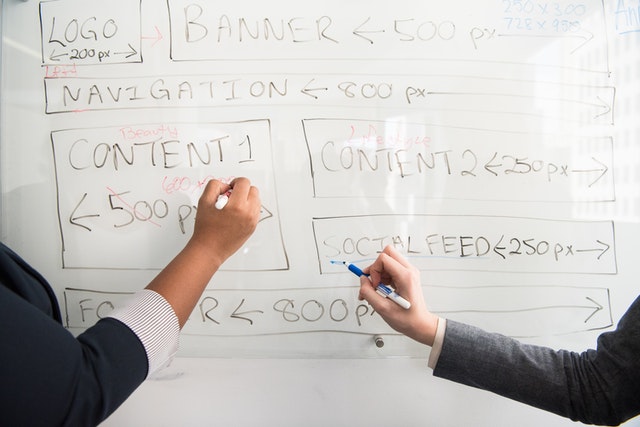 What is an online whiteboard?
An online whiteboard is a web application that allows people to use their Internet browser and mouse as a physical whiteboard and marker respectively. However, the major difference between a tangible whiteboard and the non-tangible one (online whiteboard) is that the latter has no size restrictions, and people can give their inputs even from remote locations. Furthermore, an online whiteboard may allow you to save your visualizations in your preferred file format for future references.
Why do people use online whiteboards?
People nowadays prefer using online whiteboards over physical ones because of the flexibility the former comes with. For example, an online whiteboard offers ease of access, the ability to save the illustrations and export them to various formats, practically unlimited board size, and much more.
What Makes a Great Online Whiteboard?
An efficient online whiteboard must have certain characteristics that help the users to interact with the app seamlessly and without any hassles or delays. Some of the obvious attributes that a good online whiteboard must possess include:
User Interface (UI)
It is the online whiteboard apps we are talking about, alright. However, the first thing that you will see when you sign in to your account to use an online whiteboard is its interface. If the UI is not intuitive, it would be extremely daunting to interact with the program. Therefore, a good online whiteboard must have a user-friendly virtual Canvas.
Usability
You should also see and assess how steep the app's learning curve is. If you are required to do a diploma course or something merely to use the online whiteboard you are interested in, backing out would be a wise step. In addition, if a program doesn't have any help files or tutorials available to teach you how to use it, there's no point choosing it. Likewise, checking for the availability of the technical support team of the online whiteboard would be a good thing as well.
Features & Functionality
While deciding upon an online whiteboard, you must check if it can have an infinite number of Canvases, does it allow real-time collaboration, can you attach files while using the app, what export and presentation options it comes with, how easy (or complex) is it to share your illustrations, can it record the screen, etc. If an online whiteboard has these features, you are good to go with it.
Platform(s)
Verify if the online whiteboard you are planning to use for the long run supports the platform of your PC, i.e., Mac, Windows, or Linux, or that of your smart device, i.e., Android or iOS.
Value (in USD)
Check with the vendor's catalogs for the price tag of the online whiteboard you are looking forward to buying, and see if it falls within your budget.
EdrawMax
All-in-One Diagram Software
Create more than 280 types of diagrams effortlessly
Start diagramming with various templates and symbols easily
Superior file compatibility: Import and export drawings to various file formats, such as Visio
Cross-platform supported (Windows, Mac, Linux, Web)
Security Verified |
Switch to Mac >>
Security Verified |
Switch to Linux >>
Security Verified |
Switch to Windows >>
Overviews of the Best Online Whiteboards
Listed below are the 5 best online whiteboard solutions that can be used to share your ideas, and allow others to add their inputs through real-time collaboration as well:
1. Boardmix
Boardmix is the ultimate digital collaborative whiteboard, offering an extensive array of versatile, powerful, and purpose-built tools specifically designed for project management and communication. Its primary goal is to enhance productivity and efficiency by enabling teams to accomplish more within shorter timeframes.
By harnessing a diverse range of cutting-edge technologies, Boardmix facilitates seamless collaboration and idea exchange among team members. It seamlessly integrates various essential tools such as flowcharts, mind maps, Venn diagrams, SWOT analyses, timelines, weekly plans, reverse brainstorming, and many others. With real-time functionality, teams can present and collaborate on ideas effortlessly.
Boardmix equips users with all the necessary tools, including the pens, the note, the eraser, the shape, the frame, and more, to help them visually organize ideas, stimulate creativity, and foster effective communication. Whether interacting with clients or team members located anywhere in the world, Boardmix empowers users to establish rapport and share knowledge through a shared graphical platform.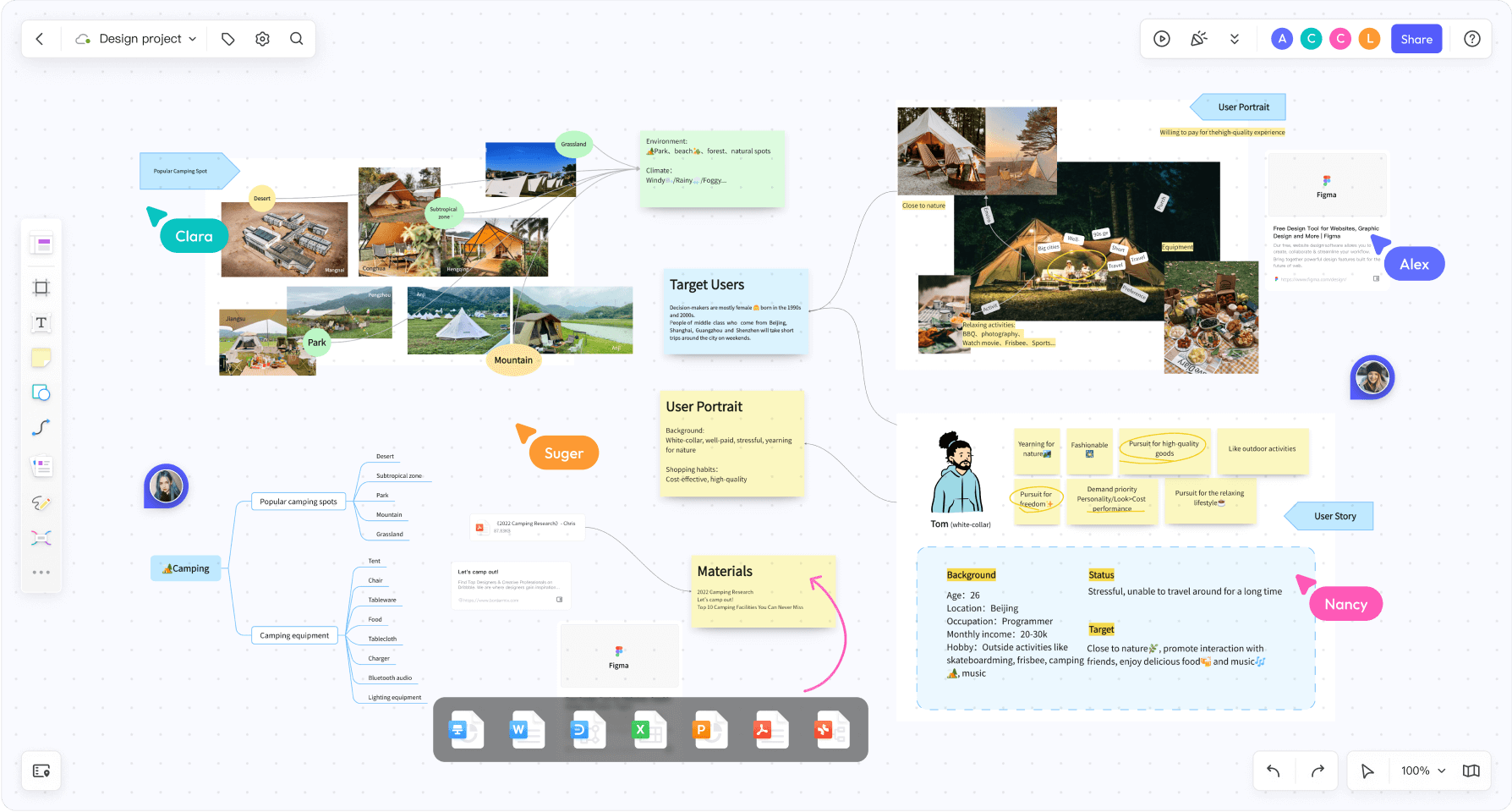 Boardmix offers a complimentary plan that provides access to the majority of its features at no cost. By simply signing up with your email address, you can embark on an immersive journey of enhanced interaction during your sessions.
Pros:
Intuitive and user-friendly interface even for beginners.
Highly customizable.
Free plan also offers robust functions.
Outstanding collaborative functions.
Cons:
Some features could be overwhelming.
2. Jamboard
Jamboard is a product by Google and it comes in two variants namely, a physical digital whiteboard that costs nearly about $5,000 (excluding the accessories), and an online whiteboard which is a free app for anyone with a Google account. Where the accessibility of the digital whiteboard is restricted to a room or conference hall, the Jamboard app allows remote users to collaborate in real-time.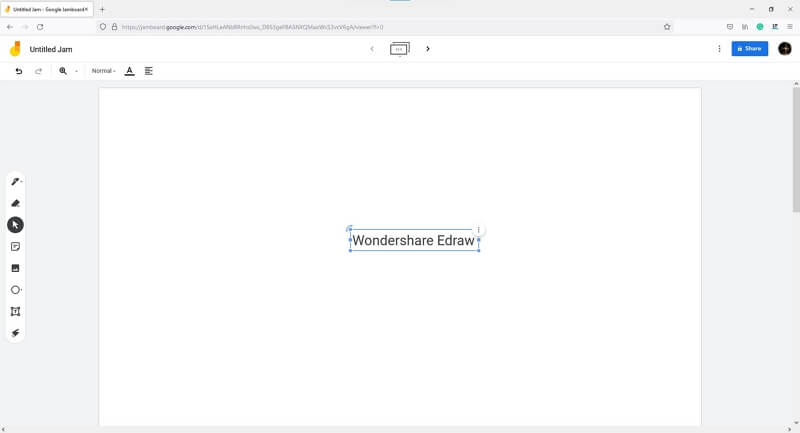 Pros:
The app is free for anyone with a valid Google account
Gives complete control over the privacy and security of the online Canvases
Offers plain and clean interface
Allows you to set background to make the board more engaging
Cons:
Limited options to draw symbols and icons
Whiteboards can be saved only in PDF format
Website URL: https://jamboard.google.com/
3. Explain Everything
Explain Everything is another example of a decent online whiteboard that is meant for scholars, individuals and freelancers, teachers, and teams. The web app offers both paid and free subscription plans where the latter is restricted to the limited number of concurrent projects and Cloud storage.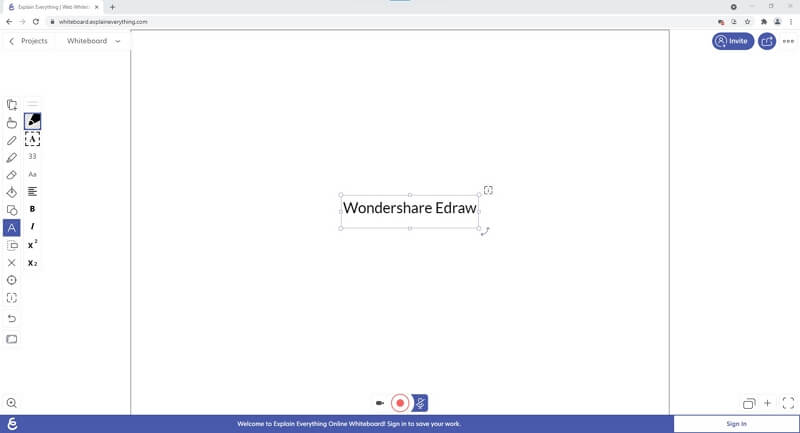 Pros:
Free to use (1 user only)
Offers enough tools to draw your ideas
Offers plain and intuitive interface
Team subscription allows real-time collaboration
Offers templates to start your projects with
Cons:
Only limited advantages are available for free users
Website URL: https://explaineverything.com/online-whiteboard/
4. Miro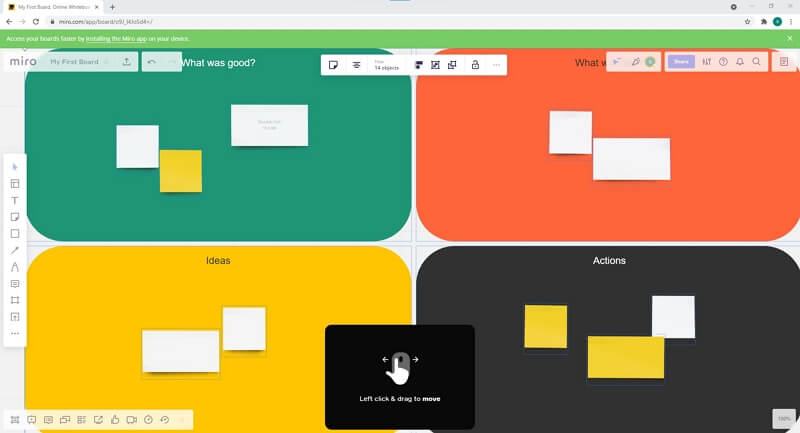 Miro is a kind of online whiteboard that is enriched with various templates. In addition, the web application offers many tools to sketch your ideas on the screen. Even though it takes a while to set up your Miro account as it needs plenty of details, the time you invest in doing so is worthwhile.
Pros:
Simple interface with a plethora of tools to draw your ideas
Free to use
Can be set up without any giving credit card details
Allows you to choose a template to start your projects from
Cons:
Asks too many questions while setting up your account
Website URL: https://miro.com/
5. Microsoft Whiteboard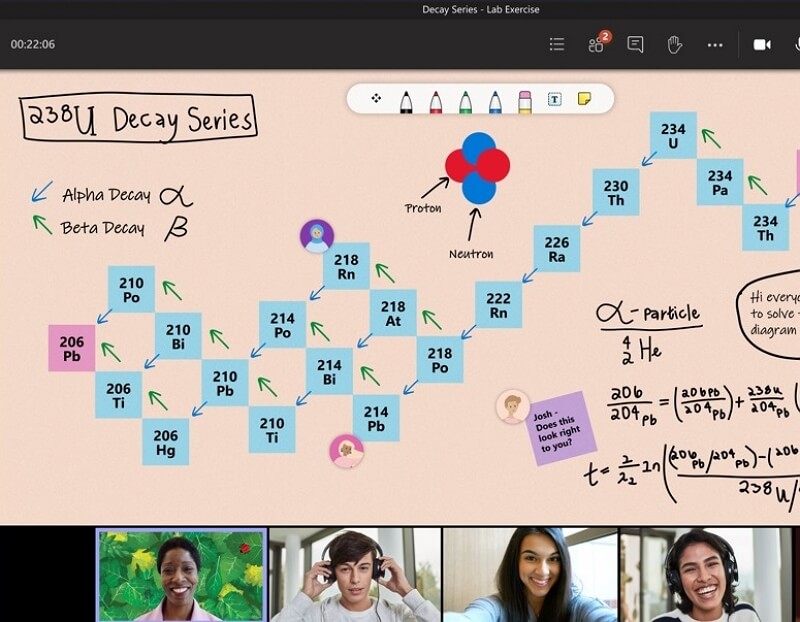 Microsoft Whiteboard is a free program by Microsoft Inc. that offers a digital Canvas on your computer or smart device. Unlike any traditional online whiteboard, this program can be installed on your Windows PC or an iOS device. While the Windows version can be downloaded from Microsoft Store, the app for iPhone or iPad requires you to go to App Store, and then obtain it from there.
Pros:
Simple and intuitive UI
Free to use
Available for Windows and iOS platforms
Offers technical support from 9:00 a.m. to 6:00 p.m. from Monday to Friday
Cons:
Microsoft and Apple IDs are needed to obtain the app from their corresponding stores
Website URL: https://www.microsoft.com/en-us/microsoft-365/microsoft-whiteboard/digital-whiteboard-app
6. Tutorialspoint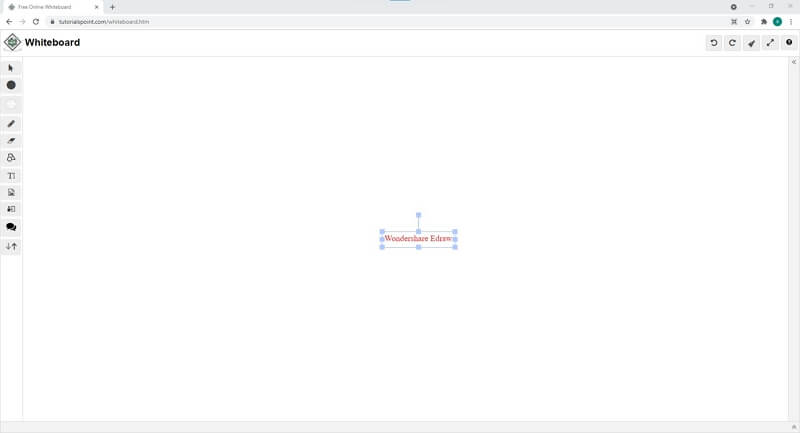 Tutorialspoint's online whiteboard is probably the simplest web app available on the Internet, at least at the time of this writing. The program is easy to access and free to use. All you need to do to use Tutorialspoint Whiteboard is, use the link given above to visit the page, and you are good to go.
Pros:
Free to use
No sign up or sign in required
Easy to access
Intuitive interface
Works on any web browser
Cons:
Doesn't offer an export option other than right-clicking the Canvas and using 'Save image as' to save your visuals on your PC
No templates are available
Website URL: https://www.tutorialspoint.com/whiteboard.htm
Pick Up the Online Whiteboard Suitable for You
It is important to check various aspects before deciding upon a particular online whiteboard that you can use for years. Where some are paid and offer limited access to the free users, others are free and allow real-time collaboration. Nevertheless, each web app comes with some pros and cons, and it is up to you to decide which options are extremely important to you, and which ones can be left off. As far as the diagramming part is concerned, some web-oriented whiteboards allow you to upload your images (charts) that can be drawn in any efficient program like EdrawMax.
Related Articles
Brainstorm Ideas and Work Together with Edraw. Try it Free!