Functional Organizational Chart Complete Guide
Do You Want to Make Your Organizational Chart?
EdrawMax specializes in diagramming and visualizing. Learn from this functional organizational chart complete guide to know everything about functional organizational chart. Just try it free now!
Different organizations have different people working inside them. Collectively these people make the framework, and sequentially, the functional organizational chart enlists them. Still, the capabilities, skills, and expertise are traits that vary across the members. We can't give everyone the same authority level, as that would be an apparent injustice to deserving people. That is where the functional org chart jumps in. It uses visual shapes to create a network of employees and departments. Next, the chart organizes and links them according to their specialties.
This article will discuss its complete guide that will tell you how these charts can be a reason for healthy interdepartmental competition. Plus, its primary characteristics will help you understand how the chart can help the CEO to assign tasks without imperfection. As for the big question of their creation, we'll summarize why programs like EdrawMax are the best choice for its production. Lastly, you'll get step-wise instructions and free template examples that will help you create your functional org chart with minimum effort and time.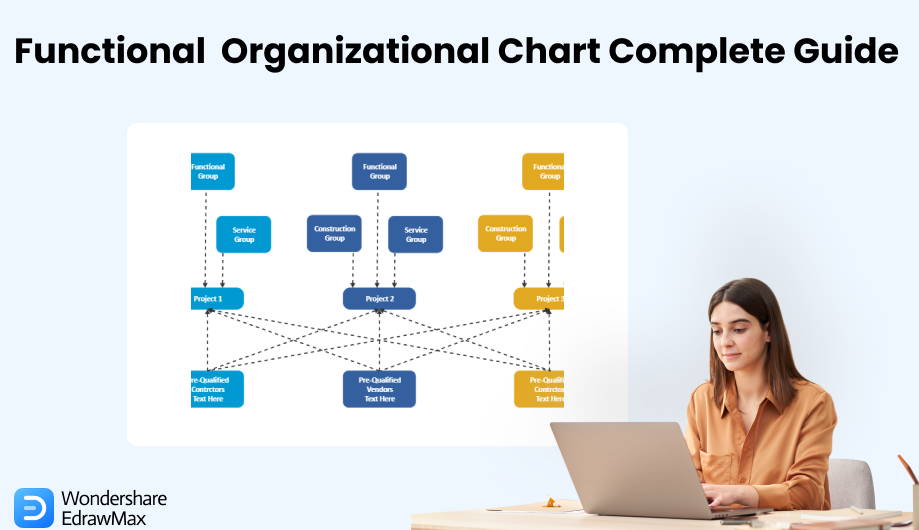 1. What is a Functional Organizational Chart
A functional org chart is a type of organization chart that shows the relationship between the departments and their managers. It's also known as a functional structure or divisional structure. Basically, it is a visual representation of employee segmentation based on skills and specialties. It helps managers understand how tasks are assigned. Plus, it increases basic communication skills between employees and supervisors. Functional org charts have wide use in different contexts, including:
Managing resources within an organization (e.g., recruiting new employees)
Assigning interdepartmental responsibilities for different projects or tasks within the company
The functional organization chart is a visual representation of the relationships between an organization's different departments and functions. It shows how your team works together to accomplish its goals, which can enhance communication between departments and help identify areas for improvement. The most common way to create a functional organizational chart is with Microsoft Visio or Google Drawings. But if you don't have access to these software programs, there are free online tools that make it easy!
Functional organizational diagrams illustrate the relationship between departments, functions, and employees. The purpose of functional org charts is to help an organization identify its hierarchy. The chart also illustrates which managers oversee each group and where they should be within the organization's structure.
What is a Functional Organizational Chart:
A functional org chart is a type of organization chart that shows the relationship between the departments and their managers. It's also known as a functional structure or divisional structure. Basically, it is a visual representation of employee segmentation based on skills and specialties. It helps managers understand how tasks are assigned.
2. The Importance of Functional Organizational Chart
A functional organization is a type of organizational structure based on the division of labor and specialization of skills. It organizes the departments, managers, and employees by functions or activities.
Advantages and disadvantages of the functional organization
A functional organization is a flexible, efficient, and effective organizational structure. Organizations and corporations use it to provide products and services that efficiently meet customer needs. The advantages of using this type of structure are:
Flexibility:

You can change your business processes according to changing circumstances without changing the people performing those tasks. Moreover, the diagram can represent every minor and major department. It is a universal way to organize the corporation framework according to expertise.

Efficiency:

With limited resources, you can focus on what works best for your company instead of spending time trying out new approaches or methods that might not work well enough in the long run.

All-in-one Visualization:

In government organizations, functional organizational charts often visualize an organization's chain-of-command structure or hierarchy. They also provide an overview of which departments work together and their respective responsibilities towards achieving certain goals within said organization.

Academic importance:

In non-profit organizations like schools or universities across different levels, these types of diagrams can help students understand how specific areas relate to others. So, they don't end up forgetting about essential details during class time when discussing subjects. This visualization is something very important, especially when dealing with younger children who aren't yet familiar enough with what goes on behind closed doors at various institutions' desks.
The Importance of Functional Organizational Chart:
A functional org chart is a graphical representation of the relationships between different parts of an organization. In the business environment, it shows how functions align with each other and their respective goals. It helps CEOs determine how to allocate resources to various analysts and departments., who should report to whom, and what roles they have concerning each other. However, there are some cons that you may have to face during its usage.
3. How to Read a Functional Organizational Chart
Functional org diagrams are not as complex as their hierarchical counterparts, but they still have some common characteristics. First, all functional org charts have at least one vertical axis and at least one horizontal axis. It means if you put a person on the X-axis, then you can represent their job title on the Y-axis, which will tell you their level of responsibility within the organization. Second, functional orgs tend to be less detailed than hierarchical ones. It makes sense because there are fewer levels to describe your organization's structure. If you need more information about employees' responsibilities in the workplace as a whole, then you should use a hierarchical chart instead!
To read a functional org chart, the visualization must have an ideal structure with common attributes. For instance, reading it won't be easy if the chart does not have proper links and visual shapes at the appropriate axis. To read an organizational chart, first of all, look for the title details in it. The title lets you understand if the visualization focuses on the entire company structure or specific departments. Once you got that, look for the information axis. Find out the positional axis that delivers skills and authority levels, respectively. On top of that, you can look for additional sections that supply extra information. Some organizational charts have a key box that shows the departmental names characterized by different colors.
Functional organizational charts are a great way to show how different departments and functions of your company work together. The chart is broken down into horizontal sections, and each section has its own name, title, and function. It makes it easy to tell what each department does, even if you don't know much about the organization as a whole.
4. How to Create a Functional Organization Chart Easier
Creating an organizational chart is a no-brainer if you have the appropriate toolset. Still, very few programs in the market are suitable for functional organization chart production. The best way is to use an ideal online chart maker with an easy-to-use interface and exceptional features. EdrawMax is one of the programs, offering every appropriate tool for free. The following steps will tell you how to create a functional org chart within minutes.
Step1
Account Creation
Open your browser and type Download EdrawMax in the search engine box. Now open the first official link and download the program as per your operating system. It is available in Windows and macOS. Once you have downloaded it, install the program according to the instructions. Open it and log in to it by creating an account. Moreover, you can use your professional email for the sign-up. EdrawMax provides you with an online platform as well for instant chart production.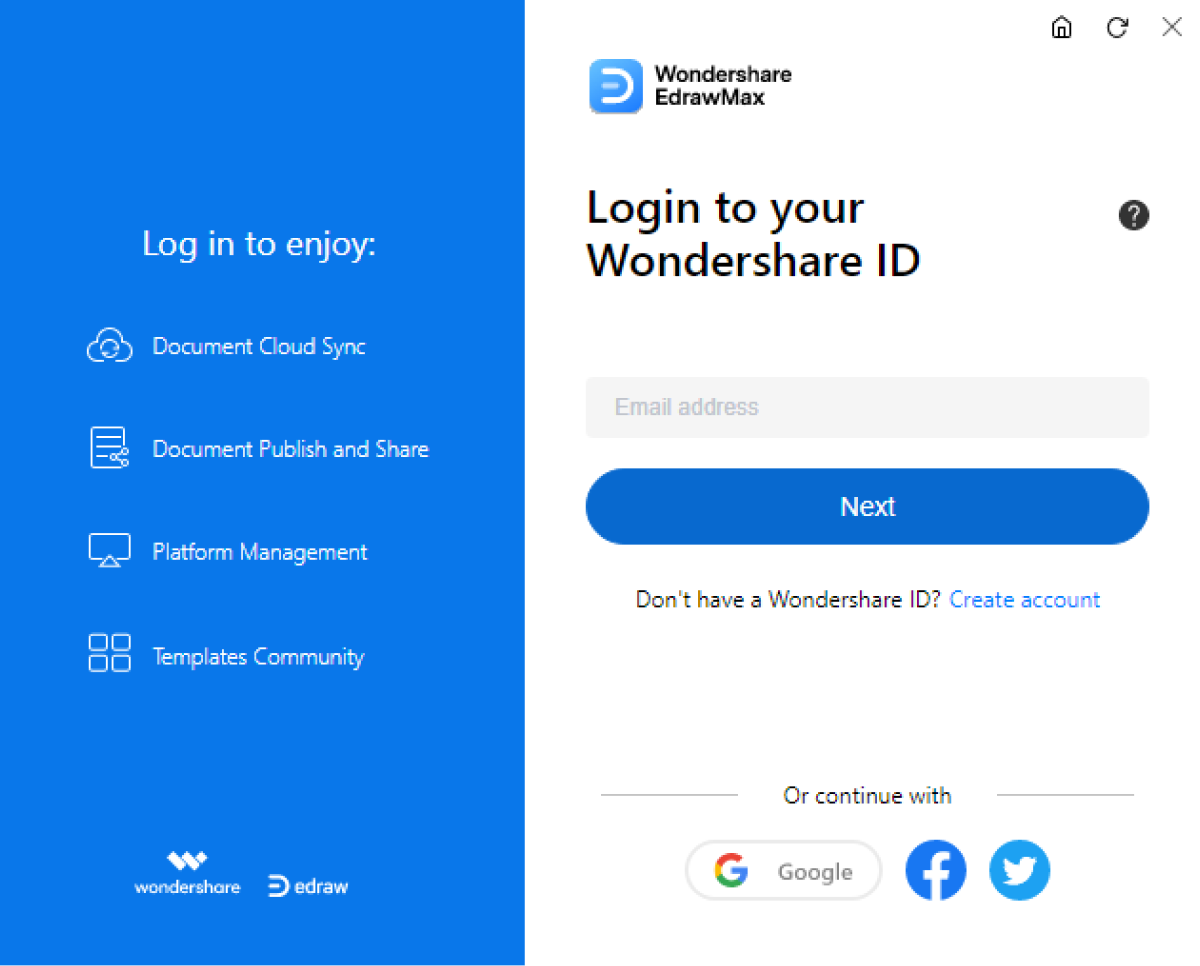 Step2
Template Selection
Once the account creation process is complete, you'll be redirected to the home screen. From there, you can opt for two separate methods. The experts suggest using pre-made templates to save time. Click "Templates" on the left side. Now select the chart according to your requirements and transfer it to the edit screen using the "Use Immediately" button.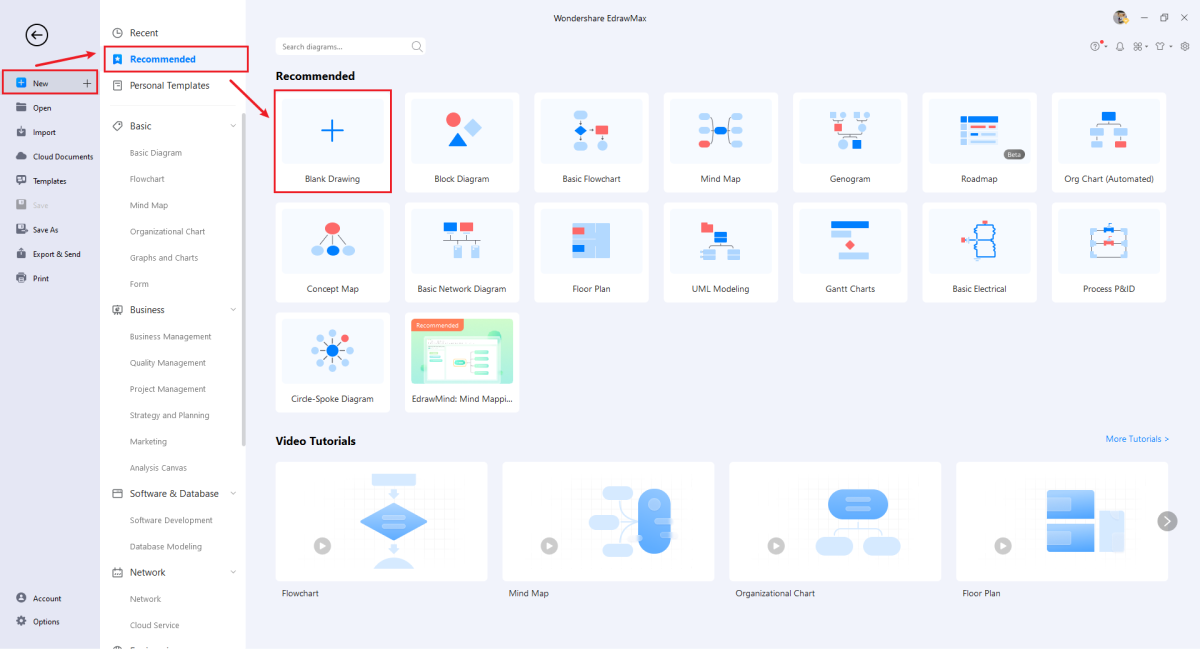 Step3
Create from Scratch
You can jump straight to the edit screen from the home interface with the "New" row button. Click "New" and then "organizational chart for the basic layout of the functional org chart. Now you can make your way up step-by-step using the extensive customization tools of EdrawMax. Select the Symbols: The EdrawMax program is not only highly customizable but easy to handle also. It has a massive range of customizable symbols. The library has 26000 built-in visually presentable symbols for the use. Additionally, you can create your own symbol and add it inside the personal library to use later. It minimizes the need to create your symbol from the start.
Step4
Add Components
Details are the primary components that measure the effective exposure of the functional org chart. Therefore, adding the ones that insert extra value inside the visualization is better. These can help you add or change colors, separate key boxes, or anything you can imagine that may value the user. EdrawMax gives you extra flexibility to use every feature to your advantage and add extra detail inside the chart.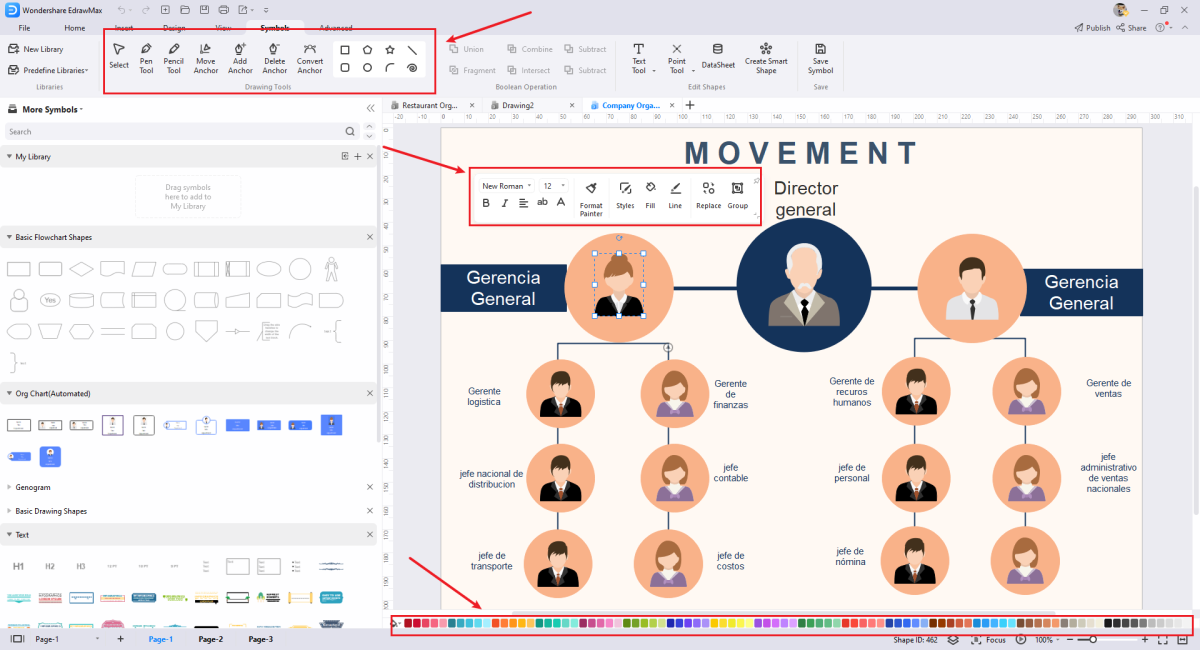 Step5
Export or Share
Once you are all done with the functional org chart, EdrawMax gives you two options. You can export it inside your PC or share it with the template community. To export the chart, click "File" and then "Save As." EdrawMax gives you the ability to save the file in 14 different formats. Therefore, it is an excellent source of media communication between different software. To share your new design, click the "Publish" button in the top right corner.
Basically, it is simple to create a functional organizational chart in EdrawMax, just grab a template and keep customizing, drag and drop professinal symbols to make your plan better. If you are still confusing about how to create a organizational chart in EdrawMax, just check this organizational chart guide, or check the video below. Or you can find more tutorial videos from our Youtube.
5. Free Functional Organizational Chart Examples & Templates
The functional org charts are an excellent way to organize the company framework according to the skills and employees' expertise. Every individual inside the chart gains their authority level with the help of optimum skill and ability in the distinct field. There are several sources across the internet that provide you with visual examples. However, very few supplies editable templates that are useful. The examples and templates given below are highly beneficial to you if you are looking to get functional org charts free of cost. We bring more free examples for your use to understand the mechanism of functional org charts.
Example 1: Functional Organizational Chart
This exemplary template of functional organizational chart depicts the authority level of owner project groups and external service agencies. The chart uses different color schemes, making it ideal for distinct projects and groups. This visualization targets three separate projects inside a company. The arrow shapes and directions tell employees to target their particular project. The top-down arrows indicate cross-functional project groups. Whereas the bottom to up directional arrows indicate prequalified agencies acting on the project.
Example 2: Functional Organizational Structure
The appearance of this functional organizational structure matches a typical visualization of the corporation. The diagram uses simple lines instead of arrows to link the organized authority individuals inside the framework. There isn't any multicolored scheme; instead, the chart uses different shades of the same color to depict the departments and sub-departments inside the organization. This type is ideal for a whole corporation framework sequencing. However, it won't work that well in single project management.
Example 3: Functional Management Organizational Chart
This functional management organizational chart is a much more physically appealing option for the users. It has a minimal and effective design structure that engages the audience inside instantly. The chart starts with the president and simultaneously distributes the authority between administrative and operational departments. Furthermore, the administrative department handles different divisions of finance and the HR manager. At the same time, the operational supervisor handles general managers. The chart has a different color scheme for every individual. So, it rarely confuses the user with complex connections.
Example 4: Basic Functional Organizational Charts
As the name suggests, a basic functional organizational chart is ideal for simple or startup corporation frameworks with fewer members. The greater the number of employees, the more connections its chart will have. Therefore, it makes things confusing. However, the basic functional org chart isn't like that. It targets only the managing departments that run all of the corporations and ignores the low-end employees. Its color scheme is pretty simple. Every individual has an identical color scheme shape box for the details except the CEO.
6. Free Functional Organizational Chart Maker
Functional org chart makers are an excellent way to reduce your extra workload. However, these programs are not easy to find. There are massive options on the internet that claim to be the best, but in reality, they are up to no good. So, it is better to choose the one that experts recommend, such as the EdrawMax. Edrawmax is one of the reliable programs, providing a hassle-free experience to its users. Some of its top perks are as follows.
The program has an easy-to-use interface that takes it up a notch in handling and customer ratings. The program is suitable for every individual. Its basic yet effective pages are excellent for people with no prior designing experience. For that reason, people refer to it as the universal organizational chart maker.
The never-ending template community of EdrawMax makes it optimum for bulk chart production. Plus, if you do not want to sit for hours in front of the computer to generate a functional organizational chart, EdrawMax is the way to go. Its ready made templates help you get your distinct functional org chart in a few clicks.
EdrawMax is an all-in-one tool for the customers. The reason is its broad export format approach. It allows you to export files in Microsoft office word, PowerPoint, Excel, and many more software formats. The program is eligible for 14 different formats, which makes it ideal for most social media sharing platforms.
With EdrawMax, you won't have to worry about losing your file ever again. Its cloud save service will track and save your every click within milliseconds. Therefore, it keeps the server updated and your file secure with extra encryption.
EdrawMax provides an easier approach for you to import your previous data. If you want to shift your design procedure to this program, you won't be left behind. It gives you easy instructions to import your Visio files with a few clicks.
EdrawMax Desktop
Create over 280 types of diagrams
Windows, Mac, Linux (runs in all environments)
Professional inbuilt resources and templates
On-premises software for business
Enterprise-level data security
EdrawMax Online
Create over 280 types of diagrams online
Access diagrams anywhere, anytime
Team management and collaboration
Personal Cloud and Dropbox Integration
7. Final Thoughts
Functional organizational charts are the best to understand the structural map of a corporation. Plus, the diagram is ideal if you want or organize the entire framework on the basis of expertise and capability. It helps the individual employees to distinguish between centered decision making authority and supervising sub-managers.
As for the production, functional org charts are not difficult to create, provided that you have suitable media for creation. Traditional techniques can tire you for hours, and you still won't get your perfect organizer. However, advanced chart makers can help you here with an exceptional specialty in the field.
Before choosing your chart maker, it is better to look for its market value and credibility and judge its features based on its diversity. The well-known EdrawMax is one of the chart makers that supply every needed tool for free. Besides that, experts acknowledge it as the perfect organizer maker because of its massive template and symbol collection. Get your free experience right now and forget the tiring sensation of working for hours.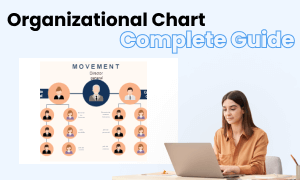 Organizational Chart Complete Guide
Check this complete guide to know everything about organizatioanl chart, like organizational chart types, and how to create an organizational chart.