Step-to-Step Guide - How to Draw Electrical Schematics

Learn how to design electrical schematics with industry-standard symbols and libraries of design elements. Lots of electrical schematic examples and templates are provided to help you get started quickly.
How to make an electrical schematic design from the idea you have in your mind? Drawing electrical schematics is to choose the right components and connect them together in a logical way. This page will show you how to draw an electrical schematic with various libraries that are full of electrical schematic symbols.
Step 1: Open a new drawing page for Electrical Schematic design
Start Edraw then follow the instruction to open a new electrical schematic drawing page: Available Templates - Engineering - Basic Electrical. Double-click to start designing your own electrical schematic or click on the example down below for inspiration then customize your own.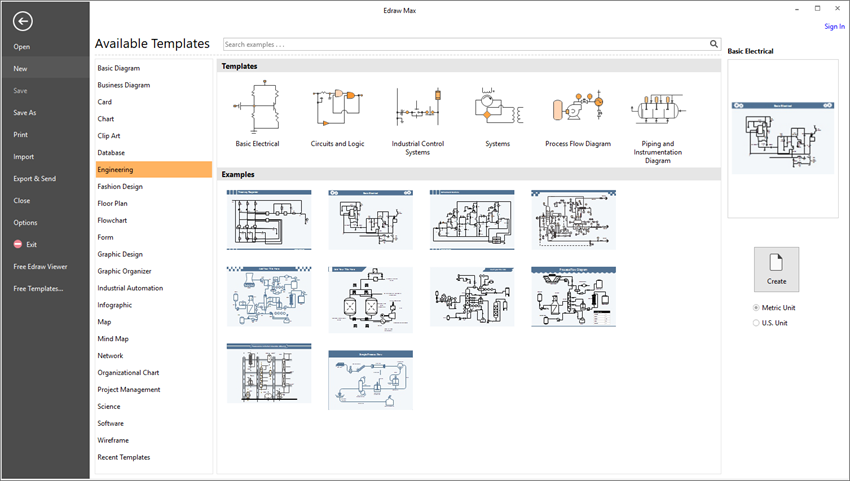 EdrawMax: a swiss knife for all your diagramming need
Effortlessly create over 280 types of diagrams.
Provide various templates & symbols to match your needs.
Drag and drop interface and easy to use.
Customize every detail by using smart and dynamic toolkits.
Compatible with a variety of file formats, such as MS Office, Visio, PDF, etc.
Feel free to export, print, and share your diagrams.
Step 2: Add electrical elements for schematic
Drag and drop the symbols needed for your electrical schematic from the elements libraries on the left.
NOTES:
When opening a new electrical schematic drawing page, you will find a few symbols catagories on the left to help you with your designing. If you need additional symbols, click on the Libraries icon to see more libraries. You can open as many related libraries as you want.

For libraries used for electrical shcematics in particular, go to "Libraries" - "Electrical Engineering", then hit any symbol catagories you need for the design of your electrical schematics.

Click here to get a full understanding of how to read symbols and elements in an electrical schematic. Every component in a schematic has a unique symbol, this page will show you how to distinguish between one another.
Step 3: Connect electrical elements together
Under Home tab, select Connector to connect elements. Simply rest the cursor to the elements need to be connected, and connection dots of all directions will appear automatically. Then drag the connector from one connection dot to another.
NOTES
On the right side of the canvas, under the "Line" icon, you will find several setting options to design the connectors. "Begin type" and "End type" will determine whether connectors have arrowns on the ends.

Junctions and Nodes: Junction means two or more wires cross together but not connected, nodes means that wires that are crossing this junction are also connected. Use the "Various Connections" symbol in "Basic Electrical Symbols" library to mark the difference.
Step 4: Save and export
Under the "File" tab, hit "Save" to save your Electrical Schematic as the default format .eddx, or click on "Save as" under "File" tab to save as other formats.
Click "Export & Send" under "File" tab to export the Electrical Schematic to other formats including PowerPoint, JPG, PDF and so on.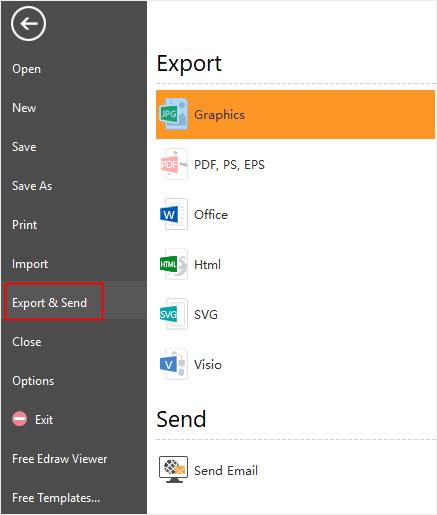 Here is a completed electrical schematic. Click the image for free download and customize your own.