Editable Fire Escape Diagram Templates - Free Download
>
Edraw Example
>
Editable Fire Escape Diagram Templates - Free Download

This page offers a variety of fire escape diagram templates to download and customize for free. It will be easy and fun to create an attractive fire evacuation plan from ready-made templates with the help of our floor plan maker.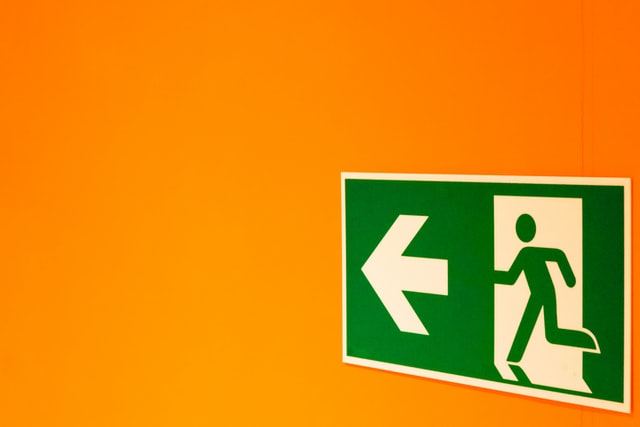 The fire escape diagram is essential for any building as it guides the correct escape route when an emergency occurs. It contains all the necessary information for people to find the correct paths to leave the building without injury. In addition, the fire evacuation plan provides significant help for firefighters to get the right location for saving people or getting fire safety equipment.
Customizable Fire Escape Plan Templates
To help users start quickly, Edraw evacuation plan design software offers a variety of escape plan templates that are downloadable and editable. All templates are vector-based and can be customized by changing the color, text, size, background, and so on in EdrawMax. Moreover, all the templates can be exported and save as editable Word, PowerPoint, Excel and Visio files.
Evacuation Plan Templates in Word, PPT, PDF
Here are free escape plan templates that allow you to design your evacuation plan designs in a smarter and more successful way. You can view and download more free escape plan templates from Edraw Escape Design software. Now choose your favorite template and start your creation.
Fire Evacuation Plan Templates - Easy to Personalize
Tips for Making a Fire Escape Plan
If any misfortunate incident happens in your house or surrounding areas like fire, earthquake, flood or any other mishap, you become completely frozen, your mind stops working and unable to process the situation to tackle it.
To prevent this, you should have an escape plan so that you and your family members know exactly the exit routes and how to escape. Once you are out of the house this will help the firefighters to put the house out of fire quickly rather than rescuing the victims, as their main priority will be now saving the house from fire.
Alarm Sounds
Place alarm sounds around your house, and make sure after every few months that the system is actively properly working or not. Brief every member of your family including children, & elders about the whole system, how it works including alarms and fire extinguishers, and when to call firefighters.
During smoke children do not process the sounds of alarm, they might be confused with the sound of an ambulance or police patrol outside the house, for the elder who are at home must remain active.
Exiting Routes
Have a look at each room of your house and find two ways to escape out, including windows and doors. Ground floor rooms or kitchen windows would be more helpful as it is easy to jump on the other side. Make sure all escape routes open easily and easily reachable so that one can escape outside.
Include Children and Old in the Plan:
While making a Fire escape plan it's so Important to include everyone in the plan whether children or old, because these two spend most of the time at home and are most likely to be subject to Fire. If both of them know the exit routes, and about the fire alarms it will be easy for them to follow the plan previously made to escape out.
Engaging Point
While making the plan choose an engaging point close to the home, like backyard, garden, neighbor's house or any other place that is near from home.
Have Plan B or a Backup Plan
If the exit routes are blocked try to escape from other routes, like for instant Washroom windows or any other alternate routes which can lead you outside from home.
If you are caught in a room, put everything to make a wall between you and fire, try to place something that fire cannot catch easily, reach to your phone or landline and call the fire department to rescue you.
If that is not possible, scream from windows or raise a flag as an indicator so that your neighbors or outsiders can come to rescue you or call firefighters.
Share your Fire Escape Plan with everyone
You must inform everyone about your fire escape plan including guests, visitors and even neighbors. If your neighbor is fully aware of the entering and exit routes in the plan he or she might come to rescue and help in escaping out.
Make Necessary Arrangements
After developing the plan, the next step is to make arrangements of it, Place Fire alarms in Kitchen, Hall or any other place at Home where the chances of eruption of fire is high, Place fire extinguishers on every floor of the house.
Make exit routes more reachable and make special arrangements for disable. Make sure after a few months that the system is working properly or not.
Put your Plan into Action
Execute fire escape plan twice a year for practice, making the drill as realistic as possible.
EdrawMax
All-in-One Diagram Software
Create more than 280 types of diagrams effortlessly
Start diagramming with various templates and symbols easily
Superior file compatibility: Import and export drawings to various file formats, such as Visio
Cross-platform supported (Windows, Mac, Linux, Web)
Security Verified |
Switch to Mac >>
Security Verified |
Switch to Linux >>
Security Verified |
Switch to Windows >>
How to Make a Fire Escape Plan?
Step 1: Open a Fire Escape Plan Template
Install EdrawMax on your computer or open EdrawMax Online from your browser. Then navigate to [Engineering] > [Building Plan] > [Fire and Emergency Plan].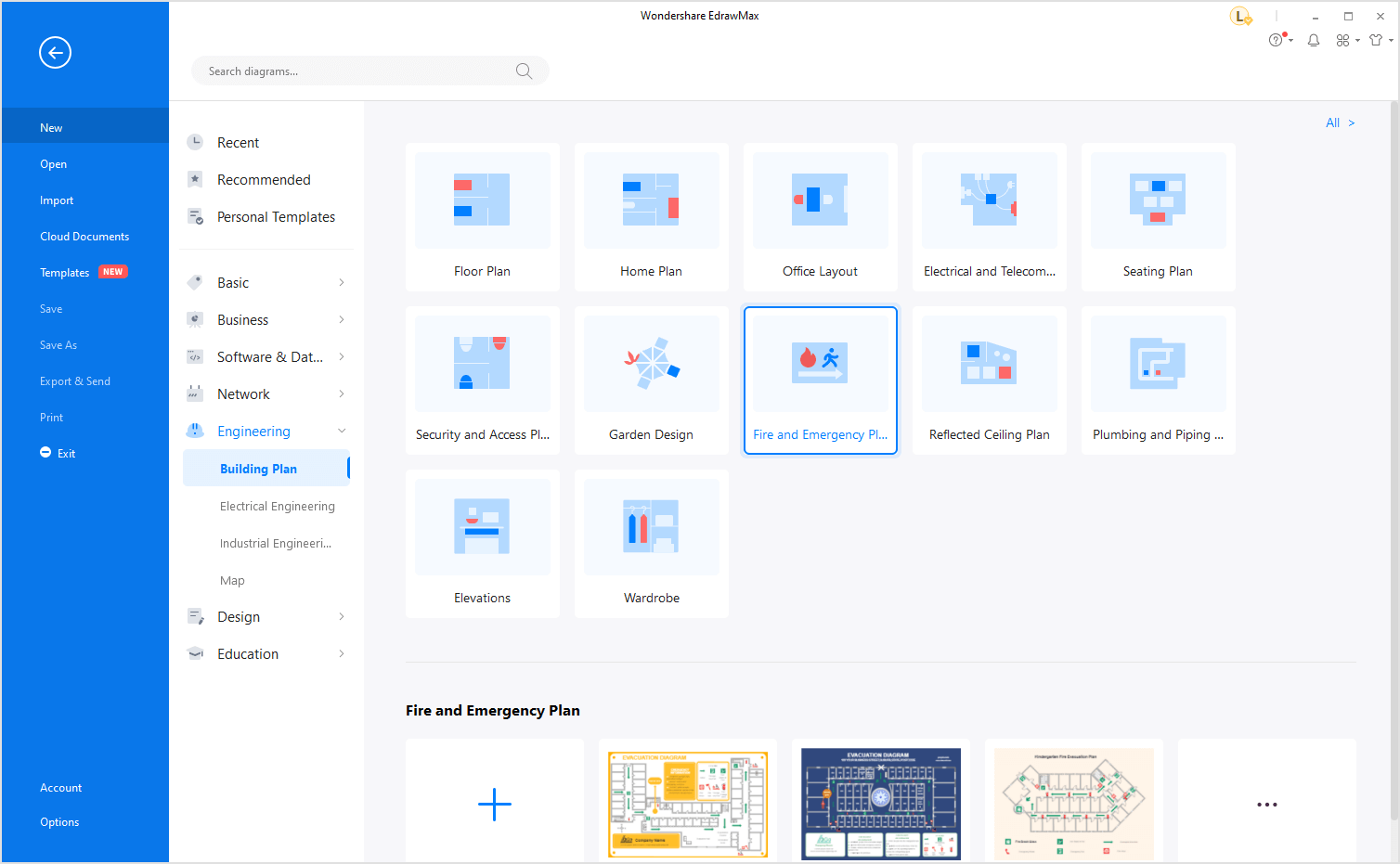 Double-click the icon of Fire and Emergency Plan to open a blank drawing page. You can choose and open one of the pre-made fire escape plan templates to save your time of building the drawing from scratch.
Click [More Templates] and you will find a great number of fire escape plan templates that are created by Edraw and Edrawers (our users). Choose the one you like you can edit and customize it with ease.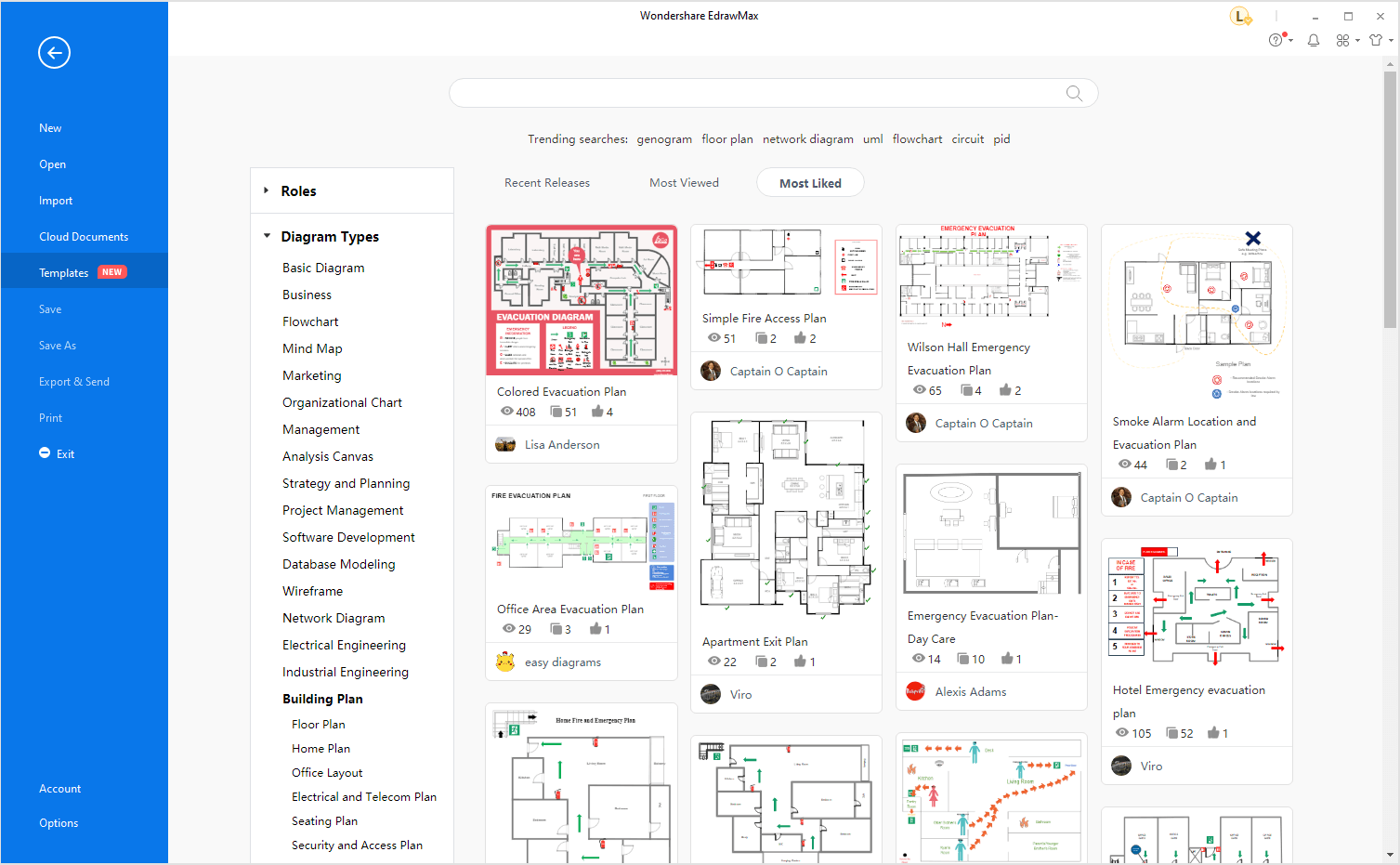 Step 2: Open Fire Escape Plan Symbol Libraries
Click on the "Library" button found in the left menu, and then you can enable all the symbol libraries of Fire and Emergency that are pre-defined in EdrawMax. You can add symbols to the canvas by clicking on the desired symbol and dropping it wherever you want it. You can find other types of floor plan symbols in the libraries and these will help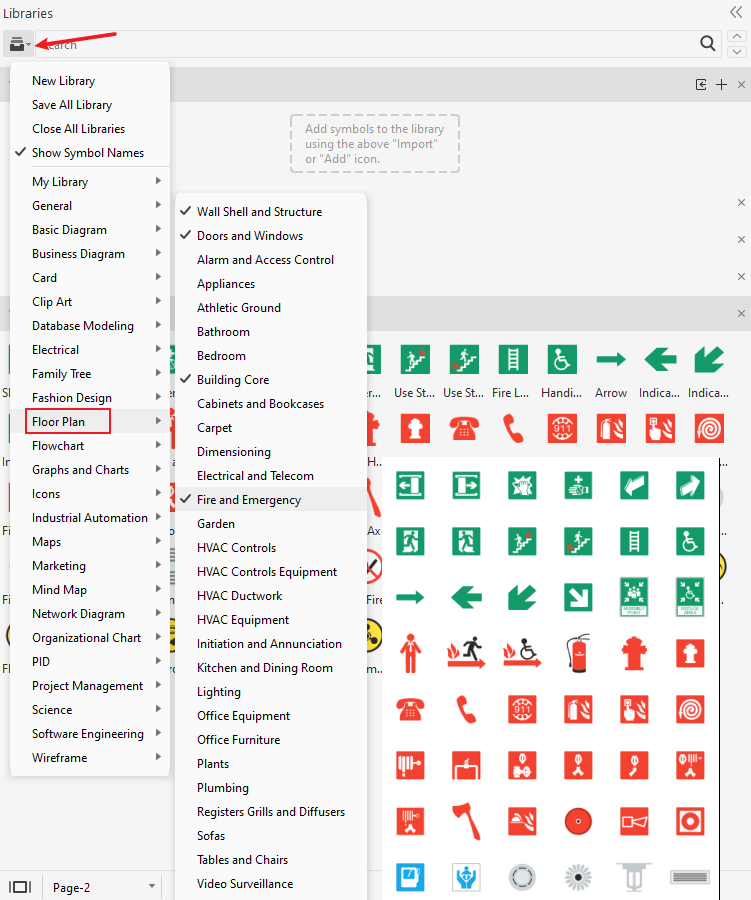 Step 3: Change the Style of the Fire Escape Plan
Click on the [Theme] button on the right sidebar and open the [Theme] pane. Then you can change the theme color, connector style and font types as your like.
In the meanwhile, you can try our newest feature of styling - "Auto Formatting." With the visual reasoning engine, EdrawMax can auto-change the style of your diagrams based on professional color schemes from our top designer. Creating beautiful diagrams is easier than ever!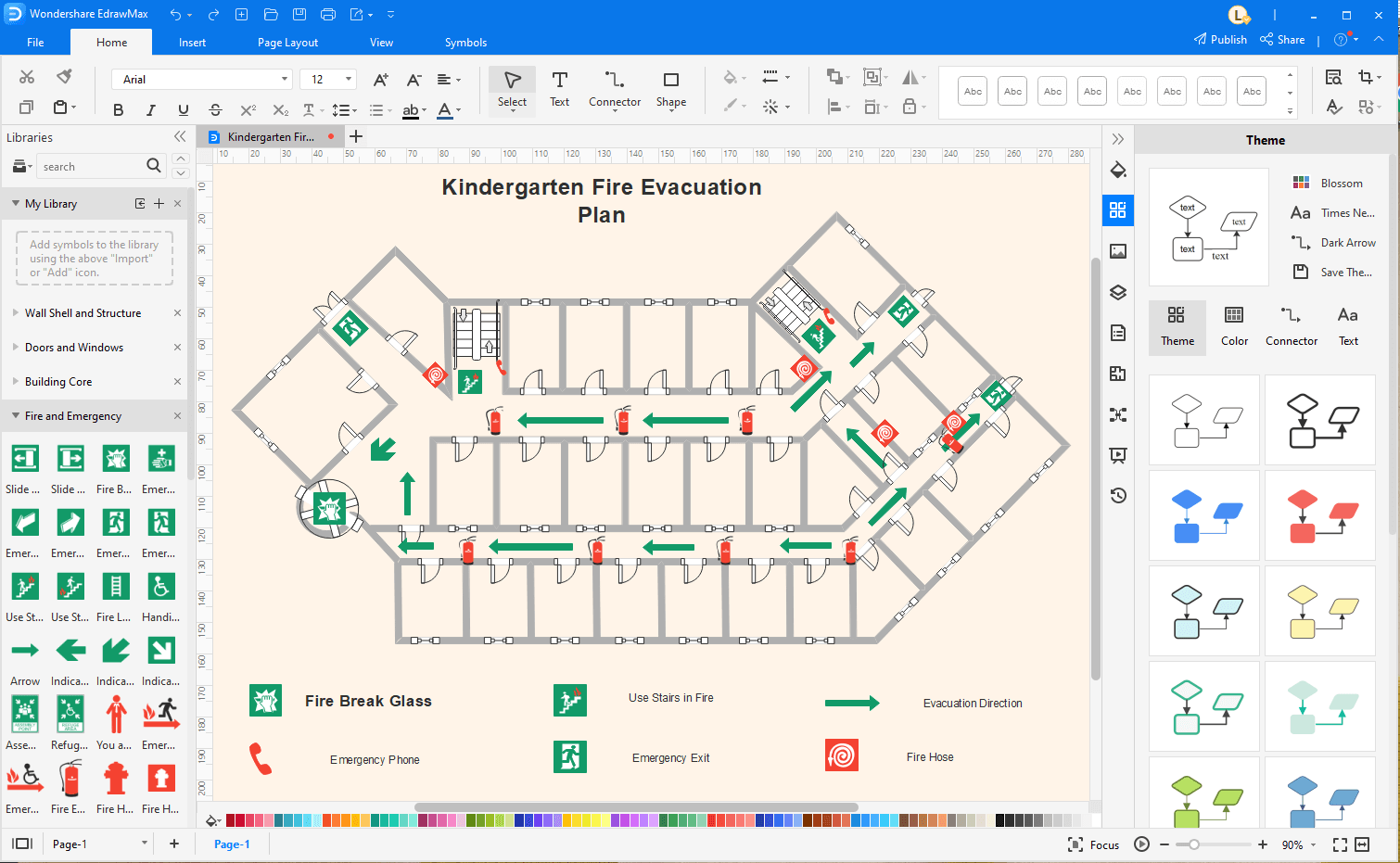 Step 4: Save and Export the Fire Escape Plan
After creating the escape plan, you can save and export the drawing in a number of file types, including PDF, PNG, JPEG, PDF, DOCX, XLSX, PPTX, and VSDX for Visio. Thus, even non-Edraw users can read and edit your fire escape plans directly.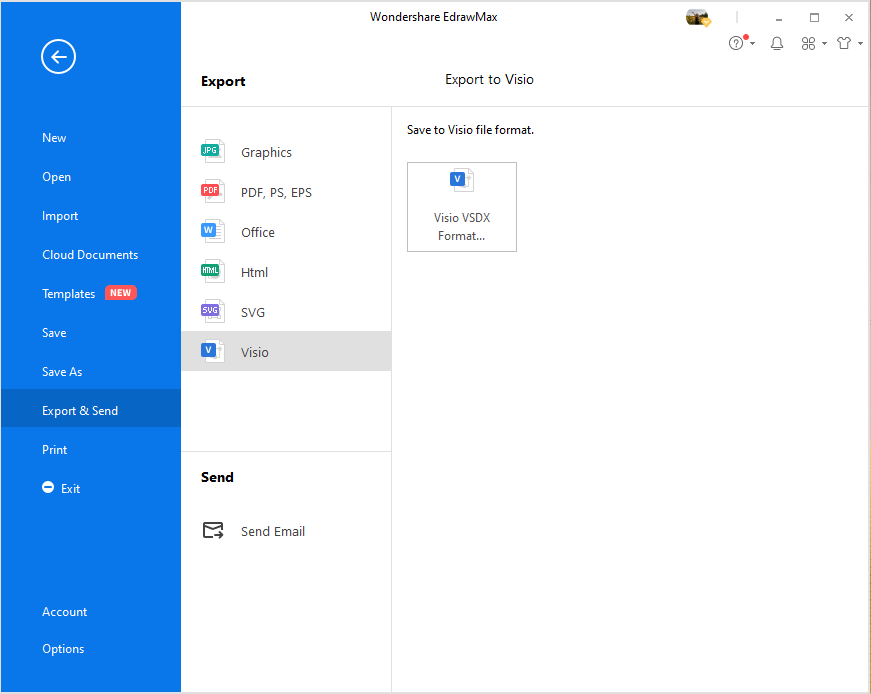 In fact, EdrawMax also supports our users to import the Visio files and convert your Visio fire escape plans in seconds.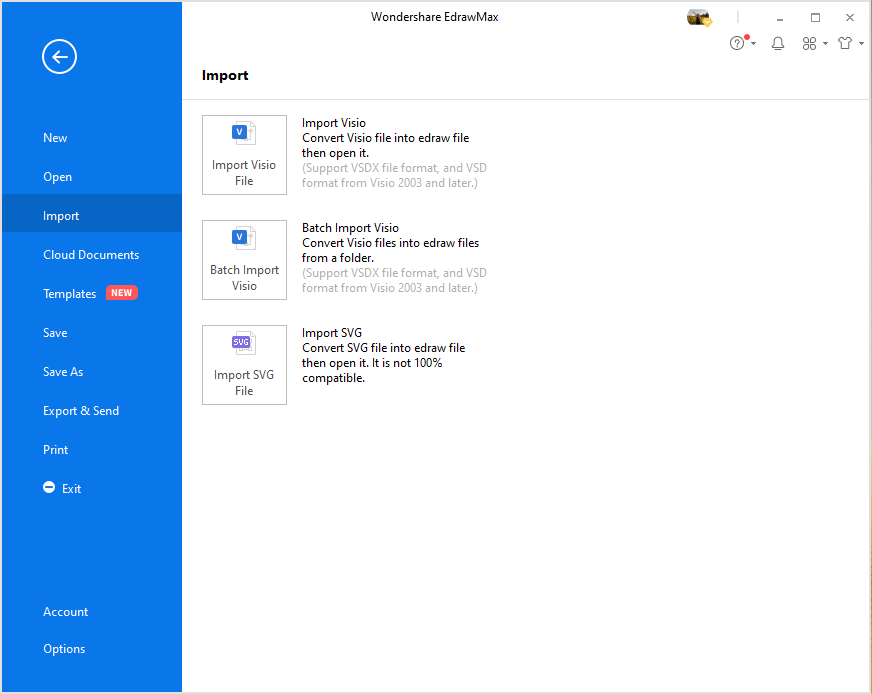 You can watch the video below and learn more details!
You May Also Like:
How to Create School Evacuation Plan?
Simple Steps to Create Floor Plans