Personal SWOT Analysis Complete Guide
Do You Want to Make Your Personal SWOT Analysis?
EdrawMax specializes in diagramming and visualizing. Learn from this article to know everything about personal swot analysis examples and templates, and how to use them. Just try it free now!
The strengths-weaknesses-opportunities-threats analysis, SWOT is a strategic planning tool used to understand your organization's internal and external environment.
Personal Swot Analysis is a method of evaluating an individual's strengths and weaknesses relating to personal goals. It is a way of determining your own SWOT (strengths, weaknesses, opportunities, threats) for personal growth. You can look at the personal swot analysis examples below for a better understanding. This article is a complete guide for Personal SWOT Analysis with examples that will help you know:
1. What is A Personal SWOT Analysis
Personal swot analysis is an analysis method used to identify or measure personal external (opportunities and threats) and internal (strengths and weaknesses) factors/traits in the business venture. This method is an important exercise that has proven helpful to most individuals thanks to it being a tried-and-true method.
Basically, it helps you identify the following:
Strengths: The traits that give you an advantage over others.
Weaknesses: The characteristics that are a disadvantage in relation to others.
Opportunities: What technologies or trends can you utilize to gain an advantage.
Threats: The hindrances that hinder your career growth.
Personal swot analysis features a ton of benefits for your career path, so if you want to climb to the pinnacle of the competitive cooperate world. So, why do you need to do a personal SWOT analysis, or what are some of its essential benefits?
2. Free Personal SWOT Analysis Examples & Templates
Since you know how and what to include in your personal SWOT analysis, where can you find professional free-to-use templates? These free personal SWOT analysis templates by EdrawMax are perfect for analyzing your strengths, weaknesses, opportunities, and threats.
You can click here to get more SWOT examples as these templates won't fit your needs.
If you want to use the SWOT templates, you can click to download and use them for free!
Example 1: 3D Personal SWOT
The 3D SWOT technique is commonly used as a strategy assessment tool, especially when planning changes to an existing business model or analyzing current strategies. The 3D SWOT helps you better understand your business and competitors to choose better actions.
Example 2: Personal SWOT Analysis Questions
The Personal SWOT Analysis Question is about an individual or a company. Based on your business plan, it helps you answer four questions that reveal your strengths, weaknesses, opportunities, and threats.
Example 3: Simple Personal SWOT Analysis
A simple SWOT analysis is most effective in SWOT analysis and having an overview of a person or organization. It helps you identify areas that you need to improve in your life.
Example 4: SWOT Analysis Examples For Students
SWOT Analysis Examples For Students The most common method to analyze a situation is to perform a SWOT analysis. SWOT stands for Strengths, Weaknesses, Opportunities, Threats.
3. Tips for Personal SWOT Analysis
Here are some important tips for you before creating personal SWOT Analysis.
3.1 Why you need to do a personal SWOT analysis
Why use SWOT analysis over other methods? You might be asking yourself this question, hold on, because I got answers for you.
First introduced by Albert Humphrey in the 1960s, this method has since been proven the best method for self-assessments. There are hindered of other personal SWOT analysis methods, but this method still stands out from the rest. So here are a few reasons that show why:
Simple to use: This method is one of the simplest SWOT analysis tools that can be used by any person without the need for prior experience or even training.
Sustainable method: Unlike most methods, swot analysis method has stood the test of time. This is seen in its effectiveness rate, which hasn't really decline since the '60s and '70s.
Easy to understand: With swot analysis, you can influence decision-making. This is simply because it clearly differentiates between external (opportunities/threats) and internal (strength/weaknesses) factors.
Multipurpose method: Besides self-assessments, this method can also allow you to assess business competitors and places too. Great right!
These are just the chief benefits. There are many other benefits that come with using SWOT for self-assessment. Now you know what it is and its advantages, let's now learn how to complete a personal SWOT analysis.
3.2 How to complete a personal SWOT analysis
Personal SWOT analysis comprises of four key points, which are
Internal Factors
External Factors
Therefore, to complete a personal swot analysis, here are what you need to in each of these factors.
a) List down the Strengths
Highlighting your strengths refers to knowing what characteristics give you an advantage over others. By knowing these traits will definitely help improve your confidence in an interview. So, how do you do this?
NOTE: Don't be modest.
What strengths do other people see in you?
What other traits or skills will make you ideal for that post? i.e., your leadership qualities and great dedication to work
What type of business contacts do you have? Preferably in fields like insurance, marketing, and advertising.
Have you completed any campaigns or projects? If so, what are they?
With your expertise in a certain field, can you impact positive change in an organization?
What professional certifications or qualifications do you have that make you stand out from the rest?
b) Know your Weaknesses
When filling these sections, ask yourself these questions:
NOTE: Be honest while answering them.
What traits do you think you should and can improve on?
What traits have others considered your weakness? Even if you don't consider them to be.
Do you have bad habits? If so, what are they? i.e., bad time reporting, poor communication skills, frequently getting late, etc.
To deliver success in your current or future roles, do you think you have the essential skills or qualifications?
How do these questions help? Mainly it is essential to know your weakness so as to be able to answer or counter some questions in an interview. Furthermore, it helps you improve yourself as an individual because identifying your weaknesses is the best way to improve them.
c) Find "Opportunities"
For this, you will need to find matching opportunities that will suit your skillset.
What are the areas in which is your industry growing?
Can technology help you advance your industry reach and development?
Do you have powerful industry contacts, and how could these connections be of benefit to you?
What trends in your industry can you take advantage of?
What new impactful skills can you acquire to boost your skills portfolio?
d) Keep an eye on "threats"
By identifying possible threats that can impact your role in the organization, you can try to eliminate them if possible. Here's how to identify possible threats:
Do you have competition? If yes, then who? For example, are you fighting for the same promotion with your peers? -knowing if your peers can do or are doing better in similar roles is an essential thing.
What obstacles are currently affecting you in your role?
Will your experience slow your progress due to certifications or new technology demands?
Can current job and industry changes and progression affect your advancement?
Can your personal traits hinder your career advancements?
4. How to Use Personal SWOT Analysis Templates
EdrawMax is vector-based software that provides various templates for your personal swot analysis. It provides an easily understandable interface for its users to draw efficiently and helps users edit existing templates and layouts and make their designs or template. It also provides 26000+ symbols to illustrate your personal swot analysis. You can learn how to make personal swot analysis in details from this SWOT analysis guide.
There is the method of using personal swot analysis templates to design a perfect layout. The first method lets you develop a personal swot analysis after downloading the template and the EdrawMax diagramming software on your computer. Following is the guide for the first method on how to use personal swot analysis templates.
Step1
Install EdrawMax
You can edit the templates directly from this page. First of all, when your mouse click to the templates on this page, you can download the EdrawMax easily, or you can download EdrawMax here.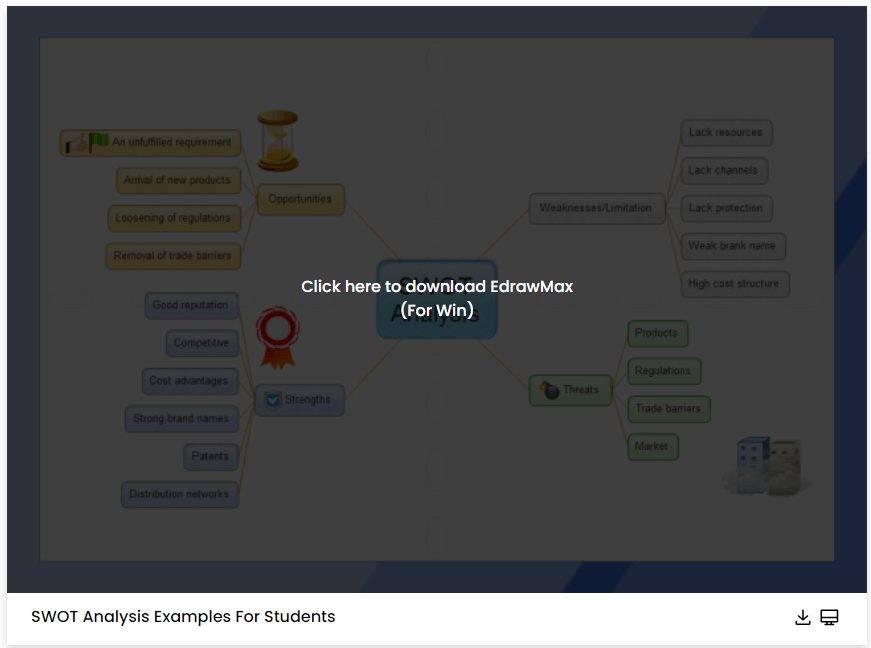 Step2
Download the Template
After installing EdrawMax, you can go and download the template by clicking on the bottom right corner or look for a template in the EdrawMax library without going online in desktop.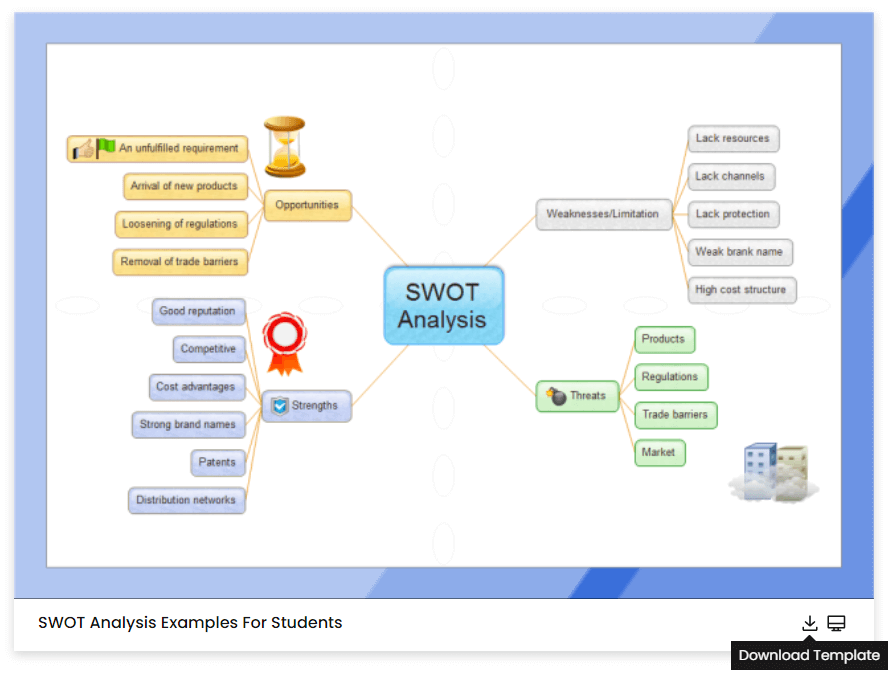 Step3
Open the Template
After downloading the template, you can double click to open it in EdrawMax diagramming software, or you can open EdrawMax beforehand and navigate to the template to open it. Every personal swot analysis diagram is incomplete without symbols. Head to the 'Symbols' section and click on the 'personal swot analysis ' and 'Personal SWOT Analysis' to import important symbols.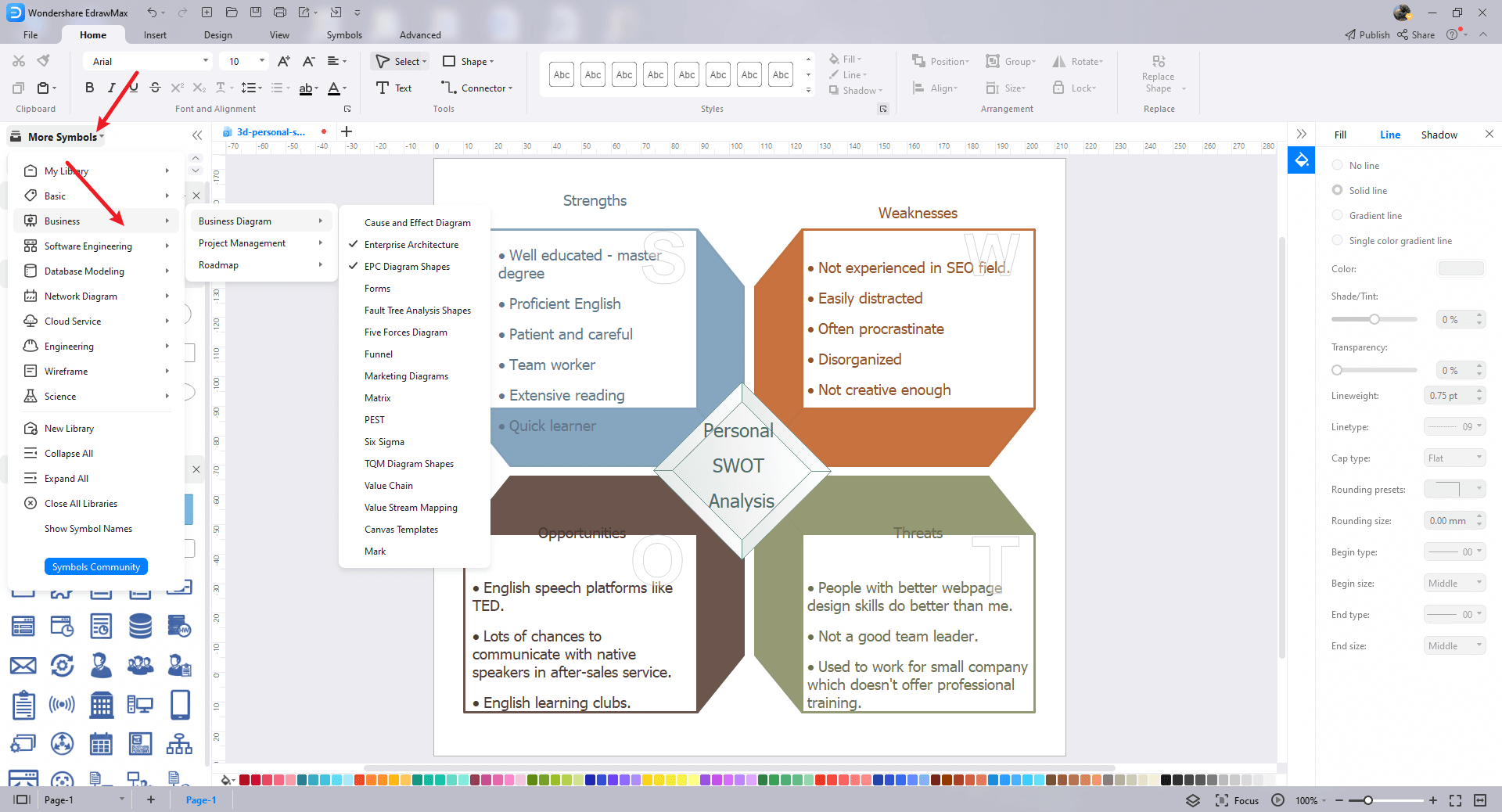 Step4
Customize the Personal SWOT Analysis Template
After opening it, the next step is to customize and edit the personal swot analysis template. EdrawMax gives you various unique diagramming tools that help you edit the template any way you want. You can change the color and the font liner of the template. You can edit the layout and include the list of requirements, measure dimensions, and render features using personal swot analysis symbols from the EdrawMax symbol library. EdrawMax features a comprehensive library with 26000+ professional symbols that you can use for free with an easy drag and drop.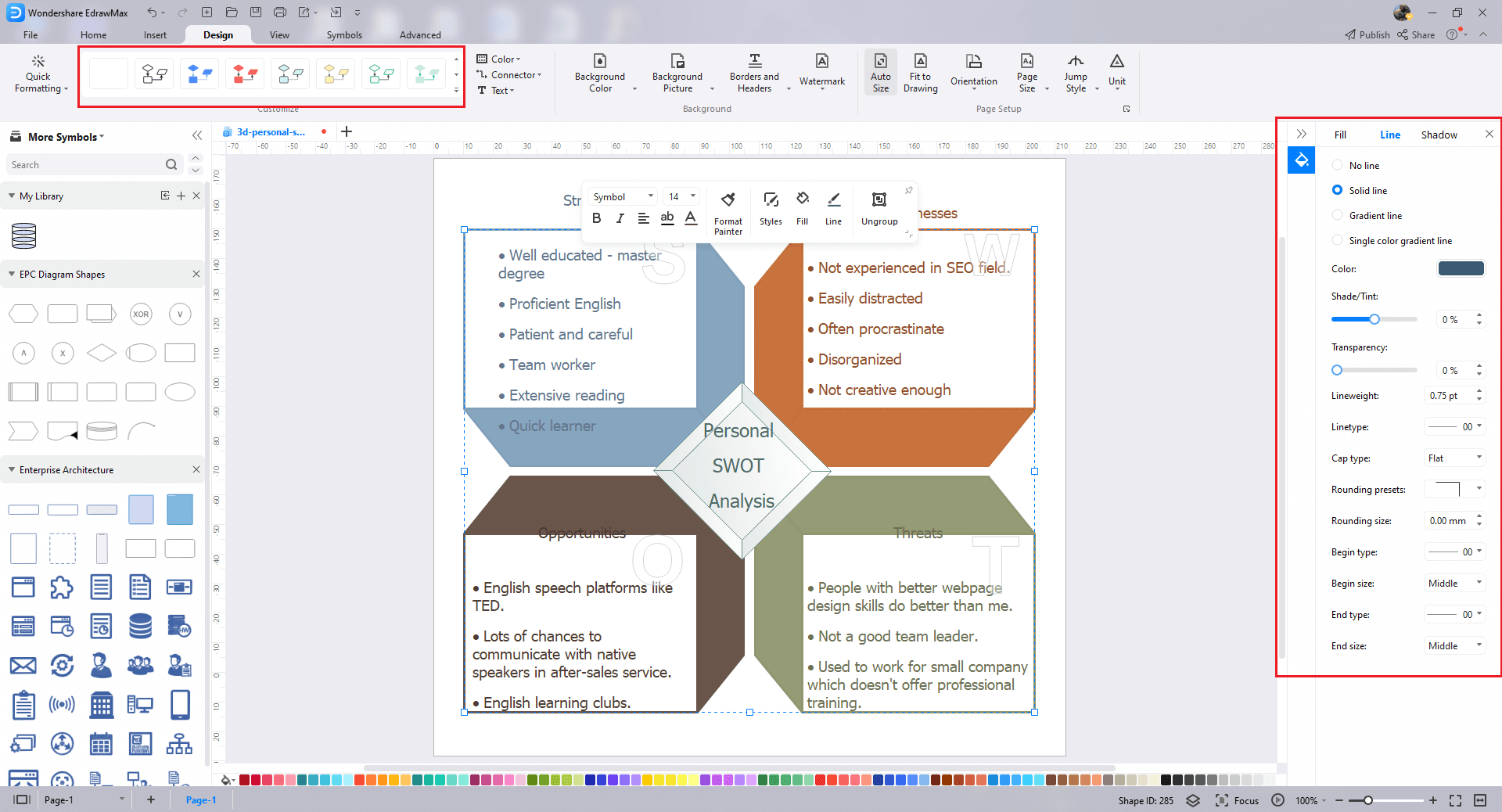 Step5
Save or Export
After you customize the personal swot analysis template and complete your personal swot analysis, the next step is to save or export your drawing. EdrawMax supports various document formats, which means you can export your drawing in any format you want, such as Microsoft Office, pdf, graphics, HTML, Visio, and many others. Export your drawing by going to the 'File' option in the top menu bar and clicking on 'export'. After that, select the document format and click 'ok'. You can also share your drawing on social media or print it directly from EdrawMax. EdrawMax also gives you a presentation mode that you can use to show your drawing to others or your team members.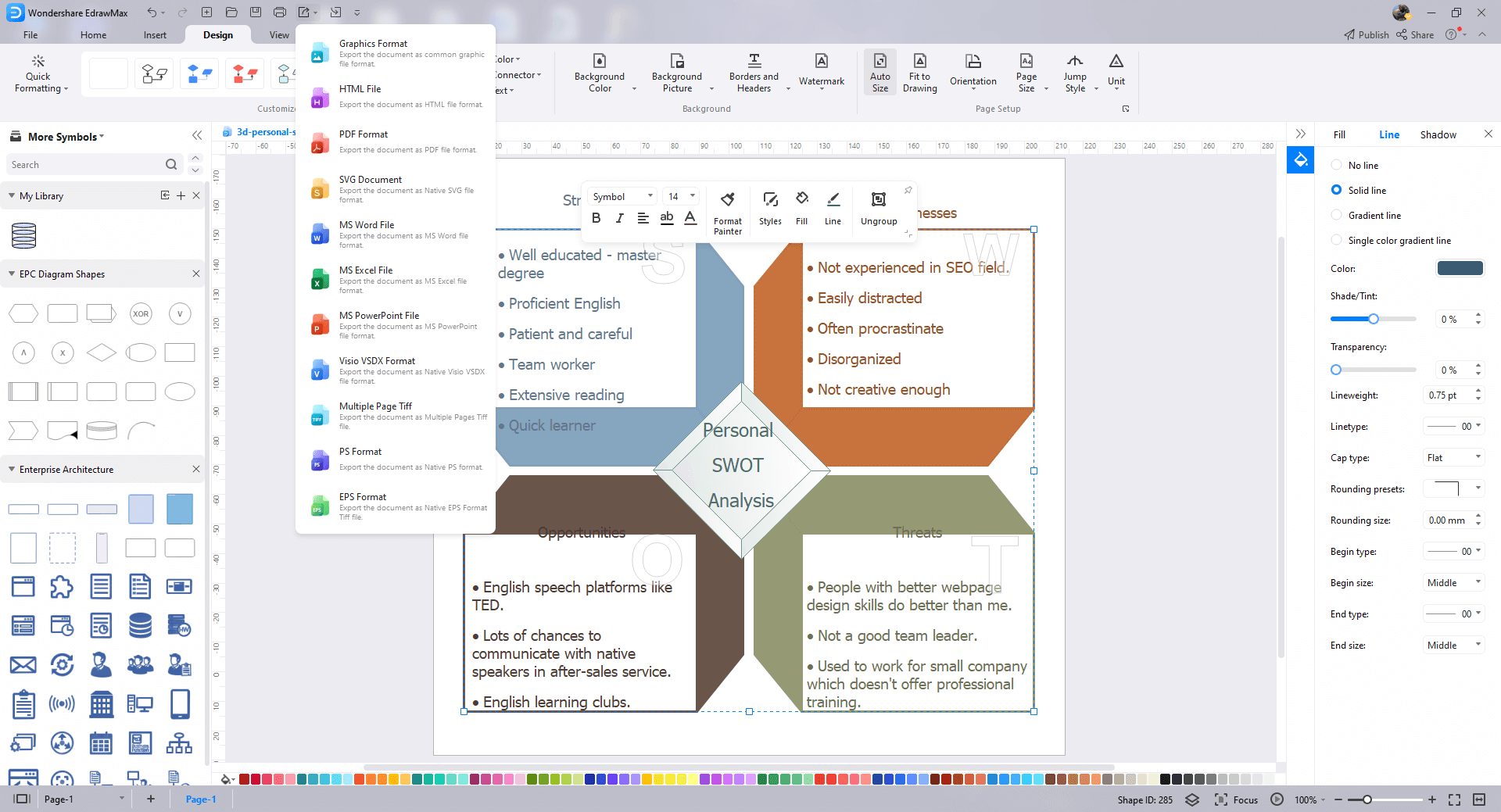 5.Free Personal SWOT Analysis Software
EdrawMax is the best free personal SWOT analysis software that includes an extensive collection of free templates you can download and customize to fit your needs. How can it help yourself to develop a better strategy? For instance, EdrawMax can help you improve your competitive edge by making a SWOT analysis. It can show you which competitors have strengths and weaknesses. It can highlight potential threats. It can help you formulate new strategies to be developed into practical business plans. In short, EdrawMax can help you win.
EdrawMax offers easily editable templates with various options for displaying relationships and emotions.
Professionals prefer EdrawMax because of its simple user interface and excellent team collaboration features.
You can easily share the personal swot analysis with others using the built-in option.
Its user-friendly dashboard and simple drag-and-drop feature make it the best free personal swot analysis software for both beginners and professionals.
It can export and import files into various formats, including MS Office, Graphics, PDF, HTML, Visio, and others.
All of your personal personal swot analysiss are encrypted for maximum security. Hence, you do not have to be concerned about losing your data.
EdrawMax Desktop
Create over 280 types of diagrams
Windows, Mac, Linux (runs in all environments)
Professional inbuilt resources and templates
On-premises software for business
Enterprise-level data security
EdrawMax Online
Create over 280 types of diagrams online
Access diagrams anywhere, anytime
Team management and collaboration
Personal Cloud and Dropbox Integration
6. Final Thoughts
As we have discussed, personal SWOT analysis can be a handy tool in helping us identify strengths, weaknesses, opportunities, and threats when undertaking various tasks.
ysis software for professionals, students, and medical specialists.
In business, we use it to plan, evaluate, and predict what our competitors are likely to do next. It's a way of taking a bird's eye view of your business and planning strategies to overcome competitors, stay competitive, and continue to grow your business. The key to developing a strategy is understanding your business's strengths, weaknesses, opportunities, and threats (SWOT). This can inform business decisions, identify a potential career change, and develop a game plan for success. The great thing about EdrawMax personal SWOT analyzer templates is that they help you analyze any company or person you know. The SWOT technique helps you see and analyze your competition and decide which opportunities are best to exploit and which threats can be avoided.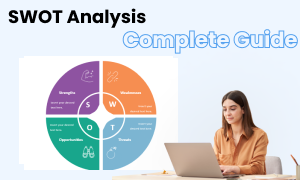 SWOT Analysis Complete Guide
Check this complete guide to know everything about swot analysis, like swot analysis types, swot analysis symbols, and how to make a swot analysis.