Each product created plans to fill a particular client need, yet pinpointing what clients need is surprisingly troublesome. When you build up a product, you need to think about a broad scope of viewpoints, acknowledge bargains and settle on essential choices every step of the way. This is the best way to make a great product. It would be best if you zeroed in on consumer loyalty, yet you can't overlook specialized prerequisites and cost-viability.
You need to adjust these elements on the off chance you need to build a fruitful product. Here's the place where the house of Quality comes in. This framework allows you to investigate client and product-explicit angles in fine detail. We'll clarify how it functions.
Quality function deployment (QFD) is a system made in light of this issue: It's centred around giving an unmistakable structure to tending to client needs, starting with a framework called the House of Quality. Peruse on to study QFD and how our House of Quality layout can assist you with building up a product that resounds with clients.
Part 1: What is the House of Quality?
The house of the quality cycle is a part of quality function deployment. The QFD strategy assists you with guaranteeing Quality when you create products and convey administrations. QFD utilizes different matrices for this reason. The first and regularly most significant matrix in QFD is the house of Quality since it's formed like a house with a rooftop and body. In this matrix, you start by isolating customer needs from specialized prerequisites and assessing the two factors autonomously of one another. You, at that point, connect two kinds of necessities and begin making execution arrangements.
Part 2: Purpose and benefit
The house of Quality offers a lot of purpose and benefits. The primary use comes from essentially making the graph. Representatives and managers from various departments come together and team up on the house of Quality. This unavoidably prompts helpful conversations. The contribution from various offices eventually guarantees a top-notch, enduring, and influential product.
There are additional benefits once the house of Quality is finished. On account of perception, a ton of essential data for arranging and improvement is accessible initially. Groups can over and again counsel the chart with its diagrams and frameworks all through the product improvement.
Part 3: What's Quality Function Deployment?
It's an exceptionally specialized sounding name for an interaction that assists organizations with coordinating the Voice of the Customer into product advancement. Quality function deployment will benefit you in many ways, and it can help you in the following methods.
Focus on customer needs and then create objectives: deciding execution objectives, it's impossible to quantify how well the product is satisfying customer needs. Think about execution measurements, ideas, plan attributes, measure boundaries, and production controls.
Documentation of all Requirements: This advantage ought to justify itself: Without reporting the necessities, customer needs are essentially a round of phone that can be misjudged from one division to another.
It also helps in the prediction of how your marketed customers will respond to your product.
Understanding the Customers: Often, customers don't have a clue what they need or need. The quality function deployment intends to comprehend customers better than they know themselves.
As should be obvious, every part of the QFD has highlighted the primary information. Being what your association comprehends as per your customers' requirements, in light of criticism from overviews, centre gatherings, interviews, and so on, those customer needs are the bearings your association should follow to build a fruitful product.
Part 4: Phases of the QFD Process
Following are some of the primary phases of the Quality function deployment process;
1、 Product Definition
This phase involves the house of Quality and gathers all the voices of customers through the survey, interviews, groups and information gathering methods. After collecting the information. It determines the customer requirements and turns them into design and features requirements to have a better customer market.
2、 Product Development
After the product definition, the team will now translate all the specifications mentioned in the Quality of the prioritized product. The team in this phase will assemble the characteristics and define all the functional requirements.
3、 Process Development
this phase includes the manufacturing and assembling of the design process. So, the specification of the product is fulfilled.
4、 Process Quality Control
In this phase, we can identify things with the Quality function development process to ensure that all the characteristics are fulfilled.
Part 5: What to do Before Creating a House of Quality?
Find out what customer needs.
See how the product will fulfil the customer. It alludes to distinguishing explicit product qualities, highlights, and traits and showing how they will meet customers' needs.
Understand the connections between how's. Two or three inquiries are to be replied to here: How do our how's integrate? What is the relationship between us at most minuscule two how's?
Create significance appraisals. It alludes to utilizing the customer's significance appraisals and loads from the connections in the matrix to process our significance evaluations.
Assess contending products or services. The inquiry to be replied to here is: How well do claiming products meet customer needs? This movement is founded on research.
Decide the unique, specialized properties. In this progression, our exhibition and the contender's presentation are resolved and analyzed.
Part 6: How to Make a House of Quality in EdrawMax?
EdrawMax has made everything very easy, time and user-friendly with its pre-made templates. That is not only well made visually but also comes with a lot more room for adding the specific details and stuff you might want to add in your house of the quality diagram to make a splendid impression. To make things easier, the following are the simples' steps you can take to make a house of the quality diagram in EdrawMax that you can also download on your computer;
Step 1: Open EdrawMax or download it on your computer.
Step 2: Go to the search bar and write House of Quality, and press enter.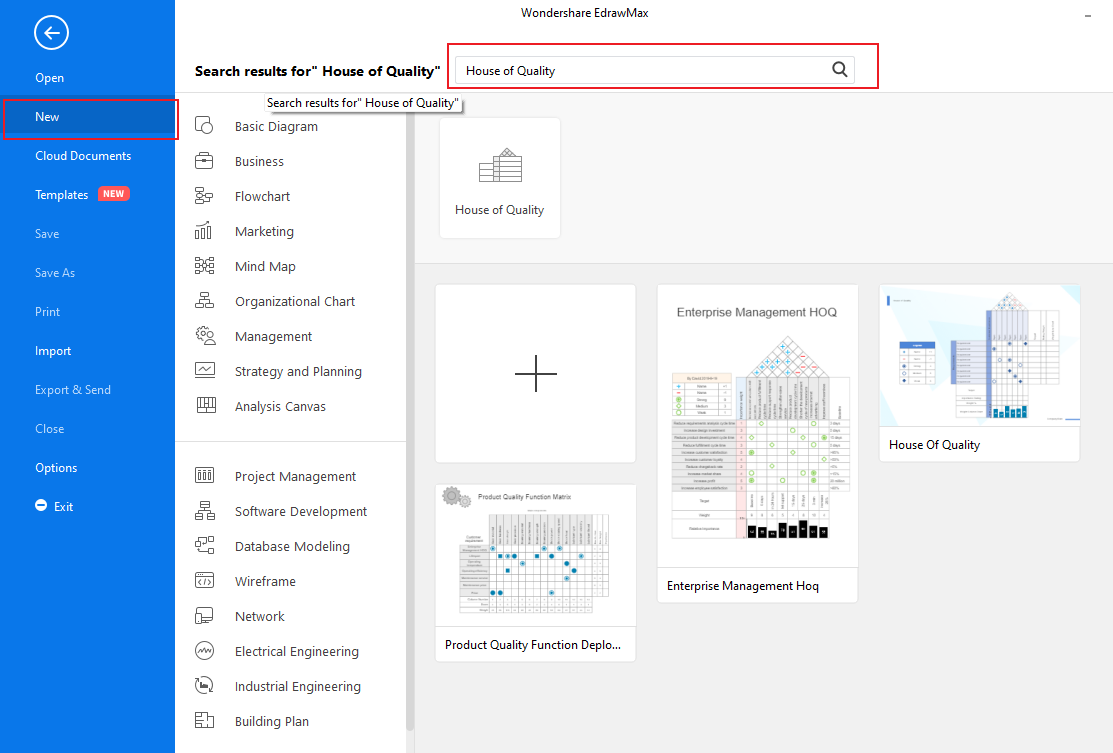 Step 3: Now, you will see many diagrams and templates, choose the one you like and click on it.
Step 4: Now that you have a diagram, you can edit it according to your requirements. You can change the shapes, colours, and boxes according to your liking.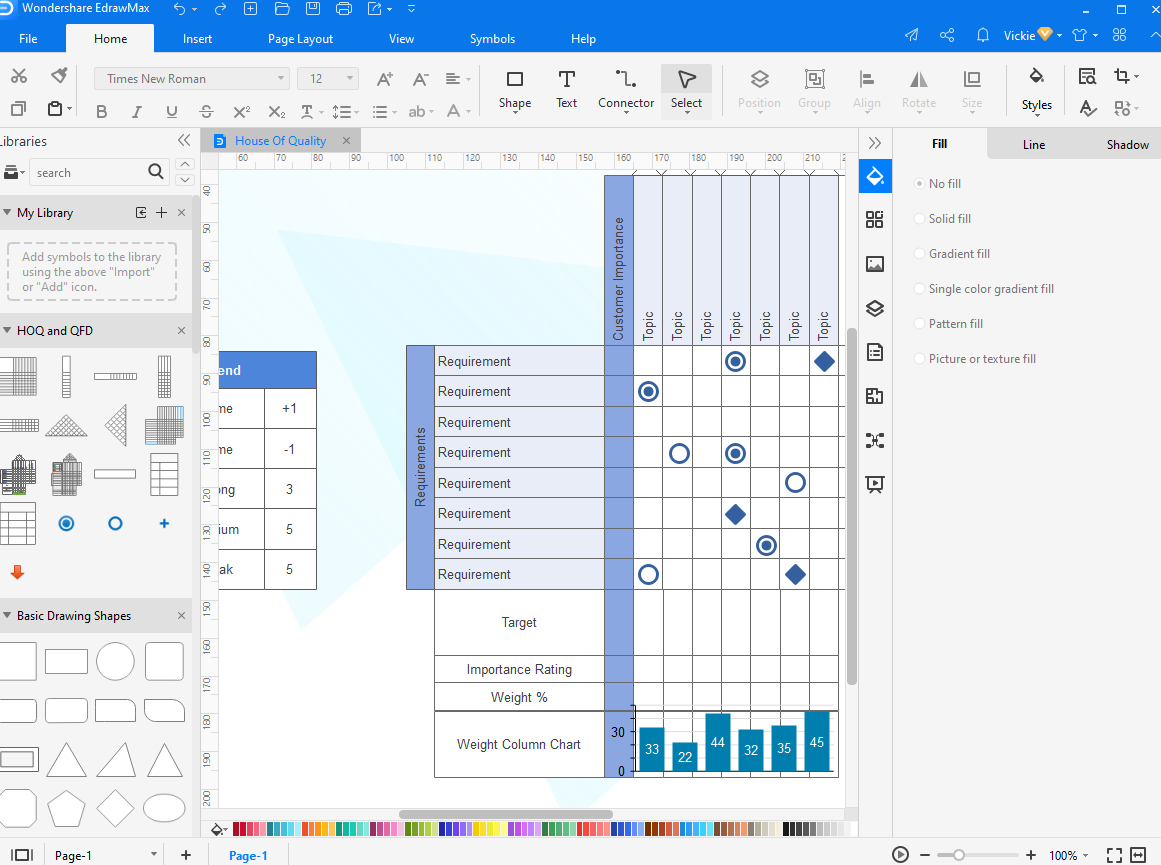 Step 5: Once you are satisfied with your results, you can press save and export it to your computer in various forms, be it PDF, HTML, graphics or Word and PowerPoint etc.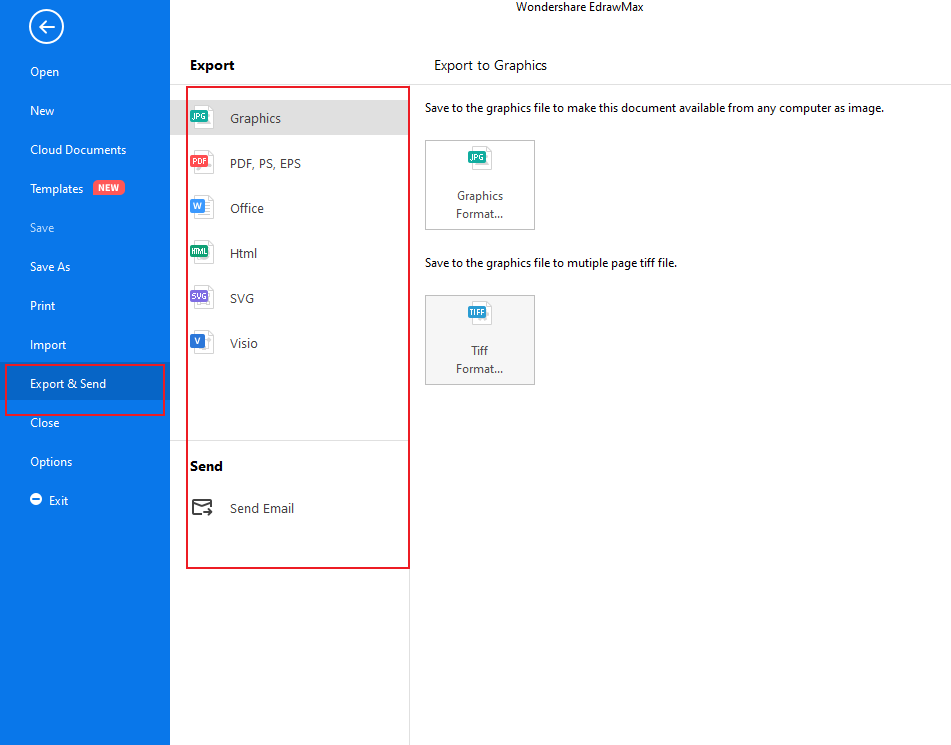 EdrawMax
All-in-One Diagram Software
Create more than 280 types of diagrams effortlessly
Start diagramming with various templates and symbols easily
Superior file compatibility: Import and export drawings to various file formats, such as Visio
Cross-platform supported (Windows, Mac, Linux, Web)
Security Verified |
Switch to Mac >>
Security Verified |
Switch to Linux >>
Security Verified |
Switch to Windows >>
Part 7: Tip for making House of Quality
There are some tips for you to make a better house of quality chart. Make sure to incorporate these tips, and you will be good to go; the following is some of the information for making a house of Quality.
Make sure you remember to add customer's reviews, wants and ratings.
To make a precise and to the point house of Quality is always remember to note down the design requirements.
Before making the house of Quality, you have weighed both the design requirements and match them with customers' needs.
Do research your competitors and add the study too.
Part 8: Examples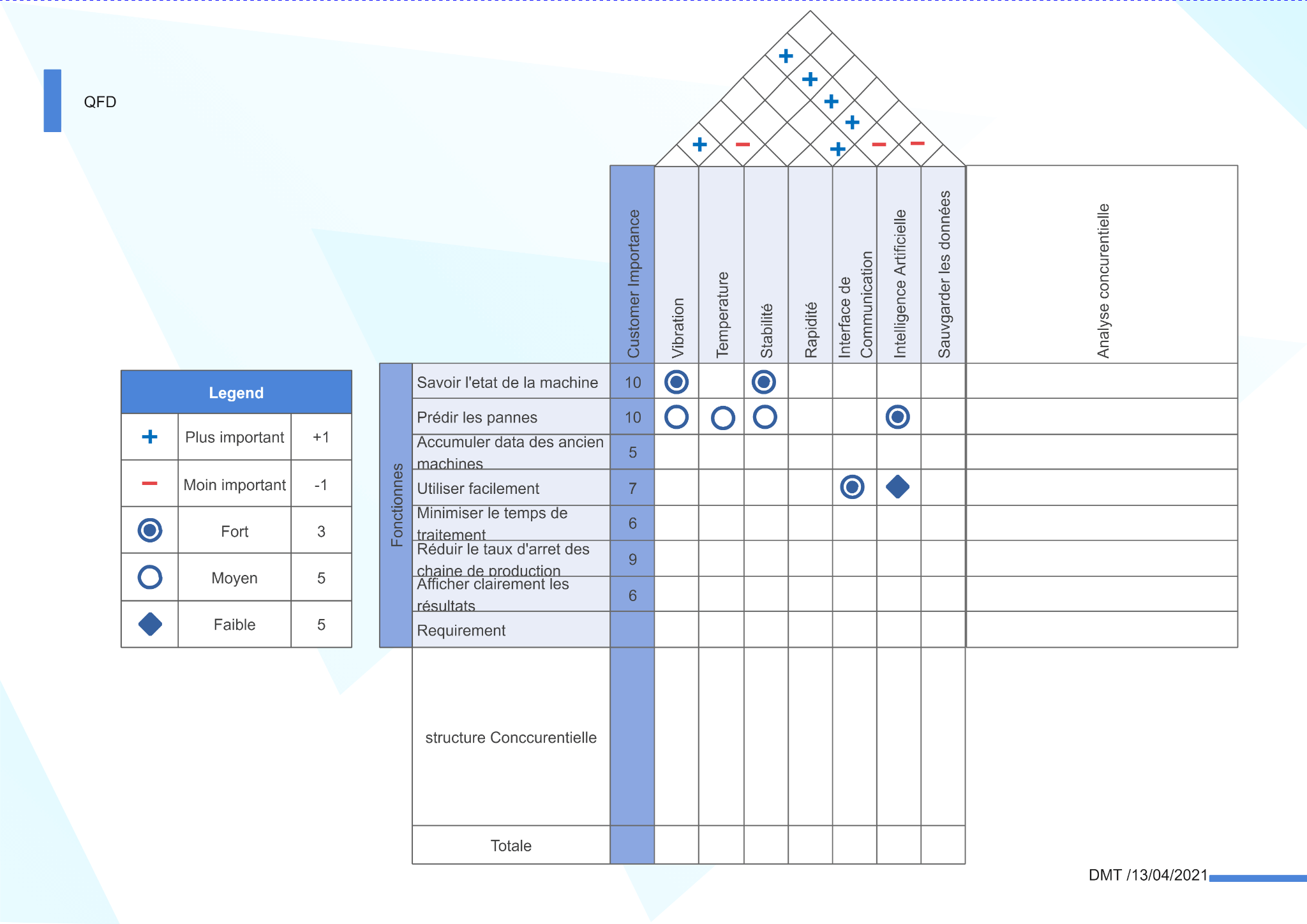 For instance, if clients might want a more affordable cell phone, the expense of production will firmly add to the cost. The operating framework, battery, and glass utilized in the product will likewise influence the general expense to clients, yet not as unequivocally.
More Examples