Knowledge
Leaflets
Know it All about Leaflets
A leaflet, or more commonly known as a brochure, is a single sheet of paper that is printed on both sides and is then folded to create a template. They are made for informative or just advertising purposes and are usually distributed for free. The message is clear and concise, and the sheet has a lot of graphics to allow a good visual hierarchy.
Part 1: What is the Purpose of A Leaflet?
Leaflets are considered grey literature and are usually promotional. They are an easy and effective way of spreading the word and gaining customers. Distributing brochures is a big part of marketing strategies and product selling tricks. Let's have a look at why is this so?
Cost-Effective Advertising
They are a cheap way of publicizing a product or a brand compared to doing it via digital marketing. You could print them and hire someone at an hourly rate cheaply to distribute them at the more crowded places in the entire city. Compared to that, digital and social media ads can be quite pricey and cost small businesses a lot of money. Leaflets are especially beneficial for small businesses that are low on money but need to reach a large customer base.
Inform
Leaflets are the perfect way to inform people about your business and what it entails. This will immensely improve your visibility and help create a brand image. With no restrictions to the word limit, you can add as much information as you want or limit the information and let the images speak for themselves. You can add contact details, list your products and persuade customers why your business is the best choice for them.
Entice Customers For a Long Term
Studies have shown that 79% of the people hang onto the leaflets given to them or slid through their doors. And even when we don't instantly notice them, they will surely lie around our house for some time until we finally look at them and make an impulsive buy. Leaflets, especially those with menus, get us instantly into the ordering mood and plant that seed in our minds. So, leaflets in our mailboxes are very effective in gaining users' attention and persuade them to make a purchase.
Part 2: When to Use a Leaflet?
Advertising through leaflets is a very popular way for small and large businesses to inform the people about what they sell. But, with many other advertising methods in the market, it cannot be easy to spot the best method for your marketing strategy. Here are some conditions where using a leaflet might be the best course of action:
More Information in Less Space
Digital marketing is the latest marketing gimmick, but certain restrictions come with it. For digital marketing, your content must be limited to a specific word count and characters. On the other hand, leaflets can easily be filled with as much information as you require. Keeping in mind an interesting layout, you can organize the content, including images, contact information, and business logos.
Attractive
Leaflets are surely one of the more appealing methods to get the attention of your customers. Full of images and an interesting layout, people are attracted to the colorful design. Usually, more eye-catching offers are displayed in larger fonts to grasp their attention from afar.
Targeting Specific Type of Customers
Leaflets are ideal for advertising your product if you want to ensure that your customer at least looks at it. Usually, leaflets are distributed by hand to the people, and markets that do not have access to digital mediums can be tapped using leaflets. Moreover, digital leaflets can be distributed in email lists to inform people of any new offers or discounts.
Part 3: How to Create a Leaflet with EdrawMax?
1. Open the EdrawMax software and log in to your account.
2. Open the Graphic Design tab and select Brochure.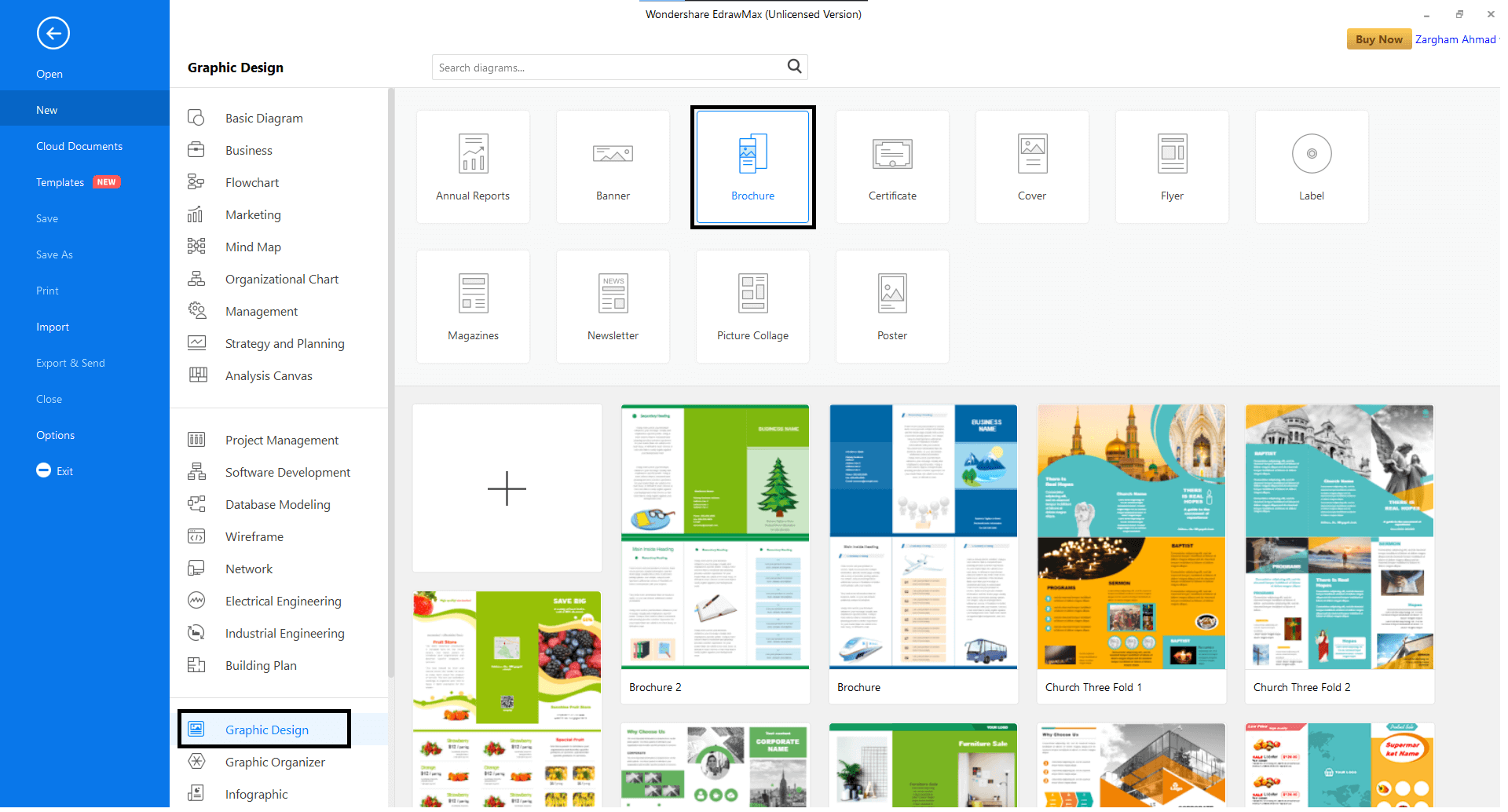 3. Click on the plus-shaped icon to start from scratch or select a pre-made template from the given options.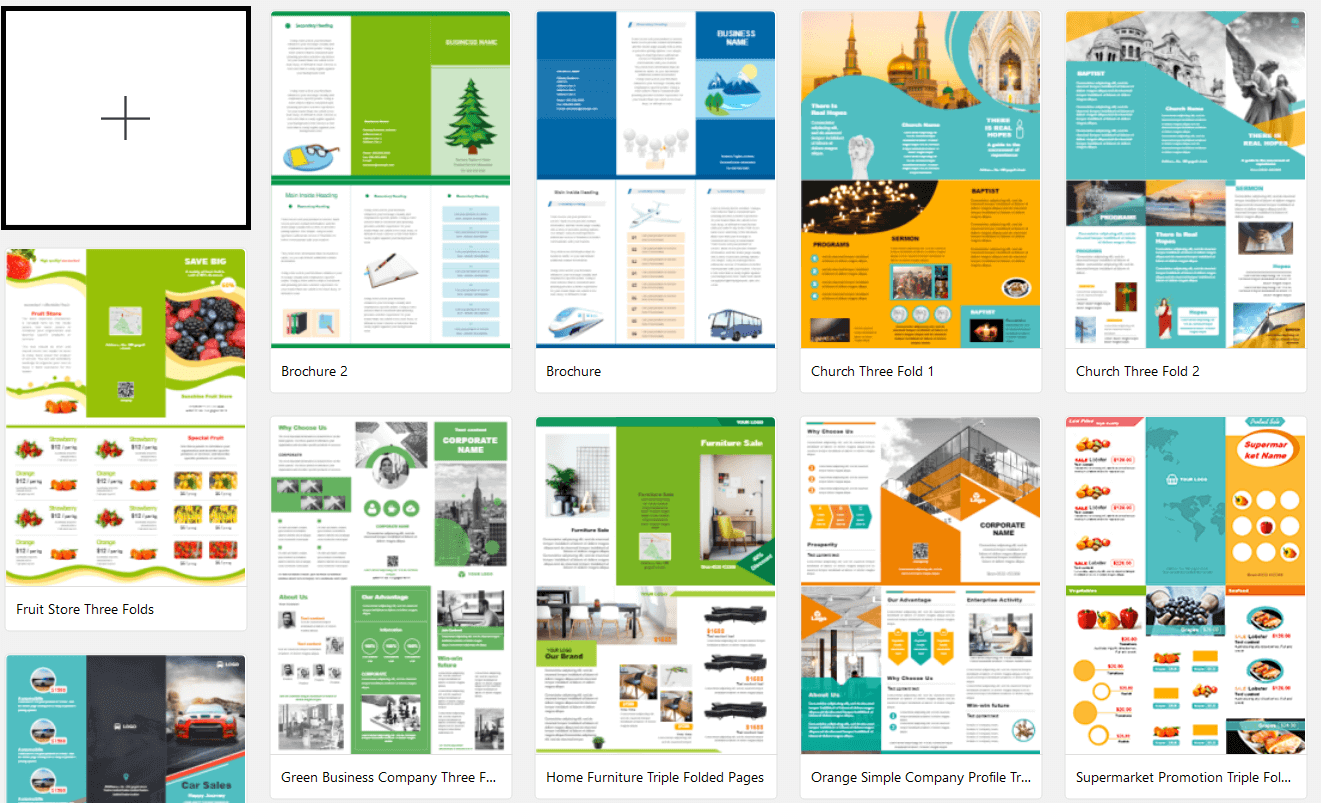 4. Use the editing tools and formatting options to customize your leaflet.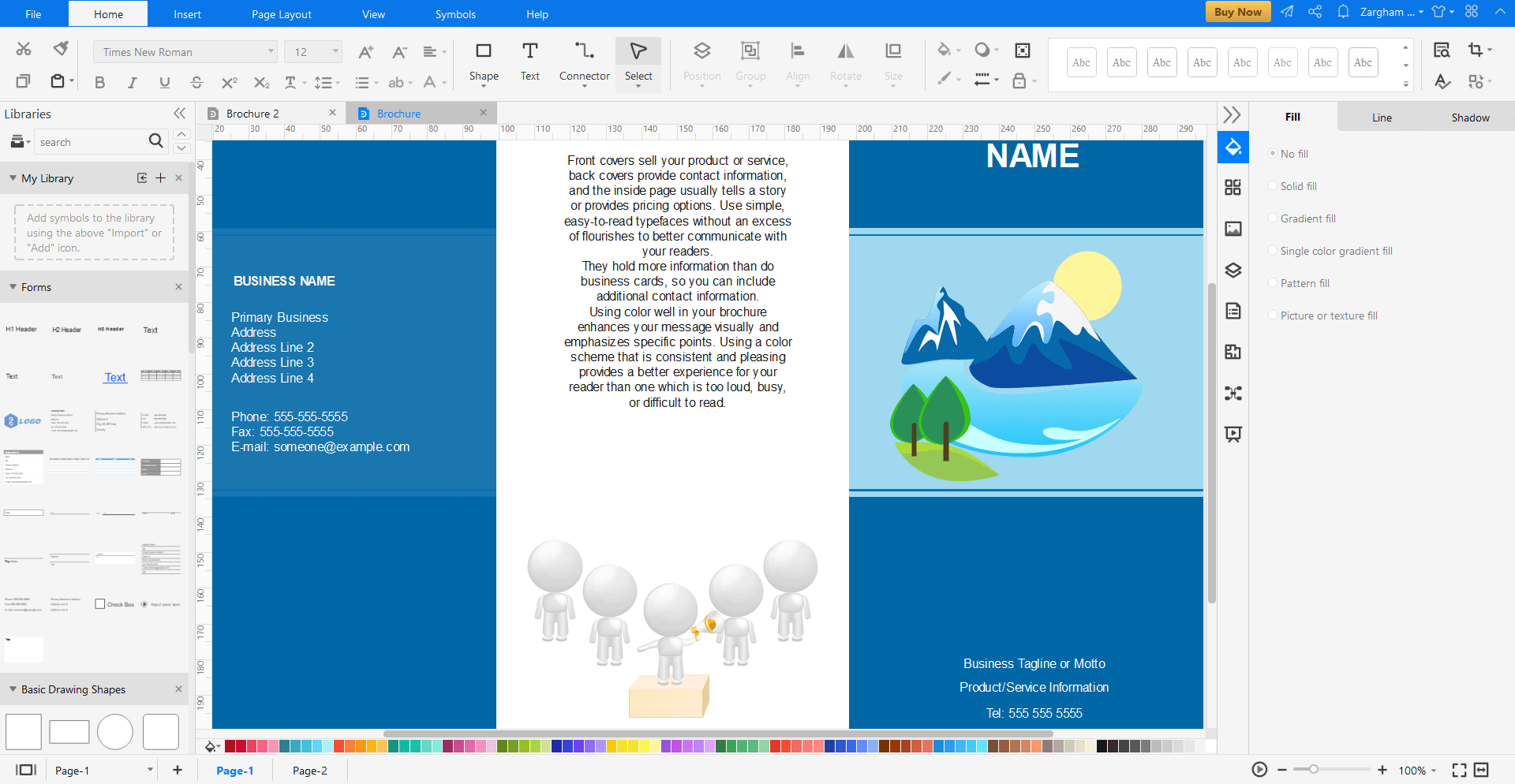 5. After you are done creating, select the File tab in the extreme upper right corner and select Export & Send. Select the type of file to save your work in the desired format.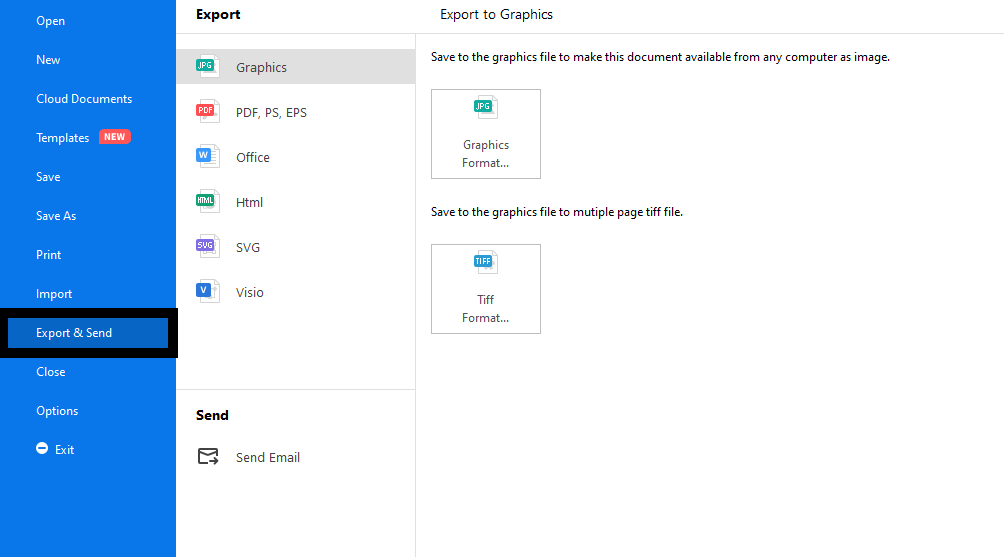 EdrawMax
All-in-One Diagram Software
Create more than 280 types of diagrams effortlessly
Start diagramming with various templates and symbols easily
Superior file compatibility: Import and export drawings to various file formats, such as Visio
Cross-platform supported (Windows, Mac, Linux, Web)
Security Verified |
Switch to Mac >>
Security Verified |
Switch to Linux >>
Security Verified |
Switch to Windows >>
Part 4: Tips to Make the Best Leaflet
Making leaflets with a similar design will, at a point, turn monotonous and not interest the people at all. One needs to add fresh and engaging designs to reach their audience. Here are a few tips for doing that:
Define your Market
While designing your leaflet, it is vital to keep your audience in mind. Who is going to see your leaflet? By thinking like the customer, you will be able to create content that will click with them more. Specifying the demographics of your audience will help you understand if your products are what they need.
Folding is Important
While folding might not look like a very important factor, but it surely is. Folding determines how impactful your leaflet is and if your customer is engaged enough to look into details.
Type of Content
Your content must be to the point and engaging. Do not try to add extra details and unnecessary information. Keep in mind that less is more, and let your infographics and images speak for themselves.
Layout and Proofing
The layout is extremely important where leaflets are concerned. The layout plays a vital role in hooking the audience's attention and maintaining it. The layout includes the font for the most important details and how you divide the content, so it does not seem boring at all.
Make sure you proofread your leaflet before printing and distributing it. Grammatical errors can bring a negative impact on your business. Ensure that the language and words are easy to understand by your potential customers.
Part 5: Templates of a Leaflet
A leaflet is exceptionally important for the promotion of your Brand and Business. The leaflet can be made for awareness purposes, information, or promotion. Here are several types of leaflets that you can make with EdrawMax.
Supermarket Sale Brochure
Ever since the advent of e-commerce stores like Amazon, traditional shopping spree has taken a backseat. However, supermarket sales still retain their charm for calling in customers with discounted prices and exceptional offers.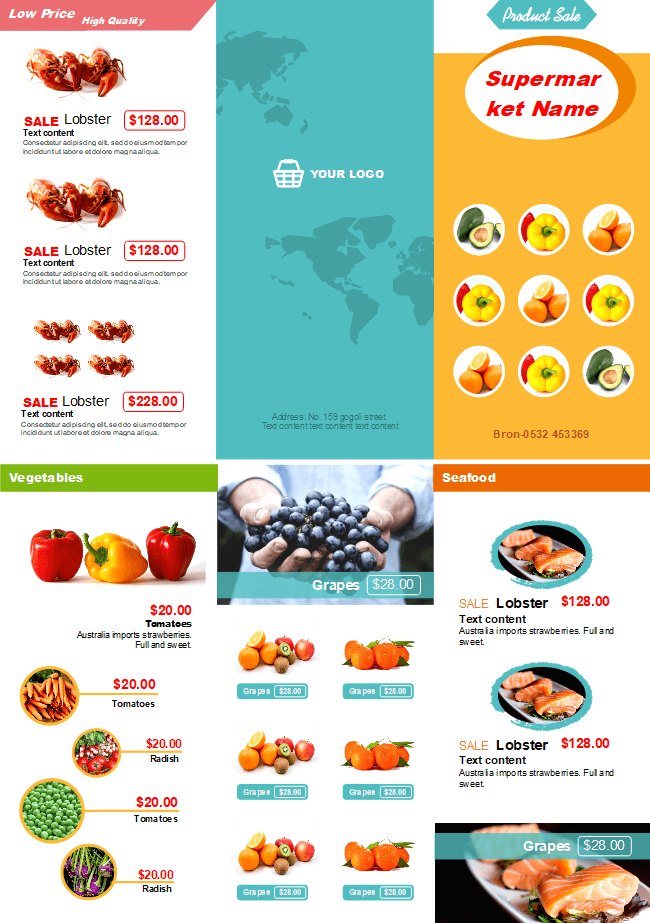 Travel Agency Brochure
The most successful travel agencies are those which have a lot of beautiful pictures to show to people of the places they can potentially visit. Holding a brochure with many breath-taking pictures arranged in a well-designed layout will make people want to travel and take a vacation right away. Add in some interesting packages and an affordable price to maintain the interest of your customer.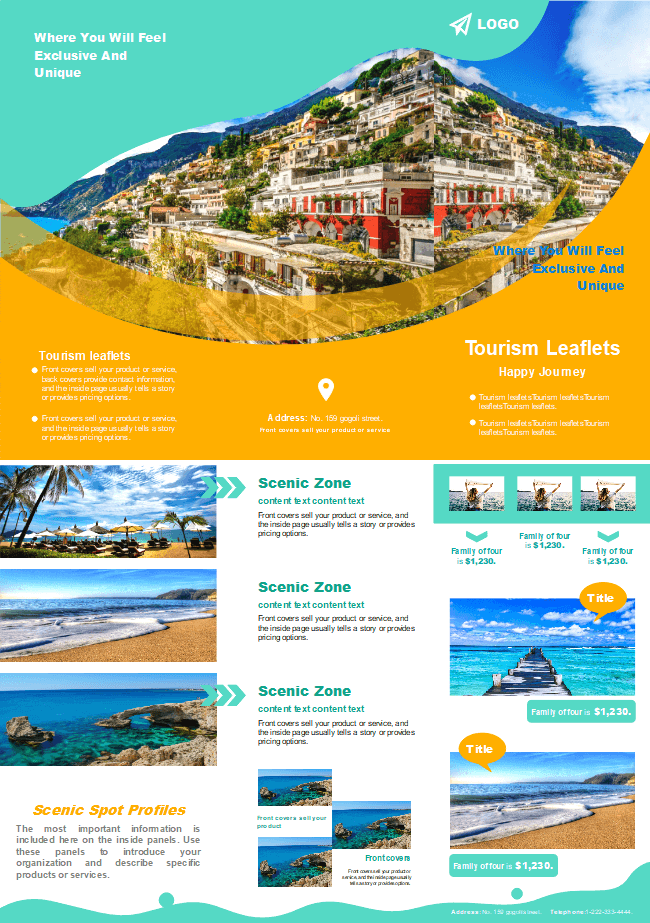 Bakery Shop Brochure
Are you a home chef or own a bakery that you would like to promote? A leaflet is a fantastic way to reach your customers and entice them with your delicious desserts. Take mouthwatering pictures of your desserts and display them all over your leaflet to show your potential customers just how good you are.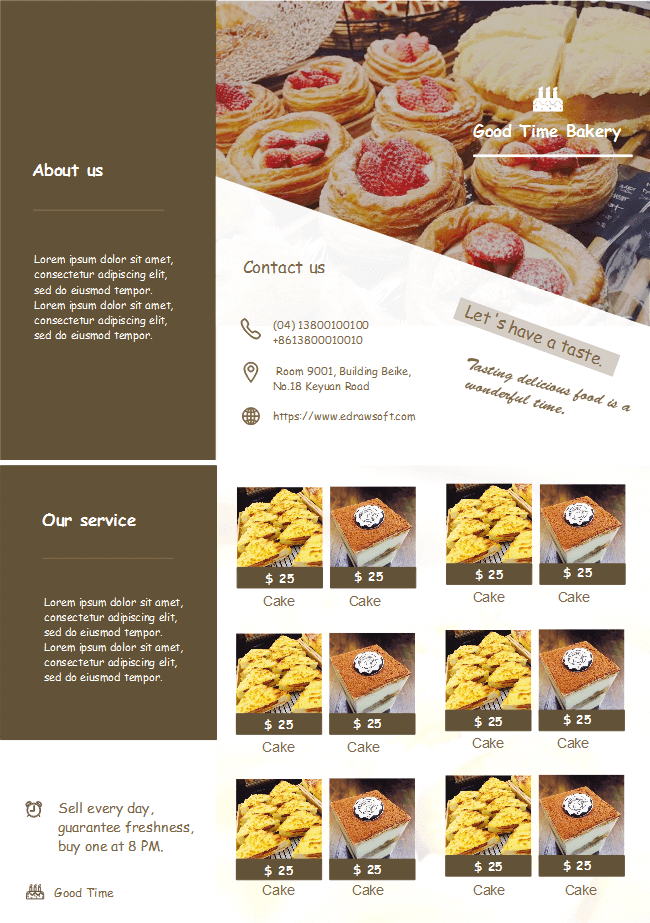 Part 6: Conclusion
Creating a leaflet all on your own is no easy feat. But EdrawMax makes it exceptionally easy with its ready-to-use templates and designs. Make sure the content in your leaflet is engaging and easy to understand. With plenty of images and a captivating layout, you'll have a lot of customers on your doorstep in no time.
Related Articles
Know More about Leaflets with EdrawMax. Try it Free!
LEARN MORE