How to Do A SWOT Analysis
Present findings in a visual matrix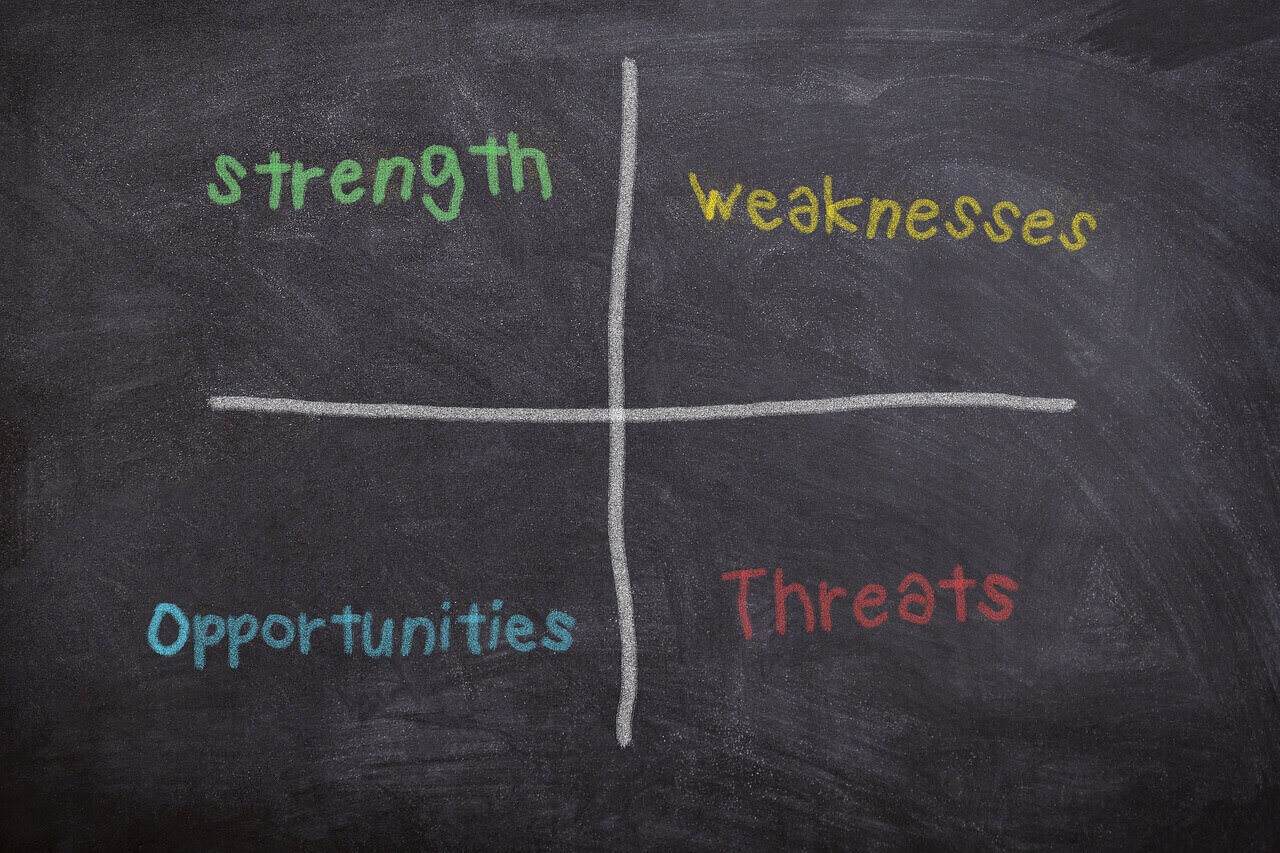 Part 1: What is SWOT Analysis?
A SWOT Analysis is conducted to help businesses identify what their strengths, weaknesses, opportunities, and threats are. Businesses can use the information gathered from the analysis to determine what they should continue doing, based on their strengths, and what things they should avoid, based on their weaknesses and threats.
SWOT diagrams are used to present these findings in a visual matrix. They are great for helping companies assess their strengths and weaknesses, and can use that information to make wiser strategic business decisions.
Part 2: How to Make a SWOT Analysis Diagram Effortlessly?
How to make a SWOT analysis diagram easily? Using EdrawMax to create your own SWOT analysis diagram.
Step 1: Open EdrawMax desktop software or EdrawMax web-based application.
Step 2: Navigate to [New]>[Strategy and Planning]>[Business Matrix]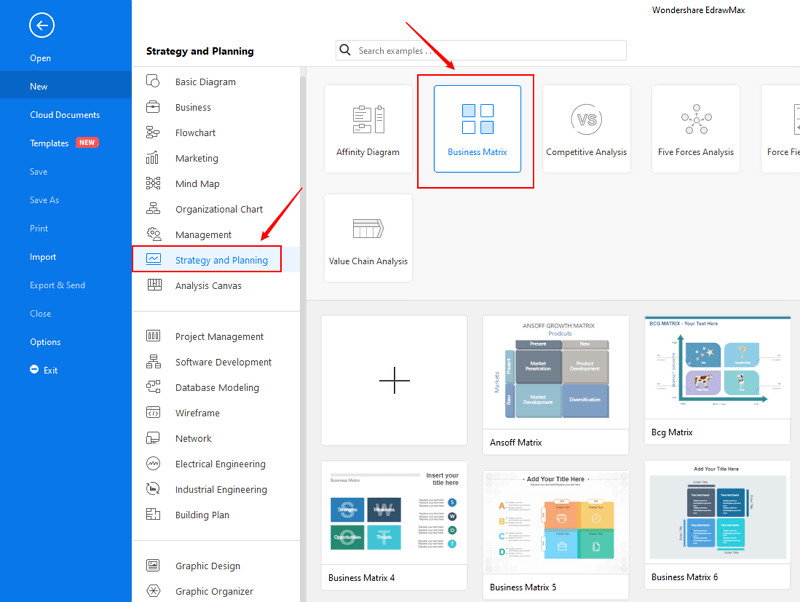 Step 3: Select one SWOT analysis template to edit on it or click the [+] sign to start from scratch. Also, you can use massive SWOT analysis symbols and elements from libraries in left menu to customize your SWOT analysis.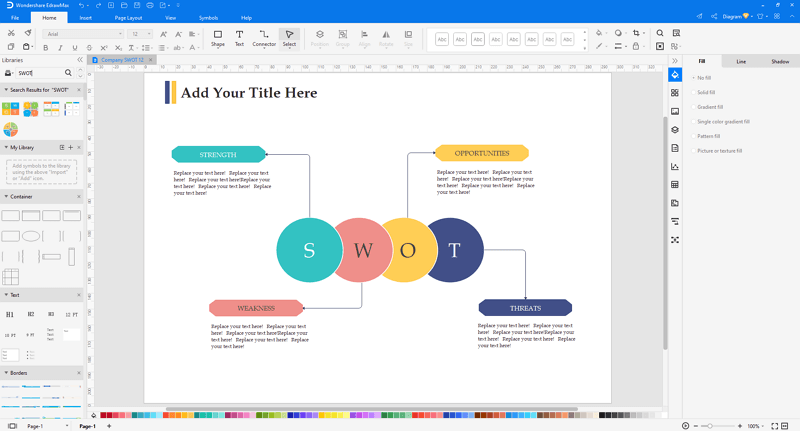 Step 4: Once finished your creation, you can export the file in multiple formats, including Graphics, PDF, editable MS Office file, SVG and Visio vsdx file.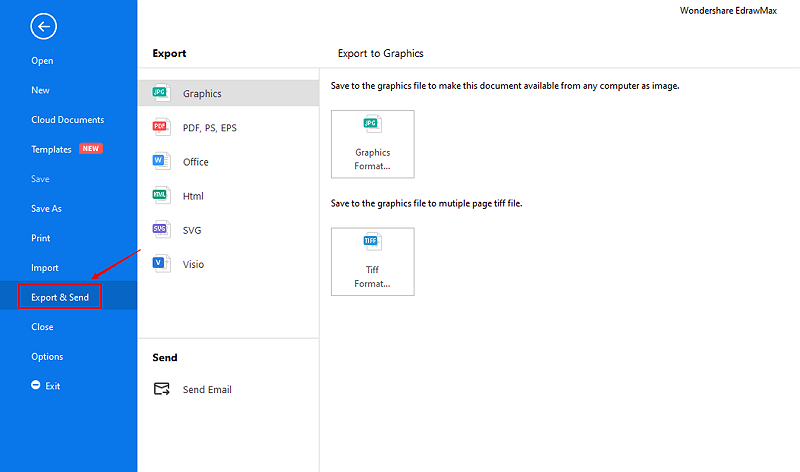 Step 5: Besides, you can share your diagram with others via social media and web page. Or publish your diagram in EdrawMax template gallery to show your work with others.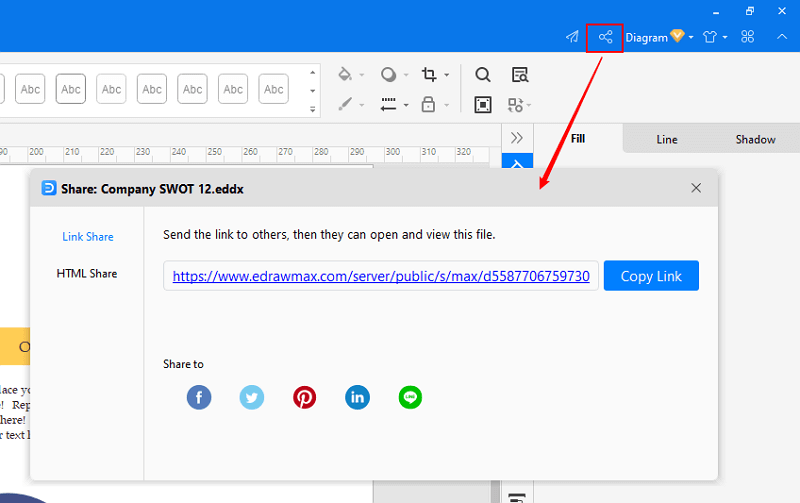 Part 3: SWOT Analysis Examples
Example1:
Strength: Google's powerful search algorithm works to display the most relevant results to things that you search for, and will also suggest other web pages with similar content to what you are looking for. Google Adwords also works to supplement this process. Additionally, Google's Artificial Intelligence capabilities extends to functions such as Written Word, Website, and Speech Translation.
Weakness: Google Ad revenue, and company profitability, can be severely impacted by economic downturn - such as the global pandemic in 2020. In addition, companies such as Apple are working to create new search engines that will rival Google's, further affecting its position in the market.
Opportunity: The Android operating system presents itself as a very lucrative opportunity for Google in today's digital world. Other areas it can explore are Cloud Computing and Payment Gateways, as well as diversifying their hardware and software portfolio.
Threat: Tech giants such as Alibaba pose a significant threat to Google's market position, especially in China. In addition, it faces competition from companies such as Apple in the voice assistant field.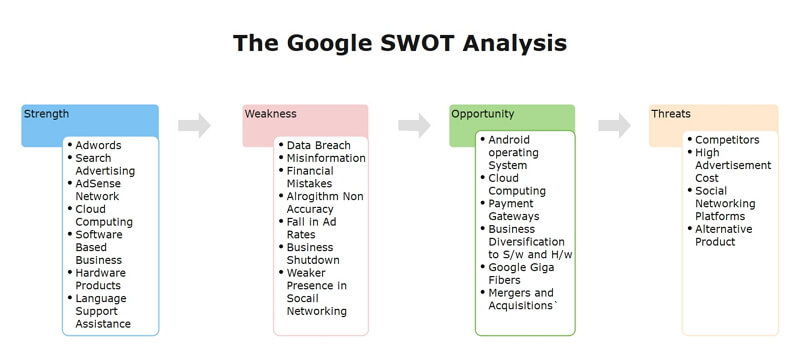 Example2: Restaurant SWOT Analysis
Strength: The restaurant's reputation and hot location are its main strengths. It can take this opportunity to experiment with different food options and menus, while also strengthening its relationship with regular customers.
Weakness: Being a small restaurant, its costs are higher than chain restaurants that can take advantage of economies of scale. In addition, its single location and small advertising budget, combined with it not using food delivery apps, means that it is limiting its potential for growth.
Opportunity: Being a small, local business, they can connect with other local food vendors to source ingredients. This will cement their reputation as a truly local restaurant. They can also experiment with interesting, seasonal menus, and increase their capacity for growth by embracing technology, namely food delivery apps.
Threat: Being a small restaurant, they may be particularly susceptible to economic downturns. In addition, if costs of ingredients start to rise, or if other local restaurants start to pop up, it may threaten their standing in the market.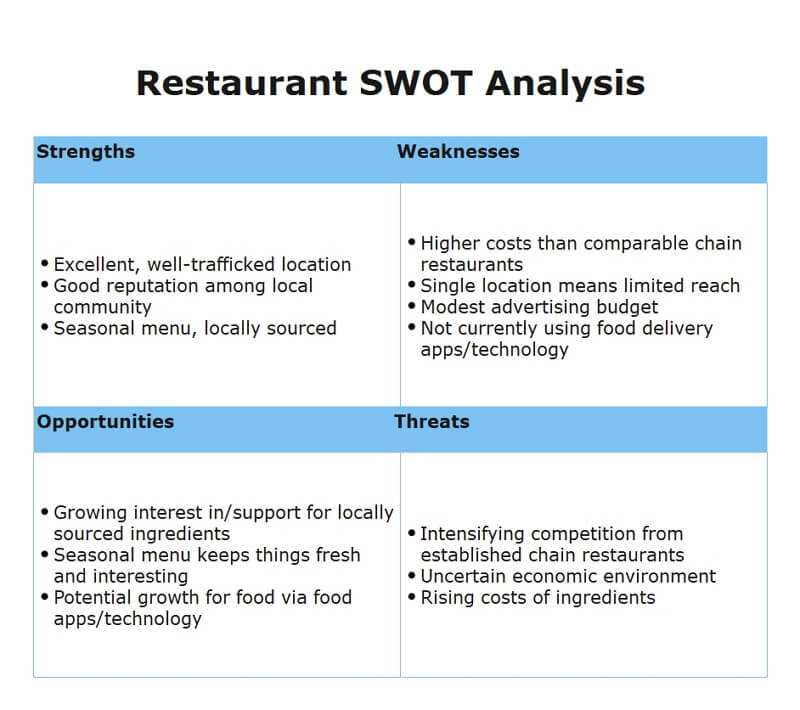 EdrawMax
All-in-One Diagram Software
Create more than 280 types of diagrams effortlessly
Start diagramming with various templates and symbols easily
Superior file compatibility: Import and export drawings to various file formats, such as Visio
Cross-platform supported (Windows, Mac, Linux, Web)
Security Verified |
Switch to Mac >>
Security Verified |
Switch to Linux >>
Security Verified |
Switch to Windows >>
Part 4: Conclusion
According to this article, there are mainly four parts to illustrate what is SWOT analysis, to tell you how to create SWOT analysis diagrams, to show you some SWOT analysis examples, and to tell you how to do SWOT analysis. People can use a SWOT analysis diagram to visually present their findings.
EdrawMax is an easiest all-in-one diagramming tool, you can create SWOT analysis diagrams and any other type diagrams with ease! With substantial SWOT analysis symbols and cliparts, making SWOT analysis diagrams could be as simple as possible. Also, it supports to export your work in multiple formats and share your work with others. Get started to do your SWOT analysis now!