Easy Graphic Organizer - Edraw

Easy-to-use graphic organizers with lots of templates help you organize, visualize, plan, create and share graphic organizers and diagrams. Download graphic organizer creator for free!
Download Graphic Organizer Creator
Graphic organizers assist you in demonstrating relationships between facts, concepts, or ideas with minimal effort. Edraw graphic organizer maker is a beginner-friendly software helping everyone create eye-catching graphic organizers according to their needs without design skills.
EdrawMax: a swiss knife for all your diagramming need
Effortlessly create over 280 types of diagrams.
Provide various templates & symbols to match your needs.
Drag and drop interface and easy to use.
Customize every detail by using smart and dynamic toolkits.
Compatible with a variety of file formats, such as MS Office, Visio, PDF, etc.
Feel free to export, print, and share your diagrams.
System Requirements
Support Windows 2000/2003/2008/Vista/7/8/10 (32bit/64 bit)
Support Mac OS X 10.10 and later
Support Debian, Ubuntu, Fedora, CentOS, OpenSUSE, Mint, Knoppix, RedHat, Gentoo and More
Why Use Edraw Graphic Organizer Software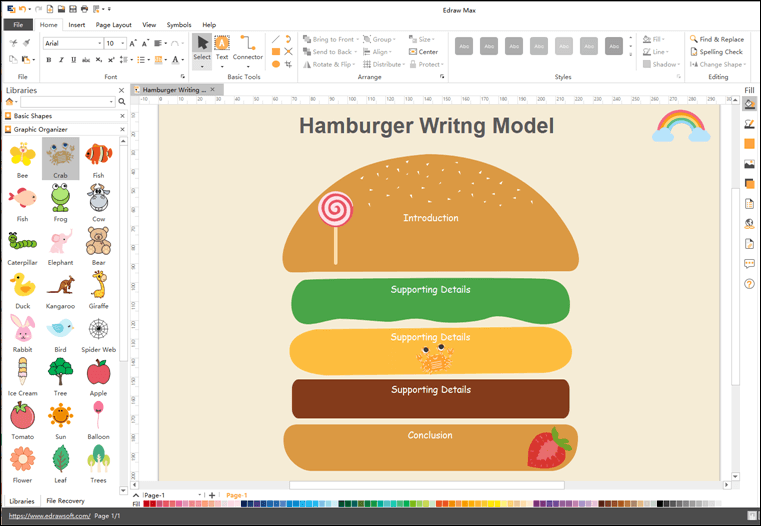 Edraw graphic organizer software has a user-friendly interface to make graphic organizing comfortable. This tool requires no artistic skills so that it is useful even for novices. Please download the advanced graphic organizer - organize graphics of all flavors in the most comfortable way! All you have to do is organize graphics automatically with the cutting-edge graphic organizer software (GOS). Use this high-end tool to enjoy the following benefits.
Improve Preplanning
Chance favors only the prepared mind. The Edraw GOS structures and individualizes the planning of problem-solving activities, thereby improving it. It helps to foresee potential problems and eliminate them ahead of time.
Accelerate Collection and Analysis of Data
Users realize a dramatic increase in efficiency when it comes to working with the data collected. With various graphic organizer examples, the time to create a radial diagram has been reduced to less than two minutes.
Speed up Communication
Sometimes you can't figure out the appropriate words to express your feelings. It is ok. You can rely on Edraw GOS to clarify concepts that cannot be interpreted by words. They will explain those complicated concepts in vivid graphic or diagrams so that everybody can understand at a glance.
Boost Creativity
Organizers are a way to encourage users to think in new ways. A massive amount of related information can be presented by a single picture to provide the "big view" of a topic. So, they can quickly master the whole and take different perspectives.
Examples of Graphic Organizers
Edraw includes some powerful graphic design tools that can be used to create graphic organizers for learning. The following examples illustrate a wide range of graphic organizers. See More Graphic Organizer Examples here.
Graphic Organizer Templates for PDF, WORD, PPT