The funnel chart give an approach to picture work environment measures, permitting you to rapidly and effectively see what parts of the interaction are functioning admirably. They can likewise assist you with recognizing possible dangers and spaces of progress. This guide will survey what kind of data to show with funnel charts, when to utilize them, and how to make them.
Funnel chart— a brilliant apparatus for summing up information—empowers your clients to picture stages in a straight interaction rapidly. Regularly it's utilized to show sales cycles to pinpoint potential pain points, yet we'll find in this blog that the utilizations can be reached a long way past sale. Any funnel comprises the more significant part called the head (or base), and the lower part is alluded to as the neck. The qualities showed in logically diminishing extent and sum to 100% altogether.
What is a Funnel Chart?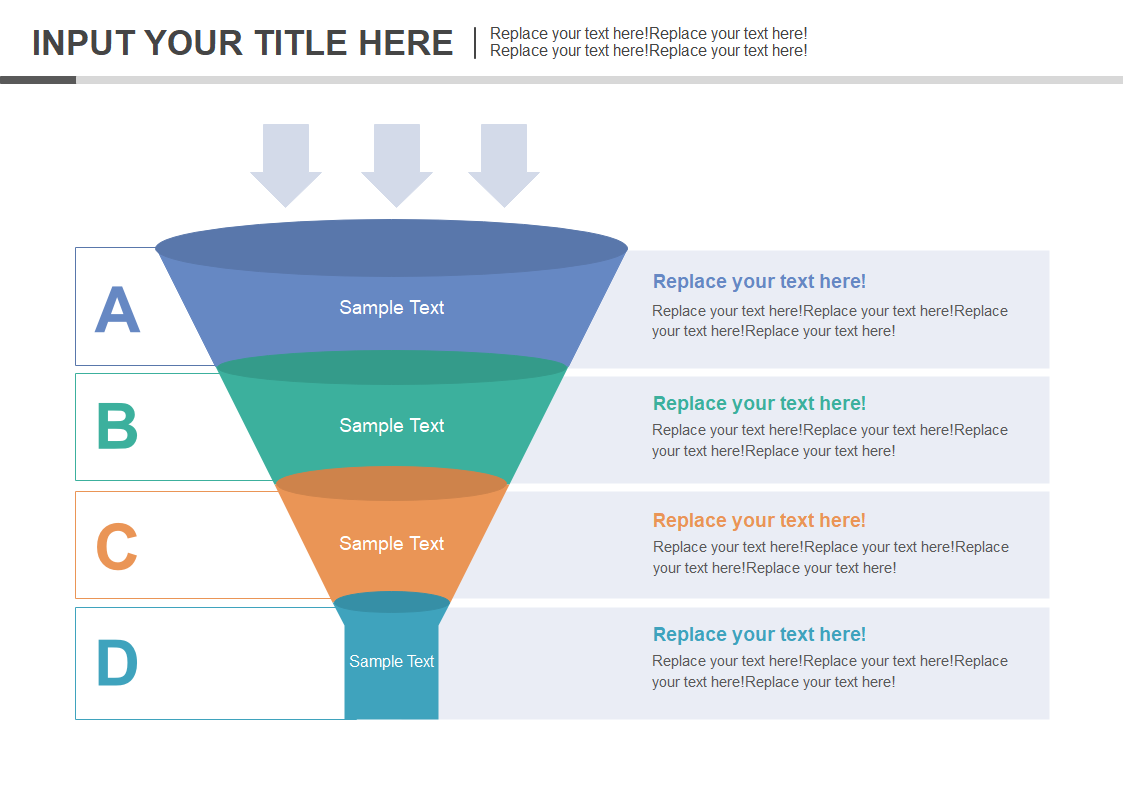 A funnel chart is a particular chart type that exhibits the progression of clients through a business or sales measure. The chart takes its name from its shape, which begins from an expansive head and finishes in a tight neck. The number of clients at each phase of the cycle is demonstrated from the funnel's width as its limits.
A funnel chart is a graph that delineates the phases of a cycle in the working environment. Individuals frequently use funnel charts in introductions, reports, marketing materials, and dashboards to outline the sales of an item or administration. Nonetheless, you can utilize a funnel chart at whatever point you need to show data that declines over the long run. They are precious to supervisors and individuals who may require a significant level perspective on an available cycle.
Funnel charts get their name from how they show how data limits as it travels through each phase of a cycle. Each piece of the funnel shows a percentage of the aggregate, and the worth declines as you drop down. The worth of the relative multitude of parts together should rise to 100%.
Purposes and Benefits
This chart type shows how the beginning entire separates into reformist parts. By envisioning the number of clients that make it to each phase of the cycle, a business can comprehend colossal drop-offs and attempt to make changes to the client experience to improve things. Note that there won't be sufficient detail in a funnel chart to say why a surprising drop has happened, so funnels are best utilized as an undeniable level perception before moving into a more profound examination.
The most widely recognized use for funnel charts is to represent the sales interaction of an association. This is because funnel charts give sales chiefs a reasonable and concise perspective on triumphs and misfortunes. For instance, a funnel that shows the stages in a sales pipeline would begin with the all-out leads at the head. Different steps in the funnel may incorporate qualified leads, prospects, contracts, and shut arrangements.
Ordinarily, organizations lose a portion of their leads as they travel through the sales interaction. When appearing on a funnel chart, just a part of all that beginnings at the funnel moves through to the base. A funnel chart shows how influential a sales group is at changing over leads into sales.
What to Do before Creating Funnel Chart?
A funnel chart is a typical choice in business knowledge programming, where the chart type coordinates with its area. Due to being a particular chart type, funnel charts are a substantially less regular underlying choice for automatic libraries. To understand what you need to do before making a funnel chart;
Notwithstanding, it is adequately simple to utilize the more, for the most part, recommendable standard bar chart or stacked bar chart, so you need to know about it.
Funnel charts work best when your interaction has at least three phases, and the contrast between each worth is unmistakable. Ensure you plan your funnel chart to be short, clear names that make it simple to peruse and comprehend.
Plan your marks and make a point to incorporate any data expected to decipher the chart alongside the numeric incentive for each stage.
Having the information on using various shades of a solitary tone can help make each worth stick out while giving a feeling of stream starting with one phase then onto the next. On the off chance that you need to add more accentuation to each stage, nonetheless, think about utilizing various tones.
How to Make a Funnel Chart?
With EdrawMax, things like making a funnel chart, graph, and diagram have become more manageable, simple, and fun. You can work creatively with its vast set of graphical and formatting tools that allow you creative freedom. With funnel templates in EdrawMax, you can make the funnel chart in no time. Just follow these simple steps;
Step 1:Open EdrawMax and go to the template section. Choose the template you would like to edit, click on it.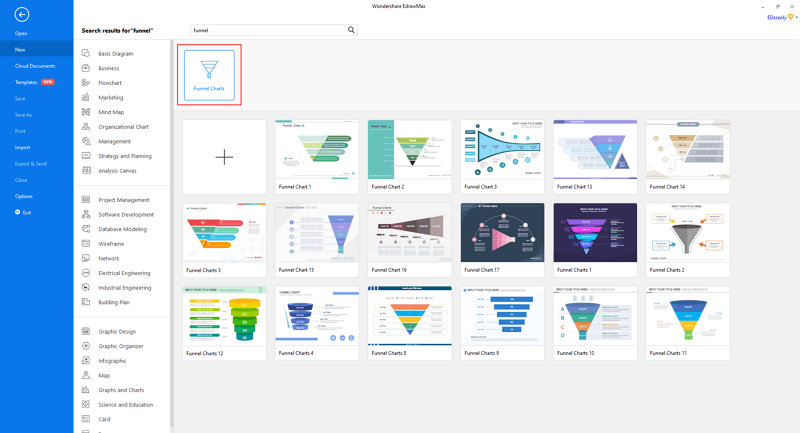 EdrawMax
All-in-One Diagram Software
Create more than 280 types of diagrams effortlessly
Start diagramming with various templates and symbols easily
Superior file compatibility: Import and export drawings to various file formats, such as Visio
Cross-platform supported (Windows, Mac, Linux, Web)
Security Verified |
Switch to Mac >>
Security Verified |
Switch to Linux >>
Security Verified |
Switch to Windows >>
Step 2: Customize your funnel chart by editing and adding the data to your funnel chart. With EdrawMax's formatting tools and graphics, you can make your funnel chart even more aesthetically pleasing.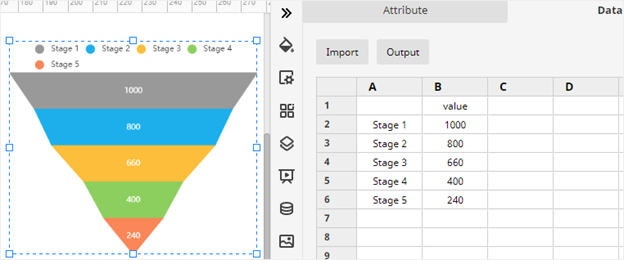 Step 3: Once you are satisfied with your chart, save or export it in any form you like.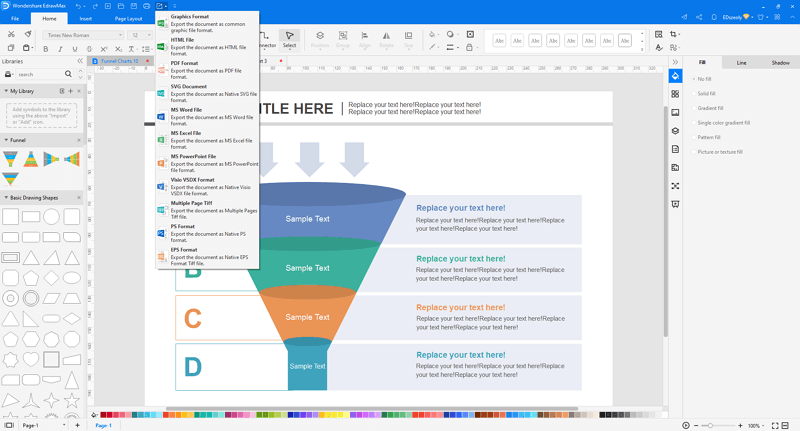 Tips for Making Funnel Charts
Following are some of the tips to make the funnel chart even more precise and more accessible. Whether you are a beginner, if you just follow the directions and some steps, you can also make an excellent attention-worthy funnel chart.
Audit the means in your sales interaction. Whenever you've illustrated the means in your sales cycle, survey it and ensure you've caught every one of them and that they are in the correct request.
Fabricate the sales funnel. When you're sure of the request for the means in your sales interaction, put them onto the sales funnel outline.
Build up quantifiable measurements for each part of the funnel. Whenever you've set up your sales funnel, start distinguishing measurements to gauge precisely the number of potential sales is lost at each part of the funnel. These measurements will assist you with recognizing what aspects of the sales interaction need the most improvement to improve your lead change rate.
Investigate the measurements. When you catch sales measure data, you can start performing examinations on which should improve the sales funnel phases.
Standards refine your sales cycle. In light of your examination, figure out what areas of your sales interaction need the most improvement, decide techniques for improving those segments, and afterward execute vital upgrades.
Funnel Chart Templates
This part will explain more about funnel chart with examples.
Marketing Funnel Chart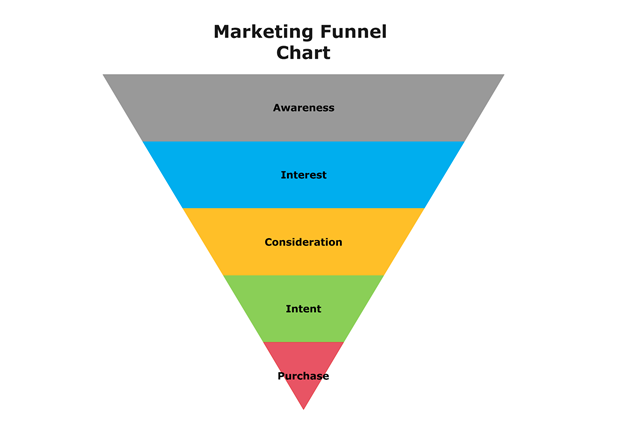 Arriving at your market ordinarily includes some sort of lead age, capability, proposition, and deal. Communicating this as an interaction or funnel chart makes it simpler to zero in on the best possibilities, gauge sales incomes, and measure achievement. This makes it simpler to distinguish approaches to improve your sales cycle.
If a couple of requests are coming in, the issue exists in the beginning phases of the interaction list determination or mail-piece plan. Assuming a couple of statements lead to a deal, evaluating could be the issue. When you gain proficiency with the average number of leads that bring about an idea and the number of statements that result in a deal, you can speculate sales significantly more precisely.
Sales Funnel Chart
The following figure is a simple funnel chart template which indicates that some quantity declines from a large number to a small number. For instance, starting with website visits, only a fraction of which result in downloads, and only a fraction of those result in inquiries about potential customers and sales, etc.
3D Sales Funnel Chart
The following figure is a 3D style sales funnel chart template. The size of the area is determined by the series value as a percentage of the total of all values.
More Marketing Diagrams