Internet Marketing Sales Funnel

An internet marketing sales funnel is a great marketing strategy, with which you are constantly attracting new leads into your business, for the purpose of developing a sale and relationship with the customers.
What Is A Sales Funnel
A sales funnel, also called a purchase funnel, is the pathway that captures sales prospects and moves them from awareness of your product to interest, desire and ultimately the sale. It can be broken down into seven sections i.e. awareness phase, interest phase, evaluation phase, decision phase, purchase phase, reevaluation phase, repurchase phase.
Why Are Sales Funnels Necessary for the Success of Your Internet Marketing
A sales funnel does you a great favor to convert more of your tire-kickers into happy, repeat customers with massive Lifetime Customer Value.
Sales funnels can be used to accurately predict the number of sales you will make.
A sales funnel is an effective tool to identify marketing deficiencies or obstacles.
Internet Marketing Sales Funnel Examples
Three awesome examples for sales funnel will be introduced as following.
Example one:
Example two:
This is a 3d style sales funnel example.
Example three:
Well, how to create an internet marketing sales funnel effectively? Following tutorial should be what you need.
EdrawMax
All-in-One Diagram Software
Create more than 280 types of diagrams effortlessly
Start diagramming with various templates and symbols easily
Superior file compatibility: Import and export drawings to various file formats, such as Visio
Cross-platform supported (Windows, Mac, Linux, Web)
Security Verified |
Switch to Mac >>
Security Verified |
Switch to Linux >>
Security Verified |
Switch to Windows >>
Build Internet Marketing Sales Funnel
Edraw Sales Funnel Software gives you ability to create an internet marketing sales funnel quickly and easily with prepared libraries and sales funnel templates.
Three steps to draw an internet marketing sales funnel
Step one: go to File > New > Basic Diagram, , double click Pyramid Chart to open a blank drawing page.
Step two: drag and drop a suitable pyramid shape from the Pyramid Shape library into the document page. On the upper right of the pyramid chart shape you may find a floating button. Choose the option "Add a Level" because some default examples only have four levels.
Step three: double click the level of the funnel chart shape, you can type the words in the pyramid chart shape.
Tips: various Sales Funnel Template on EdrawMax are available for you to download and create sales funnel freely. Further more, all these templates can be exported into Excel, Word and PowerPoint formats. Converted sales funnel templates can also be edited in MS Word, Excel, PowerPoint.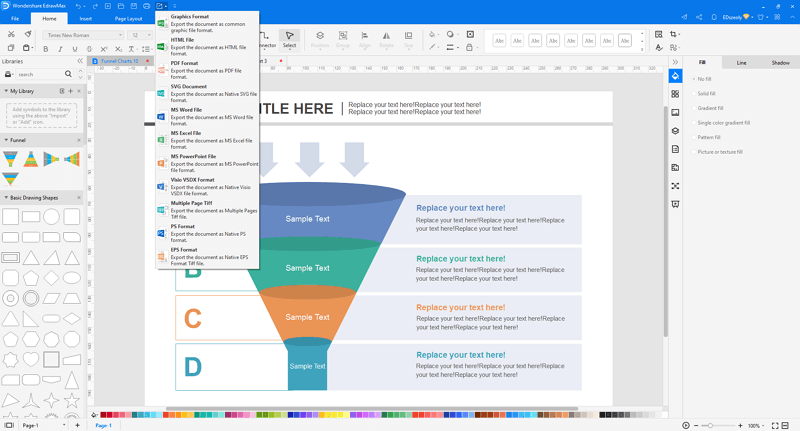 More Related
Sales Funnel Template for Excel