Home Wiring Plan Software - Making Wiring Plans Easily
>
Floor Plan
>
Home Wiring Plan Software - Making Wiring Plans Easily

An easy-to-use home wiring plan software with pre-made symbols and templates. It helps make accurate and high-quality wiring plans, home wiring plans, house wiring plans, basement wiring plans, and many other electrical wirings with the least effort.
Create Home Wiring Plan With Built-in Elements
Before wiring your home, a wiring diagram is necessary to plan out the locations of your outlets, switches, and lights, and how you will connect them.
As an all-inclusive floor plan software, Edraw contains a large range of electrical and lighting symbols, which makes drawing a wiring plan a piece of cake. As the picture shows below, it's an easy wiring plan maker with an intuitive interface. If you are not drawing professionals and don't need complicated drawing as CAD, this is your best choice.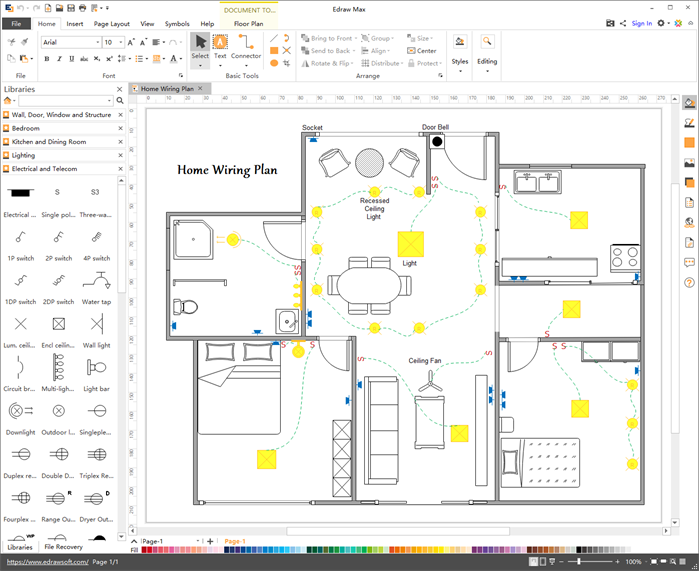 Edraw Max - an All-in-One Diagram Software
Effortlessly create over 260 types of diagrams.
Provide various templates & symbols to match your needs.
Drag and drop interface and easy to use
Customize every detail by using smart and dynamic toolkits
Compatible with a variety of file formats, such as MS Office, Visio, PDF, etc.
Feel free to export, print and share your diagrams
Symbols Required for Home Wiring Plan
The built-in symbol library in the software contains the most often used symbols for wiring plan such as lightings, switches, sockets, and some special appliances such as ceiling fan, doorbell, smoke detector, monitor, and alarm. A home wiring plan is usually created based on the basic floor plan structure. Therefore, the basic floor plan symbols, such as walls, furniture, and appliances, are also necessary.
You can discover more electrical symbols for circuit design.
Electrical and Telecoms
Lighting
Wall, Shell and Structure
How to Make a Home Wiring Plan
Creating a home wiring plan is easy with Edraw. To open a new drawing page: from the Available Templates, choose Floor Plan, and double-click Electrical and Telecom template to start drawing.
To open the corresponding libraries, click Library button -> Floor Plan, you will find a list of floor plan symbol libraries. Open the ones you need.
Drag and drop required shapes to create your wiring plan.
Use different line colors to represent different wires. To set line color, go to the Line button under the Home tab.
When finished, you can export the drawing to different formats, including PDF, Html, Microsoft Word, Excel, PPT, and many other graphic formats.
Wiring Plan Examples
Below are some wiring plan examples which you can download and use as templates. When you download and open an example, the required symbol libraries, such as lighting, electrical, and telecom, are already open. Therefore, it's even quicker if you start with these templates.
Home Wiring Plan Example
House Wiring Plan Example
Basement Wiring Plan Example