How to Draw a Concept Map

A simple tutorial helps you quickly draw a Concept Map and increase your productivity and efficiency at work. Read this guide to learn more about our
Concept Mapping Software
.
How to Draw a Concept Map with Edraw Max?
Before drawing a concept map, we need to download a concept map maker - Edraw Max. You can use the Concept Map shapes and templates in this software to draw a brand new concept map.
EdrawMax: a swiss knife for all your diagramming need
Effortlessly create over 280 types of diagrams.
Provide various templates & symbols to match your needs.
Drag and drop interface and easy to use.
Customize every detail by using smart and dynamic toolkits.
Compatible with a variety of file formats, such as MS Office, Visio, PDF, etc.
Feel free to export, print, and share your diagrams.
After installing Edraw Max, all you have to do is open the software and find "mind map" category. Then click "concept map to open a new canvas.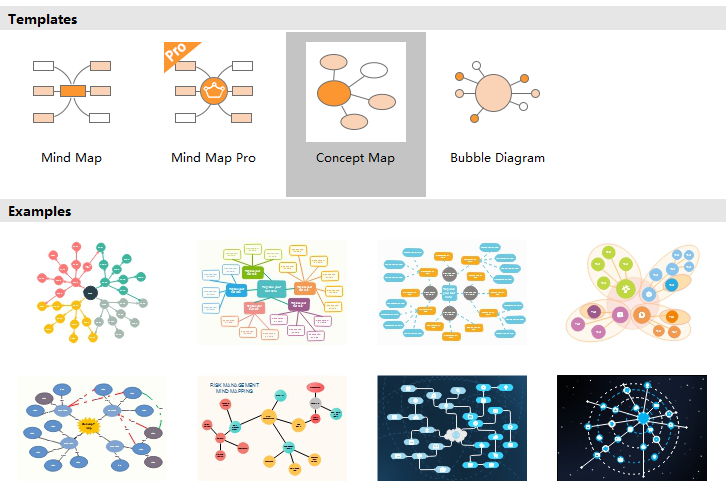 Drag the built-in concept map shapes from Concept Map Shapes library panel to start your concept mapping.
Then you can double click the shape to edit the topic.
To add the relationship, you need to switch to the Line tool. Then point the cursor at any connection point of the concept shape. The connection point will be highlighted red.
To glue an endpoint of the connector to a connection point on a shape, drag the endpoint to one of the shape's connection points until a red box appears around the connection point.
How to Draw a Stunning Concept Map with MindMaster?
Just as Edraw Max, MindMaster is another product of Edraw company. However, Edraw Max has more types of diagrams than MindMaster, while MindMaster is more professional than Edraw Max in terms of the concept mapping.
Watch the following video to learn more about concept mapping.
Tips for Creating an Amazing Concept Map in Minutes
Print in capitals, for ease of reading. This will also encourage you to keep the points brief.
Use unlined paper, since the presence of lines on paper may hinder the non-linear process of Mapping. If you must use lined paper, turn it so the lines are vertical.
Use paper with no previous writing on it.
Connect all words or phrases or lists with lines, to the centre or to other "branches." When you get a new idea, start again with a new "spoke" from the center.
Go quickly, without pausing -- try to keep up with the flow of ideas. Do not stop to decide where something should go to order or organize material -- just get it down. Ordering and analyzing are "linear" activities and will disrupt the Mapping process.
Write down everything you can think of without judging or editing -- these activates will also disrupt the Mapping process.
If you come to a standstill, look over what you have done to see if you have left anything out.
You may want to use color-coding, to group sections of the Map.
MindMaster: a full-featured cross-platform mind mapping software
Easily create mind maps, fishbone diagrams, timelines, bubble maps, etc.
Provide 33 different types of themes and over 700 stylish cliparts.
Available on multiple platforms, including PC, mobile, tablet, and web.
Seamlessly collaborate with teammates in real-time, anywhere, at any device.
Compatible with various file formats, such as MS Office, Visio, PDF, JPG, etc.
Concept Map Examples
The following two examples are included in the Edraw Max software package.
Concept Map Software for Linux
How to Use Concept Map for Better Thinking