How to Draw a Landscape Plan

A landscape plan, or landscape design, is a visual presentation of a landscape using scaled symbols and dimensions. This guide shows how to create a landscape plan with Edraw Max and pre-made symbols.
When designing your front yard or back yard landscape, it's crucial to make a landscape plan before the start, so that you have an accurate blueprint to follow. A landscape plan is like a floor plan but for an outdoor area. It reflects your ideas on paper using elements like trees, flowers, grass, fences, stones and other garden design symbols.
Benefits of Landscape Design
Landscape plans help you turn your design ideas into visuals.
It ensures you have an accurate design of the landscape for future use.
It helps decision-making on what materials to buy.
It ensures the project completed with minimus hassles.
Having an accurate landscape plan with measurements, you can decide what plants, benches and paths you want, and how each item will fit into its position.
An Easy Landscape Plan Maker
An easy landscape plan maker allows you to do the minimum work yet produce a high-quality result. With Edraw Max, you can gain an extensive array of design elements, including plants, rocks, swimming pools, pavilions, benches, etc. To ensure the accuracy of your design, you can easily add dimensions to the objects with smart dimensioning symbols. The drag-and-drop feature will make you easily construct any type of building plan.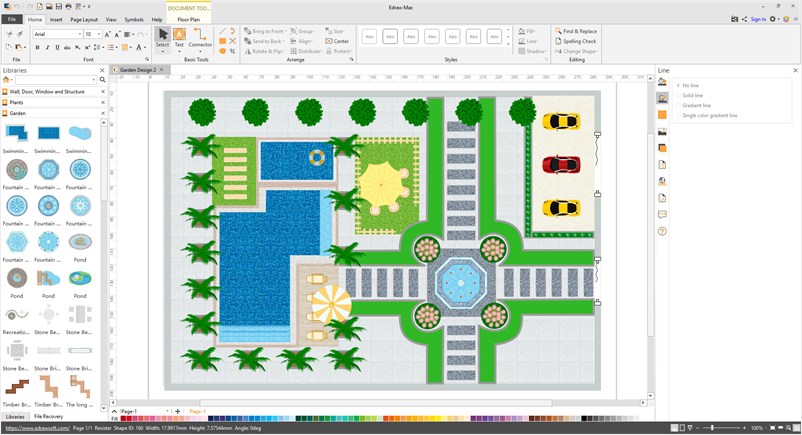 EdrawMax
All-in-One Diagram Software
Create more than 280 types of diagrams effortlessly
Start diagramming with various templates and symbols easily
Superior file compatibility: Import and export drawings to various file formats, such as Visio
Cross-platform supported (Windows, Mac, Linux, Web)
Security Verified |
Switch to Mac >>
Security Verified |
Switch to Linux >>
Security Verified |
Switch to Windows >>
Steps of Creating a Landscape Plan
1. Create the basic outline
Firstly, start by drawing the basic outline of the landscape. Plot the position of the fixed features like entrance, pool, and lawn. Decide the boundaries of each area. It will be your basic outline to which you can add elements in the next step.
2. Add Features You Won't Change
Secondly, add more features like pathways, resting area, rocks, flower beds, pavilion, etc. that you won't change during the landscaping process. Be sure to follow the scale when adding your elements to obtain the desired spacing. You can add dimensions to any area or item if needed.
You can open the Garden and Dimensioning library and add needed elements during this step.
3. Add More Landscape Design Elements
Thirdly, add plants such as flowers, trees, grass, and shrubbery. Choose the plants and shrubbery that can survive in a particular climate of your outdoor area. If you have a pond in the area, add a tall hedge around it so that it is closed off and does not affect the rest of the backyard.
You will use the Plants and Garden libraries during this process.
The final landscape plan provides you with a visual of what needs to be done and how it will come out in the end. If something differs during the landscaping, and you find the change acceptable, update the plan to match existing conditions.
Landscape Plan Templates
Garden Floor Plan
Front Garden Designs
More Resources