The floor plan is a kind of drawing that is easy to make with the help of floor plan software. Now it is time to get started with your own floor plan drawing in Edraw Max with free floor plan symbols and templates.
Most people might think that creating floor plan drawings is difficult, so they never consider drawing floor plans themselves. If you are accustomed to asking professionals for help when drawing a floor plan, now it is time to say goodbye and drawing it on your own. Making floor plan drawings has never been easier with the help of an easy-to-use floor plan maker.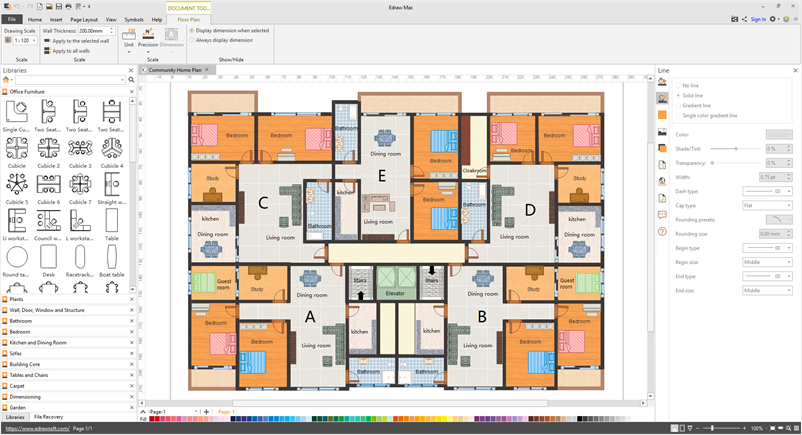 EdrawMax: a swiss knife for all your diagramming need
Effortlessly create over 280 types of diagrams.
Provide various templates & symbols to match your needs.
Drag and drop interface and easy to use.
Customize every detail by using smart and dynamic toolkits.
Compatible with a variety of file formats, such as MS Office, Visio, PDF, etc.
Feel free to export, print, and share your diagrams.
Tips for Making Floor Plan Drawings
The floor plan drawing usually shows a view from above of the relationships between rooms, spaces, and other physical features at one level of a structure. You can use floor plan drawings to recreate the layout of your home, garden, or office in just a few clicks and furnish your plans from a massive library of floor plan symbols. Below are some useful tips for making floor plan drawings, and we hope these can be helpful for you.
Tip 1: Think carefully about what kind of room or space you want. Consider where your home is situated, particularly the orientation and view.
Tip 2: Plan traffic flows to increase convenience from room to room. Notice the current circulation patterns in your home. You should be able to move about from space to space without obstacles blocking you.
Tip 3: Look for visual connections from space to space. Make sure the foyer is centrally situated and is easily accessible from all areas of the house. A closet near the entry is a great convenience.
Tip 4: The path from the garage and/or laundry room to the kitchen should be short and direct, especially for unloading groceries.
Tip 5: Having relationships between spaces creates a more inviting and workable environment. Keep traffic and circulation off to one side of the room and not through the area.
Planning and designing is the most creative part of any home renovation, remodel, or addition project, as it allows you to express yourself genuinely and honestly and make your dream space into reality.
Floor Plan Drawing Templates
Floor plan drawing templates will help to inspire great ideas from your mind. If you are short on time, you may edit the floor plan templates with just a few clicks to make them your own in minutes.
The picture below is a two-floor living room template drawn via Edraw Max.
The picture below is a bathroom template drawn via Edraw Max.
The picture below is a 3-bedroom home plan template drawn via Edraw Max.
The picture below is a children room plan template drawn via Edraw Max.
More Related