Knowledge
Empathy Map
Know it All about Empathy Map
The first step in design thinking is Empathy Mapping, which helps define user attitudes and behaviors to obtain a deeper knowledge of them. In addition, the mapping procedure reveals any gaps in current user data. This article is a guide to empathy mapping.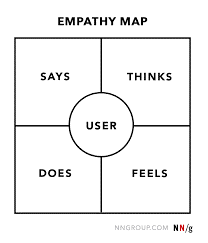 1: What is an Empathy Map?
An empathy map is a collaborative tool that allows teams to learn more about their consumers. An empathy map, similar to a user persona, can represent a group of users, such as a consumer segment. It transforms user knowledge to 1) facilitate decision-making and 2) build a shared understanding of user demands. Dave Gray invented the empathy map, which has garnered a lot of traction in the agile world.
They can be used alone or in conjunction with other CX tools such as customer journey maps, personas, service blueprints, motivation matrixes, and mind maps. This human-centered design tool can help you obtain a lot of insight and understanding on how to reach into your clients' hearts and minds.
2: Why use Empathy Maps?
Empathy maps should be utilized to find common ground among team members as well as to comprehend and prioritize user demands. Empathy maps are best used at the start of the design process in user-centered design.
Both the process of creating an empathy map and the final product has significant organizational benefits:
Capture the identity of a user or persona. Empathy mapping is a technique for condensing and categorizing your knowledge of a user into a single location.
It can help you classify and make sense of qualitative data.
Identify gaps in your present knowledge and the types of study required to fill them.
Build personas by coordinating and clustering empathy maps for specific people.
Express a user or persona to others. Empathy maps are a quick and easy approach to communicate a user's or persona's attitudes and behaviors to others. Once constructed, it should generate a sense of truth for the duration of the project, protecting it from bias and erroneous assumptions. Maintain your empathy maps 'alive' by modifying and changing them as your study progresses.
Gather data from the user effectively. When users fill out empathy maps directly, they can serve as a supplemental data source and a beginning point for a summary of the user session. Furthermore, the interviewer may be able to elicit sentiments and thoughts from the subject that would otherwise be buried.
3: When to Use the Empathy Maps?
When you need to immerse yourself in a user's environment, empathy maps can help. They can be useful in situations such as:
A look at the different consumer segments in a business model canvas
User personas are being fleshed out
While interviewing a consumer and documenting their behavior
In a user tale, building on the "user"
4: Four Quadrants of an Empathy Map
In traditional empathy maps, the user or persona is in the middle which is divided into four quadrants (Says, Thinks, Does, and Feels). Empathy maps are not chronological or sequential, but rather present a snapshot of who a person is as a whole.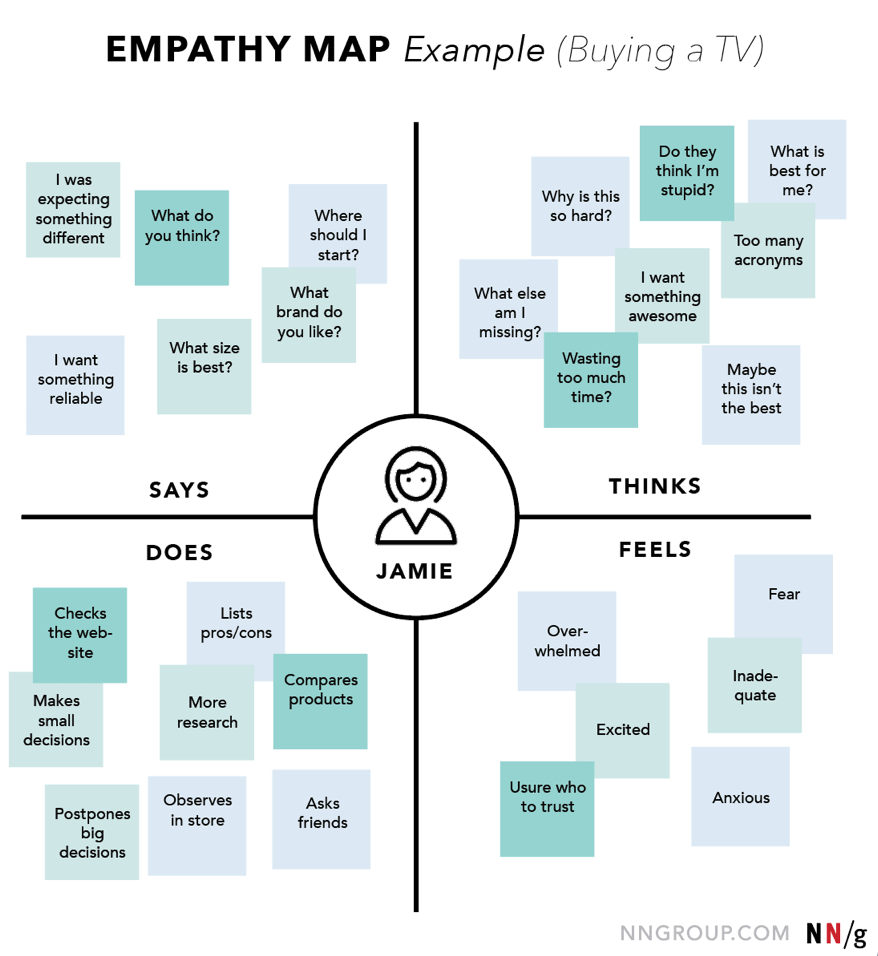 Says: contains the user's actual words spoken out during an interview or other usability research. It should ideally include verbatim and direct research quotes.
Thinks: this quadrant depicts the user's thoughts as they progress through the event. Ask yourself, what is occupying the user's mind? What is important to the user? It is conceivable for Says and Thinks to have the same content. Even so, pay close attention to what users are thinking but are hesitant to say out loud. Try to figure out why they're hesitant to share - are they unsure, self-conscious, polite, or afraid of upsetting others?
"This is extremely aggravating."
"Why can't I get it"
Does: this quadrant encompasses the user's actions. What does the user physically do, according to the research? What steps does the user take to do this?
Start comparing prices.
Refreshes the page a lot of times.
Feels: incorporates the user's emotional condition, which is frequently expressed as an adjective with a brief statement for context. Consider this: what concerns the user? What piques the user's interest? What is the user's opinion on the experience?
Worried: they are undertaking a blunder.
Perplexed: too many conflicting prices.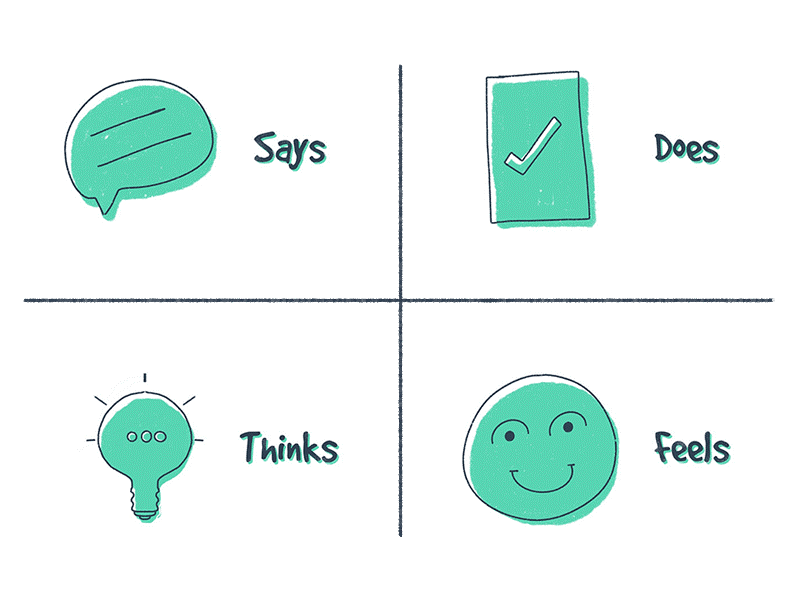 5: How to Build an Empathy Map
Empathy maps are a fantastic way to think about the meaning of your consumer in a way that isn't limited to a single personality type. They can be drawn manually however, using the software can be a better choice. EdrawMax is a highly dynamic drawing program with a user-friendly interface. Therefore, EdrawMax is the finest choice for developing a customer empathy map. To make a functional empathy map, go through the steps below:
Step 1: Firstly, log in to your Wondershare account, launch EdrawMax and choose a new canvas.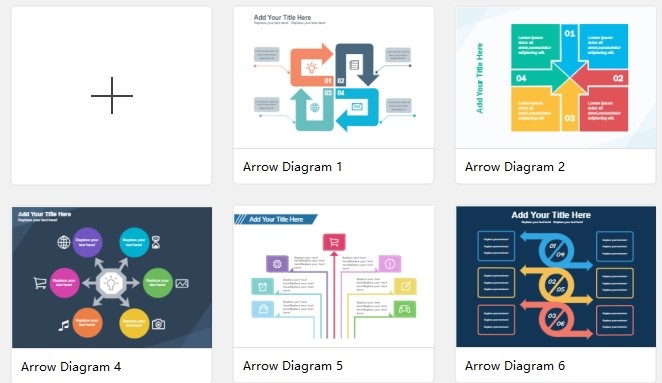 Step 2: Create your customer empathy map using the large selection of symbols provided in the libraries.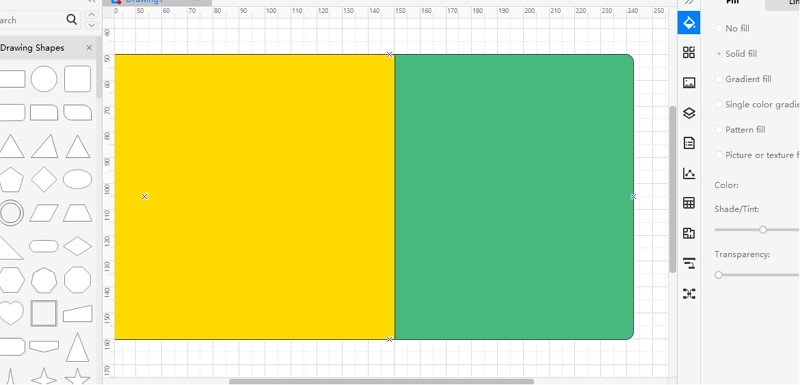 Step 3: Next, fill in the blanks with your text and customize the customer empathy map to meet your needs. You can also select icons from a wide range of possibilities.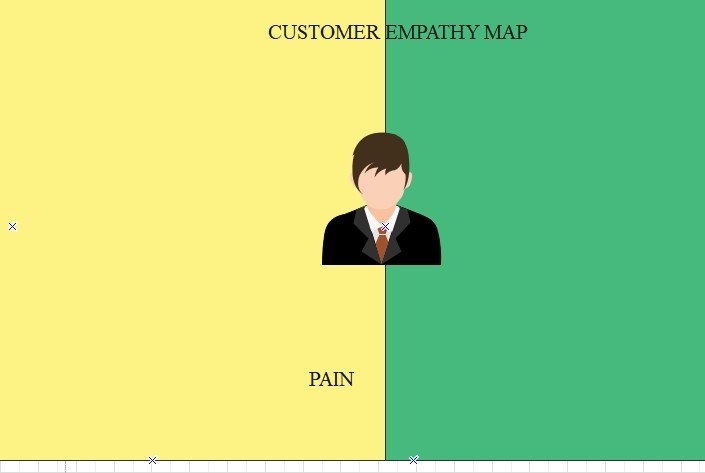 Step 4: Finally, save and export your diagram to whatever format you want. EdrawMax employs a variety of file formats.
EdrawMax
All-in-One Diagram Software
Create more than 280 types of diagrams effortlessly
Start diagramming with various templates and symbols easily
Superior file compatibility: Import and export drawings to various file formats, such as Visio
Cross-platform supported (Windows, Mac, Linux, Web)
Security Verified |
Switch to Mac >>
Security Verified |
Switch to Linux >>
Security Verified |
Switch to Windows >>
6: Tips to Develop Better Empathy Maps
To develop a better empathy map, here are a few tips that can be beneficial.
Things to do before the session:
Establish your key goal for empathy mapping.
Carry out research (Gather reports from user interviews, diary studies, or qualitative surveys).
While it is feasible to develop an empathy map on your own, it is preferable to do so in a group.
Although the training itself should not take more than 30-60 minutes to complete. It is preferable to allow for extra time and book a room for an extra 30 minutes.
Invite an experienced person to moderate the session.
Things to do during and after the session:
Do a one-to-one mapping at all times. Stick to the rule of "one persona per map." This means that if you have numerous identities, each one should have its empathy map.
Create context one step at a time.
Fill in the blanks with the persona's basic attributes.
Encourage team members to discuss their ideas.
Review the completed empathy map and explore any patterns at the end of the session.
7: Examples of Empathy Maps
Example 1
Below is an example template of a customer empathy map available at EdrawMax. It perfectly shows all the components of the map such as Think, See, Hear, and Do. Each of the segments contains relevant content regarding the consumers. As a result, they can be beneficial to understand consumer behavior.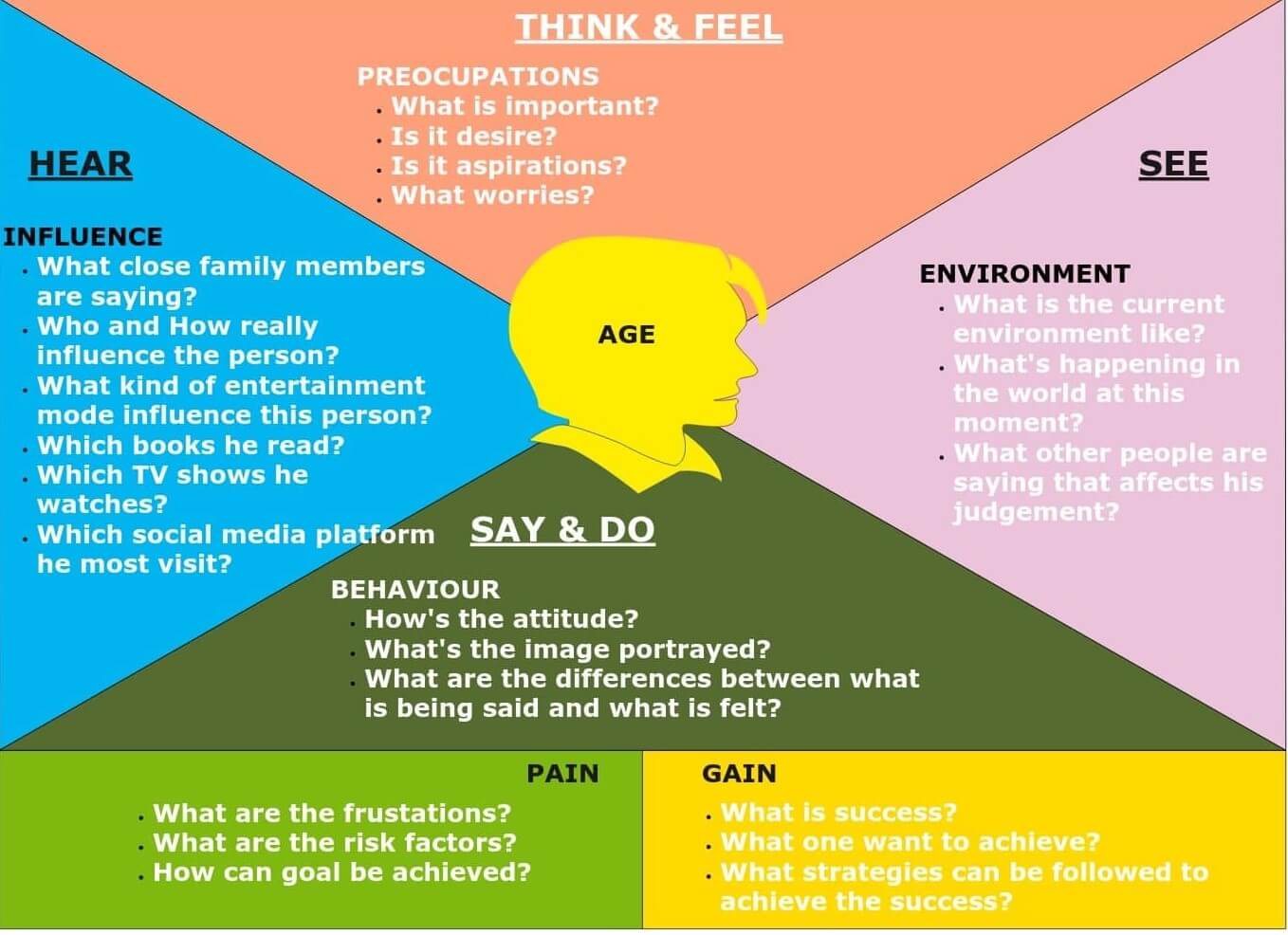 Example 2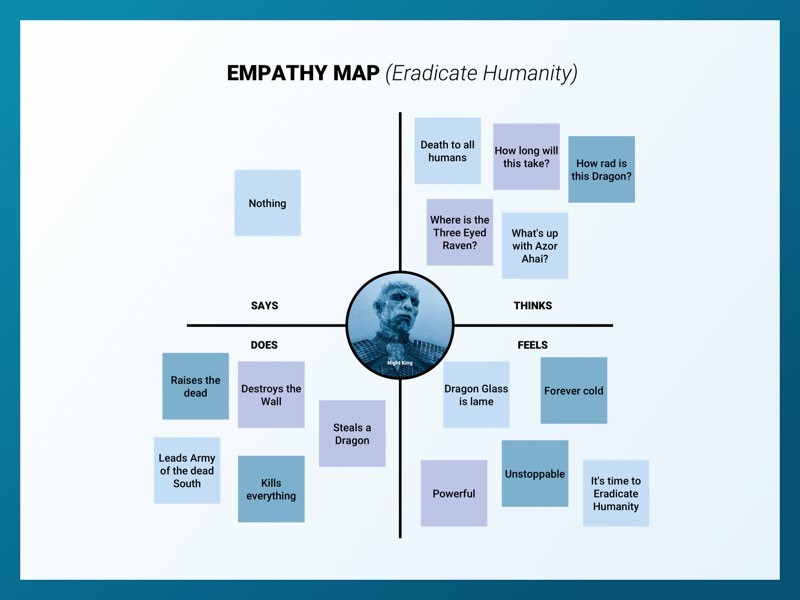 Here is another example of an empathy map with all the four segments indicating the data from the user in the middle, which in this case is the Night King.
8: Conclusion
An empathy map is a smart method to get your product team to think about how to put the client first. Empathy maps, when done correctly, set off a chain reaction that influences the entire project. Empathic design leads to a greater knowledge of how consumers influence product requirements, which influences product strategy, prototypes, and so leads to a better final result.
Related Articles
Create an Empathy Map with EdrawMax. Try it Free!
LEARN MORE