How to Draw a GCP Architecture Diagram
Do You Want to Draw Your GCP Architecture Diagram?
EdrawMax specializes in diagramming and visualizing. Learn from this article to know everything about how to draw your GCP Architecture diagram with ease. Just try it free now!
A Google Cloud Platform Architecture Diagram, better known as the GCP diagram, is a simple way to represent a business's Cloud computing services visually. Cloud networking can be complex and requires a lot of up-gradation from time to time. To understand the topology of your GCP Architecture well, you need an exemplary diagram that can walk you through the minutiae. Creating and maintaining a GCP Architecture diagram helps users quickly understand the network design at all levels. The layout simplifies the work for new engineers and consultants who need to understand the network design and quickly start troubleshooting the problem.
Whether you have just opted for the Cloud or have a pre-existing network that needs to be updated, Wondershare EdrawMax can help you visually represent your GCP Architecture effortlessly. It offers interactive diagram from scratch or templates that provides a comprehensive overview of the entire system. Read on to learn more about how to draw a GCP Architecture Diagram. Let's start off by discussing the essential elements of a GCP Architecture Diagram.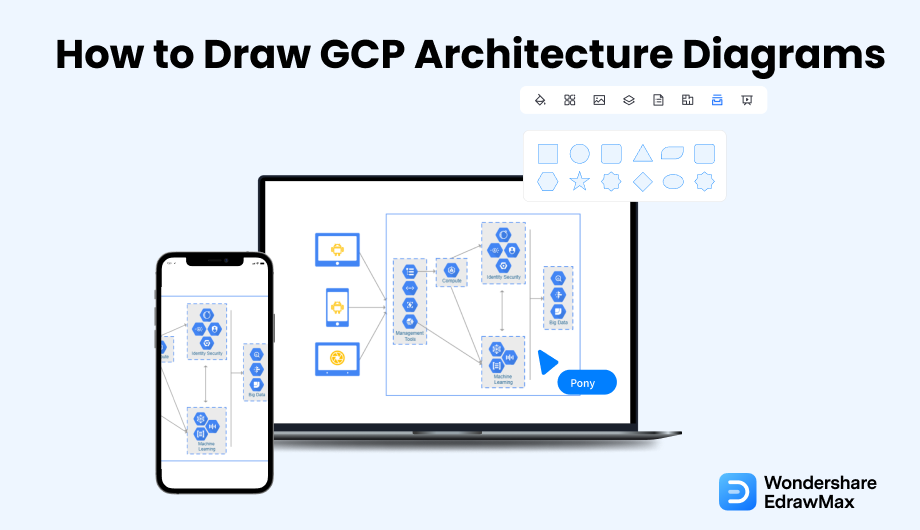 1. What to Consider in a GCP Architecture Diagram
When creating a GCP Architecture diagram for your organization's networking, there are a few things that you need to consider. The GCPs are complex diagrams with a significant accumulation of information and require greater attention to detail. So when you start creating your own GCP Architecture diagram, here are a couple of things you should keep in mind:
Dimensions:

You cannot illustrate a full-fledged network on a simple sheet. Before drawing, you should consider the scaling and dimensions of the diagram very thoroughly. The dimensions should be such that they are clear and understandable. Be sure to read the dimensions and scale from the bottom right side and proceed with your diagram.

Symbols:

Since GCP Architecture diagrams are extensive, thorough use of symbols can simplify the details. The symbol library for GCP diagrams is vast, with specified representations for each.

Legends and Labels:

Each symbol is allotted a label to make the diagram easy to understand. Make sure to read them and examine the legends associated with them.
Important Considerations for a GCP Architecture Diagram:
Dimensions;
Symbols;
Legends and Labels.
2. Preparations for Drawing a GCP Diagram
Now that you have understood the important elements of consideration, it's time to proceed with the preparation you need to do before starting off with your diagram. Remember that these are just basic points and can vary according to your resources and network organization.
Understand the Connections

Since networking is all about connections, you must understand them. Before starting, you should create a rough map of how everything is placed. Take a note of all the networking infrastructure you have and how they are linked together.

Consider the Networking Layout

The architectural diagrams can be classified into the scenario view, logical view, physical view, development view, etc. Each type of view offers a different insight into the networking system. So, consider your purpose and see which type of view best fits it.

Plan For Future

When it comes to Cloud Networking, it is probable that you will need to expand your computing resources in the future. So, create a layout that would not need many changes if you need to add new components or relationships.
3. How to Draw a GCP Architectural Diagram in General
Now that you are done with the basic preps and decisions for your architectural diagram, you must want to know how to create a good Google Cloud Architecture Diagram. You can do this in two ways: create a diagram from scratch on a clean canvas or do the smart work and choose an intuitive diagramming application like EdrawMax. Here are the general steps of creating a GCP architectural diagram.
Define Your Audience:

The primary step of creating a GCP Diagram is to define an audience for it. These diagrams are available in different formats to accommodate the needs of different audiences. For example, an engineer or a consultant would need a Logical View to see the component relationships.

Outline Your Purpose:

The networking diagrams have a considerable list of uses. After you have decided on the audience, you need to outline the purpose of your diagram. Is it meant to document your computing infrastructure or simply offer a visual communication of the architecture? Also, do you want a simple architecture or complex ones like Hybrid Cloud, Multi-Cloud, and Microservice Architectures?

Choose a Layout:

GCP Architectural Diagrams can be drawn in different layouts like the Scenario, Developmental, Physical, Logical, and Process. Considering your audience and purpose, choose a suitable layout. You can also decide whether you want a simple architecture or complex ones like Hybrid Cloud, Multi-Cloud, and Microservice architecture.

Add Individual Components:

Start by adding all the components individually. This helps in creating an organized layout with everything in its place.

Take Feedback:

Once done, share the vision with the team and take feedback. Iterate on the design and see what changes can be implemented to meet the requirements of your business best.
How to Draw a GCP Architectural Diagram in General:
Overview of the standard method of drawing GCP diagrams:
Define Your Audience;
Outline Your Purpose;
Choose a Layout;
Add Individual Components;
Take Feedback;
4. How to Draw a GCP Architecture Diagram in EdrawMax
After you know the general process of creating a GCP Diagram, we will walk you through how to create it effortlessly with Wondershare EdrawMax. Whether a beginner or a professional, creating diagrams with Edraw is a five-finger thing. It offers diagrams from scratch or pre-made templates to save your time and effort.
4.1 Draw GCP Architecture Diagrams from Scratch
Step1
Open EdrawMax & Login
If you are using the offline version of EdrawMax, then open the tool in your system. If you wish to have remote collaboration, head to EdrawMax Download and log in using your registered email address. If this is your first time using the tool, you can register yourself using your personal or professional email address. Go to 'Cloud Service' and click on 'GCP.'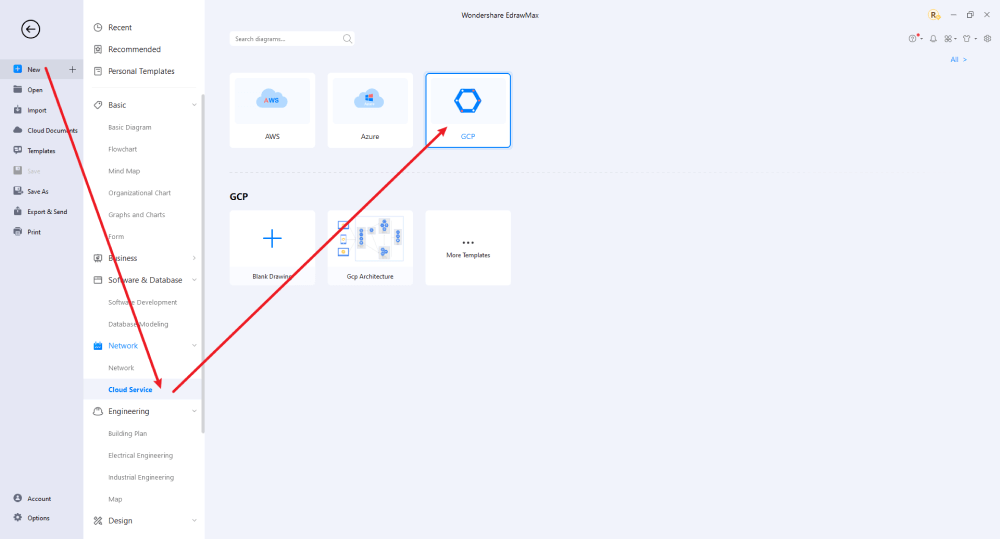 Step2
Open a New Canvas
You can also create network diagrams quickly and professionally in this drawing program from scratch. The program has a simple user interface and many features, like importing images, adding and modifying shapes, changing colors, pencil drawing, and more. It's easy to create a basic outline and scale it according to your measurement.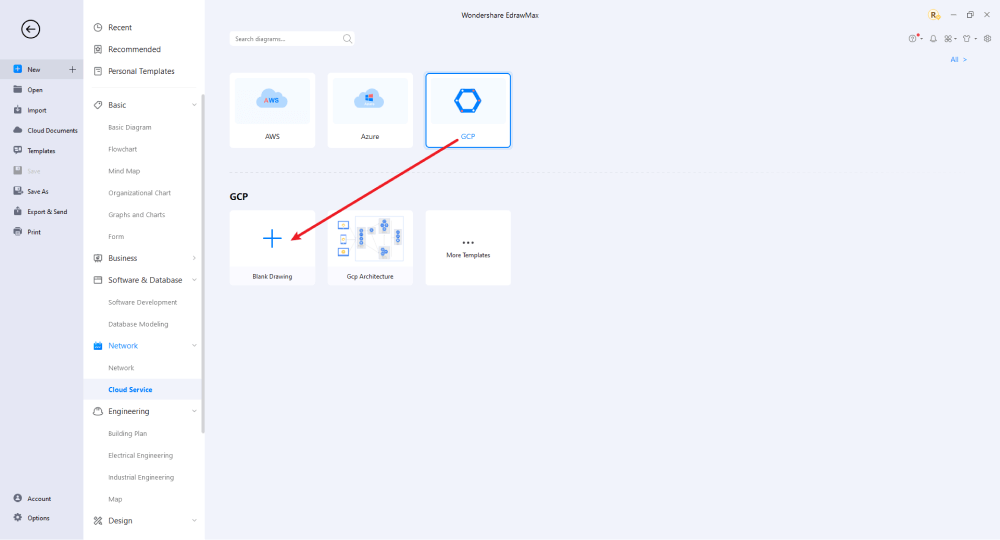 Step3
Select Symbols
To enhance your GCP diagrams, you'll need to include symbols. Next, from the symbol library, search for Google Cloud Platform icons. Go to the library, click on the symbol icon, and select Cloud Service. Next select Google Cloud, followed by the desired set of symbols.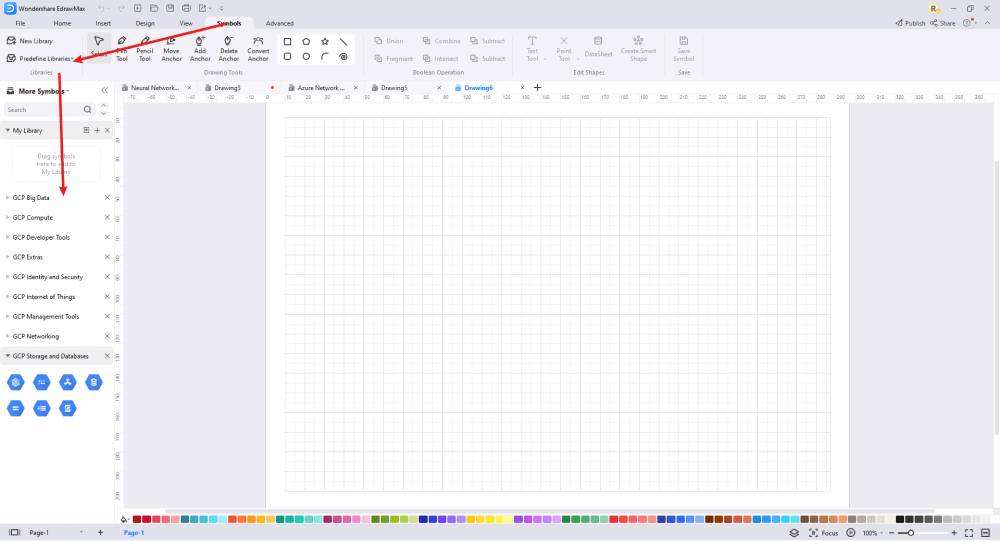 Step4
Add Elements
After you've imported all of the symbols into the GCP drawing, you can place them on the canvas. You can add hardscape and softscape drawings and all the other elements in the Element section of the Network Drawing Plan. Use the toolbars on the right side of the screen to change the color, size, font, etc.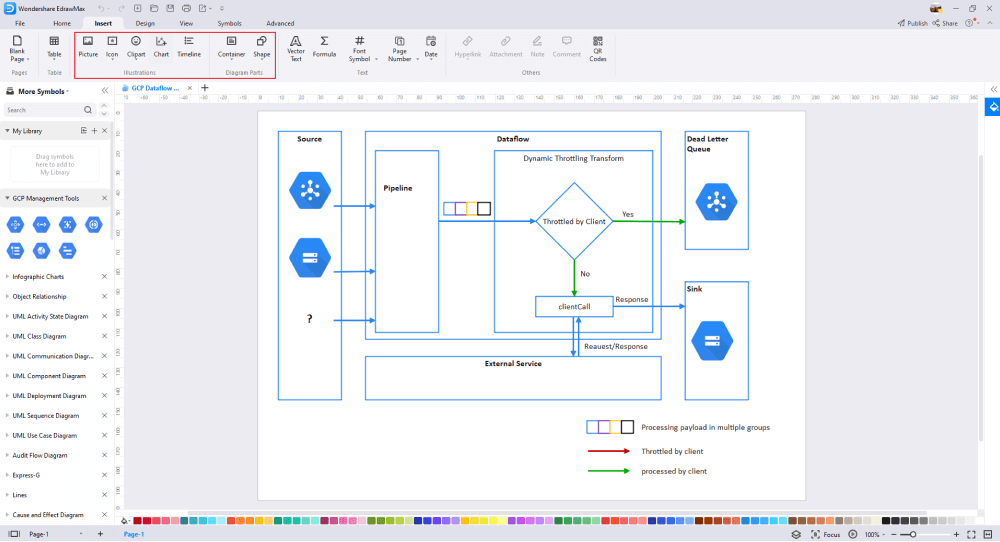 Step5
Save & Export
After designing your GCP diagram, you can export it into several formats, like JPG, PDF, PNG, and many more formats that come with Microsoft Office. You can also share the network layout design on social media platforms, like Twitter, Facebook, LinkedIn, etc.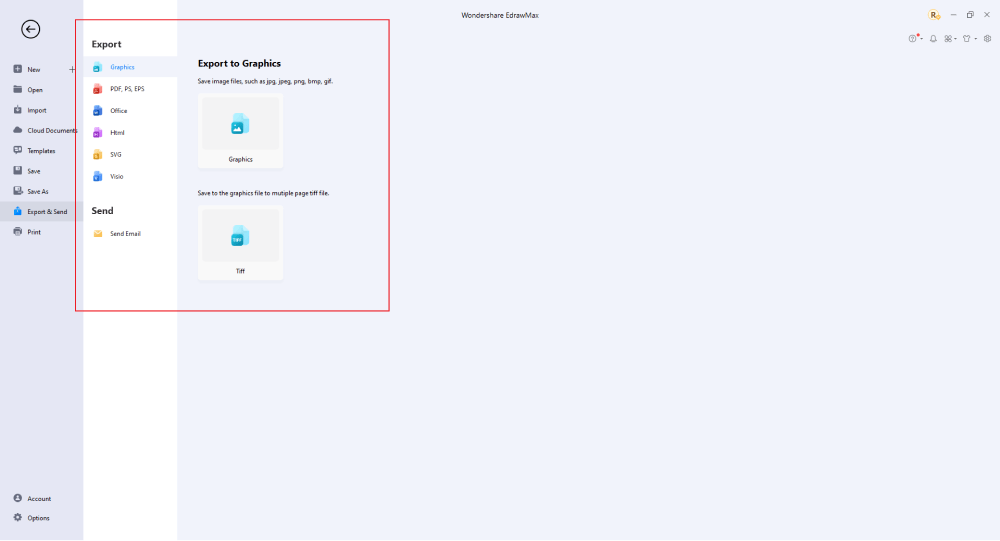 4.2 Draw a GCP Diagram from Built-in Templates
Step1
Login to EdrawMax
If you are using the offline version of EdrawMax, then open the tool in your system. If you wish to have remote collaboration, head to EdrawMax Download and log in using your registered email address. If this is your first time using the tool, you can register yourself using your personal or professional email address. Go to the 'Templates' section on the left and type 'GCP.'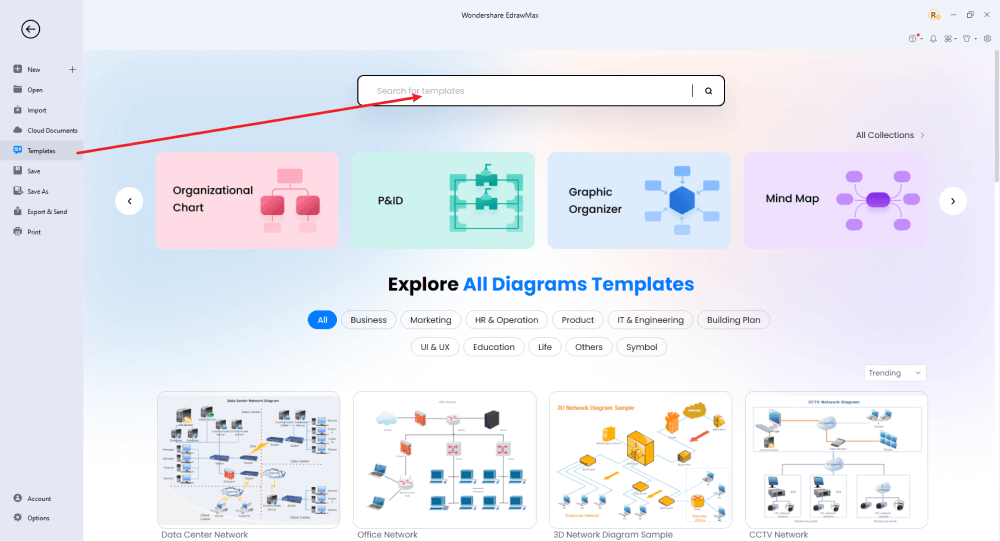 Step2
Choose a Template
In the template community, you will find hundreds of built-in templates readily available to use. Choose any templates that closely resemble your ideal, GCP diagram and duplicate it to 'Use Immediately.'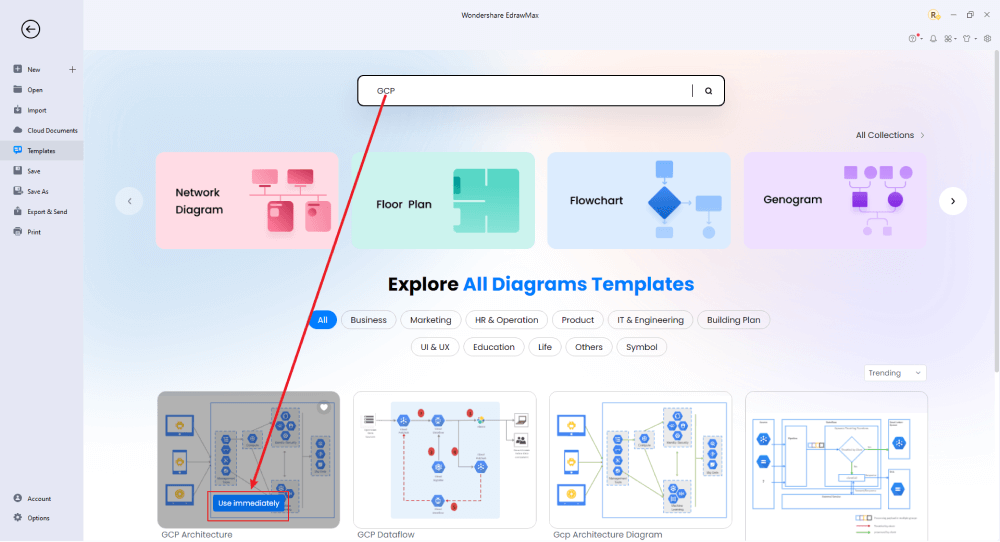 Step3
Change Details
First, make sure that you've imported the free built-in template to the EdrawMax canvas, and then you can change basic details. You can modify the background color, text, and layout. You can draw different types of GCP diagrams based on your vision, using, for example, the 3D Network Diagrams symbol. Just choose the toolbars on the top or right side of canvas, and find the functions you want.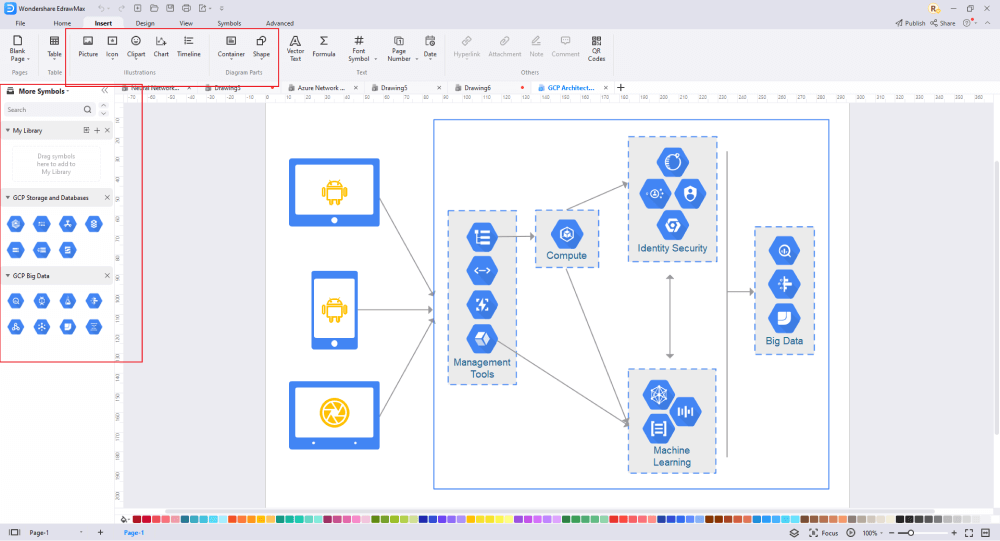 Step4
Export or Publish
Once your GCP diagram is complete, you can save it to multiple file formats as described in the instructions or post it to the template community for the other 25 million registered users to see and get inspired by your GCP drawing. Click the "Publish" button on the top right area of the canvas, and fill in your template details, like template title, description, and tag to share your drawing with others.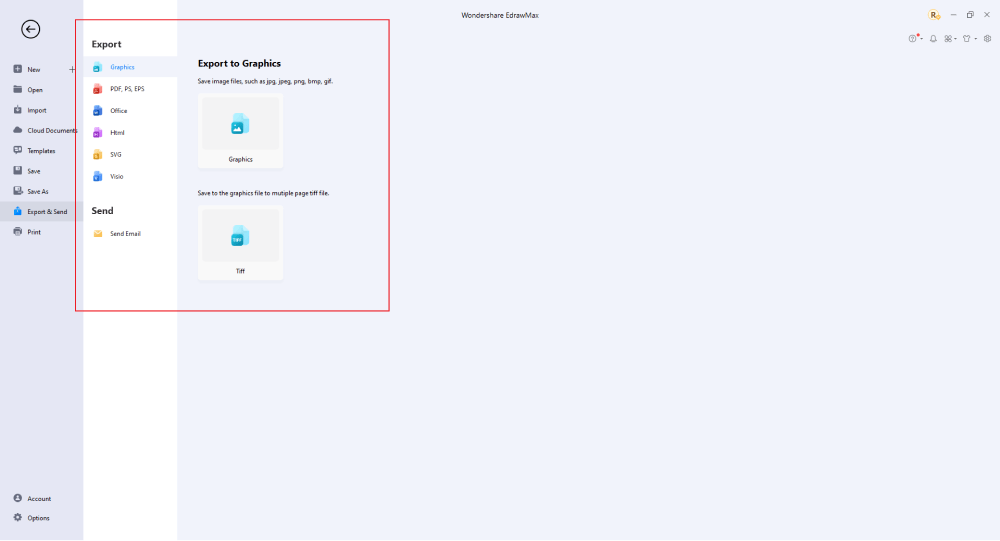 Basically, it is simple to draw a GCP diagram in EdrawMax, just grab a template and keep customizing, drag and drop professinal GCP symbols to make your diagrams better. If you are still confusing about how to draw a GCP diagram in EdrawMax, just check the video below, or learn more from our Youtube channel.
5. Tips & Consideration
Whether you create your diagram on a new canvas or use a template, Edraw offers a variety of tools to make the entire process seem effortless for beginners and professionals alike. However, if you are a newbie, we suggest starting with a template. But, if you are a professional who would like to explore your creative side, then starting with a blank canvas is the perfect option. Here, we have listed the benefits of using each method.
Advantages of Creating GCP Diagrams from Scratch:
Suitable for professional diagram makers.
Helps you explore your creative side.
By creating it yourself, you understand all the intrinsic details.
Advantages of Using Free Templates:
A good way for beginners to start.
The diagrams will be technically correct.
Ease out the load and increase efficiency.
5.1 Symbol Libraries
A symbol library is like a toolbox for designers: a place to store all the symbols and templates necessary to do certain kinds of tasks. Several important GCP icons fall under GCP diagrams. EdrawMax has built an enormous symbol library with hundreds of thousands of symbols for designers to use and share, which plays a vital role when planning to create GCP diagrams. Also, the symbol library consists of useful features like the ability to embed your graphics, rotate, resize, and color them as per your canvas board.
At EdrawMax, you will find all these detailed symbols that will help you create the GCP diagram. If in certain cases, you do not find the symbols, you can easily create your own house symbol just by importing the icons or shapes and saving them to your personalized symbol library.
5.2 Template Community
EdrawMax has a rich template community that expands to 25 million registered users. From Flowcharts to network diagrams, you can find thousands of free GCP templates in the template community section. In the template community, you will find hundreds and thousands of templates of different diagram types, ranging from network diagrams to flowcharts to science diagrams to architecture diagrams. When you create your diagram, this free GCP diagram software also lets you publish your design to the template community, where it can inspire other designers just like yourself.
6. Free Google Cloud Architecture Diagram Tool
Creating Google Cloud Architecture diagrams is a complex task. These diagrams require a lot of effort and technical details that need to be addressed. However, this may not be a big deal if you have the right tool like the Wondershare EdrawMax. This all-in-one diagramming tool features a gamut of tools, a template community, and an extensive symbol library to help you create professional diagrams in no time at all. Here are some features that make Edraw the perfect GCP Architecture diagram tool:
User-friendly interface with drag and drop functionality and intelligent automated alignment.
A gamut of tools to customize symbols and templates as per the project's need.
Free and customizable GCP diagram templates for a quick start.
An extensive GCP symbol library with standardized icons makes diagrams easier to read and interpret.
Can share and collaborate with the team to iterate the design and integrate new ideas.
Compatible with various formats like pdf, ppt, jpeg, gif, Visio, ppt. Export and share files without a platform restriction.
EdrawMax Desktop
Create over 280 types of diagrams
Windows, Mac, Linux (runs in all environments)
Professional inbuilt resources and templates
On-premises software for business
Enterprise-level data security
EdrawMax Online
Create over 280 types of diagrams online
Access diagrams anywhere, anytime
Team management and collaboration
Personal Cloud and Dropbox Integration
7. Final Thoughts
Google Cloud architecture diagrams are technical and require a rough layout before starting with the neat. When you start with your diagram, you must consider your audience and the purpose. The plan should be all-inclusive to keep you and all your employees on the same page.
EdrawMax is quite powerful and includes many features that make it possible to create very sophisticated models that can be used to create artificial intelligence apps. This guide shows how you can use EdrawMax to create professional and presentation-quality NNDs, like those that we see. You can start importing the icons that look beautiful and professional on your dashboard in only a few minutes. If you want to design professional network diagrams for your projects, then you should get access to the amazing collection of vector-based symbols and ensure that you save your money in the long run.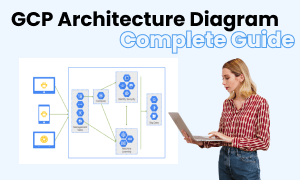 GCP Architecture Diagram Complete Guide
Check this complete guide to know everything about GCP architecture diagram, like GCP architecture diagram types, GCP architecture diagram symbols, and how to make a GCP architecture diagram.