Life Cycle Diagram Examples
Do You Want to Make Your Life Cycle Diagram?
EdrawMax specializes in diagramming and visualizing. Learn from this Life Cycle Diagram complete guide to know everything about the life circle. Just try it free now!
Creating a life cycle diagram may use your precious hours but not if you know the right way. Before telling you how to make this chart like a pro, let's see if it is beneficial. The life cycle diagrams are like oxygen to your company. It is the key to your company's promising future if you know how to utilize it properly. So, it is better to learn it. But where to learn that?
Well, fear not. This article will give you some awesome tips for their creation and highlight their importance. Besides that, today's article will walk you through how to use free editing tools to make life easier, especially in creating life cycle diagrams.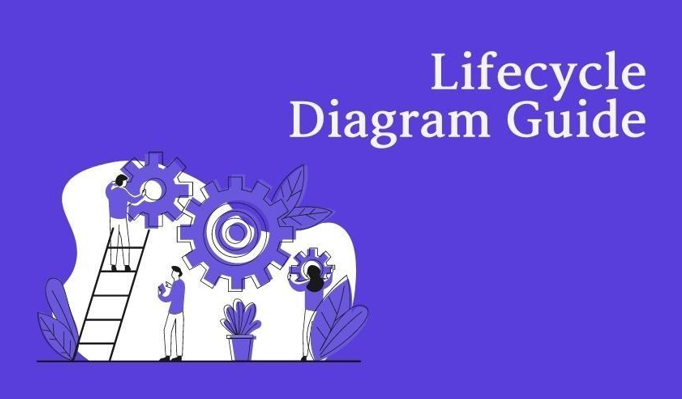 1. What is Life Cycle Diagram?
The life cycle is the process by which an organism or product goes through a series of stages from conception to death. Remember, these stages are usually grouped into distinct periods called phases or steps. Each stage has its name and may have several sub-stages within it.
On the other hand, a life cycle diagram is a visual representation of the different steps in the life cycle of an object. The purpose of a life cycle chart is to categorize, organize and communicate the stages of an object's life. Also, a life cycle chart can be used to illustrate how processes interconnect at each stage.
Life cycle diagrams help understand the relationship between a product and its customers. They show where products come from, how they're made, what happens to them, how they're used, and how they get recycled or thrown out.
But wait!
Its straight-up name can be a bit confusing for some of the readers. As per its name, it isn't solemnly a life cycle specific to living things. On the contrary, the diagram life cycle can represent a non-living product or an innate business growth within its pictorial presentation.
EdrawMax Desktop
Create over 280 types of diagrams
Windows, Mac, Linux (runs in all environments)
Professional inbuilt resources and templates
On-premises software for business
Enterprise-level data security
EdrawMax Online
Create over 280 types of diagrams online
Access diagrams anywhere, anytime
Team management and collaboration
Personal Cloud and Dropbox Integration
2. Top 5 Life Cycle Diagrams Examples (Free Editable)
Life Cycle Diagrams are a great way to comprehensively overview a product, process, or service. However, they can be of more than a single type. One thing that never changes in these types of diagrams is the specificity of the object. That means the chart will remain specific to the singular entity it is about, making it extremely helpful.
Below you'll be getting five free editable examples of life cycle diagrams. These will help you get your head around its concept and understand how it can benefit you or your business.
Plant life cycle diagram
This plant life cycle diagram includes a few key points. These are the seed, the dormancy period, germination, growth, and flowering. You can also see how plants reproduce and die off in this diagram.
Human life cycle diagram
The human life cycle is the succession of stages all humans go through, from conception to death. The diagram for the human life cycle covers all that. Moreover, the human life cycle diagram shows how babies grow from fetus to child, teenager, adult, senior citizen, and finally to death. Besides that, it can also help illustrate how people live their lives—from birth through old age.
Product life cycle diagram
A product or program life cycle diagram is a visual representation of how an object or service moves through its different stages of life. For example, the stages included in an ideal product life cycle flowchart are as follows:
Product: This is what the product is when it's new. It might be fresh off the assembly line or just coming off a conveyer belt.
Process: This stage lasts until the product reaches the customer. During this stage, it's processed in some way that changes it into something else (for example, cutting it with a saw).
Use: This step occurs when people use the product as intended—for example, putting it in their mouth or taking it out of their handbag.
Disposal: At this point, we've reached our end game for this object—when we throw it away after we've used it up.
Project management lifecycle diagram
Project management lifecycle diagrams typically show the processes involved in managing projects from start-up through completion or termination. For that purpose, it offers the different marketing activities and how they affect each other. As a result, it tempts consumers to change their behavior over time as they become familiar with the cycle of products. Plus, at the same time, it helps them make informed choices based on brand awareness, preference, and loyalty.
Business life cycle diagram
The business life cycle diagram is a way of visually representing a company's operations. It shows the various stages a company goes through to reach its ultimate goal and end up with a successful product or service. The process can be divided into four stages:
Preparation stage
Planning stage
Initiating stage (or the actual act of starting the project)
Operation stage (or the actual performance of the project)
Here's the catch! If you need all these diagrams, you may have to wander at different locations to find exact replicas. But what if there's a program packing every single one of these and thousands more like it? Yes, there is one! EdrawMax is a diagramming tool with many templates within the life cycle department. This program is ideal for the purpose, all thanks to its massive symbol and tool collection. So don't keep waiting! Get your very own programming software in just a few clicks.
3. Easy Steps to Make a Lifecycle Diagram
Lifecycle diagrams are a great way to help you plan your product development. They show the order in which major projects should be completed and how long they will take.
To make a lifecycle diagram, you must understand your product's process to complete its goal. For example, you can create a lifecycle diagram by following these steps:
Brainstorm the information you want to include in your lifecycle diagram. For that purpose, identify what information is most important in your industry. Then, think about what types of information you could include in an infographic or a chart that would help readers understand the different parts of your business. You might even want to break down each part of your business into smaller parts so that each piece of information can represent one graphic.
Create a list of all the processes that go into each step of your workflow. You can use this list to guide you through developing an effective workflow.
Add arrows between processes so that they flow smoothly from one step to the next. These will help you create a gradual flow in your diagram. Plus, it will prevent customers from wandering off the chart's objective.
Edit and update your diagram as necessary until you're happy with it! In this last step, improvise and remove the errors you may have missed early in the chart production. This process is more of an observing sector in the production method.
If you're starting to work with life cycle diagrams, we recommend you follow the basic path outlined in the diagram above. This template for a life cycle chart is straightforward, so it's easy to interpret the different components, and it will get you started in the right direction.
It doesn't matter if you want to create one by yourself. EdrawMax, a powerful diagram tool, can help you finish a life circle diagram efficiently. EdrawMax helps you to drag and drop to make your design visually. So don't hesitate to try it for free now!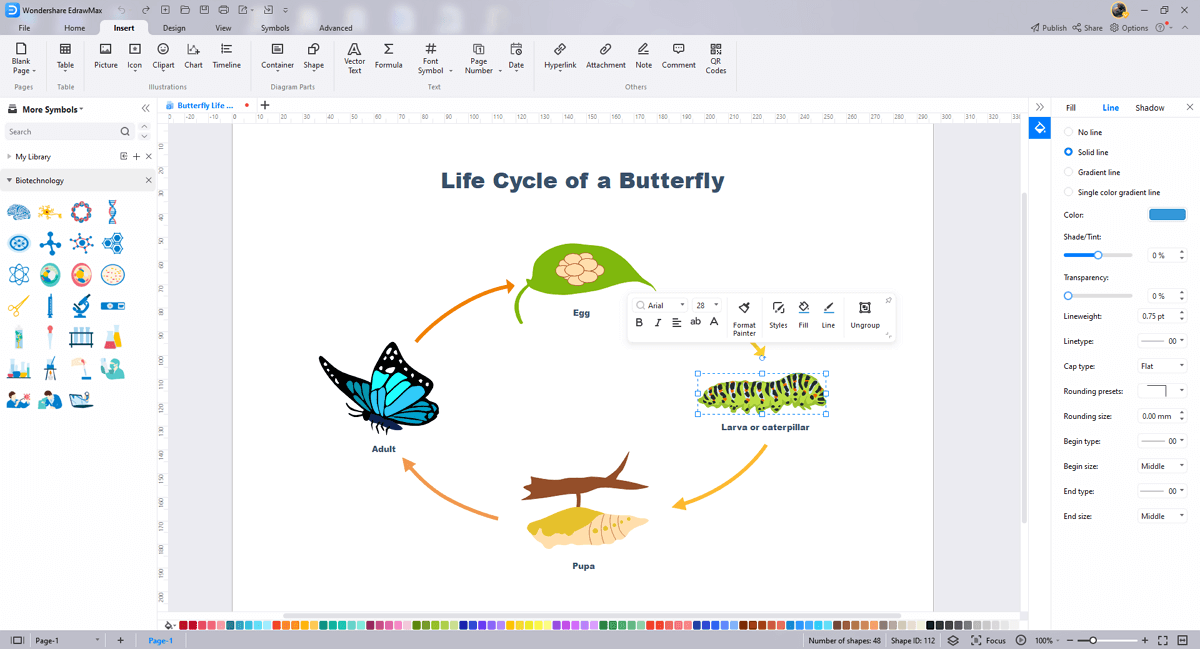 4. Conclusion
Using the example life cycle diagram you create as a resource is a good idea. Then, even as your product or service changes and innovates, you can return to the original life cycle example to remind yourself of your phases or what phases you may yet implement.
You might even try making a new version with each product or service update, using the old version as reference material. There are limitless possibilities for what you might do with your life cycle overview diagram. Still, the key is to keep it alive—and always relevant—by keeping it updated and well-maintained.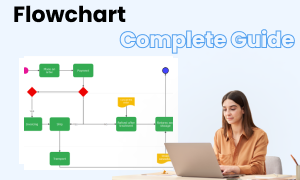 Flowchart Complete Guide
Check this complete guide to know everything about flowchart, like flowchart types, flowchart symbols, and how to make a flowchart.