Hotel Management Flowchart Examples & Templates
Do You Want to Make Your Hotel Management Flowchart Examples?
EdrawMax specializes in diagramming and visualizing. Learn from this article to know everything about hotel management flowchart examples and templates. Just try it free now!
As the restrictions of the COVID-19 pandemic ease, more and more people are going back to their pre-pandemic vacation habits. This is incredible news to hoteliers, who may have ventured into sustainable practices during the lockdown periods. As many hotel doors open up, the competition in the hospitality industry stiffens. Hotel managers are searching for ways to ensure that they can provide high-quality services to visitors.
Fortunately, innovative tools are now available to help them achieve this goal. One of these tools is hotel process flowcharts. These diagrams are designed to visualize the processes within the hotel management system. This article presents the different flowcharts that can be used in hotel management and lists several practical tips on how to improve your hotel management strategy.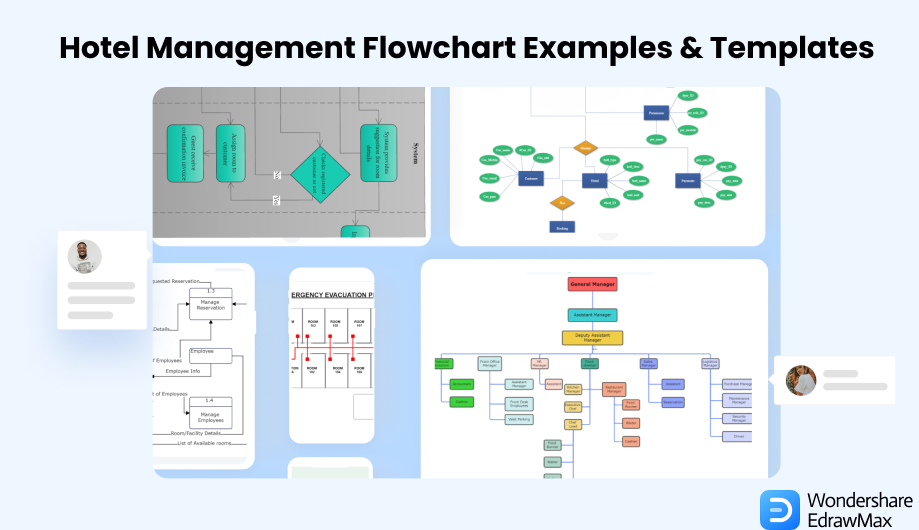 1. Hotel Management Flowchart Templates
Here are some examples of hotel management flowchart.
Example 1: ER Diagram for Hotel Management System
As the name implies, entity relationship (ER) diagrams are used to portray the relationship among the "entities" that are involved in a system. These entities could refer to people, objects, theories, and subsystems that interact with each other to mobilize the system.
ER diagrams for hotel management systems are commonly used by hoteliers when planning the information system for their websites or mobile applications. These diagrams are also used by the IT department of hotels to troubleshoot issues within the hotel database system, including bugs, hacking incidents, and data security issues.
Example 2: Data Flow Diagram for Hotel Management
Almost similar to ER diagrams, data flow diagrams depict how each system component works with other components. The main difference is that the latter also shows the flow of information within the system to define the roles and requirements of each component.
In hotel management, data flow diagrams are particularly useful when creating the process flow from room reservation to hotel check-in/check-out. In addition, hotel managers can use data flow diagrams to identify bottlenecks or pain points in the hotel management system and develop appropriate solutions.
Example 3: Hotel Reservation System
As the demand for convenient transactions elevates, people are becoming more impatient when dealing with complicated processes. Hence, one aspect that hotels can leverage is an easy and simple reservation process.
The diagram used to illustrate a hotel reservation system is essentially the same as other types of process flowcharts, except that it is exclusive to the process that leads to the reservation of rooms for guests. Albeit its simple-sounding purpose, a hotel reservation system diagram is one of the most important hotel process flowcharts as it determines whether a hotel room will be occupied or not.
Example 4: Hotel Emergency Evacuation Map
Evacuation plans are necessary not only for hotels but also for any kind of facility inhabited by humans. No one knows when and where disasters could strike, which is why hotels are required to carry comprehensive emergency evacuation maps for each floor.
Evacuation plans are necessary not only for hotels but also for any kind of facility inhabited by humans. No one knows when and where disasters could strike, which is why hotels are required to carry comprehensive emergency evacuation maps for each floor.
Example 5: Hotel Piping Diagram
A piping diagram is an engineering drawing used by construction teams to map out the plumbing system of a hotel. Also called piping and instrumentation diagrams (or P&IDs), hotel piping diagrams are ideally created at the early phase of hotel construction to avoid problems in the water system and simplify the plumbing scheme. The most distinct characteristic of piping diagrams is the inclusion of symbols for piping tools and instruments, which are used by engineers as a reference when drawing the layouts of other parts of the hotel.
Example 6: Hotel Organizational Chart
Hotel organizational charts are probably one of the first hotel process flowcharts that are produced by hotel management. They serve as a guide when identifying key points of responsibility within the hotel management system.
A hotel organizational chart displays the organizational structure of the hotel, which shows the hierarchy and ranking of each hotel employee. At the top of this chart is the main executive of the hotel, which could be the owner, chief executive officer, or general manager (usually for hotel branches), followed by the assisting department heads down to rank-and-file employees.
At this point, you are aware that managing a hotel is more than accommodating your guests and maintaining clean rooms. Being in the hospitality industry involves a high level of diversity as guests are more likely to demand personalized experiences.
The key to delivering high-quality hotel service is a functional and organized hotel management system, which, luckily, is attainable with the use of flowcharts for hotel management. You can use the above examples of hotel process flowcharts, or you can also find more templates that will suit your system requirements when you visit the EdrawMax template community.
2. Becoming a More Hospitable Hotelier
Needless to say, the hospitality industry focuses on providing comfort, leisure, and warmth to guests. As promised, here are some practical tips that you can adopt to establish a more hospitable hotel and staff.
Build Your Dream Team
You need a team to manage a hotel. However, make sure that you hire people whose values resonate with yours and whose skill sets fit the hospitality industry. Otherwise, you may end up hiring new employees every few months.
Appreciate and Recognize Your Employees
After you build your dream team, you must take care of the team members. Aside from honing their skills, make sure to show how much you appreciate their effort and recognize how they progress in their professional paths.
Invest in a Reliable Information System
This sounds expensive and impractical but guess what? The digital age makes it possible to find high-quality information systems at a cost that will not break the bank. Investing in a reliable information system can, and will, help you achieve your goals faster, as it offers an effective way of integrating your system with minimal to zero manual intervention.
Establish SOPs
The service industry is complex and diverse. Hence, setting expectations by establishing realistic protocols can draw your focus on the strengths of your hotel that you can leverage to become a better leader in the industry.
3. Conclusion
To swiftly recover from the impact of the current global health crisis, members of the hospitality industry, particularly hotels, are constantly looking for ways to improve their services and attract as many visitors as they can. More than presenting friendly faces in the lobby and offering fresh-scented rooms, hotels need to maintain an organized workflow to provide a personalized experience to guests.
EdrawMax offers tools that you can use to organize your hotel systems. With a wide array of hotel process flowcharts to choose from, you can now efficiently plan your next step in revolutionizing your services as a hotel manager.
EdrawMax Desktop
Create over 280 types of diagrams
Windows, Mac, Linux (runs in all environments)
Professional inbuilt resources and templates
On-premises software for business
Enterprise-level data security
EdrawMax Online
Create over 280 types of diagrams online
Access diagrams anywhere, anytime
Team management and collaboration
Personal Cloud and Dropbox Integration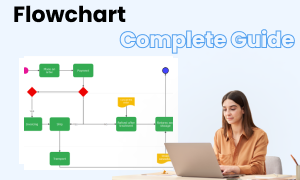 Flowchart Complete Guide
Check this complete guide to know everything about flowchart, like flowchart types, flowchart symbols, and how to make a flowchart.