Nonprofit Organizational Chart Examples & Templates
Do You Want to Make Your Nonprofit Organizational Chart Examples?
EdrawMax specializes in diagramming and visualizing. Learn from this article to know everything about nonprofit organizational chart examples and templates. Just try it free now!
A nonprofit organization chart is a necessary but often overlooked component. You can see it in the number of nonprofits that don't have any structure or struggle with it. Nonprofit organizations are no different from for-profit businesses. They need organization charts that show the various levels and divisions of the organization.
Creating one is confusing if you don't know how. An organizational chart template can be a source of inspiration, so we've gathered some nonprofit organization chart templates to use in your next project. But before that, let's understand what a nonprofit organization chart is and its importance.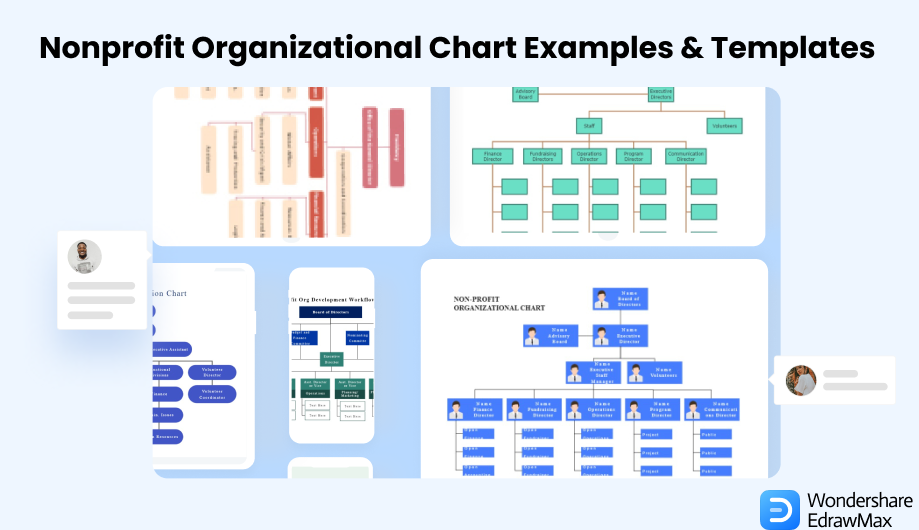 1. What is a Nonprofit Organization Chart
A nonprofit organization chart is a graphical representation of organizational hierarchy, showing titles and areas of responsibility. Similar to other kinds of organization charts used by for-profit companies. The difference between them is within the NGO organizational structure. Depending on their positions and connections, nonprofits will have workers and volunteers at the bottom and board members at the top, which may also vary based on your location.
Making the nonprofit board structure chart more personal will make new employees feel more welcome. A nonprofit organization chart helps you figure out how the nonprofit works, who it serves, and how it's all connected. It's easy to lose sight of the steps necessary to make this space a reality. Understanding your organization and mission will give you a better chance of succeeding.
A nonprofit organization chart is a simple and effective way to organize important information concerning your NGO's organizational structure. It's an effective tool to manage and improve the efficiency of an organization, its staff, and its members. A nonprofit organization chart helps to identify overwhelmed divisions and underdeveloped ones. For that reason, you need one if you want your nonprofit organization to run smoothly for years.
2. Nonprofit Organization Chart Examples: 8 Editable Templates
A nonprofit organization chart is an essential tool for raising awareness and support. If you use one, make sure it's of the highest quality. The most helpful tool for people to understand your cause is visual. Don't be afraid to use color, images, or fonts to get your point across to the audience. Here are a few editable templates for you to download:
Example 1: Red Cross NGO Organizational Structure Template
The Red Cross is a nonprofit organization that exists to help people in need. Those divisions are law, communications, operations, finance, and human resources. This NGO organizational structure sample chart can be helpful if you are trying to understand the complex nature of this organization and how it works.
ER diagrams for hotel management systems are commonly used by hoteliers when planning the information system for their websites or mobile applications. These diagrams are also used by the IT department of hotels to troubleshoot issues within the hotel database system, including bugs, hacking incidents, and data security issues.
Example 2: Public Health Nonprofit Organization Chart Template
Nonprofits have vertical organizational charts showing how departments, functions, and subgroups work together. Using it to assess who reports to whom in the organization helps understand how it works. Getting a public healthcare nonprofit organizational chart is easy. This template features a flat color scheme, design, and layout suitable for a more contemporary look and feel.
Example 3: Plant Protection Nonprofit Board Structure Chart Template
Using this nonprofit board structure chart will help you understand who reports to who and what your duties are. In addition, it's great for keeping track of direct supervisors.
Example 4: Traditional Nonprofit Organizational Structure Template
It is a classic nonprofit organizational structure chart that illustrates how the standard nonprofit organization functions, with each division reporting to and receiving feedback from one another. The arrows connect to show how teamwork, collaboration, and communication work in a nonprofit.
Example 5: NGO Organizational Structure Sample
An NGO organizational structure chart must include employee headshots so new hires can get to know their co-workers. The best way to do this is to take pictures of everyone and rank them according to seniority or importance within the organization. It will help employees understand who they're working with and how they fit into the organization.
Example 6: Nonprofit Organization Chart Sample
With this nonprofit organizational structure template, you can tell what each director does based on the minimalist look. An independent advisory board helps set policies and decisions, while an executive director handles staff and volunteers. Every department has its director, from finance to communications.
Example 7: Nonprofit Organization Development Workflow Chart
Charts can show how nonprofits work and how they're doing. It lets members of the board and other volunteers understand the organization's workflow and how each division works independently and together to achieve its missions. Nonprofit organizations have different committees that help them accomplish their missions.
Some committees oversee fundraising, finance, nominating, and other programs. These committees and the board of directors may get an executive director's report on all subgroups' accomplishments.
Example 8: Nonprofit Organization Chart Sample
Here's a nonprofit organization chart segmented by division. Executive directors manage the entire business and report everything to the board. Under the executive director, you'll find the developmental director, the program director, and the volunteer director. A personal assistant reports to the executive
3. Considerations in Creating Nonprofit Organization Chart
Nonprofit organization charts need to be logical, accessible, and readable. When designing a new chart for your NGO organizational structure, it is helpful to know a few tips. Below we've shared some things you should consider.
#1 Put Individuals with the Same Title Together
It allows everyone to visualize individuals with similar roles. In addition, it makes the nonprofit organization chart much easier to follow for everyone. You can do this if there are a lot of employees in the same category.
#2 Consistently Use Shapes and Colors
Make your chart easier to understand by using one shape for directors, another for managers, and one more for associates. Color can also improve nonprofit organization charts, provided it's consistent and doesn't strain your eyes. Use a different color for each division of the organization.
#3 Include Relevant Information
Remember to include your team's information too. This way, anyone in need of help would know who to call. Keep it concise. A simple material is also worth more than a long or complex one.
#4 Configure its Structure, Layout, or Format as Needed
Expect to change and improve the format of your nonprofit organization chart. That applies to the design, organization, colors, fonts, etc. For instance, you may be creative by using employee photos instead of names to display each team member. You can also use arrows or lines to connect management links. The same is true for label color coding. The chart should be better with the new format.
4. Conclusion
By now, you're aware of how relevant a nonprofit organization chart is and what it can do for your organization. A well-designed nonprofit organization chart shows who's on staff and how everyone fits together. Many organizational chart templates are available online, and you can choose one that suits your organization. While you can create a nonprofit organization chart yourself, using the nonprofit organization charts above will save you time and simplify things.
EdrawMax Desktop
Create over 280 types of diagrams
Windows, Mac, Linux (runs in all environments)
Professional inbuilt resources and templates
On-premises software for business
Enterprise-level data security
EdrawMax Online
Create over 280 types of diagrams online
Access diagrams anywhere, anytime
Team management and collaboration
Personal Cloud and Dropbox Integration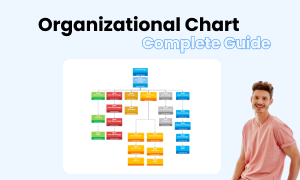 Organizational Chart Complete Guide
Check this complete guide to know everything about organizational chart, like organizational chart types, and how to make an organizational chart.