Getting Things Done (GTD) Flowchart
Do You Want to Make Your Flowchart?
EdrawMax specializes in diagramming and visualizing. Learn from this Getting Things Done Flowchart complete guide to know everything about Getting Things Done (GTD) Flowchart. Just try it free now!
So, you have so many tasks ahead, and it is starting to overwhelm you. Take a deep breath. You can do it. To handle this problem better, you can use a GTD flowchart. GTD stands for "getting things done." Meanwhile, a flowchart is a diagram representing a process's workflow. Therefore, you can use this visual aid to better plan and schedule your upcoming tasks.
This article will teach you more about GTD flowcharts and how to apply them in real life.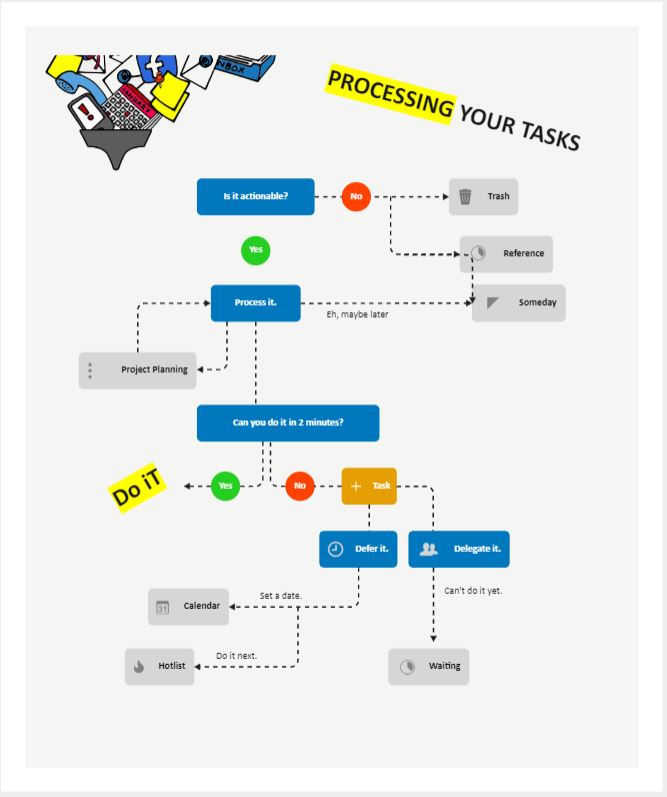 1. What Is the Getting Things Done Flowchart?
What do you do when you have lots to do the next day? Many people's response is to make a to-do list. While that could work, to-do lists are sometimes not ideal. Often, it does not include all the details you need to do a specific task.
David Allen made a productivity system in 2001, aiming to solve the problem we are discussing here. The method is called "Getting Things Done," or GTD for short. You can read the book sharing the system's name to understand this productivity method. But don't worry; you don't have to. You already have a lot on your hands.
A GTD flowchart puts the 5 steps discussed in Allen's system in an actionable flowchart. Essentially, they are more defined to-do lists with more details about tasks, deadlines, priority tasks, and more. They guide you to finish tasks as efficiently as possible.
That said, professionals with a heavy workload can benefit from this time management tool.
EdrawMax Desktop
Create over 280 types of diagrams
Windows, Mac, Linux (runs in all environments)
Professional inbuilt resources and templates
On-premises software for business
Enterprise-level data security
EdrawMax Online
Create over 280 types of diagrams online
Access diagrams anywhere, anytime
Team management and collaboration
Personal Cloud and Dropbox Integration
2. How To Create a Getting Things Done Flowchart
Step 1: Collect
The first step in GTD is "collect" or "capture." Then, just like creating a to-do list, write or record anything with your attention. That includes your day-to-day tasks, uncompleted tasks, and ideas that cross your mind.
They will constantly worry you if you ignore them. And that is energy-draining. Consequently, you get tired even before you start your tasks. Writing these activities and ideas down frees you from worrying.
Step 2: Clarify
Now, look at the list you made. For each activity, ask two questions:
Is the idea "actionable"?
Is the action linked to the idea a priority?
Suppose the answer is no. Then, remove, postpone, or archive the activity. On the other hand, if the answer is yes, ask more questions.
Is there one or more actions?
Are you responsible for the action?
Is the activity doable in 2 minutes?
Do the task immediately if your answer is yes to all these questions. Otherwise, proceed to the next step.
Step 3: Organize
Organize the tasks that take more than 2 minutes to finish and identify which tasks to prioritize. Then, classify them as One-Day Tasks (to be made one day - with a due date), Pending, Urgent, and Reference. The middle two are self-explanatory. Meanwhile, the last one consists of tasks that are not too urgent or necessary, but you find interesting.
Step 4: Reflect
Reflect on where you are in your work progress. Revisit the getting things done flowchart often to mark tasks that you have already completed. Furthermore, you'll get new tasks as days go by. So, return to the GTD flowchart to update it and perform the new tasks.
Make this a habit, and you can get through your days with not much stress. In addition, you can complete tasks in an organized manner, increasing your productivity.
Step 5: Do
So, you now have a flowchart showing you the tasks you need to do. There's an indication of which ones to prioritize and which you can do later. What's left is to carry out these tasks. Admittedly, you don't need to know this step to make a GTD flowchart. But it's a reminder of what you need to do next.
3. Tools To Help You Implement GTD in Real Life
Some digital tools can help you implement GTD in real life. We identified the best ones. And here, we will present them to you.
Get It Done - A GTD App for Personal Use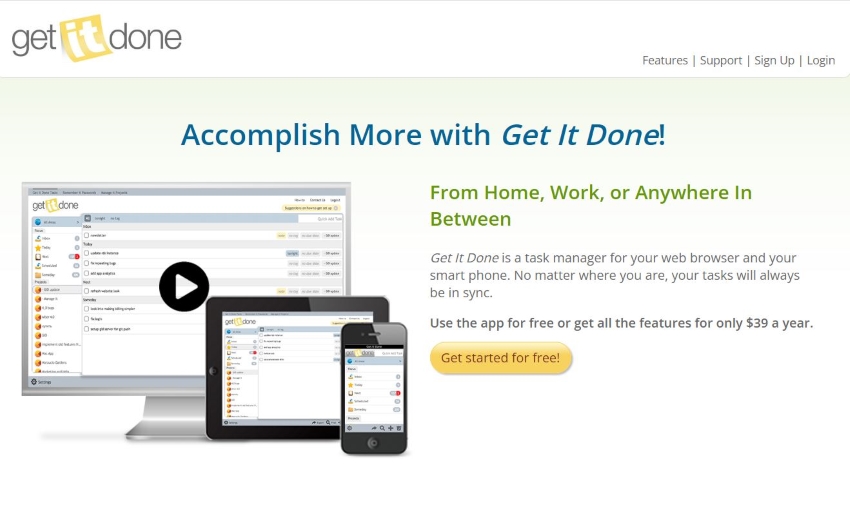 Get It Done got its name from David Allen's "Get Things Done." It is a productivity app with many useful features. Get It Done is a GTD software that allows you to organize tasks and notes into projects.
You can put tags on projects to find priority tasks much more accessible. Also, a function reminds you of recurring tasks. Get It Done also syncs with your calendar automatically and supports Google Calendar, Apple iCal, and more.
EdrawMax
All-in-one Diagram Software
Helps You to Create Get Things Done Flowchart
Numerous Templates: Beautiful built-in flowchart templates supported
Easy to Use: Drag and drop to use various symbols to create your GTD flowchart, with one-click design function to renew all styles
Security Verified |
Switch to Mac >>
Security Verified |
Switch to Linux >>
Security Verified |
Switch to Windows >>
ClickUp - A GTD Tool for Complicated Tasks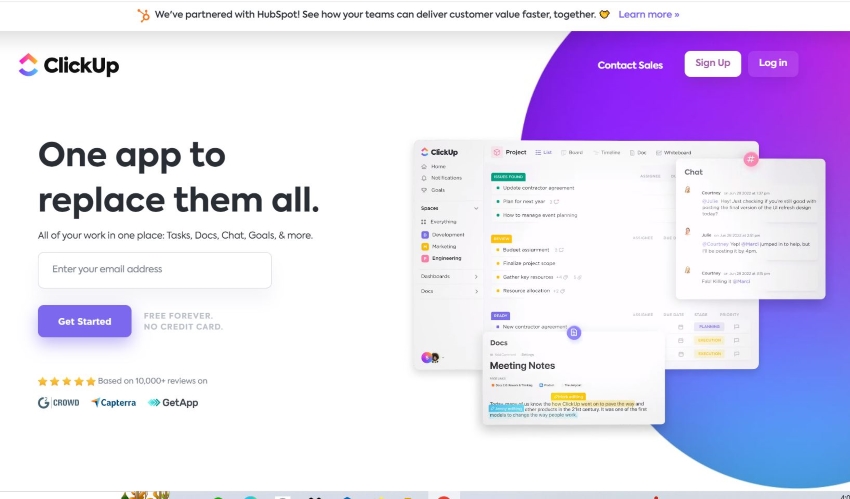 ClickUp is a well-known project and task manager for teams. It is the best choice for big teams working on complex tasks. ClickUp has a "Goals" feature that lets you set goals for certain task completions. It updates in real time so that you can stay on top of your team's progress. You can also use this tool to delegate tasks, an important part of the GTD flowchart, drag and drop due dates on a Calendar, and more.
Many businesses choose ClickUp as their GTD tool. That's a testament to how reliable this task manager software is.
Infinity - A GTD Tool for Small Teams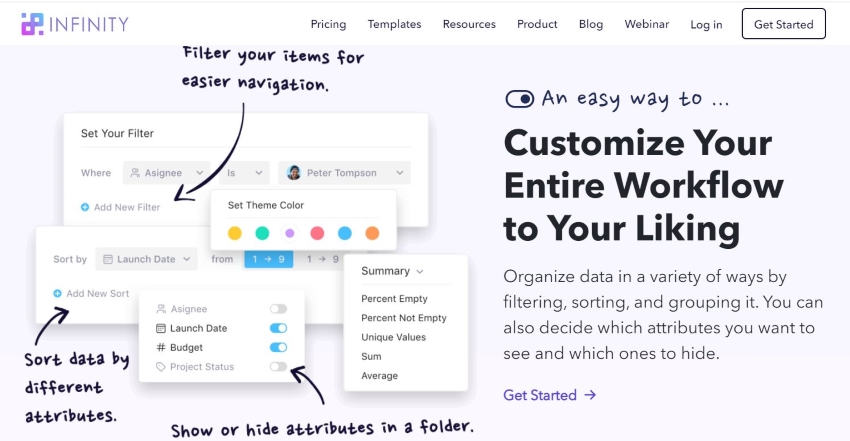 If you manage a small team, you'll benefit from using Infinity. It allows you to structure your work in folders and subfolders. For example, you can use this feature to make separate folders for the categories mentioned above in step 3 of the GTD flowchart.
Infinity also lets you use different views: Columns, Tables, Calendars, Gantt, Forms, and Lists. Thus, it allows you to visualize your team's work progress better.
4. Conclusion
A GTD flowchart can increase your productivity by telling you which tasks to focus on. To make one, you need to follow the 5 steps in David Allen's book titled "Getting Things Done." The steps are as follows: capture, clarify, organize, reflect, and do. And to make the flowchart itself, you need tools like Wondershare EdrawMax. This tool provides you with over 12 thousand free editable templates. That includes organizational charts, roadmap infographics, and getting things done flow charts.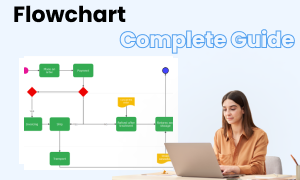 Flowchart Complete Guide
Check this complete guide to know everything about flowchart, like flowchart types, flowchart symbols, and how to make a flowchart.