Do You Want to Create Brochure Effortlessly? Try This Out!
EdrawMax Brochure Maker offers plenty of brochure templates for free editing and exporting. It also supports drawing different kinds of diagrams and charts. Just try it for free now!
This article shows you the main information about brochure and tells you a way to create a customized brochure in a minute! Moreover, we also offer some useful templates for you to free download and use. Keep reading to find out more!
Part 1: Definition of Brochure
A brochure is an informative paper document for advertising, which can be folded into a template, pamphlet, or leaflet. Brochures are promotional documents, primarily used to introduce a company, organization, products, or services and inform potential customers or members of the public of the benefits. They are usually distributed inside newspapers, handed out personally, or placed in brochure racks in high traffic locations.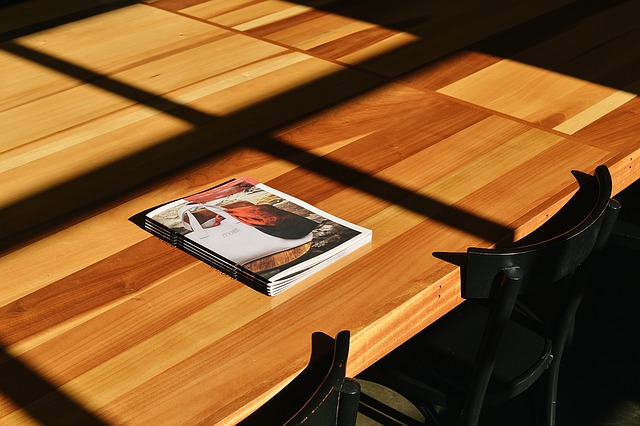 Part 2: What are the Purposes of Brochures?
The main purpose of a brochure is to extend the reader's knowledge on one specific topic in which the brochure centers around.
Catch the target audience's eyes at first sight with its astonishingly beautiful visual design.
Promote your products, agency, or service in an intuitive way.
Build trust between you and your potential clients.
Compared with advertising on TV or in newspapers, brochures seem to be more cost-effective.
After people get used to splendid online advertisements, a tangible, tactile, and delicate brochure becomes more precious.
You may ask yourself, why choose to use brochures over other methods? The fact is brochure is one of the best forms of marketing that can easily provide quick results by boosting your business influence and conversion rates. The following are some of the reasons why use a brochure:
It is a cost-effective method.
Easily understandable by readers since it utilizes lucid language to create awareness about something
In terms of reaching your target audience, it is impressive
Most well-designed brochures take little time to captures the attention of potential clients
Offer a consistent form of branding
Offer solid future products and services references featured by a company.
DIY Your Personalized Brochure In A Minute! Create Now!
EdrawMax Brochure Maker offers multiple graphic templates such as brochures, annual reports, banners, certificates, covers, picture collages, posters, etc... You can use pre-made templates to design in your own way! Free to try!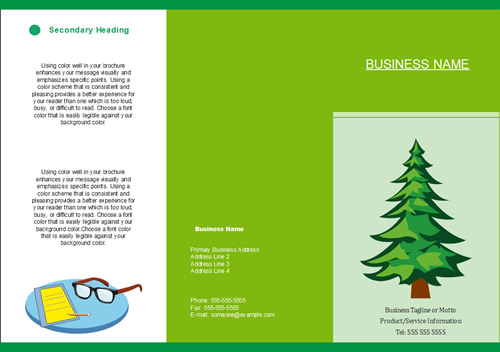 Part 3: Difference between Brochures, Pamphlets, Flyers, Magazines, and newsletters
a) Brochures vs pamphlets
Brochures and pamphlets bear similar designs, but their main difference lies in purpose. With a brochure, it is designed to sell products and services for a company, but pamphlets' main purpose is to inform.
b) Brochures vs flyers
Brochures and flyers also feature similar creative designs, but the difference goes on the number folds. Flayers are unlike brochures since they only appear in a single unfolded sheet, while brochures feature several folding types.
c) Brochures and Newsletters
Like brochures, newsletters are also created to promote the company's products, services, and businesses. They are also appealing and easy to read, which is also similar to brochures. Their main difference comes in their detailed purposes: the newsletter is about giving daily, monthly or yearly information and a company's reports. Brochure, on the other hand, is about what an organization is and what it serves.
d) Brochures and Magazines (Booklets)
Compared to brochures, booklets are designed in a book-like design, meaning they are flat and not folded. Furthermore, what distinguishes it from the other documents is that they typically consist of multiple pages (Normally, between 8-73 pages).
Part 4: Types of Brochure
A brochure has many different types, and each type has got a different role to play. It can be classified into the following five types according to its format and layout.
Gate Fold Brochure
This is a pretty uncommon brochure because of its expensive cost, which has a great influence when it is used appropriately. Its inward folding design makes it convenient to carry, and its paper quality is very high; thus, readers can keep it for a long time.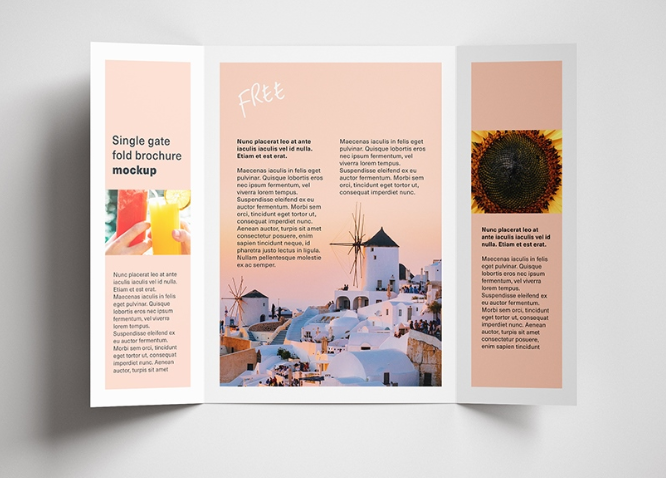 Tips You Should Know
If you are finding a way to create outstanding brochure with ease. Try EdrawMax Brochure Maker and use pre-made templates to edit by yourself!
Bi-Fold Brochure
Bi-Fold Brochure is found among us every day. It is one of the most popular and widely used brochure types around, while it has a more formal layout than tri-fold brochures. It is mainly used for product catalogs and presentations, trade shows and corporate meetings, etc.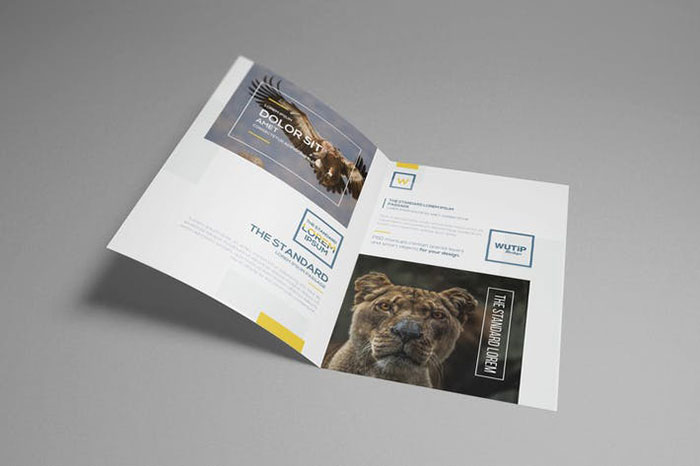 Tri-Fold Brochure
It is easy to know this is a three folds brochure according to its name. And this is a pretty common and brochure that we can see it everywhere. This brochure has enough space for designers to present information and design interesting, thus attract more attention to the reader.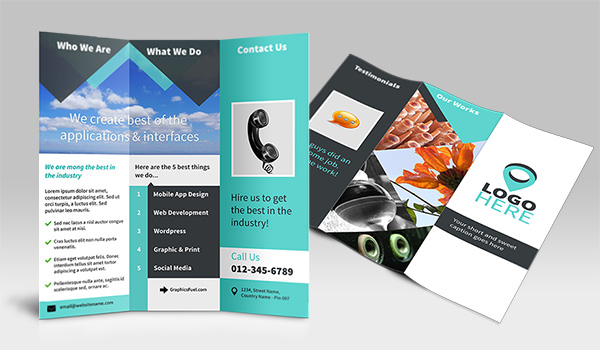 Z-Fold Brochure
A Z-Fold brochure, basically an accordion fold, is a great brochure folding option because of the versatility it provides. Designers can separate each element by making each panel stand-alone, or design the brochure so that it opens out to a full spread with one large, dramatic photograph.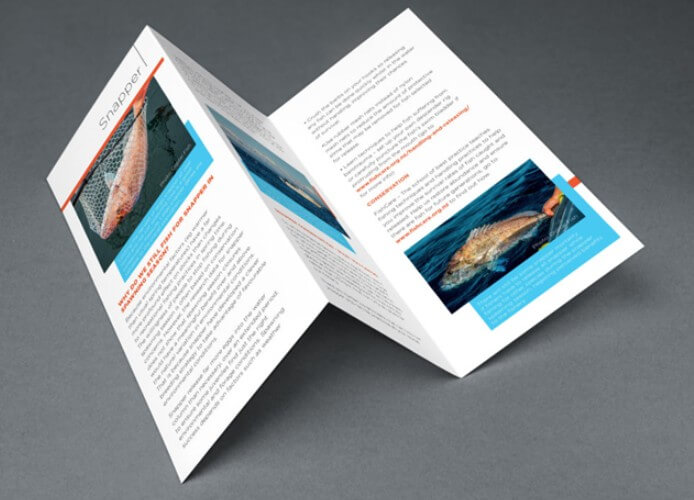 Part 5: How to Create a Stunning Brochure: a Simple Guide
Here is a simple guide to making brochures for you to follow. Let's started up!
1. Things to Do Before Making a Brochure
1) Gather ideas and examples.
As with any other project, the aim is to create an attractive, well-designed, and informative document. Because of this, you will need to start by familiarizing yourself with styles, graphics, and how to word your brochure. The best way to do this is by collecting several examples that might fit your initial concept.
2) Brainstorm for your project.
After gathering examples and getting well-versed with how you will like your brochure, then start brainstorming ideas. Ask yourself the following questions to help you with this process:
What's your brochure's target audience?
What is your budget for this entire process of making brochures?
Who should you consult further for extra input, clarification as well as even draft feedback?
3) Write an outline with a mind map.
A mind map is a better way of presenting your thoughts about this kind of project. You should use it to create an outline, which will help you decide how the brochure will look, what to include, and how to organize it.
2. Steps to Make a Brochure
EdrawMax is one of the best online brochure makers, with extensive built-in brochure templates, drag-and-drop feature, among other excellent features. With it, you can either take a template and edit or create a brochure from scratch by following these steps, before that, you can learn what EdrawMax is.
All in one diagram creating tool
EdrawMax
Offer pre-made templates and symbols
Create more than 280 types of graphic and diagrams effortlessly
Superior file compatibility: Import and export drawings to various file formats, such as Visio
Cross-platform supported (Windows, Mac, Linux, Web)
Security Verified |
Switch to Mac >>
Security Verified |
Switch to Linux >>
Security Verified |
Switch to Windows >>
Step 1: Download and Register
Before creating an eye-catching brochure, we need to download an easy-to-use brochure maker. With this amazing brochure software, creating any type of brochures cannot be easier.
Step 2: Start with a template.
After signing in, you can search and choose any of the available pre-made templates and edit them according to your taste. But f you want to create from scratch, click on "Create," which will take you to a new drawing page.
Step 3: Decide on perfect page size.
Choose your ideal dimensions by scrolling over to the "Page Layout" tab. In there, you can find several options like a ruler, grid, page orientation, size, etc., under it.
Step 4: Adjust margins, create space for texts & image insertion by creating a layout grid.
This step is intended to create several columns for accurate text and picture placement. The entire blank page will therefore be divided into several equal columns. Take advantage of the horizontal and vertical rulers to create a guide by dragging it to your preferred position using a mouse or pointer. If you want to lock your design, you can press "Protect" by accessing it through the "Home" tab.
Step 5: Insert text and images.
A picture is an integral part of a brochure since it helps beautify the document, thus improving its attractiveness. To insert an image, move to the "Insert" tab, click on a picture, and then drag and drop it. You can also resize the image. To add text, you will first need to add the text field by going to "Form" in the library and dragging the text field to the ideal position.
Step 6: Export, Print, or Share
After designing your brochure in EdrawMax, you can now export it to any type of file you want, i.e., MS Office, PDF, JPG, SVG, and so on.
Tips: Above is the way that needs to DIY the brochure all by yourself by adding different symbols and items. Click here to view the approach to using pre-made templates to edit and create brochures. Or you can download more brochure templates from here.
[Bonus] Why Choose EdrawMax to Create Brochures?
If you want to create a visually appealing and informative brochure to get the attention of others, then you should consider using EdrawMax. The user-friendly and professional diagramming tool would let you create all kinds of brochures in a jiffy.
Extensive range of symbols
In EdrawMax, you can explore 26,000+ different kinds of symbols, vectors, and other design components. You can drag and drop any symbol of your choice to your canvas to create 280 different types of diagrams.
Intuitive Design
One of the best things about EdrawMax brochure maker is that you don't need any prior technical experience to use it. It is extremely easy to use and is friendly to beginners.
Tons of Templates
Apart from the extensive range of elements for your brochure design, you can also explore the readily available templates in the tool. Just export them to your canvas and customize the brochure design however you like.
Robust Compatibility
Ideally, the EdrawMax brochure maker can import and export designs to and from different formats (like PDF, Visio, MS Office, images, and more). You can also share your brochure designs on social media or integrate the inbuilt cloud documents.
3. Tips for Making a Brochure
a. Identify your target audience.
Defining your target audience is essential in determining the style and language to use when designing your brochure. SO, before you start the entire process of making a brochure, first ask yourself who am I, or are we creating this brochure for?
b. Select an appropriate format.
A format is another essential factor to considering when creating your brochure. This is because one format is not ideal for all services, people, products, or even gender. The main idea you should aim for here is to utilize formatting to create an impression. This may also include font size and type, language, and colors to use.
c. Determine the type of information to include.
This is the sensitive part of all simply because the picture used may either send the right or the wrong message. At times, you may not include all information since a long block of text may seem too hectic to read to most people. So, it is about including summarized information using influential, professional, and maybe fun language depending on the occasion.
Part 6: Discover More Templates of Brochures [Free Download to Use]
Here list some brochure templates created by EdrawMax. You can freely download all of the templates and customize them according to your needs. Click one of the following templates to get started now!
Part 7: How to Distribute Brochures
There are several ways to distribute brochures; some are very simple, while others may need extra labor costs. Here are some of the ways that may help you distribute your brochures:
Set them checkout counter or at the out on a table at any store location
Hand out the brochure in person. This is ideal when you have been speaking to your customers about your services or products, and you may hand them brochures for more information or to share with their friends.
Use door-to-door mail mostly when communicating more professional information or when communicating product line information to a client after completing an order.
Set a rack at your store location
For online business emailing physical copy or electronic copy is the best option to go with
Hire few individuals to distribute them across the city in various locations such as bus and train stations, the marketplace, or even restaurants.
Further Reading
Customizable Brochure Templates - Free Download