How to Create Brochure Quickly

Part 1: What is a Brochure?
A brochure is a folded document that contains informative textual and visual content about a company's ideas, goods, and services. It is created to inform potential customers about the benefits of the company. Similar to flyers, brochures are a relatively cost-effective and easily mass-produced method of promoting a business. They tend to be printed on paper of higher-quality.
Brochures are cheap and easy to mass-produce, making them a popular choice for advertisers and business owners. As they tend to be larger than flyers, brochures can contain much more information. They can be distributed directly to potential customers. This personal touch is beneficial for startups and small businesses.
Part 2: Tips to Make Good-Looking Brochures
1. Define Your Audience: Asking yourself who will be the target audience of your brochure. Who will buy your product or service? How old are they? What do they like? Focus on the correct range of people and create the style and content that fits their interests and requirements.
2. Use Appealing Headline: Headline usually is the first message that comes into the audience's eyes. If you want to get immediate attention, a charming and attractive headline is very crucial. The headline should be short and catchy. Make sure it contains the key selling point, which will persuade them to continue reading.
3. Keep the Content Brief: Make sure your content is brief, easy, and attractive. People don't give much time to your brochure, so get to the point. Select feature-rich bullet points; use small paragraphs and punchy headings. You aim to let customers understand your offerings with the least words in the shortest time.
4. Use Nice Images: Images are as important as texts, and sometimes images could be more intuitive than words. A good image will catch the audience's eyes at first glance. The image you choose should speak for your product and deliver your message directly. Choose high-quality pictures, and use appropriate color tone to fit the whole brochure design.
5. Make it Unique and Eye-catching: Making your brochure creative and unique is very important. It decides whether the audience would like to read or not. Think about your product or service features and make a special design associated with what you sell. There are many great designs on the internet. View them, and get inspiration.
6. Include a Call to Action: Make sure the brochure has a clear call to action so that the audience knows what you are asking them to do. Give them an incentive to move forward with your product or service, such as a free sample, discount coupon, or gift. This will lead them to get to know your business deeper and include you as a consideration when they need such a product or service. Check over and don't miss the following information: phone number, email address, website address, business address, and opening times.
Part 3: How to Create a Brochure
Step 1: Open EdrawMax from your computer, and navigate to [New] > [Graphic Design] > [Brochure].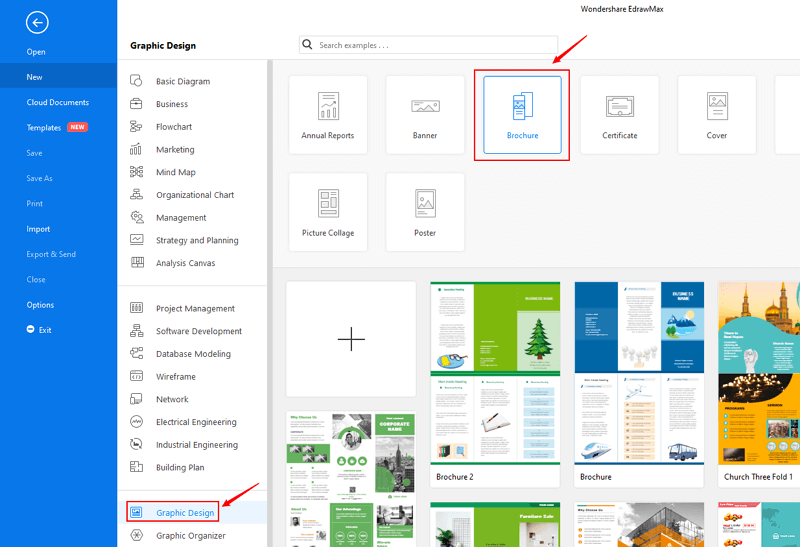 Step 2: Open and make modification on a pre-made brochure template, or you can create a new brochure with the pre-set design elements.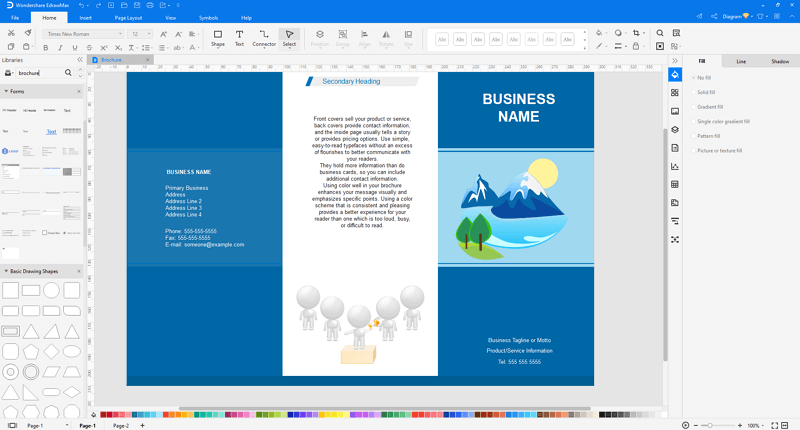 Step 3: When your design of the brochure is finished, you are able to save and export the creation to graphics(JPG, PNG), PDF, editable MS Office file format, SVG and Visio vsdx file format.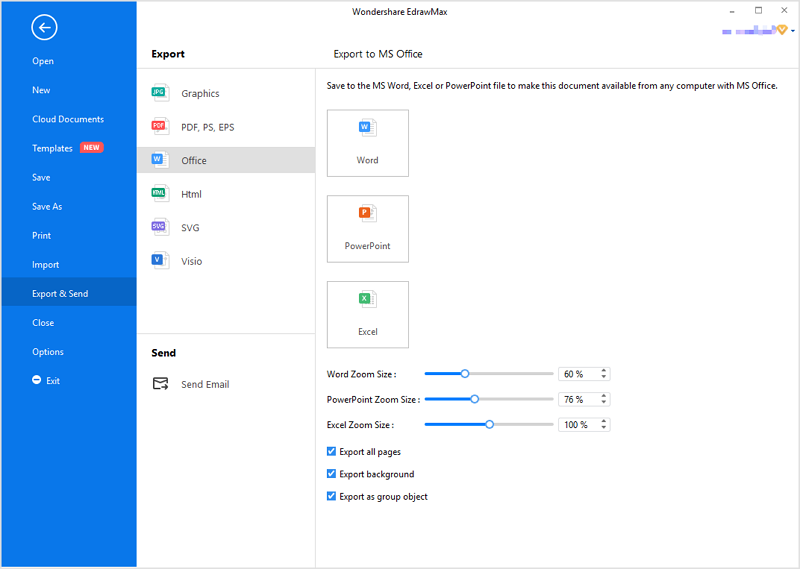 Step 4: Alternatively, you can share your brochure via social media and sharing links. In addition, you can publish your brochure into EdrawMax's online template gallery.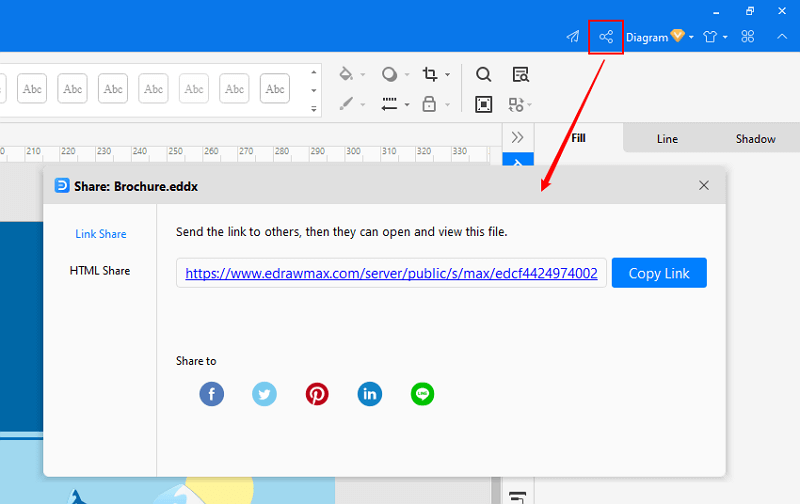 EdrawMax
All-in-One Diagram Software
Create more than 280 types of diagrams effortlessly
Start diagramming with various templates and symbols easily
Superior file compatibility: Import and export drawings to various file formats, such as Visio
Cross-platform supported (Windows, Mac, Linux, Web)
Security Verified |
Switch to Mac >>
Security Verified |
Switch to Linux >>
Security Verified |
Switch to Windows >>
Example 1: Furniture Sales Brochure
Example 2: Company Vision Brochure