How to Conduct Five Forces Analysis
Analyse the level of competition in their field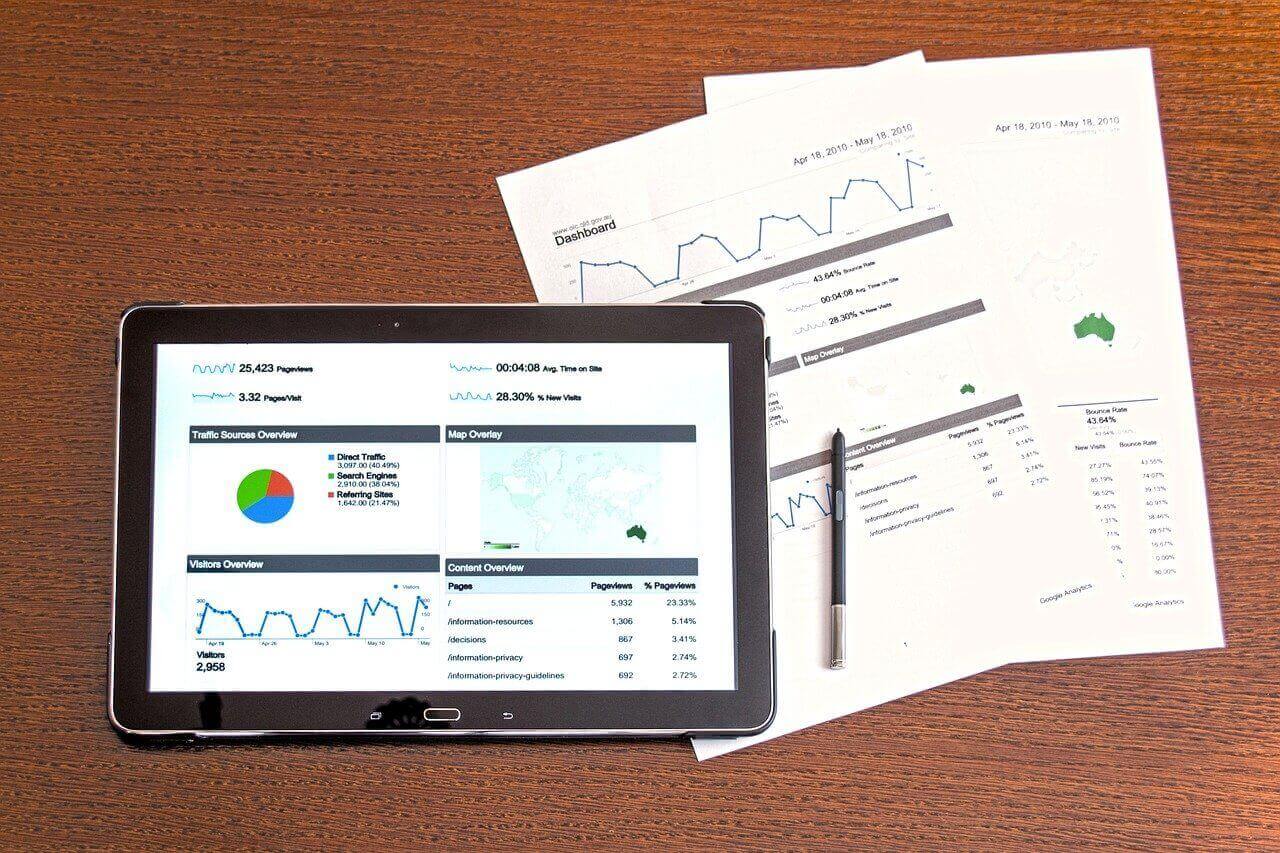 Part 1: What is Five Forces Analysis?
One way for businesses to analyse the level of competition in their field is by conducting a Five Forces Analysis. Conceived by Michael E. Porter of Harvard University, he identifies the five forces that determine competitive intensity as threat of new entrants, bargaining power of suppliers, bargaining power of buyers, threat of substitute products or services, and existing industry rivalry.
The Five Forces Analysis is a useful tool as a starting point for companies that are looking to analyse their playing field and determine the competitive landscape that they are playing in. This can inform companies whether to enter an industry at all, whether to increase their capacity in an industry, and what strategies should be developed in order to remain competitive.
Part 2: How to Create a Five Forces Analysis Diagram Effortlessly?
How to create a five forces analysis diagram easily? Using EdrawMax to make your own five forces analysis diagram.
Step 1: Open EdrawMax desktop software or EdrawMax web-based application.
Step 2: Navigate to [New]>[Strategy and Planning]>[Five Forces Analysis]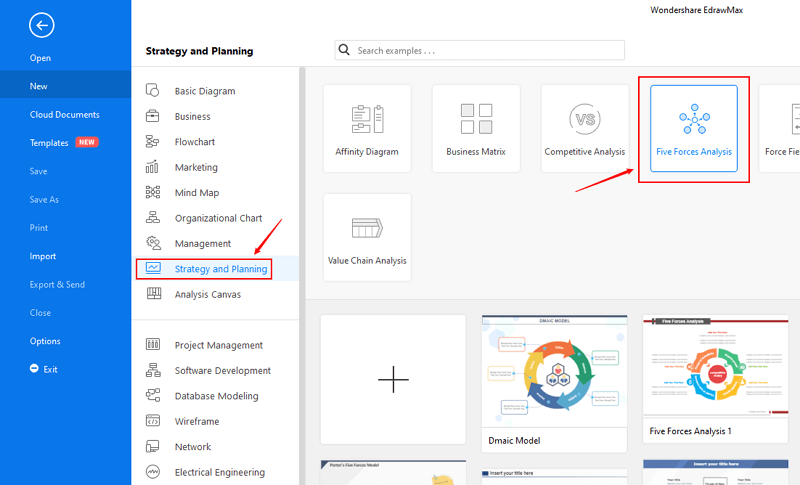 Step 3: Select one five forces analysis template to edit on it or click the [+] sign to start from scratch. Also, you can use massive five forces analysis symbols and elements from libraries in left menu to customize your five forces analysis.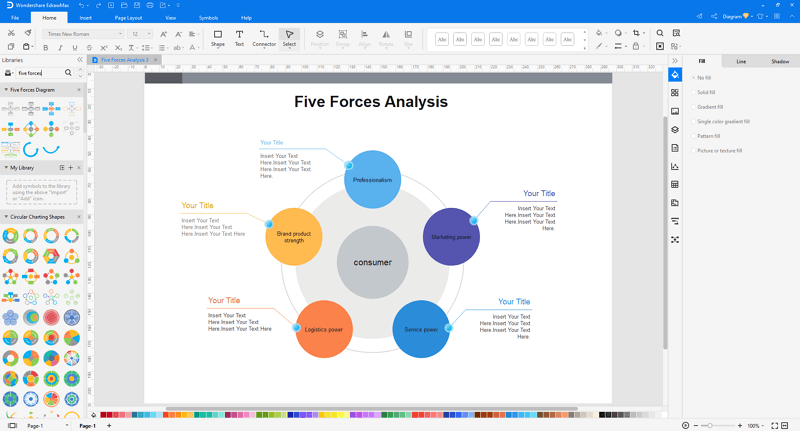 Step 4: Once finished your creation, you can export the file in multiple formats, including Graphics, PDF, editable MS Office file, SVG and Visio vsdx file.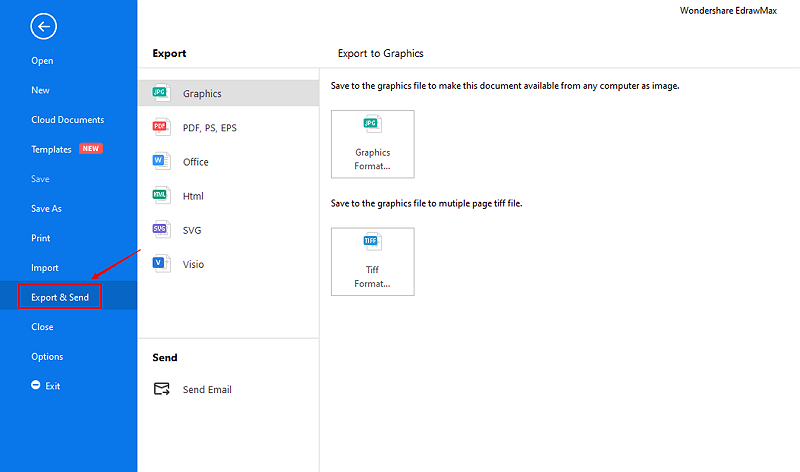 Step 5: Besides, you can share your five forces analysis with others via social media and web page. Or publish your five forces analysis in EdrawMax template gallery to show your work with others.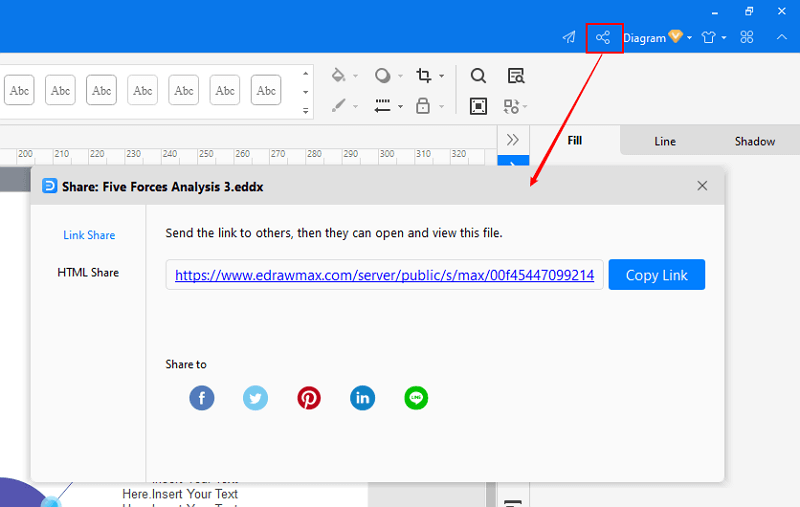 Part 3: Five Forces Analysis Examples
Example1: Evaluation of Changing Job
This is an example of five forces analysis for evaluating a job, which is a common issue that everyone would fave up with in their career life. When changing a job, it means you will have the chance to get a higher salary, learn new skills. But, in the meantime, you should meet big pressure, and uncertainty.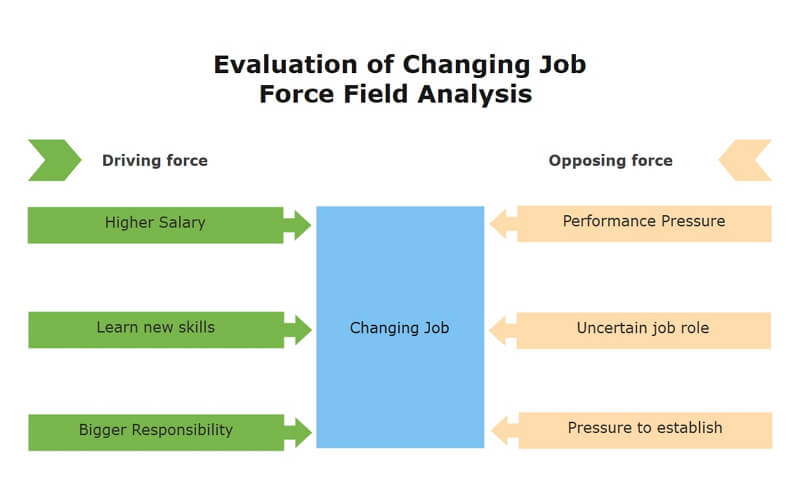 Example2: Marketing Strategy
This is another example to analyze the market changing by five forces analysis. If choose to change into cereal market, there are new customer segments could obtain, which may increase the sales. However, it still contains risks since the new market and the existing competition.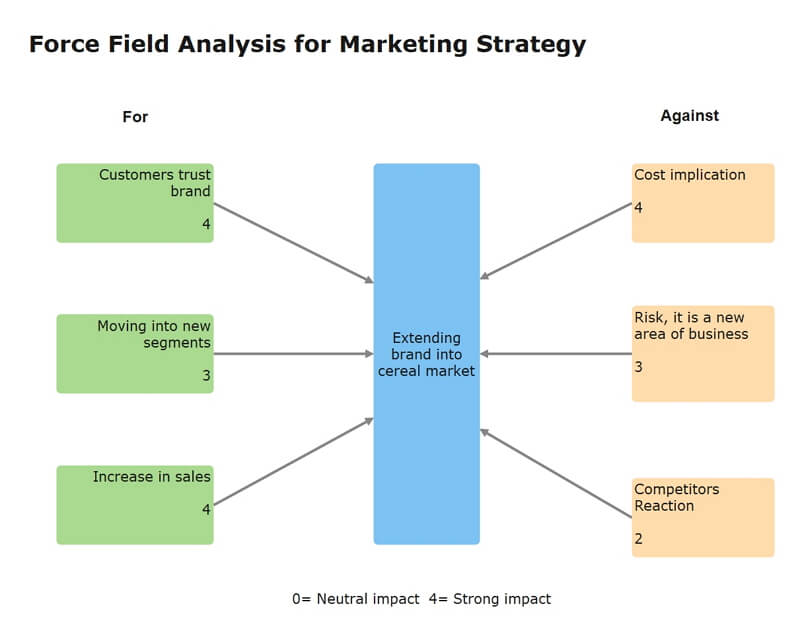 EdrawMax
All-in-One Diagram Software
Create more than 280 types of diagrams effortlessly
Start diagramming with various templates and symbols easily
Superior file compatibility: Import and export drawings to various file formats, such as Visio
Cross-platform supported (Windows, Mac, Linux, Web)
Security Verified |
Switch to Mac >>
Security Verified |
Switch to Linux >>
Security Verified |
Switch to Windows >>
Part 4: Conclusion
According to this article, there are mainly four parts to illustrate what is five forces analysis, to tell you how to create a five forces analysis diagram, to show you some five forces analysis examples, and to tell you how to conduct a five forces analysis. A five forces analysis is very helpful because it can help people analyze a company's competitive environment.
EdrawMax is an easiest all-in-one diagramming tool, you can conduct five forces analysis and any other type analyses with ease! With substantial five forces analysis symbols and cliparts, conducting five forces analysis could be as simple as possible. Also, it supports to export your work in multiple formats and share your work with others. Get started to conduct your five forces analysis now!