Ideas and Tips for Practical Home Office Design Layout

Say goodbye to working from the bedroom or living room by creating a well-designed office that will provide better work efficiency, privacy, and increased productivity. You will decide how you want your home office to look and feel; that is the great part about working in a home office.
An office is more than just a place; it is a space that transforms your life and business too. And because of that, you need to ensure you choose an ideal home office design. A systematically designed office layout can help create the right impression, thus boosting your creativity. Let's now get started by learning the practical importance of home office to remote working.
Part 1: How can a practical home office design help you work remotely better?
Since the wake of 2020, more companies have embraced working from home, thanks to the pandemic. In this time, most people and companies have realized the benefits of working remotely. A decrease in office and overhead costs and improved quality work are among the main benefits of working from home to all organizations that adopted this trend. But what are its benefits to employees and freelancers?
Time Flexibility: Working from home allows you to set your working hours.
Enhanced Privacy: For those used to working in an open office, a home office offers you a more private and productive space. The open office always has a lot of destruction, which may affect your focus when doing any work. Furthermore, if you are doing a confidential job, then the home office offers better privacy.
A Customizable Office: What is a better way than working in a customizable office! Every person likes to decide on how their office will look and feel like. Unfortunately, working in almost every organization's office limits that, but you can decide on everything with a home office.
Positive Impact: Working from home office brings out that positive energized feeling, unlike working in an office—remote working influences discipline and motivation, mostly put to the test.
Availability increases: When working with clients from different time zones, your can adjust your working hours to fit them when working from home. This, therefore, allows more convenience and availability, which boosts remote working's productivity.
Part 2: Home office design ideas
Before designing any home office, it is essential to go through several ideas and office design templates. These will help you get a clearer picture of how you will like your office to look, considering the available space. Here are some of the key ideas in creating a productive workspace at home.
1. Independent working studio
This office design is ideal for those people living in big houses with several rooms in them. In most of these houses, 95% of the time, you will find an originally built home office or study room like shown in this home layout design.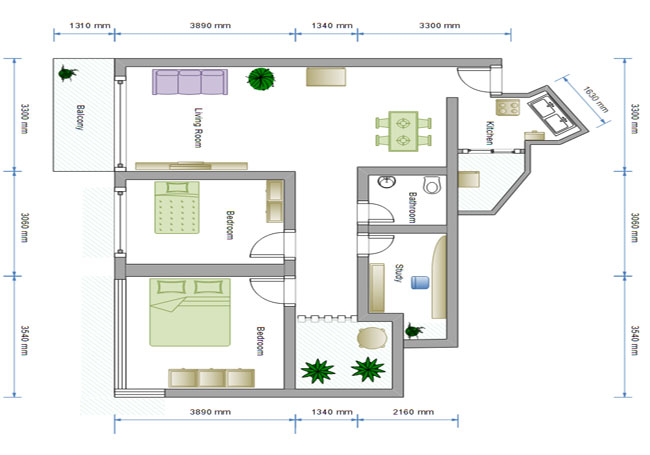 2. Working space in the bedroom
If you happen to have less space, no extra room, or living in a single building, then this design idea is perfect for you. It is also considered a minimalist design idea, mostly if you see no need for extra room to use as your office.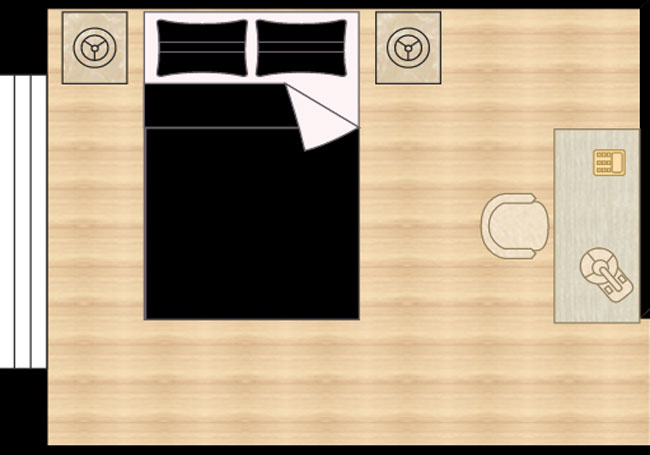 3. Bedroom office and meeting space in the living room
When living in a one-bedroom apartment, adopting this type of home office layout design can be very beneficial to you. As shown in this layout design, there is enough space to put a table and a desk in your bedroom. And in cases where you happen to have a meeting, your living room space can accommodate that. This design shows, convince, and space utilization at its best; therefore, you don't have to move to a 2-bedroom apartment or so.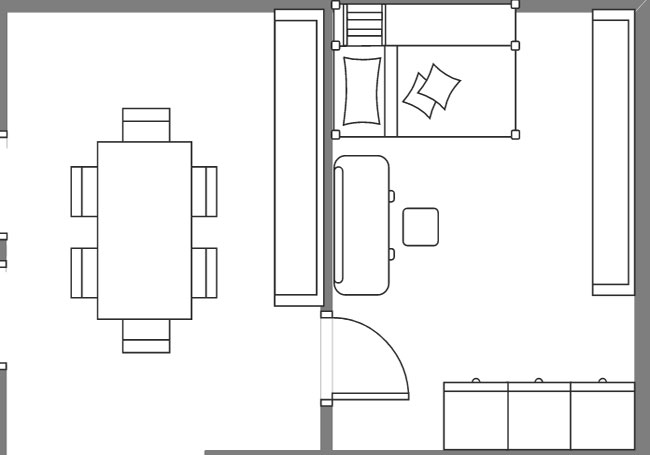 4. Home office plan with independent working studio and meeting place
This layout design is ideal for big house owners. As shown in the layout, the bottom right room is an office layout design. The living room, which is the top left big room, can be used for meeting more so with it involves more than three people.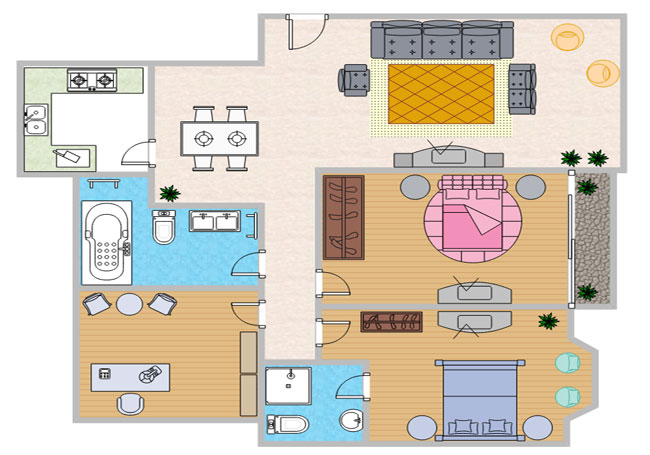 5. Home office plan for small house
If you are in a small house, this office design idea can be a great choice to go with. You can set up your office in your bedroom for these types of houses since it has enough space. Besides, the bedroom is the perfect place to set up your home office.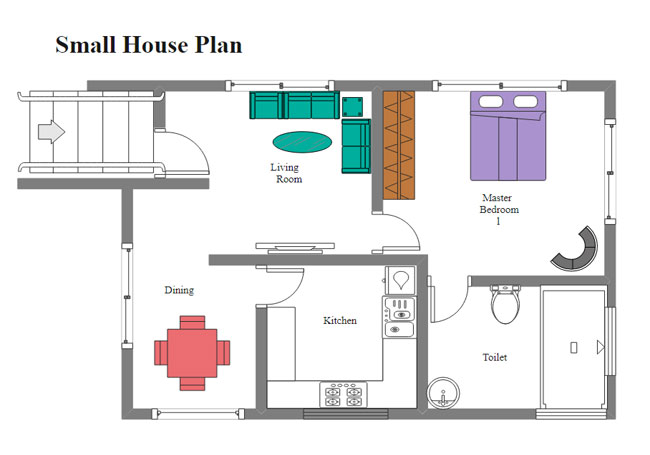 6. Home office for team
This is a sophisticated office design that is perfect for those individuals who occasionally work from home. The design allows you to invite your colleagues and maybe work or collaborate together on specific projects. Additional surfaces together with a sofa may be essential when having a meeting. In general, the overall design makes you be automatically at-ease.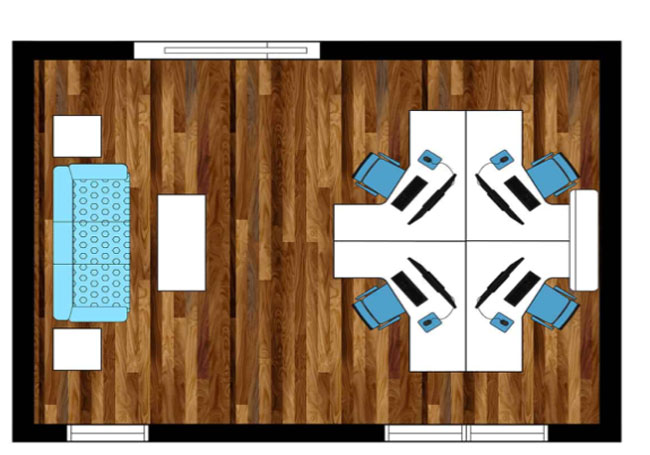 Source:homestratosphere.com
Part 3: Things to consider before creating your home office layout
a) Decide the office space in your house
Whether you already have an office setting, need an upgrade, or just starting out, space is always an essential factor to consider. Space, where you will put your table and desk, is what you should start with. But as you progress, you start focusing on better office furniture to support your growing work and needs.
So, the ideal space is where you are free from destruction and has a door. Furthermore, ensure that space can allow you to create a difference between your work and home life; otherwise, it will create other distractions. Destructions referred to include: indoor activity, outdoor activity, lighting, and TV or appliances.
b) What function should be included in your home office
Determining what to include in your office plays a significant role when it comes to convenience and comfort. So, these are some essential things you should consider having in your office:
Good lighting
Comfortable chair and desk
Other office equipment that you may need
Doing this helps you control clutter by designing a better system to store or place each piece of equipment.
c) Set a reasonable budget
What is your budget? Don't overprice yourself just to have an office that looks fancy because that doesn't necessarily mean your comfort and productivity will increase. Ensure you have a reasonable budget that you won't strain to set up any office design layout fully.
Part 4: How to design a home office?
Using EdrawMax to create your home office layout, follow the following steps:
Step 1: First, start by signing up to EdrawMax. Then open EdrawMax web-based application or desktop software if you have downloaded it.
Step 2: Open the office layout by Navigate to "New," "Building Plan," and then choose "Office Layout" by clicking it.
Step 3: On this page, you have to options available. (1) Click on the "+" sign to create an office layout from scratch or (2) Scroll through the given template, then select the one you like to edit on it. You can access available massive office layout symbols from the library in the left menu for both of these options. This will help you customize your office layout to meet your requirements.
Step 4: Export your file to multiple formats after you're done designing your office layout. The exportable formats include MS Office file, PDF, SVG, Visio vsdx file and Graphics.
Step 5: EcrawMax also allows you to publish your diagram or share your complete design with others via a web page and social media.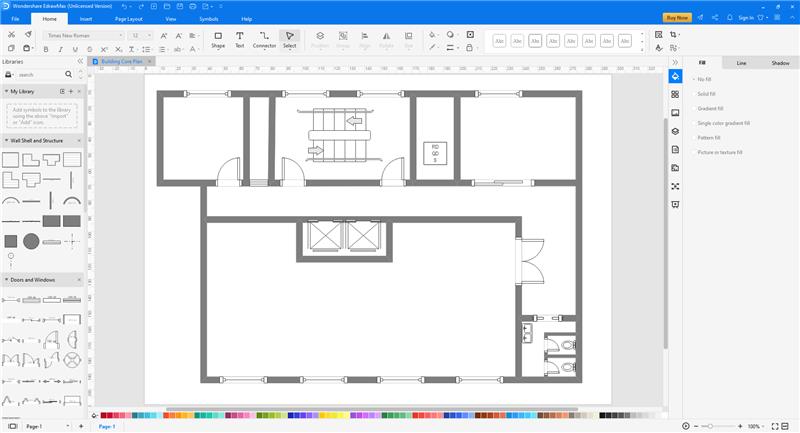 Part 5: Home office layout software
What makes EdrawMax the perfect online office layout to use? These are some of its key features:
Easy-to-use online office floor plan maker: This software offers you easy-to-customize floor plan templates.
It is an all-in-one software with powerful diagramming tools
It comes with built-in floor plan symbols that allow you to decorate your office designs
With it, you can easily export floor any plans to various formats, i.e., Word, PDF, Excel, Visio, PPT, PNG, JPG, SVG, and HTML
EdrawMax
All-in-One Diagram Software
Create more than 280 types of diagrams effortlessly
Start diagramming with various templates and symbols easily
Superior file compatibility: Import and export drawings to various file formats, such as Visio
Cross-platform supported (Windows, Mac, Linux, Web)
Security Verified |
Switch to Mac >>
Security Verified |
Switch to Linux >>
Security Verified |
Switch to Windows >>
Part 6: Tips for creating a practical home office design
Create a perfect home office floor plan by following these tips:
a) Suggested Location
Home offices feature different designs and sizes. It can be a quiet corner, separate room, in your bedroom or even kitchen. Therefore, the key to setting a practical home office is determining the perfect space or location to set your office. Which place are you more comfortable working at?
b) Is space big enough?
After determining the perfect location to set up your office, you should now ensure you have enough space to work comfortably. The perfect way to deciding if the available space is enough is to check if you can easily stand up, sit back from your desk, and move side to side. You can measure the available space before choosing the equipment to install there.
c) Picking a desk and chair to use
By knowing the available space and location, you can quickly determine the type and size of desk and chair to select. A suitable desk should be wide enough for a computer and anything else, while the chair should be comfortable enough to allow several hours of use. The perfect chair should be 28"-30" (70-75cm), and the desk should be 60" (150cm).
d) Set your Storage Space
A cluttered office can affect your productivity, and so when designing your home office, don't overlook the importance of storage. Therefore, to solve your storage needs, ensure to include enough shelving, cupboards, or filing cabinets. You should also ensure you have a workflow-friendly office layout.
Where will the incoming projects stay before being processed?
Where will the completed task stay?
Where should you store reference files?
e) Determine Place for Meeting (is applicable to your work)
If you know clients will be visiting during the day, ensure you have a small meeting space. But for sit-down meetings involving more than three people, you should plan for additional space.
f) Natural Lighting
Having an office with natural light is the best opting when choosing the lighting option. If possible, choose a place with good natural lighting, like positioning your desk to face windows without affecting your computer screen view.
g) Hide your desk cords
Make your desk and workspace clean and neat by ensuring all the cords are hidden set together. For this, there several ways to hide cords which include:
Use cord and cable organizer for chargers, USB cables, earphones, etc.
Use a cable management box to help you hide the visibility of cables.
Cable Organizer Clips that help you hold the cable in one place on your table.
Cord Protector wraps cables together.
h) Decoration which inspires you
Like said earlier, the good thing about a home office is that you decide how it looks and feels. This means you will have to choose how to decorate and which decoration is relevant to your home workspace. Ensure that the decoration you choose doesn't affect your comfort or focus.
Part 7: Desk design ideas for your home office

These desk ideas will help you find a suitable desk that suit your work, complements your workspace, and fits your budget. Here are some of the desk's consideration:
a) Standard desk
A standard desk, also known as a traditional desk, is a simply designed type of table that is usually ideal for small spaces. This desk design is ideal for those starting with less budget and, more importantly, to minimalist. For this, you can just use a table, but to keep your workspace clutter-free, then a desk with drawers is the best option.
b) Desk with shelves
Like a standard desk, this desk also needs little space and offers more function. A desk with shelves, bookshelves, or a hutch is ideal when you have little room but need better storage space for your tools and documents.
c) L-shaped desk
If you want to set up your workspace in the corner of any room at home, you should choose an L-shaped desk. This is a good option since it allows you to be within reach of all your resources as well as to spread out resources.
d) T-shaped desk
If you need two workstations or have a partner working together at home, a T-shaped is an ideal choice. This design can have several hutch or bookshelves, which will provide you with enough storage space. Its basic design comes in a T-shaped design.
e) U-shaped desk
U-shaped desk design is ideal for large space installation. This desk offers you a wide workspace, more so if you want a complete command center. With it, you can install multiple monitors and still have enough space to work on non-computer activities.
f) Stand-up desk
If you want to avoid a sedentary lifestyle, then a standing desk is an ideal solution. The standing desk has similar features to the traditional desk, such as a simple design, a drawer, and a monitor stand, but only its height is the difference. This desk will help you avoid a detrimental health lifestyle, which is mostly associated with a sedentary lifestyle
The good part is if you choose to use EdrawMax to design your office layout, you can also find all desk types in the EdrawMax library. So, start designing your dream home office today with EdrawMax!