Company Organizational Chart - Lots of Company Organization Chart Examples
>
Edraw Knowledge
>
Company Organizational Chart - Lots of Company Organization Chart Examples

Every novice can create professional and concise company organizational charts with Edraw Orgcharting and free org chart templates.
As you can see from the company organizational charts below, these types of charts are the ideal way to illustrate the inner structure and hierarchy of a company. Visualizing the organizational structure of your company can help you make strategic decisions for succession planning, corporate reorganization, and post adjustment.
Basic Company Organizational Chart
As is shown in the picture below, the basic company organizational chart uses boxes to represent staff. The horizontal lines and the vertical lines indicate the different relationships between the staff in the company.Find more business employee organizational chart examples to improve management in your company.
Company Organizational Chart Examples
Company organizational charts have four basic types: functional organizational chart, matrix organizational chart, divisional organizational chart and hierarchical organizational chart.
Benefits of Using OrgCharting
With the company organizational chart, the whole structure of a company can be presented. Some org chart software only allows the charts to be presented in PowerPoint in the company intranet, while Edraw OrgCharting can help you create org charts with pre-made templates.
By using this org chart maker, a company can set their goals for organizational development, cutting costs, and promoting working efficiency in advance as well as satisfy any corporate downsizing needs for the organization to meet corporate-mandated levels of employee employment.
4 Steps to Create a Simple Company Organizational Chart
The company organizational chart is an excellent way to illustrate the organizational structure of a company. Apart from free org chart templates, a powerful and easy-to-use Orgcharting software like Edraw Orgcharting can also be of great help for users to create a professional organizational chart.
Here we will tell you how to create a simple company organizational chart in 4 steps.
Firstly, you need to download and open Edarw Orgcharting.
Secondly, you should click the New button in the File menu and choose a suitable company organizational chart in the Template window.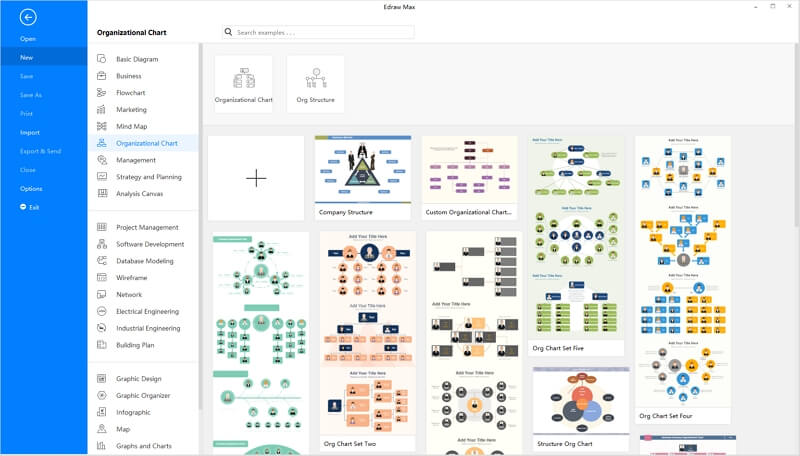 Thirdly, you can drag the org chart shapes from the library and drop them on the canvas. If you need to add text to the chart, double click on the shape, the textbox will pop up, and then you can type anything on it.
If you have the basic outline of the company organizational chart complete, you can use the Format option, which is on the Ribbon to add some theme effects to everything.
Finally, you can insert the photos of the staff into the boxes by clicking the button of "Insert Photo." And the simple company organizational chart is done!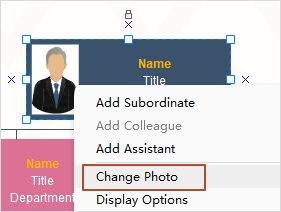 OrgCharting: an intuitive organizational chart maker
Make professional org charts automatically with a few steps (no design skills are required)
Ideal for workforce planning, prioritizing and management
Provide professionally-designed org chart templates to get started quickly
Powerful data import and resynchronization to freely manage org charts
Work on the same org chart with your teammates at any time, on any device
Present, export and share your org chart at ease
Here you can see the video tutorial and try to make an organizational chart quickly by yourself.
More About Organizational Chart
Top 6 Creative Organizational Chart Examples
Administrative Structure of a Hospital
How to Draw an Organizational Chart
Organizational Chart Templates