Creative Organizational Chart Templates

This page presents some creative organizational chart templates that are editable. Free download the creative organizational chart templates to enrich the visualization of your organization.
This page presents some creative organizational chart templates that are editable. These organizational chart templates include well-designed shapes and diagrams such as list, circle and arrows and connecting lines. They will definitely help you visualize your organization structure and data effectively in an attractive way. Free download the excellent organizational chart software and get ready to customize creative organizational chart for your organization.
Click on the picture or the orange text above it to free download the creative organizational chart you prefer.
Creative Concept Organizational Chart Template
Here's a creative concept org chart template with circle text blocks in orange and blue. Create organizational chart with free templates from Edraw. Get started quickly by applying the templates in minutes, no drawing skills required.
Creative Org Chart Template - Company Organizational Structure
Here's a companyorganizationalstructurediagramconsistingoffourpages.AddthedetailsofyourcompanyonthebrochurewithEdraw's easy-to-use text editor. Select from the font styles and typography elements available that will fit your company needs best.
Creative Org Chart Template
This companyhierarchypresentationdiagramincludesthreepagesofcompanyorganizationalchart.Typeinyouremployees' basic information and and advertise your company with handy editing tool in Edraw. Explore suitable templates and customize hierarchy org chart of your company.
Creative Org Chart Template - Organizational Chart Presentation
This org chart presentation template has elements in yellow, black and grey in different structures. With abundant org chart presentation templates, you will have a great starting point to create a professional-looking org chart with Edraw organizational chart software.
Creative Orange Org Chart Template
Here's a creative orange organizational chart that has three pages of chart in different structure. Browse our library to choose vector cliparts or if you want to use your own when necessary, use our drag-and-drop photo up-loader. Creating an org chart with Edraw has never been easier.
Creative Organizational Chart Set Template
The organizational chart set series are in green business style. Use the diagram to show the structure of an organization and the relationships and relative ranks of its parts and positions/jobs. Check out our org chart templates and exquisite icons for some finishing touches.
Easy Organizational Chart Maker
The above templates are all created by Edraw organizational chart software, an easy yet powerful org chart maker. It offers you an extensive collection of vector shapes (10,000+) and provides hundreds of free editable and printable org chart templates and examples. The organizational chart tool is compatible with MS Office. It supports to export files into multiple formats with one click: vector graphics (SVG, EMF, EPS), bitmap graphics (PNG, JPEG, GIF, BMP, TIFF), web documents (HTML, PDF), PowerPoint (PPT), and Visio (VSDX).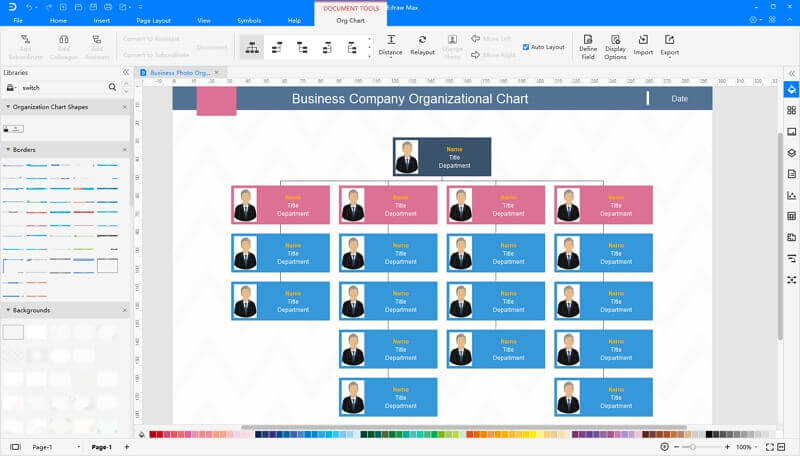 EdrawMax: a swiss knife for all your diagramming need
Effortlessly create over 280 types of diagrams.
Provide various templates & symbols to match your needs.
Drag and drop interface and easy to use.
Customize every detail by using smart and dynamic toolkits.
Compatible with a variety of file formats, such as MS Office, Visio, PDF, etc.
Feel free to export, print, and share your diagrams.